If you are in the NYC area, we hope you'll be able to join us. Our August meetup at Slàinte was a success, so we've decided to stick with a good formula.
We've reserved their large back room from 5:00 to 8:00 PM, which opens onto the rest of the bar, as well as nearby tables. That should make for easier mingling. Slàinte has an extensive selection of beers as well as a good choice of wines by the glass, so there should be something for everyone.
And as much as the venue should be accommodating, the big draw is the readership. So we hope to see you there!
Details:
Slàinte Bar and Lounge
304 Bowery (between Bleecker and Houston)
New York, NY 10012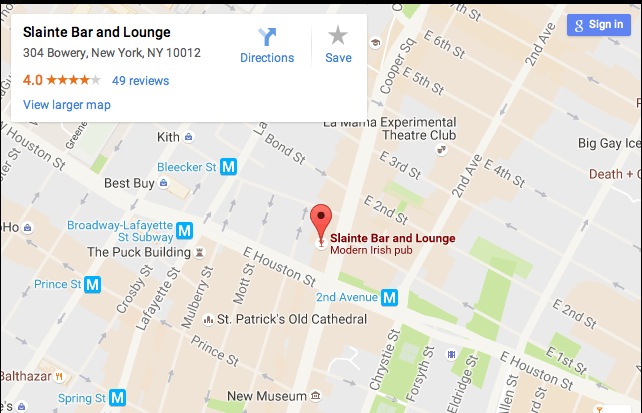 As you can see, it's near stations for the B, D, F, and M, as well as the 6, so it's reasonably accessible.
As indicated, we're booked for 5 PM to 8 PM, and I'll be there at least that long. We don't have to decamp at 8, and I trust many of you will enjoy the evening enough to hang out longer.
See you soon!