By Lambert Strether of Corrente.
Politics
Our Famously Free Press
"CNN Uses Fallout 4 Footage in a Report on Russian Hacking" [Gamespot]. " The video shows an angled shot of a computer screen displaying random strings of text. The cliche-ridden shot is, in fact, a common sight in Bethesda's Fallout games." Say, on the whole "fake news" thing: Maybe the big guys could clean their own side of the street first?

UPDATE "WashPost Is Richly Rewarded for False News About Russia Threat While Public Is Deceived" [The Intercept]. "Baron himself, editorial leader of the Post, is a perfect case study in this irresponsible tactic. It was Baron who went to Twitter on the evening of November 24 to announce the Post's exposé of the enormous reach of Russia's fake news operation, based on what he heralded as the findings of "independent researchers." Baron's tweet went all over the place; to date, it has been re-tweeted more than 3,000 times, including by many journalists with their own large followings."
Armed Services Hearing on "Russian Hacking" "Foreign Cyber Threats to the United States "
"Intelligence Chief Criticizes 'Disparagement' of Findings on Russian Hacking" [New York Times]. No doubt! Video, witness lists, testimony here.

Emptywheel tweeted it. From early in the hearings:

Clapper: Did not change vote tallies. We have no way of gauging impact on choices electorate made, now way to gauge.

— emptywheel (@emptywheel) January 5, 2017

Unfortunately, as we saw from a YouGov poll, half of Democrats believe the Russians did tamper with vote tallies. And from later:

I'd love if someone asked, "How significantly did RU rely on Facebooks algos in its propaganda campaign?"

— emptywheel (@emptywheel) January 5, 2017

But nobody did. And:

Clapper keeps calling the sources and methods here as "very fragile."

— emptywheel (@emptywheel) January 5, 2017

So I guess we're never going to see anything more than what CrowdStrike, a DNC vendor, put together?

"Thursday Morning Briefing: U.S. spooks say they have the goods on Russian hacking" [Reuters]. I guess we'll have to see what the reports, plural say (different versions will be published by security level, with the top level being "compartmentalized").
Trump Transition
"Trump's Extreme Oligarchy" [Simon Johnson, Informed Comment]. " US President-elect Donald Trump is filling his cabinet with rich people. According to the latest count, his nominees include five billionaires and six multimillionaires. This is what is known as oligarchy: direct control of the state by people with substantial private economic power. Given that the Republicans also control both houses of Congress – and will soon make many judicial appointments – there is virtually no effective constraint on the executive branch."

UPDATE "Rex Tillerson has never held a government position, but he does have a long track record of conducting foreign policy as the leader of ExxonMobil – one of the largest and most profitable oil companies ever" [Iraq Oil Report]. Interesting case studies…

UPDATE On ObamaCare: "'Immediately, what we're saying, is we're not going to pull the rug out from under anyone. There's not going to be any changes in 2017. There's not going to be changes in 2018,' [Rep. Chris Collins (R-N.Y.)], a member of President-elect Donald Trump's transition team, said on CNN" [The Hill]. "'Those products have already been approved by the state insurance agencies, or for the 2018 time, are in negotiation right now,' he continued." That seems sensible, but I'm not sure it's the sense of the GOP caucus.

"The President's Role in Advancing Criminal Justice Reform" [ Barack Obama, Harvard Law Review]. "Throughout my time in office, using an array of tools and avenues, I have pushed for reforms that make the criminal justice system smarter, fairer, and more effective at keeping our communities safe. I have tried to bring that case directly to the American people in a number of unprecedented ways." "Tried." "Pushed for."
Realignment and Legitimacy
Please kill me now:

If ur a candidate considering a run 4 office, it is not the responsibility of your party 2 provide you with organizational capacity.

— Lena Buggs (@Lena4SWCD) December 26, 2016

Bugg's bio says she's a "Green Party Organizer Political Activist."

"Stein Final Recount Costs Below Estimates; Will Receive $2 Million Refund" [Free Beacon]. "The breakdown of expenses has since been removed from the site." Really? Is that correct? I can't find it, but I don't find the GP site easy to navigate.

"Fundraising pitches from the mainstream Dem organizations have made me want to puke" [Eschaton]. "A Clinton win would have papered over the obvious, that other than the presidency the Dems have been a disaster since 2010. A Clinton loss means that can't be ignored. You guys (not just the Clinton campaign, but the entire apparatus that has been sucking up all of the money and effort and attention for years) fucked up." I don't see the point. The "guys" and "the apparatus" all got funded to run the #Resistance to Trump, so where's the problem?

"Did Gerrymandering Give Republicans Dominance in Legislature?" [Oklahoma Watch]. "In a possible watershed case decided in November, a three-judge panel struck down the Wisconsin state assembly's redistricting map by saying it unlawfully favored Republicans. The case is notable because it's only the second time in the nation's history, and the first time in decades, that a redistricting map was thrown out on partisan grounds. It is also significant because two judges wrote they were partly influenced by the plaintiff's use of a relatively new mathematical measure, called the 'efficiency gap,' that is intended to detect evidence of partisan gerrymandering in any state.

"Monopoly is a main driver of inequality, as super-fat profits concentrate more wealth in the hands of the few. The effects of monopoly enrage voters in their day-to-day lives, as they face the sky-high prices set by drug company cartels and the abuses of cable providers, health insurers, and airlines. Monopoly provides much of the funds the wealthy use to distort American politics" [Barry Lynn, Washington Monthly]. "For these and other reasons, the Clinton campaign, along with the White House and the Democratic Party, made a huge mistake by failing to flesh out their anti-monopoly message. Yet the full dimensions of the missed opportunity are greater yet. Properly understood, the anti-monopoly frame doesn't just offer a way to talk to Americans about their material needs; it's also a way to connect to deeply and broadly held American ideals, like the freedom to be one's own boss and the liberty to choose one's own course.

UPDATE "How Dwindling Union Power Helped Usher In Trump" [The American Prospect]. "Trump succeeded in these states and among the white workers in them because we live not in a post-truth world, but in a post-union one. Strong unions would have helped convince white workers to turn out and vote for Democrats, and would have offered them an alternative to Trump's narrative that blacks and immigrants are to blame for stagnant wages. But Trump capitalized on declining union strength in key Midwestern states that had previously been dependably Democratic."
Stats Watch
ADP Employment Report, December 2016: "[P]ointing to a softer-than-expected employment report on Friday" [Econoday]. "ADP's employment estimate had a good year, accurately forecasting directional shifts in private payrolls more times than not. But ADP called for unusual strength in November which proved solid but not spectacular." But: "The rate of the decelerating year-over-year trend of jobs growth increased this month – and is the slowest rate of growth since April 2013. ADP is showing jobs growth equalling the rate of people entering the jobs market" [Econintersect].
Jobless Claims, week of December 31, 2016: "Seven states had to be estimated and holiday weeks are always difficult to adjust for, but initial claims in the December 31 week are strikingly low" [Econoday]. And: "The trend of the 4 week moving average improved this week. This marks 96 consecutive weeks of initial claims below 300,000, the longest streak since 1970. The general trend of the 4 week rolling average is a slowing rate of improvement year-over-year which historically suggests a slowing economy" [Econintersect].
Gallup Good Jobs Rate, December 2016: "The good jobs (GGJ) rate was 44.7 percent in December, down from 45.7 percent in November. While the GGJ rate often declines somewhat in December, this represents the first month with a year-on-year decrease since April 2014." [Econoday]. "The percentage of U.S. adults who participated in the workforce in December in any capacity — by working full time, working part time, or not working but actively seeking and being available for work — was 66.5 percent, down a full point from 67.5 percent in November and the lowest recorded since April 2015."
Challenger Job-Cut Report, December 2016: "Challenger's layoff count remains very low and consistent with strong demand for labor. The count, however, is up slightly from unusually low readings" [Econoday].
Purchasing Managers' Services Index, December 2016: Another solid month, only slightly lower than November and October [Econoday]. "The slowing in employment will not lift expectations for strength in tomorrow's employment report but the new orders result is an important positive for the first-quarter outlook."
Institute For Supply Management Non-Manufacturing Index, December 2016: "Hiring is less active but new orders are unusually strong" [Econoday]. And: "Above the consensus forecast, and suggests about the same rate of expansion in December as in November. A solid report" [Calculated Risk].
Bloomberg Consumer Comfort Index, week of January 1, 2017: Easing though still solid [Econoday].
Car Sales: "Car sales better than expected, but the annual rate of growth has slowed and 2016 was up less than .5% vs 2015 year. So if vehicles added less than the year before, something else has to add more than it did the year before, or the annual GDP growth slowed" [Mosler Economics].
Commodities: "Beijing announced late last week it will continue to cut the capacity of its coal mines by 800 million tonnes a year until 2020" [Mining.com]. "Unveiling the plan's details, the country's top economic planner said the goal is to eliminate 'outdated' and inefficient coal capacity every year while adding 500m tonnes of 'advanced' capacity. The cutbacks will be focused on smaller mines in the north-east…. Main producers, mostly based on China's western regions such as Inner Mongolia and Xinjiang, are expected instead to boost supplies."
Commodities: "Althoguht owners' earnings have been hit by overcapacity and a dearth of cargoes in 2016, demand for iron ore in China seems to be growing significantly.Chinese annual iron ore imports are certain to reach as high as 1.1bn tonnes in 2016 marking a year-on-year trade growth of 6%" [Lloyd's List].
Infrastructure: "Transit planners say these so-called smart roads will unlock bigger benefits from self-driving cars, including fewer accidents, faster trips and fuel savings" [Wall Street Journal, "States Wire Up Roads as Cars Get Smarter"]. "State transit authorities say they may make up some ground if the incoming administration of Donald Trump fulfills promises to increase infrastructure spending. With many states struggling to cover basic highway maintenance, planners say billions of federal dollars likely will be needed to wire the nation's more than 4 million miles of paved roads and 250,000 intersections." Always beware of that word, "smart." Maybe I should have filed this under The Bezzle.
Shipping: Amazon delivered 2 billion items for third-party sellers worldwide in 2016 as a third-party logistics firm (3PL)" [DC Velocity].
Shipping: "Maersk, Alibaba team up to offer online booking of ship places" [Reuters]. "Shippers traditionally go through freight forwarders to book space for goods on container vessels, but lines such as Maersk are allowing cargo owners to book directly via the internet."
The Bezzle: "Nvidia announced several new partners for its efforts to bring autonomous cars to public roads in a production capacity today, but the biggest by far was Audi. Nvidia is working with the carmaker to bring its AI driving tech, which is available thanks to its latest in-car autonomous computing hardware and software, to market by 2020" [Tech Crunch]. The story doesn't say what level of autonomy has been reached so far.
Coops: "Mammals (CP 3)." As opposed to dinosaurs [Commonsplace]. Interesting podcast on co-ops!
Political Risk: "This year global markets face the most volatile political risk environment since the Second World War, of which the single biggest risk is "Independent America" under Donald Trump, [Ian Bremmer's] geopolitical risk consultancy Eurasia Group said in its report for 2017″ [Lloyd's List].
Today's Fear & Greed Index: 66 Greed (previous close: 70, Greed) [CNN]. One week ago: 65 (Greed). (0 is Extreme Fear; 100 is Extreme Greed). Last updated Jan 5 at 11:39am. Waiting for the interregnum to end, perhaps.
Our Famously Free Press
"Renewing Medium's focus" [Ev Williams, Medium]. "As of today, we are reducing our team by about one third — eliminating 50 jobs, mostly in sales, support, and other business functions. We are also changing our business model to more directly drive the mission we set out on originally…. We believe people who write and share ideas should be rewarded on their ability to enlighten and inform, not simply their ability to attract a few seconds of attention."
"Medium's pivot catches publishing partners by surprise" [Politico]. "Five members of the revenue beta program told POLITICO that they did not receive any advance notice of Medium's change in strategy before Williams' public announcement. One publishing partner only learned about the pivot after reading an article about it on the tech news site Recode…. This is only the latest strategic pivot for Medium."
"But I don't think we'll grow old together, Medium and I. I suspect it'll end quite tragic, actually. $132,000,000 is a lot of money after all, and that's how much venture capital Medium has been dipped in. Before having a prayer or a song about how to turn into that multi-billion-dollar business it must to satisfy the required rate of return" [DHH, Medium].
"Winter is coming: prospects for the American press under Trump" [Jay Rosen, PressThink]. "After the debacle of 2016, trust in the news media as an institution feels lower than ever in living memory, while popular anger reaches an all-time high. The resentment is coming from the left, the right and what remains of the center." I'm glad WaPo is going to hire 60 reporters and is making money again. Maybe they'll be less horribly sloppy. Plus they can give Naked Capitalism some of that money for defaming us.
"Prospects for the American press under Trump, part two" [Jay Rosen, PressThink]. "If I were running a big national desk in DC, I would try to zero-base the beat structure. Meaning: if you had no existing beats for covering national affairs in Donald Trump's America, if you had to create them all from scratch, what would that system look like?"
Water
"A Reuters examination of lead testing results across the country found almost 3,000 areas with poisoning rates far higher than in the tainted Michigan city. Yet many of these lead hotspots are receiving little attention or funding" [Reuters]. Shovel-ready, right? Just like in 2009…
"Thanks to poor funding, gaps in oversight and letting corporate interests drive policy, millions of Americans are being exposed to lead and other substances in their drinking water through no fault of their own. This is nothing less than a national tragedy, and it will take nothing less than a fundamental rethink of how our country provides its most basic services to make sure nothing like this happens again" [Truthout].
"Elk River Chemical Spill One Year Later – A Failure in State and Federal Public Health Response" [The Way with Anoa]. "In the absence of empirical data, significant anecdotal evidence existed to address issues with the public health response but was simply ignored. Sustainable coordinated action within our communities can bring about change, but we must continue to advocate on behalf of ourselves and others despite opposition from the powers that be."
"Ohio has become a major wastewater dump for the fracking industry, sparking fears of groundwater contamination and concerns that injection of wastewater into wells could trigger the same earthquakes currently rattling frack-happy Oklahoma" [EcoWatch].
Gaia
"A San Francisco Startup Puts Everything You Need for a Two-Acre Farm in a Shipping Container" [Smithsonian (Peter VE)]. Well, except soil. And is it not at least conceivable that "third world countries" have structural issues that farm in a shipping container won't solve?
"People living near major roads have a higher chance of developing dementia, according to a large-scale study published in British medical journal The Lancet on Thursday." [France24]. "There was no discernable elevated risk among people living more than 200 metres from a major route. 'Our study suggests that busy roads could be a source of environmental stressors that could give rise to the onset of dementia,' [Hong Chen from Public Health Ontario] said." I wonder if "smart roads" will help with this?
Imperial Collapse Watch
"Corruptions of Empire" [The Baffler]. "As President-elect, Trump seems to be snapping up any foreign policy hawk he can convince to work for him. His cabinet choices so far portend four years of careless violence. But it's worth considering the nature of the nationalism the Democrats reinvigorated in 2016—one that is just as oblivious to the furies of a post-American world but perhaps more resilient because it wears a less offensive face."
Class Warfare
"While acknowledging that ToS are an efficient and well-suited instrument to regulate the online world, we claim that ToS unilaterally impose rules, despite being presented as voluntarily accepted by the involved parties through the expression of free and informed consent. Based on empirical research, we highlight that ToS and their private implementation affect internet users' capability to enjoy their human rights, with particular regard to freedom of expression (and innovation), the right to privacy and to due process" [Policy Review].
"Safety Pins and Swastikas" [Jacobin]. "The frameworks of liberal identity politics and "alt-right" white nationalism are proving curiously compatible." As they would. I try not to "identify as white" because I'm not into tattoos.
The alternate universe story practically writes itself:
I think about Marx considering immigrating to Texas in 1843 at least once a week pic.twitter.com/RfW7ggiixj

— young harrington (@LarryWebsite) January 5, 2017
News of the Wired
"Which players would make it to an all-time XI of the powerhouse Indian domestic side?" [ESPN]. For cricket fans.
"Why Being Unpredictable Is a Bad Strategy" [Harvard Business Review]. "Unpredictability in competitive strategy is expensive. You don't build a fake factory or release a fake product. You don't suddenly pop out of one market and pop into another. (Guess what your shareholders would say.) Moreover, you don't implement competitive strategy behind closed doors. Everyone else sees and hears what you're doing and promising. Behaving unpredictably with one group — customers, employees, competitors, suppliers, etc. — means exposing your unpredictability to all. That doesn't build trust."
* * *
Readers, feel free to contact me with (a) links, and even better (b) sources I should curate regularly, and (c) to find out how to send me images of plants. Vegetables are fine! Fungi are deemed to be honorary plants! See the previous Water Cooler (with plant) here. And here's today's plant (meeps):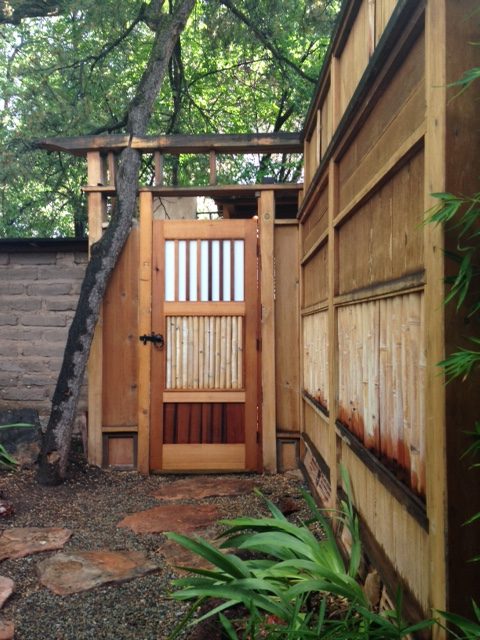 Meeps writes: "Man and nature reach an accord. 'Tis to be devoutly wished."
Readers, I've gotten more plant images, but I can always use just a few more; having enough Plantidotes is a great angst deflator. Plants with snow and/or ice are fine!
Readers, Water Cooler is a standalone entity, not supported by the very successful Naked Capitalism fundraiser just past. Now, I understand you may feel tapped out, but when and if you are able, please use the dropdown to choose your contribution, and then click the hat! Your tip will be welcome today, and indeed any day. Water Cooler will not exist without your continued help.