Despite the mainstream media, save Fox, either being openly hostile to Trump or often slanting headlines against him even if the actual reporting is "Just the facts, ma'am," may be doing Trump favors far more routinely than they understand.
Despite regularly treating Trump with disdain and hostility, the press, particularly newspapers fighting for survival, is in an unholy alliance with him.
During the campaign, cable networks couldn't get enough of Trump. As Forbes said in December:
Donald Trump wasn't the only winner of this year's election. The three major cable news networks earned record profits and attracted record audiences as millions of Americans tuned in to watch the dramatic showdown between Trump and Hillary Clinton…

In November, Fox averaged 3.3 million viewers in primetime, a 68% increase over November 2015. CNN averaged 1.5 million viewers, a 128% increase from last November. MSNBC attracted 1.3 million viewers, a 98% increase. Among daytime viewers, Fox News averaged 2 million audience members, compared to 993,000 for CNN and 736,000 for MSNBC. Year over year, daytime viewership grew by 60% for Fox, 75% for CNN, and a remarkable 83% for MSNBC.
Even though the coverage was routinely unflattering, it was no secret that Trump got the equivalent of billions of dollars in free advertising.
Similarly, the New York Times saw an over ten-times increase in new subscriptions shortly after the election versus the same period in 2015. Other publications made very successful post-election subscription pushes.
The wee problem is that more intensive coverage of Trump is not necessarily as bad for Trump as it appears, particularly given the press fondness for focusing on Trump's hot-headed reactions to criticism and willingness to make stuff up. Of course, it's not as if politicians don't do that occasionally, but Trump does it regularly and clumsily.
Don't believe me? Let's look at the big actions Trump took yesterday.
Trump made nice to the heads of the Big Three automakers. After having boxed their ears on Twitter, he played conciliatory, promising them breaks on emissions regulations and tax goodies if they kept more production in the US. Superficially, this looks like the same sort of government bribing of manufacturers that goes on at the state level, which pretty much never works out to be a net benefit for the state that "won". But these gimmies are pretty inconsequential. Trump made clear he intends to gut environmental regs in the name of jawbz; he's trying to position his existing plans as a special bennie to automakers that play ball. As for taxes, the big US car companies already pay very little in the way of Federal income taxes. The one place they might get a break is on taxes resulting from CAFE, as in Corporate Average Fuel Economy standards. Basically, big honker cars built on truck chassis (meaning the biggest SUVs) are subject to high taxes unless they don't represent too much in the way of total sales. But there are already enough ways for the car companies to game CAFE that they don't pay meaningful if any CAFE charges either.

However, the MSM will never get this granular, and the optics look bad, unless you are a corporate Republican who was upset that a President dared to browbeat executives.

Trump promised to "get that pipeline built." He signed executive orders supporting the completion the Keystone pipeline and DAPL. These have become key battles for environmentalists. Mind you, Obama fence-sat on the northern leg of the Keystone pipeline and was silent as NoDAPL protestors were treated brutally by police. His Damascene conversion in the final weeks of his presidency looks an awful lot like resume-burnishing. Nevertheless, Trump's executive order isn't dispositive. Trump has at least two routes he could use to push the pipelines through, but environmental groups have vowed legal challenges.

Both pipelines mobilized protestors, and with loathing for Trump looking for an outlet, it's not hard to imagine that the renewed opposition will be more intense.

Trump imposed new gags on Federal employees. Mind you, George Bush also clamped down on Federal employees. Despite promising more transparency, Obama pursued leakers ferociously and created bizarre procedures, like regularly restricting officials to speak only on background or not for attribution when the contact was officially approved, including small-group briefings. But the Trump measures are draconian to the point of looking paranoid. From Politico:

Those concerns were compounded on Inauguration Day, when the Interior Department ordered a shutdown of all its Twitter accounts after the National Park Service retweeted photos showing a substantially smaller crowd at Trump's swearing-in than had greeted Obama in 2009. Interior's Twitter service was restored the next day, but only after the park service deleted the offending tweets and apologized….

At EPA, the lockdown extends well beyond formal coordinated messaging. Aside from a block on any press releases and social media posts, a Monday memo circulated internally and obtained by POLITICO warned that EPA employees scheduled to speak at public events like conferences in the next month must alert Trump's team of temporary political appointees.

Buzzfeed had a more troubling report, in that the ban snares scientific work too:

The US Department of Agriculture has banned scientists and other employees in its main research division from publicly sharing everything from the summaries of scientific papers to USDA-branded tweets as it starts to adjust to life under the Trump administration, BuzzFeed News has learned.

According to an email sent Monday morning and obtained by BuzzFeed News, the department told staff — including some 2,000 scientists — at the agency's main in-house research arm, the Agricultural Research Service (ARS), to stop communicating with the public about taxpayer-funded work.

"Starting immediately and until further notice, ARS will not release any public-facing documents," Sharon Drumm, chief of staff for ARS, wrote in a department-wide email shared with BuzzFeed News…

The memo was also met with some confusion. When asked if the notice constituted a halt on the publication of academic articles, one regional director told scientists that research papers could be published in academic journals and presented at conferences, but that all media interviews must be approved by the office of communications in Washington.

Trump plans to sign executive orders tomorrow on immigration. The Washington Post reports that Trump will use an executive order to green-light his infamous wall and punish target "sanctuary cities" where local officials refuse to comply with certain deportation orders. He may also impose a 30-day ban on visa issuance to applicants from Iraq, Iran, Libya, Somalia, Sudan, Syria and Yemen until more stringent procedures are in place.
Now there's a lot to be upset about if you are a loyal Democrat or are otherwise regard any of these issues as important are on the anti-Trump side.
But how was the mainstream media reporting on Trump yesterday? Admittedly, this was only one sighting, but major broadcast news have more reach than print or Internet publications, and it was an extreme example of what I believe is a more general syndrome.
By happenstance, I caught the segment of CBS Evening News on the Trump deeds of the day. The lead story was Trump's barmy claim that he would have won the popular vote had illegal immigrants not been improperly included.
Now admittedly, this story broke Monday evening at around 8:00 PM Eastern so it was still within the last 24 hour news cycle and hence fair game for the Tuesday evening news show. However, it was not only the first story but was also covered in some depth. For instance, the network interviewed a Senator who harrumphed that Trump was calling the integrity of the American electoral system into question and needed to cut it out.
You can watch the segment, but the CBS site gives you an idea of what they thought counted: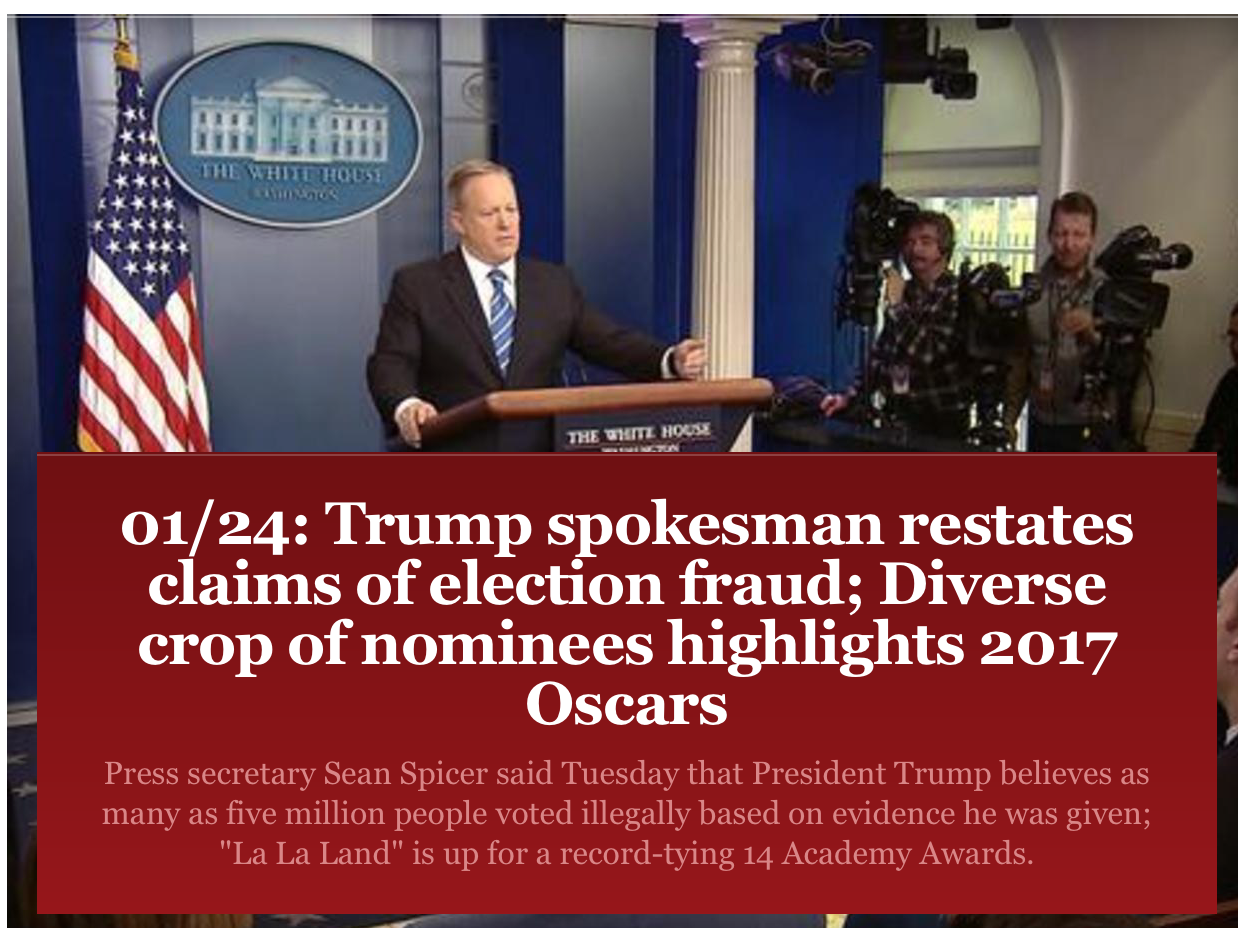 And how about all of the actions and policy markers that Trump set down yesterday and the heads up about the immigration hot button items for Wednesday? All a CBS viewer got was a female newscaster in front of the White House describing Trump playing nice with the auto execs after having beaten them up on Twitter, and mentioning the pipeline-related executive orders.
Why is this significant? The coverage of the latest bit of Trump insanity diverted attention from how he is moving forward aggressively with his program. Some troubling developments were left on the cutting room floor and others reviewed in a cursory manner.
Trump's apparent erraticness may look decidedly unPresidential, but going off the deep end in response to personal insults doesn't have policy impact. Now Trump may later take action related to some of his rants, and that does bear watching. But on one of his most consistent topics, his hatred of the press, despite his regular browbeating, the idea that a President would attack the media frontally is disturbing, but Trump's measures so far are no an overreach. For instance, his breaking the White House press corps' monopoly and letting other outlets get access isn't a violation of press freedom. And I'm of two minds about the historical practice of past Presidents allowing the press to dog at their heels all the time.
And I hate to have to say this, but the media coverage of during the campaigns was biased against Trump as it was against Sanders. Lambert and I without even looking found multiple occasions where the press misrepresented what Trump said, as anyone could ascertain by checking the full segment on YouTube. Thus while Trump's overt hostility is childish and guaranteed to make a bad relationship worse, his underlying beef does have some substance.
What Trump's regular hissy fits do is two things: they make Trump look reckless, even mad, which is a persona that Kissinger advised Nixon to cultivate. They also, as described above, divert press and pundit attention to upset and hand-wringing about Trump's posturing as opposed to his actions.
To put it more simply: The Constitution did not make emotional immaturity grounds for impeachment. And as Clinton learned the hard way, never fight with a pig. The pig enjoys it and you get dirty.
I am beginning to wonder if Trump, unconsciously or even once in a while consciously, isn't playing the press and the public. He may figured out how to make his reflexive temper tantrums work for him. His seemingly unhinged remarks of the last few days would play well with a fair portion of his base, such as Republicans who hate the "liberal" media and those who are convinced that the Democratic party organized black and minority voters to cast ballots multiple times. This video argues that Trump's campaign persona is the same as the one he used in the WWE, and not like his character on The Apprentice:
For instance, despite Trump's almost predictable overractions to disses, I don't recall a single time when he responded to repeated media stories about how his campaign was plagued by turnover at the top, lack of clear separation of roles, infighting, and a supposedly fatal lack of a ground game. Trump did nothing publicly to counter the impression that his campaign was an utter mess. And sometimes that was true: Lambert noticed a lack of adequate advance work at some of his rallies.
However, the idea that the Trump team was hopelessly disorganized and underresourced fed into Clinton hubris. It served Trump to let the press run with that assessment.
It was only after the election that the public learned that Trump's nephew Jared Kushner was running a high tech operation out of Austin that was focused on how to get the maximum bang out of Trump's smaller warchest in Electoral College terms. And that effort also studied how to make the best use of social media. As one DC contact said, "Political scientists will be studying the Trump campaign for the next 40 years." Yet the supposedly hopelessly undisciplined Trump managed to keep his mouth shut on this topic and let his opponents' prejudices work to his advantage.
Whether by virtue of being lucky (and recall Napoleon preferred lucky generals to talented ones) or more design than the pundits are willing to attribute to him, Trump mowed through a huge field of opponents and is getting more and more of the Republican establishment on his side, or at least only selectively opposed. One big test of whether he would quell at least some of his dedicated opponents was the Rex Tillerson nomination for Secretary of State, where Republicans threatened to join Democrats and block a candidate deemed too Russia-friendly. That would have been a highly visible setback, both in terms of proving that Trump was vulnerable, as well as showing he could be defeated in his efforts to improve relations with Russia, which would feed even more resistance on that front.
So again, Trump opponents, beware: underestimating him has proven to be a losing strategy. Fixating on his erratic behavior may be great fun because it confirms how awful he is, but the more time you spend on social media and with friends nattering about that, the more it takes your eye off the stuff you should be fighting.