By Lambert Strether of Corrente
Trade
UK Labour votes for CETA (86-68) [Hansards].
"Despite high-profile jabs over shifting jobs to Mexico, many U.S. companies appear to be moving ahead with plans to move operations across the border. The word is trickling out in conference calls and interviews that include companies such as Rexnord Corp., Caterpillar Inc. and steelmaker Nucor Corp. that have been enmeshed in debates prompted by President Donald Trump's barbs at manufacturers and talk in Washington about an import tax" [Wall Street Journal].
Politics
Trump Transition
"H-1B visas do mainly go to Indian outsourcing firms" [The Economist]. " Indian outsourcing firms like Tata Consultancy Services (TCS), which provides low-cost back-office services, are now the biggest employers of H-1B workers. Analysing data compiled by Théo Négri of jobsintech.io, The Economist found that between 2012 and 2015 the three biggest Indian outsourcing firms—TCS, Wipro and Infosys—submitted over 150,000 visa applications for positions that paid a median salary of $69,500. In contrast, America's five biggest tech firms—Apple, Amazon, Facebook, Google and Microsoft—submitted just 31,000 applications, and proposed to pay their workers a median salary of $117,000."

"Price confirmed as HHS Secretary" [Modern Healthcare]. "Following the pattern of strictly party-line votes on two previous nominees — Attorney General-designate Sen. Jeff Sessions and Betsy DeVos for Education secretary — the former congressman from Georgia was approved early Friday on a 52-47 vote."

UPDATE "Authorization of Use of Force Against Iran Resolution, H.J. Res. 10, was introduced by Representative Alcee Hastings on January 3, just over two weeks before Trump's inauguration. The open-ended bill would permit Trump 'to use the Armed Forces of the United States as the President determines necessary and appropriate in order to achieve the goal of preventing Iran from obtaining nuclear weapons'" [Alternet]. Black Agenda Report grades Hastings as a "Shameful and Defective" member of the Congressional Black Caucus.
2016 Post Mortem
"The (dis)information mercenaries now controlling Trump's databases" [Paul-Olivier Dehaye, Medium]. On psychographic vs. demographic profiling (see also here by the same author). Interesting if true.

"More Americans joining socialist groups under Trump" [Al Jazeera]. "Just days after Trump's electoral victory, nearly every mainstream US media outlet ran segments and feature stories about a conference by the National Policy Institute, in which around 100 people celebrated Trump's win. During that conference, infamous white supremacist Richard Spencer led chants of "Hail Trump!" as the audience rose to its feet, making Nazi-like salutes. That same night, around 450 people crowded into a small hall in Brooklyn to attend a talk about labour struggles hosted by Jacobin." Gee, that's odd.

Agenda of Democrat caucus Baltimore retreat [Document Cloud].
Realignment and Legitimacy
Must-watch, all the way to the end:

Seriously urge everyone to watch this entire question from a woman at GOP #Obamacare townhall in Tennessee: pic.twitter.com/8mBGE1z6Rj

— MJ Lee (@mj_lee) February 10, 2017

Tennesseean voter fights their way through to Medicaid for All. But never change, Democrats. Economics don't have anything to do with anything. And make sure you keep calling voters stupid.

"Americans Now Evenly Divided on Impeaching Trump" [Public Policy Polling]. From a Democratic shop.

"Trump lost the na­tion­al pop­u­lar vote by 2 per­cent­age points, 48 to 46 per­cent. Polling last week sug­gests there has been a little de­teri­or­a­tion for him, but not that much" [Charles Cook, Cook Political Report]. "[A]t least as far as the Amer­ic­an people are con­cerned, very little has changed since the weeks lead­ing in­to the elec­tion. Those who liked him then still do, and those who didn't still don't."

"[Trump's] all-base-all-the-time strategy has the potential to drive non-traditional mid-term voters (read: Democratic leaning) to hit the polls in 2018. The greatest motivator when it comes to voting isn't love, but hate. Trump had that on his side in 2016. Will Democrats have it in 2018? The early data suggests that the opposition is more motivated than those supportive of Trump. The most recent polls from CNN and Quinnipiac found 33 percent of all adults 'strongly' approve of the job Trump is doing as president. Yet, a larger 45 percent 'strongly' disapprove of the job he's doing. That strong approve/disapprove number is one I will be watching as we get closer to 2018" [Amy Walter, Cook Political Report].

"Anti-Trump crowds rule at Republicans' town halls" [MarketWatch]. "Five-term Rep. Jason Chaffetz won his most recent race by nearly 50 points, but returned to his home district to find himself confronted by a sign-waving, heckling and booing chorus."

"Pelosi denies Democrats are divided on strategy for 2018" [Yahoo News]. "Asked by a reporter why some of her progressive colleagues had reportedly walked out of a meeting hosted by the centrist think tank Third Way at the retreat Wednesday, Pelosi answered, 'I didn't notice that.' … "President Trump is a better recruitment tool for us than a central campaign issue,' said Washington Rep. Denny Heck, who is leading recruitment for the Democratic Congressional Campaign Committee (DCCC)." Well, that certainly worked for Clinton.

UPDATE "'Indivisible' Guide Teaches Progressives How to Play Defense Against Trump" [Truthdig]. "[A] group of progressives—including former Democratic congressional staff members and those who have worked on Capitol Hill—created 'Indivisible,' a guide to effective resistance that has been downloaded by more than half a million people in one month." A careful look at the Indivisible Guide's About page) discloses no mention of the Democrat Party at all; it's presented as a volunteer organization. (It's almost like the Democrat brand is so poisoned it's a bad idea to mention it, rather like the Clinton branding implicitly disavowed by organizers of the Women's March.) Now, if we assume that Democrats would like to harness the energy of activitists for institutional reasons, that doesn't mean they'll succeed at it! And it's a form of synecdoche to treat leaders or organizers as proxies for movements, which have their own life. But be aware!

Interesting tweetstorm:

1. I got pushback, but I am going to double down. https://t.co/IlVgP7BnkD

— Chris Arnade (@Chris_arnade) February 9, 2017

UPDATE "Women Worldwide Will Strike Against Trump on March 8" [Truthdig]. But that headline seriously misrepresents the call by the organizers: "As a first step, we propose to help build an international strike against male violence and in defense of reproductive rights on . In this, we join with feminist groups from around 30 countries who have called for such a strike. … In embracing a feminism for the 99%, we take inspiration from the Argentinian coalition Ni Una Menos. Violence against women, as they define it, has many facets: it is domestic violence, but also the violence of the market, of debt, of capitalist property relations, and of the state; the violence of discriminatory policies against lesbian, trans and queer women; the violence of state criminalization of migratory movements; the violence of mass incarceration; and the institutional violence against women's bodies through abortion bans and lack of access to free healthcare and free abortion" [Guardian]. However, the "10 actions" (including the huddles) listed on the Women's March page say nothing of the strike. Here is their tweet, which is pinned:


The will of the people will stand. pic.twitter.com/SKJCRLhRKn

— Women's March (@womensmarch) February 6, 2017

So the strike on March 8 called for by the Women's March organizers (Angela Davis among them) isn't the same as a strike to be called by the Women's March, as an institution? Readers?

Sorry I didn't get to this; the announcement came on my travel day, and then the news flow buried it…
Stats Watch
Import and Export Prices, January 2017: "Overall year-on-year rates are improving but cross-border inflation is fundamentally flat right now. Yet recent weakness in the dollar, which makes foreign products more expensive, will work together with oil to support gains for import prices in the months ahead" [Econoday].
Consumer Sentiment, February 2017 (preliminary): "easing back but still remains very strong" [Econoday]. "February's easing is centered in expectations where the index fell nearly 5 points to 85.7. This is still sizably higher than the high 70s and low 80s trend going into the election. The good news in the report is stability in current conditions which came in nearly unchanged at 111.2 in a positive signal for February consumer spending." And: "The Michigan average since its inception is 85.5. During non-recessionary years the average is 87.7. The average during the five recessions is 69.3. So the latest sentiment number puts us 26.4 points above the average recession mindset and 8.0 points below the non-recession average" [Econintersect]. And: "In February, roughly six in 10 consumers polled made either positive or negative references to some government action by the new Trump administration, an unusually high level. About the half the responses were favorable and half were unfavorable" [MarketWatch]. "Expectations for the next six months among Democrats were near a historic low while expectations among Republicans was near a record high."
Commodities: "In New York on Monday copper for delivery in March declined 1% at $2.6410 per pound or $5,822 a tonne despite news of strikes at three mines responsible for some 10% of total global output" [Mining.com].
Retail: "Whole Foods Market Inc. will close nine stores and scale back on expansion plans in what it says is a fast-changing food-retail market" [Wall Street Journal].
Rail: "If coal and grain are removed from the analysis, rail over the last 6 months been declining around 5% – but this week shows -0.1 % (meaning that the predicitive economic elements did not grow year-over-year). The rolling averages improved – but that was due to coal and grain" [Econintersect]. "The overall improving trend continues."
Shipping: "Driven by booming e-commerce sales volumes, developers are building an increasing number of mega-warehouses spanning 1 million square feet and above, with the Philadelphia and eastern Pennsylvania area leading the way" [DC Velocity]. "After Philadelphia and eastern Pennsylvania, most big-box construction between 2010 and 2016 occurred in California's Inland Empire, Dallas/Fort Worth, Atlanta, Chicago, Memphis, Columbus, Cincinnati, Indianapolis, and Phoenix…. E-commerce users typically need two to three times the amount of warehouse and distribution space that traditional users do, because online fulfillment requires more inventory, labor, and automation, according to the study, 'Thanks a million, mega industrial warehouses!'"
Shipping: "The U.S. Postal Service warned today that the multi-year growth of its shipping and package operations could be jeopardized if the three customers responsible for most of the business [Amazon, FedEx, UPS] continue to expand their shipping capabilities and divert business from USPS" [DC Velocity]. "The three are big users of a USPS service known as 'Parcel Select,' where companies induct packages deep into the postal system for last-mile deliveries to residences."
Shipping: "One in 50 of the transits through the expanded Panama Canal between June and January have resulted in damage to either ships or the waterway" [Splash 247].
Shipping: Re, automating shipping deals: "[H]ow much of the dry cargo market could be described as having 'vanilla' type [i.e., automatable] trades?" [Splash 247]. "The simple answer to this is that the larger the vessel the more it deals in 'vanilla' type trades. In dry this covers the vast majority of the capesize market and a fair proportion of the panamax market." And one consequence of industry consolidation has been larger vessels….
The Bezzle: "Online retail giant Amazon will start collecting sales tax from Oklahoma customers in March – a move that will send tens of millions of dollars to state and local governments" [Oklahoma Watch]. "[Tulsa Mayor G.T. Bynum] also emphasized that 'this is not a new tax, but rather means Amazon will collect what Oklahoma customers should have been paying as a use tax every year but too often were not.'" Primitive accumulation by Jeff Bezos.
Co-ops: "How Worker Co-Ops Are Creating Economic Stability In Uncertain Times" [Fast Coexist (DB)]. "[A] handful of city governments are developing policies to directly support the development of worker-owned cooperatives. Though programs in some cities are still in the implementation phase, the three cities whose government-sponsored programs have been underway for a while—Cleveland; New York; Richmond, California—added a total of 25 new co-ops employing 261 people since 2009." Not big numbers, but the co-op idea should scale, no?
Co-ops: "Two hundred and fifteen cooperatives and two guild unions were registered during the Iranian month ending January 19" [Financial Tribune (DB)]. "These newly-founded cooperatives, most of which are active in the fields of agriculture and industries, have over 4,400 members and created jobs for more than 3,200 people, Mehr News Agency reported."
The Bezzle: "At any given moment, millions of people around the globe are using Twitter to share news and opinions, gossip and jokes. At least some are also debating Twitter's fate. It's the social media giant that nobody wants to buy and the favored communication tool of U.S. President Donald Trump. How can a company be such a success and failure at the same time?" [Bloomberg]. In many ways, and very much not like FaceBook, Twitter feels like a commons. Hard to make a profit that way. Too bad Twitter can't be sold to a co-op for a dollar.
Political Risk: "The president's unprecedented communication style [i.e., tweeting] has introduced a new dynamic to markets and affected the implied credit risk for individual companies, for better or worse, according to S&P Global Market Intelligence" [MarketWatch].
Fodder for the Bulls: "Long ago, I learned that lumber futures were not for trading but for watching. Wood is a critical commodity when it comes to the real estate market when it comes to new home construction. Lumber is also an important raw material for infrastructure building around the world. Over past decades, China has been a massive consumer of lumber as the nation was consistently building. However, the recent election in the United States has lit a fuse under the price of lumber and the price has been rising sharply over recent trading sessions" [Seeking Alpha]. "The recent move in lumber is telling us that we should be bullish on the U.S. economy as well as commodity prices. Do not attempt to trade lumber but watch that wood market like a hawk for clues. Lumber could be setting the stage for a move to all-time highs as all of the demand components seem to be falling in line." I like stuff, but I dunno about technical analysis, which this guy does when he's not talking his book. Readers?
Today's Fear & Greed Index: 65 Greed (previous close: 66, Greed) [CNN]. One week ago: 59 (Greed). (0 is Extreme Fear; 100 is Extreme Greed). Last updated Feb 10 at 11:39am. I got nuthin.
Big Brother Is Watching You Watch
"DHS mulls password collection at borders" [FCW]. "'We want to say, for instance, which websites do you visit, and give us your passwords, so we can see what they do on the internet,' [John Kelly, the new secretary of the Department of Homeland Security] said at a Feb. 7 House Homeland Security hearing, his first congressional hearing since his Senate confirmation. 'If they don't want to give us that information, they don't come in.'" Well, that's demented.
"Cellphone Spy Tools Have Flooded Local Police Departments" [City Lab].
Dear Old Blighty
"Fears of 'two-tier NHS' as GPs allow fee-paying patients to jump the queue" [Guardian]. "Dr Tim Alder, the main GP behind the scheme, defended the setting-up of the service and warned that NHS general practice was on "the brink of collapse" and heading for privatisation because it was underfunded, facing a serious staff shortage and unable to cope with demand." Classic neoliberal strategy at work. Watching the Tories slowly saw through the NHS's windpipe, with Labour seemingly unable to prevent it, is extremely disquieting.
Gaia
"How New York City Gets Its Electricity" [New York Times].
"Whale communication remains one of the planet's most spectacular mysteries. Almost all whale species use a collection of low-frequency moans, grunts, and knocks or higher-frequency cries and whistles to navigate, find food, and chat with each other across hundreds of miles of ocean" [Quartz].
"Arctic 2.0: What Happens after All the Ice Goes?" [Scientific American]. "Unlike land-based ice sheets, which wax and wane over millennia and lag behind climate changes by similar spans, sea ice will regrow as soon as summer temperatures get cold enough. But identifying the exact threshold at which sea ice will return is tricky…."
Class Warfare
"Trust is in crisis globally, with 19 of the 28 countries we poll annually now distrusting states. Trust in the four institutions of business, government, media and NGOs have all declined this year with media witnessing the biggest falls" [Edelman]. "Equally concerning is a six-point increase in the 'trust gap' (from 9 percent to 15 percent) from 2012 and 2017 between the informed public (top 13 percent of global population) and the mass population (remaining 87 percent). That gap is now widely credited as a leading cause of the rise of populism in a number of countries — accepted wisdom now, but not so much last year when we published these figures." Edelman is, ironically enough, a global marketing communications firm.
"I'd driven 107 miles from my home in Bangor, Maine to the BPL Plasma Center in Lewiston to collect $50 for having my arm punctured and a liter of my plasma sucked out. The actual donation takes about 35 minutes, but the drive and its attendant wait makes for an eight-hour day. I clocked in for that trip five times this summer" [Long Reads]. "I'm a professor at the University of Maine. My salary is $52,000, and I am a year away from tenure. But like everyone else in that room, I was desperate for money."
"That is, our situation is much like that of colonized peoples: we can vote for our rulers, but cannot control them; our voices, at times, can be expressed, but can almost always be dismissed or over-ruled; our tax revenues mainly fund military interventions and corporate interests, leaving us to battle with each other over tiny trickle-downs. We are, in effect, walking in the dreams and demands of our captors, doomed to sit like docile passengers, who can only watch as the USA train goes wherever the MIC takes it. Despite the incessant rhetoric of "freedom", we as a people are unwilling and indeed, unknowing, captives" [Grassroots Economic Organizing].
"Time for Tesla to Listen" [Medium]. Sounds like another Silicon Valley hellhole for workers:
Most of my 5,000-plus coworkers work well over 40 hours a week, including excessive mandatory overtime. The hard, manual labor we put in to make Tesla successful is done at great risk to our bodies.

Preventable injuries happen often. In addition to long working hours, machinery is often not ergonomically compatible with our bodies. There is too much twisting and turning and extra physical movement to do jobs that could be simplified if workers' input were welcomed. Add a shortage of manpower and a constant push to work faster to meet production goals, and injuries are bound to happen.

A few months ago, six out of eight people in my work team were out on medical leave at the same time due to various work-related injuries. I hear that ergonomics concerns in other departments are even more severe. Worst of all, I hear coworkers quietly say that they are hurting but they are too afraid to report it for fear of being labeled as a complainer or bad worker by management.
"The UAW apparently has not assigned an organizing team to the [Tesla] plant, according to Automotive News, which called the international union and was referred to year-old remarks from UAW president Dennis Williams. In remarks made in May of last year, Williams said the union was "very interested in Tesla," but that the union is not approaching the company in an 'adversarial way'" [24 Wall Street]. "The union has delayed organizing Tesla's workers because the company was a startup, according to Williams." What next? No organizing because a company is "innovative"? "Disruptive"?
"The United Automobile Workers on Friday rejected Tesla Inc. Chief Executive Elon Musk's claims it had planted an agitator at the company's only auto plant and confirmed that Tesla employees have reached out to form a union" [MarketWatch].
UPDATE "With nod to Trump, AT&T union votes to strike" [Dallas News]. "It seems someone should be pointing out that [AT&T] are selling service in the U.S. and shifting work to places like India," [Commmunications Workers of America Candice] Johnson said. "President Trump made a lot of promises on the campaign trail, and we are going to hold him to it."
"The main reason for the gender gaps at work — why women are paid less, why they're less likely to reach the top levels of companies, and why they're more likely to stop working after having children — is employers' expectation that people spend long hours at their desks, research has shown. It's especially difficult for women because they have disproportionate responsibility for caregiving" [New York Times]. "Flexibility regarding the time and place that work gets done would go a long way toward closing the gaps, economists say."
News of the Wired
"Long-awaited mathematics proof could help scan Earth's innards" [Nature]. "Mathematicians say that they have solved a major, decades-old problem in geometry: how to reconstruct the inner structure of a mystery object 'X' from knowing only how fast waves travel between any two points on its boundary. The work has implications in real-world situations, such as for geophysicists who use seismic waves to analyse the structure of Earth's interior."
* * *
Readers, feel free to contact me with (a) links, and even better (b) sources I should curate regularly, and (c) to find out how to send me images of plants. Vegetables are fine! Fungi are deemed to be honorary plants! See the previous Water Cooler (with plant) here. And here's today's plant (EU):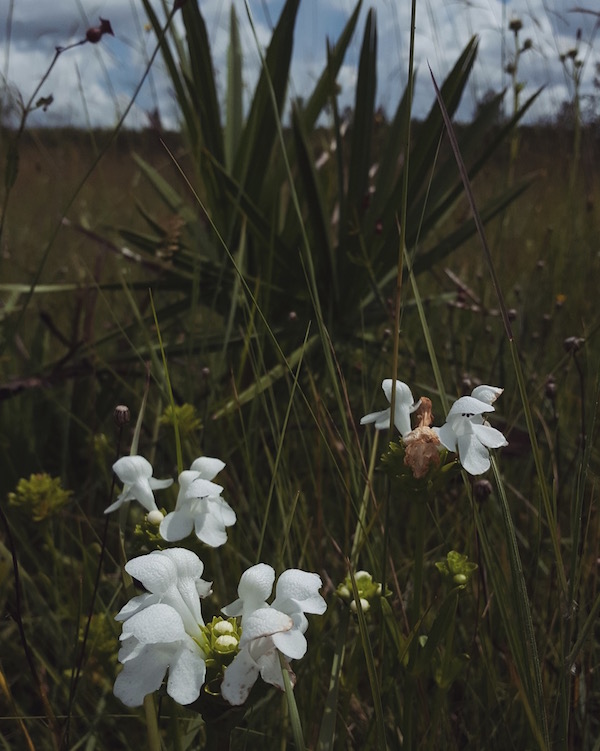 Macbridea alba, Sumatra, FL.
Readers, Water Cooler is a standalone entity, not supported by the very successful Naked Capitalism fundraiser just past. Now, I understand you may feel tapped out, but when and if you are able, please use the dropdown to choose your contribution, and then click the hat! Your tip will be welcome today, and indeed any day. Water Cooler will not exist without your continued help.