By Lambert Strether of Corrente
Readers, happy Valentine's Day. –lambert
Trade
"And given Trump's intense, almost singular focus on Mexico and its trade deficit with the United States as the reason a NAFTA rewrite is needed, Mexican officials are looking to use the long-promised meeting not as a time to talk solely trade but rather to rework the two neighbors' entire bilateral relationship" [Politico]. "'That was probably the government of Mexico's first clear, smart strategy in terms of negotiating,' Juan Carlos Hartasanchez, a former adviser to Mexico's finance ministry, told Morning Trade. "What they said is, 'Look, if you want to get into this, you need to be aware that we're not only going to discuss trade, we're not only going to discuss NAFTA. We're going to review everything, so you better be prepared to review all of these items if you want to make significant changes to NAFTA.'"
#OrovilleDam
"Lake Oroville: $100 million in damage, more than 100,000 ordered to evacuate and more rain on the way" [Los Angeles Times].
"Feds order independent review of Oroville Dam spillway problems" [Sacramento Bee]. "To ensure objectivity, 'the forensic analysis must be performed by a fully independent third party with no previous involvement in assessing the spillway structure at this project,' the [Federal Energy Regulatory Commission] letter reads."
"What Happened at the Oroville Dam" [New York Times]. "It is not yet known what caused the damage to the concrete [in the main spillway], but one culprit is cavitation, or tiny bubbles of water vapor that can form in high-velocity water, said Blake P. Tullis, a professor of civil engineering at Utah State University. When the bubbles collapse, they create tiny shock waves that are strong enough to damage concrete, he said." Any concrete nerds in the readership?
Politics
Trump Transition
"Republican senators call for Russia investigation, Flynn testimony" [CNN]. As both party establishments begin a horrid process of mutual assimilation ("I come near wigging with that green stuff all over me" –Naked Lunch).

"I think Flynn's ouster doesn't end the Trump/Russia story, but rather gives it legs. Trump tweeted a complaint about leaks this morning. I don't think he has seen anything yet. And I think the tweet reflects his fear of what might emerge" [Thomas Ricks, Foreign Policy]. Performative speech, FP being the heart of The Blob. Hate Obama, hate Trump, love Clinton, want war.

"The Political Assassination of Michael Flynn" [Bloomberg]. "[T]here are many unanswered questions about Trump's and his administration's ties to Russia. But that's all these allegations are at this point: unanswered questions. It's possible that Flynn has more ties to Russia that he had kept from the public and his colleagues. It's also possible that a group of national security bureaucrats and former Obama officials are selectively leaking highly sensitive law enforcement information to undermine the elected government… In the end, it was Trump's decision to cut Flynn loose. In doing this he caved in to his political and bureaucratic opposition. Nunes told me Monday night that this will not end well. 'First it's Flynn, next it will be Kellyanne Conway, then it will be Steve Bannon, then it will be Reince Priebus,' he said. Put another way, Flynn is only the appetizer. Trump is the entree." Yep. I wonder if Trump is — assuming good faith, here — making the same mistake Obama did? Assuming some level of good faith from the opposing party?

As usual, Mark Ames is right:

Says a lot that Flynn wasn't hounded out for his violent Islamophobia, but for secretly trying to reduce tensions with Russia

— Mark Ames (@MarkAmesExiled) February 14, 2017

"FOUR DETAILS ABOUT SURVEILLANCE AND THE FLYNN OUSTER" [emptywheel]. "[R]emember that for a great deal of SIGINT, FBI wouldn't need a warrant. That's because Obama changed the EO 12333 sharing rules just 4 days after the IC started getting really suspicious about Flynn's contacts with Russia. That would make five years of intercepts available to FBI without a warrant in any counterintelligence cases, as this one is."

"A number of White House and national security officials are involved in the search [for Flynn's replacement], including CIA Director Mike Pompeo, Defense Secretary James Mattis, Department of Homeland Security John Kelly, chief of staff Reince Priebus, Bannon, and Trump's son-in-law, Jared Kushner, a senior official said" [Politico]. So if the intelligence community on strike and not sending national security information to Trump, where was Pompeo?

UPDATE "Hillary Clinton shares former aide's colorful Michael Flynn taunt" [Yahoo News]. The talking point: "Fake news." Of course. Clinton 2020! Cory's gonna have a hard time getting past her!

"Michael Flynn is the latest member of Team Trump to learn that bad press actually does matter" [WaPo]. Yes, WaPo's 16 Sanders smears in 16 hours mattered too. Well played, all. To be fair, it's not clear that any of this affects voters out in flyover country at all.

"Although there is broad agreement the nation's infrastructure needs an upgrade, laws aimed at preserving neighborhoods and the environment remain in place. As a result, long, costly reviews and legal battles will likely confront President Donald Trump's efforts, just as they delayed much of President Barack Obama's 2009 economic-stimulus efforts. Mr. Trump wants expedited reviews of "high priority" projects, but an executive order won't dislodge an embedded regulatory process that can hold up projects for years. One example: Dredging began in 2015 at Georgia's Port of Savannah under a project that was proposed 16 years before" [Wall Street Journal].

UPDATE "The challenge for conservatives is that President Trump is not really one of them. He seems predisposed to big spending packages for things like border walls, infrastructure (which, in fact, is badly needed), and an expanded military. He also wants to cut taxes. Since he's unlikely to provide sufficient cuts to offset this drain on the Treasury, we are likely to see soaring deficits, something that turns the stomachs of true conservatives. It's also not hard to imagine Trump wanting to 'prime the pump,' goosing the economy with additional spending. Every time he does this, it will cause a dilemma for every Republican member" [Cook Political Report]. Cue a fiscal responsibility moral panic by the Democrat establishment [head, desk].
Policy
"A Political Opening for Universal Health Care?" [The Atlantic]. "in the turmoil over the fate of Obamacare, the idea of universal health care has emerged as a third way among voters in both parties. The health system the mainstream GOP opposes most is now one some of its voters support—potentially making Price's task of replacing Obamacare all the more complicated. The political appeal of a single-payer, universal health-care system is perhaps best outlined by Jessi Bohon, a high-school teacher who attended a raucous and often angry town hall with Republican Representative Diane Black in Murfreesboro, Tennessee, last week." Readers will recall that we ran this video as soon as it appeared a few days ago:

Seriously urge everyone to watch this entire question from a woman at GOP #Obamacare townhall in Tennessee: pic.twitter.com/8mBGE1z6Rj

— MJ Lee (@mj_lee) February 10, 2017
Stats Watch
National Federation of Independent Business Small Business Optimism Index, January 2017: Edged higher [Econoday]. "After the index surged 7.4 points in December, the largest increase in the survey's history, and a sharp increase of 3.5 points in November, most analysts were expecting a moderate pullback of at least a point." But: "The four "hard" measures of the index posted mixed results last month. The job creation component rose by two points month over month in January to 18%, the job openings component rose two points to 31, capital spending plans fell two points to 27%, and inventory investment plans fell two points to 2%" [247 Wall Street].
Producer Price Index (Final Demand), January 2017: "There are indications in the January producer price report that underlying inflation pressures may be building" [Econoday]. "The headline, at a much higher-than-expected 0.6 percent, is skewed higher by a 4.7 percent monthly surge in energy (gasoline plus 12.9 percent and home heating oil up 14.5 percent)." And: "Although there is little change in year-over-year final demand inflation, one should observe that it is goods driving inflation whilst services is moderating inflation" [Econintersect].
Commodities: "The U.S. fertilizer industry is booming, the Lucy Craymer and Rhiannon Hoyle report, with output of urea, a key nitrogen-based fertilizer, surging some 10% last year while China's output slumped 7% and exports tumbled by more than a third. The U.S. business is growing largely due to trends in global energy markets, including the shale revolution that has brought down the cost of gas, a key ingredient in nitrogen-based fertilizers. That's pushed U.S. producers to add and expand plants, which should fuel even more production" [Wall Street Journal].
Commodities: "Freeport-McMoRan Inc has halted production of concentrate at the world's second-largest copper mine in Indonesia and has begun to send workers home, a spokesman for the company's local unit said on Tuesday" [Reuters]. "The halt comes at the same time as a stoppage at the world's biggest copper mine in Chile, fueling supply worries and helping support prices for the metal near 20-month highs touched on Monday."
Commodities: "Germany's central bank is bringing home gold reserves stored in places like New York and Paris faster than planned, it said on Thursday, as confidence in the euro ebbs even in the heart of the currency bloc after a decade of a sluggish economy" [Reuters]. "But with Europe stumbling from crisis to crisis, the German public has grown uneasy about keeping the gold abroad. Some even argue the world's second biggest bullion reserve may be needed to a new deutschmark, should the euro zone break up" [head, desk]. Let me know how that works out…
Retail: "Leave it to California growers to find a new way to eliminate the shipping from farm to warehouse. A startup operation near the San Francisco International Airport is trying to turn the warehouse itself into a farm, eliminating the timing, transportation and preservation strategies that are critical to modern agriculture distribution. Backed by a group of tech entrepreneurs and investors, Plenty United Inc. hopes to begin selling produce soon that they say is bred for local tables rather than for shipping durability" [Wall Street Journal]. Might work for argula… Parsley… $10.00 heirloom tomatoes…
Housing: "How Resilient Is the U.S. Housing Market Now?" [Federal Reserve Bank of New York]. "By our estimates, the housing finance system seems likely to be able to withstand a reversal of the last two years' worth of price growth: such a scenario would cause no state to experience serious delinquency exceeding 10 percent. But a return to the price levels of four years ago would produce serious delinquency rates in the double digits in five states: Arizona, Florida, Georgia, Michigan, and Nevada."
The Fed: "[Yellen] went on to say that a rate increase will be likely be appropriate at one of the forthcoming meetings if the economy remains on track. At the upcoming meetings, the FOMC will evaluate whether employment and inflation are continuing to evolve in line with their expectations" [Economic Calendar]. "According to Yellen, the incoming data suggests that the labour market continues to strengthen and that inflation is moving towards 2%, in line with FOMC expectations. In this context, the FOMC expects the economy to expand at a moderate pace with the job market set to strengthen somewhat further."
The Fed: "Federal Reserve Chair Janet Yellen gave her semi-annual monetary policy report to Congress on Tuesday. This was before the Senate Banking Committee, and some might interpret her words as a tad more hawkish or less dovish than in prior statements" [247 Wall Street]. Yellen: "The Committee anticipates that the depressing effect of these factors will diminish somewhat over time, raising the neutral funds rate, albeit to levels that are still low by historical standards."
The Fed: "Chair Yellen's prepared testimony is in my view easily the most hawkish message that she has ever delivered in her tenure as Fed Chair. She stopped short of promising a rate hike in March, but she did more than enough to put March on the table, and, perhaps more importantly, she sent a clear signal that the Fed is likely to raise rates multiple times this year" [Amherst Pierpont Securities, Across the Curve]. "Right off the bat, Chair Yellen was asked about the balance sheet, and she gave a lengthy prepared answer (clearly, the Fed knew this question would come). She explained that the Fed wants to get the balance sheet down to a sharply lower level but will only do so when the FOMC is comfortable that the economy is strong enough to handle it and that the funds rate is far enough away from zero that the Fed has room to ease if things were to go south. She explained that the FOMC does not intend to actively manage the balance sheet as a monetary policy tool. Instead, the Fed will attempt to shrink the balance sheet with as little disruption to the markets as possible. This means using passive roll-off to get the balance sheet down in size, and she repeated the Fed's view that it will not ever sell MBS directly into the market. She did not convey a sense of urgency about starting this process, but noted that the Committee will be discussing how and when to begin paring the size of the balance sheet at future meetings. The most interesting aspect of her response in my view was the idea that the Fed does not intend to use management of the size of the balance sheet as a component of monetary policy."
Today's Fear & Greed Index: 77 Extreme Greed (previous close: 72, Greed) [CNN]. One week ago: 57 (Greed). (0 is Extreme Fear; 100 is Extreme Greed). Last updated Feb 14 at 1:53pm.
Dear Old Blighty
The sun never sets on Blighty's boldness!
The Unsettlement
"A sea of demonstrators on Monday marched from Milwaukee's predominantly Hispanic south side to the downtown courthouse to protest a plan that would deputize local law enforcement officers as federal immigration agents. Busloads of demonstrators from about a dozen communities around Wisconsin arrived to join local protesters in the mile-long march. Parents with children in strollers, young men hoisting Mexican and American flags, and older supporters mingled as the crowd, estimated at 10,000 to 20,000 by police, moved through the streets chanting "Si, podemos!" or "Yes we can!" [Chicago Tribune]. "Jose Flores, board president at Voces de le Frontera, one of the groups organizing the march, said he is fearful of the plan by Milwaukee County Sheriff David Clarke to enroll his deputies in a federal program that allows them to perform immigration law enforcement functions. 'Many peoples got to be afraid, you know. Like many families in this county, there's a lot of hard workers. They are not criminals. We are not criminals,' Flores said. Activists also marched against President Donald Trump's stand on immigration and his executive order that targets just about any immigrant living in the country illegally for deportation."
Lambert here: My views are conflicted. First, good numbers, i.e. the photograph is not a tight shot, as are so many photos of protests; I tend to think it's good to see people in motion. Second, "Yes we can!" is particularly vacuous, given that Obama deported "undocumented" immigrants in record numbers. Third, is this just preaching to the choir? Will marches like this expand what has proved to be an inadequate Democrat base? Fourth, deputizing cops as immigration agents is a terrible idea. Fifth, if I'm visiting another country, and I overstay my visa I would expect, if caught, to pay a fine and be forced to leave, and that's the best case scenario; anyone who has a passport knows this. It is utterly unclear to me why matters in this country are or should be any different. Finally, the reason illegal immigration is an intractable problem is that it lowers wages, which the 1% likes, as do the 10%-ers who need yard work, maid work, and other personal services performed. Therefore, illegal immigration is one aspect of the larger problem with globalization: That those forced to bear globalization's burdens — for example, the communities in the Rust Belt destroyed by deindustrialization — aren't compensated for it; even mainstream economists now recognize this. So, to me, "hard working" is just a synonym for "undercutting the local minimum wage" (and making working conditions even worse). I wish this weren't so — "give me your tired, your poor," and "workers of the world, unite!" — and I'd love to be argued out of it, but I think it is so.
"The greatest mistake we can make, in my view, is to not try to persuade. Persuasion is not about elegant logic or Oxford-style debates. It is about interacting, with good will and in good faith, with people who look at things differently, and working to understand how they see things so that you can help them understand how you see things. Persuasion involves a meeting of minds, and very frequently alterations of circumstance and behavior by all involved. An argument can be persuasive, but so can a touch, an ongoing friendship, membership in a club, or a new set of coworkers. Persuasion is not academic. It comes not from dispassionate observation of objects, but the interaction and interplay of subjects. Persuasion is personal. Laughter helps. If your response to all this is to scoff, to call forth images of thugs or buffoons from Trump rallies or Gas-Chamber Twitter and mock the possibility of a 'meeting of minds', perhaps I can appeal to our shared identity as reasonable people and remind you that it is an error to conflate vivid with representative" [Interfluidity]. "Ours is a political coalition that considers itself rational and open-minded, tolerant and cosmopolitan, and in many respects I think that is right. … We take pride in embracing and respecting people who look and act very differently than we do, who follow strange creeds the substance of which we might disagree with, who follow customs that may render us uncomfortable and require an unusual degree of diplomacy when we are called to interact in any intimacy. These habits and skills, of which I think we are justly proud, are precisely what are required of us now." This is a very good piece and well worth a read. I am not, however, entirely persuaded. As usual, when I see the word "we," I ask "What do you mean, 'we""? And while I wish Waldman's paean to liberal tolerance were true, I have only to think of the Democrat standard-bearer's "irredeemable" "deplorables" remark, entirely simpatico with the previous standard-bearer's "bitter"/"cling to" remark. In short, less Doctor Pangloss, more Thomas Frank. To be fair, I think Waldman is trying to "clean his side of the street," but I'd really like to hear those bristles sweeping the pavement. Instead, his piece has a feather-light touch.
"The Anarchists vs. the Islamic State" [Rolling Stone]. Fighting on the side of the Kurds.
UPDATE "Your Guide to the Sprawling New Anti-Trump Resistance Movement" [The Nation]. Not that I have priors, but I knew that when I read this piece I'd find nothing Sanders-inspired at all, and I was right. Nothing on Our Revolution, and nothing on Brand New Congress. There's also nothing on DSA; photographs of DSA's well-attended meetings keep showing up in my Twitter feed. Of course, they're not filling stadiums, like Sanders did, but these meetings aren't five or six people sitting in a circle in a church basement, either. Odd. If I have time, I'd go through the About pages of the organizations listed to find leadership and funding. Or, readers?
Black Injustice Tipping Point
"KKK imperial wizard Frank Ancona is found dead in Missouri" [McClatchy]. From this link, it seems like a family affair. I'm fascinated to learn Ancona made his living delivering auto parts.
Guillotine Watch
"Elon Musk: Humans must merge with machines or become irrelevant in AI age" [CNBC].
Class Warfare
"The Big Reason Whites Are Richer Than Blacks in America" [Bloomberg]. The subhead: "Inheritance matters a lot more than previously thought. Guess who's getting the lion's share." The article is more qualified, but more interesting systemically: "So what does account for the racial gap in wealth? [Amy Traub, the associate director for policy research at Demos (ugh)] admits that 'we haven't fully penetrated the mystery.' One powerful factor seems to be that whites are five times as likely as blacks to receive substantial gifts and inheritances, and the sums they get tend to be much larger. The money 'can be used to jump-start further wealth accumulation, for example, by enabling white families to buy homes and begin acquiring equity earlier in their lives,' the study says. The result is that whites' wealth advantage—and blacks' disadvantage—gets passed down from generation to generation. Which means that forms of racial discrimination 'that happened in the past, like redlining, continue to show up in bank accounts today," says Traub.'"
News of the Wired
"Nokia 3310, 'the most reliable phone ever made', to be re-launched at MWC 2017" [Yahoo News]. "Those other new phones wll be more like smartphones, but will retain much of the same low price." No, no, no. Do not make the 3310 smart at all, as in do not turn my personal phone into a Big Brother-like data gathering device that sucks up all my data and passes it along to resellers and the "intelligence community"! Know your market!
* * *
Readers, feel free to contact me with (a) links, and even better (b) sources I should curate regularly, and (c) to find out how to send me images of plants. Vegetables are fine! Fungi are deemed to be honorary plants! See the previous Water Cooler (with plant) here. And here's today's plant (Jacob Bacharach):
Bacharach comments: "This cannot end well." That is a very Maine thought.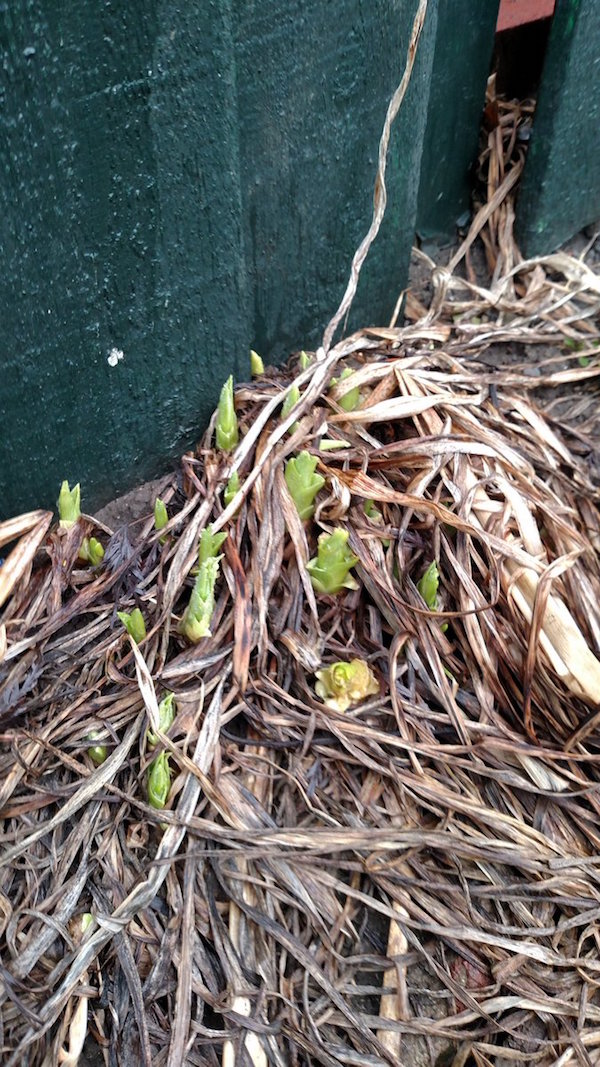 Readers, Water Cooler is a standalone entity, not supported by the very successful Naked Capitalism fundraiser just past. Now, I understand you may feel tapped out, but when and if you are able, please use the dropdown to choose your contribution, and then click the hat! Your tip will be welcome today, and indeed any day. Water Cooler will not exist without your continued help.