By Lambert Strether of Corrente
Readers, I think I'm coming down with the flu, which is going around. This may be shorter than it should be. –lambert
Politics
Trump Transition
"Lt. Gen. Herbert Raymond 'H.R.' McMaster, President Donald Trump's new pick as national security adviser, does not appear to be a friend of Russia" [Roll Call]. "The 55-year-old McMaster is a combat veteran who won the Silver Star, the military's third-highest award for bravery, during the first Gulf War. He also was described by the White House as having played key roles in the Iraq and Afghanistan wars. He has a reputation as being a top intellect and strategist in the Army."

"Will McMaster be willing to speak truth to power on Russia? He has been a Russia hard-liner whose eyes are wide open to the threat that Vladimir Putin represents. After Vladimir Putin's incursion into Ukraine, McMaster prepared a detailed study about how the U.S. Army must modernize to keep up with Russian innovation" [WaPo]. I love the idea of The Blob "speaking truth to power."

"Demographics and GDP" [Calculated Risk]. Economists making the argument that restricting immigration will decrease labor force growth, and hence GDP. But talking about GDP without talking about distribution is worse than useless, it's obfuscatory. Averages conceal.

"The attendees said that Homan said ICE has the authority to target all 11 million undocumented immigrants for removal from the country under President Donald Trump's immigration executive order but that the agency does not have the resources to do that" [Roll Call]. "The initial data Homan provided Thursday was that 683 undocumented immigrants were apprehended across five cities, including Los Angeles, New York and Chicago, the Democrats said. However, there have been additional arrests in cities like Denver that were not included in the data ICE provided, they said. The list of charges for those apprehended includes traffic offenses and trespassing, "as well as some serious crimes that no one would disagree about," Rep. Zoe Lofgren of California said. Among the 683 apprehended, 176 were listed as non-criminal, the Democrats said."

"Riots erupt in Sweden's capital just days after Trump comments" [WaPo]. I guess a lot of snark on the Twitter is going to have to vanish down the memory hole now. I thought the IKEA jokes were the best; it would be a shame to see them go.

"From a legal standpoint, if the Washington Post's reporting based on leaks by nine officials is true, we are nearly certain that they violated 18 U.S.C. § 798, while we are very far from certain that Flynn violated the Logan Act, since we have not seen a transcript of his conversation with the Russian ambassador. And yet the left obsesses over the latter at the expense of the former" [Above the Law]. The writer conflates the left with liberals, but yes, the outrage does seem a little "Any stick to beat a dog"-ish.
Our Famously Free Press
"A Stylometric Inquiry into Hyperpartisan and Fake News" (pdf) [Archiv.org]. "[W]e approach it from a different angle by investigating the writing style of fake news in relation to hyperpartisan news. In this regard, we analyze for the first time whether hyperpartisan news can be distinguished by its style from mainstream news (it can), whether satire can be distinguished from both (it can, too), and whether fake news can be detected via style alone (it can't)." I like "hyperpartisan." Conceptually, I think Judy Miller's WMD stories are "fake news," so any algorithm would have had to select for them, which is unlikely, since they reflected conventional wisdom and policy choices.

"[O]perating liberal political theories about 'speech' — the theories that, whether we 'believe' them are not, tend to be the ones that predominantly guide people's actions and responses — are centuries behind the state of knowledge about how language works. It is still assumed that language is basically a neutral conduit, transferring meaning from one to the other, rather than something which is done to you. Meaning itself is treated as something contained in the language, which we may decide to unpack and digest, rather than as a form of intending, something which acts on us, by means of the very materiality of language and what it activates in us. If language does things to us, if we find that disagreeing is somehow just not adequate as a response, if it makes us want to throw a punch, or a brick, it must be because we're triggered snowflakes who can't deal with the argument" [Leninology (DB)].
2016 Post Mortem
"Keith Ellison: 'The Democratic Party doesn't exist for Democrats'" [WaPo]. ""Democrats have to come to grips with the idea that the Democratic Party doesn't exist for Democrats, it is for the American people." And: "And true to his progressive roots, Ellison also believes "the Democratic Party should always be the party that stands with the working people of America.'" No. No, no, no, no, no, no. That "aspiring" is just liberal bushwa, and translates to "credential-seeking." Worse, it implicitly sorts the working class into the deserving aspirational (HappyVille), and the non-deserving non-aspirational (Pain City). And we know who's going to be doing the sorting.

"Rep. John Lewis explains why he's endorsing Ellison for DNC chair" [Guardian]. Do I have to be nice to Lewis now, or is he a revolving hero?

Neera Tanden enforcing orthodoxy in the Times: "Whoever prevails as chairman must resist the pressure to follow an uninformed and ill-fated quest for winning over conservative white working-class voters in the Midwest. The solution for Democrats is not to chase Trump defectors. The path to victory involves reinspiring those whites who drifted to third-party candidates and then focusing on the ample opportunities in the Southwest and the South" [Steve Phillips (CAP), NYT]. Weird that the Democrat Establishment feels no need to flip back Obama voters who voted for Trump. Irredeemable?

Neera Tanden enforcing orthodoxy at TAP: "Why Democrats Need to Forget About 'Reaching Out'" [Paul Waldman, The American Prospect]. "Right now, the Democrats' constituents are feeling horrified, terrified, and generally pissed off. Which is just what produces the kind of midterm election they need. That's because midterm elections are all about enthusiasm—which almost always means anger." So, no need to organize anything: Screaming "Putin!" and sex scandals will do the job, along with so much gaslighting that real threats can't be distinguished from phantoms. Strategic hate management…
Realignment and Legitimacy
"Trump's problem isn't the deep state; it's the broad state. He's facing pushback not only from intelligence agencies, but from civilian bureaucracies, too" [Doyle McManus, Los Angeles Times].

"What has been remarkable about the protests that have engulfed the country over the past month isn't just the scope or even the regularity, but the creativity and novelty of tactics" [In These Times]. "And so far this new protest movement has been primarily oppositional, responding to attacks posed by the new government. Any program to win power must also set out a bold vision of a different kind of society, one focused on the needs of working people that serves as a true alternative to the type of racist and corporate-dominated agenda currently being carried out." Creative tactics are always a sign of health. And it's good that the writer is for transforming Resistance into small-r revolution (a la Sanders, et al.) rather than Restoration (a la the Neera Tandens of this world). I don't think much of "corporate-dominated agenda," though, because that formulation conveniently erases the role that the 10% plays in carrying that agenda out.

UPDATE "Is the Democratic party with the resistance? This weekend might tell" [Bill McKibben, Guardian]. "[T]he single most remarkable statistics of the 2016 election season were the four- and five- and six-to-one margins by which Sanders won young voters. That he was able to overcome that inherent distrust means he may be able to do the party a great service, and deliver it a generation of voters who are not otherwise inclined to affiliate with institutions of any sort. Ellison is the bridge to that world, and it would be political malpractice to draw it up. But he's also the bridge to the world of movements, which supply the passion and spirit and creativity that the DNC requires at least as badly as it needs credibility." It's a question of whether the Democrat Party will decapitate "the" resistance (watch those definite articles!). I'd really like to see Neera Tanden remove #TheResistance logo from her Twitter profile and trash "it"/"them." That would be a very, very positive sign.

"[I]t isn't clear that Trump possesses the political temperament to deal effectively with the kind of politics that inevitably emerge when the country struggles to move from an established era to a new and often frightening new day. The country is split down the middle—between those clinging to the era of globalism and those who despise it; between those who want to control immigration and those who think such efforts are tantamount to racism; between those who believe that radical Islamist fundamentalism emanates out of Islam itself and those who think such thinking is bigotry or Islamophobia; between those who view Trump's election as necessary and those who consider it a threat to the common weal" [The American Conservatives]. Tens of thousands of "deaths from despair" in deindustrialized America and conservatives can't bring themselves to talk about it either any more than liberals can.

"Odd Lots: Why It's Really Hard to Create a New Currency in a Revolution" [Bloomberg]. Podcast interviewing Rebecca Spang, "The author of Stuff and Money in the Time of the French Revolution], about the monetary history of the French Revolution. Her book examines the disastrous attempt to create a new land-backed currency, the Assignat, in the late 1700s. The discussion sheds light on some fundamental issues that are still relevant today. "

"Five special elections for the House of Representatives are expected to take place over the next few months: California's 34th congressional district, Georgia 6, Kansas 4, Montana At-large and South Carolina 5. These elections are 'special' in the sense that they occur outside the normal two-year November House election cycle — to fill a vacant seat. But other than that, there's nothing all that special about special elections, making them a decent thermometer reading on the country's political mood and how voters are responding to President Trump" [FiveThirtyEight].

"[Ruth Benn, coordinator of the National War Tax Resistance Coordinating Committee], said enthusiasm for tax resistance appeared to be growing in the Trump era, though cautiously. Visits to the committee's rudimentary website have doubled in recent weeks to about 1,500 a day. The committee estimates that about 8,000 people a year refuse to pay US federal income tax as an act of civil disobedience, and that number is expected to rise. Among famous faces, Mia Farrow has tweeted about tax resistance. Gloria Steinem is also planning to take part in the movement" [Guardian].
Stats Watch
Purchasing Managers' Manufacturing Index Flash, February 2017: "The U.S. samples of Markit Economics are reporting slowing conditions this month though at still respectable rates of growth. The PMI manufacturing index flash fell back modestly to 54.3 in February representing only a slightly slower pace in order growth and production. Respondents are reporting strength in domestic orders but weaker growth for exports, and upbeat comments are cited for the energy sector" [Econoday]. "Costs, driven by raw materials, are at a 2-1/2 year high while selling prices are flat in what points to a margin squeeze."
Commodities: "After digging into a deep financial hole in recent years, some of the world's biggest mining companies are climbing out with copper. The industrial metal has surged more than 30% in the past year… with demand outpacing production while giving mining giants including Rio Tinto PLC, Anglo American PLC, BHP Billiton Ltd. and Glencore PLC relief after the recent commodities downturn sent them to the edge of financial disaster. The metal's resurgence partly has been driven by a government stimulus program in China, where over 40% of the world's copper is consumed" [Wall Street Journal]. "But the turnaround is also driven partly by restrained production, which explains why businesses like bulk shipping companies aren't reaping the benefits. Demand for copper is expected to outpace production in 2017 for the first time in six years, and it could remain in deficit for the next three or four years.
Commodities: "Iron ore futures in China surged more than 5 percent to a record high on Tuesday, pushed by a sustained rally in steel prices as investors bet on strong demand and tighter supply as Beijing tackles excess production capacity" [Reuters].
Shipping: "Cass Freight Index Report indicates the freight recession appears to be over" [Logistics Management]. Stuff is moving! "Many freight transportation and logistics executives and analysts consider the Cass Freight Index to be the most accurate barometer of freight volumes and market conditions, with many analysts noting that the Cass Freight Index sometimes leads the American Trucking Associations (ATA) tonnage index at turning points, which lends to the value of the Cass Freight Index."
Shipping: "The Home Depot knows do-it-yourself projects. When the third-largest US importer of containerized goods decided it had to cut carbon emissions from its supply chain, it used the tools it had at hand, including a dedicated truck fleet and a network of specialized distribution centers, to design and build more efficient and greener ways of getting goods to customers" [Journal of Commerce]. 'We've found that a 2 to 5 percent reduction in carbon emissions, while increasing revenue, can be meaningful and impactful,' [Michelle Livingstone, vice president of transportation for The Home Depot] said. 'That's what we're trying to achieve this year.'"
Shipping: "The clock is ticking before the launch of two new mega-alliances on 1 April, but a long pause in announcing details has caused planning headaches to ports and shippers, according to container shipping analyst Drewry" [Lloyd's Loading].
Shipping: " Mitch McConnell's Freighted Ties to a Shadowy Shipping Company" [Lee Fang, The Nation]. " [T]he Republican Senate minority leader has the closest of ties to the owner of the Ping May, the vessel containing the illicit materials [ninety pounds, of cocaine]: the Foremost Maritime Corporation, a firm founded and owned by McConnell's in-laws, the Chao family. Though Foremost has played a pivotal role in McConnell's life, bestowing the senator with most of his personal wealth and generating thousands in donations to his campaign committees, the drug bust went unnoticed in Kentucky, where every bit of McConnell-related news has generated fodder for the campaign trail. That's because, like many international shipping companies, Chao's firm is shrouded from public view, concealing its identity and limiting its legal liability through an array of tax shelters and foreign registrations. Registered through a limited liability company in the Marshall Islands, the Ping May flies the Liberian flag." Chao is, of course, the Secretary of Transportation.
Shipping: "[UPS] has successfully tested a drone that launches from the top of a vehicle, autonomously delivers a package to final destination and then returns to the vehicle, all while the delivery driver is able to continue along his/her land-based route in order to make a separate delivery" [Air Cargo News].
The Bezzle: "On Thursday, federal agents arrested Mark Charles Barnett of Ocala, Florida, accusing him of attempting to plant bombs in at least 10 Target stores along the East Coast with the intention of profitably trading on the subsequent stock price dislocations" [Dealbreaker]. Florida Man!
The Bezzle: "Musk has started digging a pit in the SpaceX parking lot as a "demo tunnel" that can accommodate cars and serve as the basis of an underground transportation network, according to the report" [Business Insider].
Rapture Index, February 20, 2016: Closes down 1 on earthquakes ("The lack of large quakes in populated areas has downgraded this category") [Econintersect]. Record High: 189, October 10, 2016. Current: 180.
Today's Fear & Greed Index: 75 Extreme Greed (previous close: 78, Extreme Greed) [CNN]. One week ago: 78 (Extreme Greed). (0 is Extreme Fear; 100 is Extreme Greed). Last updated Feb 21 at 12:10pm.
Gaia
"The menacing floodwaters last week forced the emergency evacuation of 188,000 residents. Yet the impending disaster came as no surprise to officials in Butte and Plumas counties. The rural counties, which surround Lake Oroville, had challenged the state's environmental review of dam operations in a 2008 lawsuit, arguing the state "recklessly failed" to properly account for climate change in its long-term dam management plan" [Scientific American]. Plumas County, at least, is reliably Republican at the state and national level, which is interesting.
Class Warfare
"Rich People Literally See the World Differently" [New York Magazine]. "In something of a dark irony, the respondents of higher socioeconomic status rated themselves as more empathic — a "better-than-average effect" that [Michael Varnum, a neuroscientist at Arizona State University] followed up on in a separate study — when in reality the opposite was true. The results "show that people who are higher in socioeconomic status have diminished neural responses to others' pain," the authors write. "These findings suggest that empathy, at least some early component of it, is reduced among those who are higher in status." And unlike self-reports, brain imaging sidesteps 'social desirability bias,' where people want to give replies that make them look good or more empathic. 'If you're looking at pictures of people in pain or not in pain, it's pretty unlikely that you know how to enhance those brain responses," Varnum [says]… Moreover, in a 2016 study, Varnum and colleagues found evidence suggesting that people from lower social classes have a more sensitive mirror neuron system — which is thought to simulate the things you see others experience — when watching a video of hand movements. 'Our cognitive systems, the degree to which they're attuned to other people in the environment, is affected by our own social class,' he says."
"Where Shadow Economies Are Well Established" [Econointersect]. Only 5% of GDP in the US, versus 21.5% in Greece. However, the US shadow economy is said to be smaller than Switzerland (6.0%) and the Netherlands (5.4%), and three countries in the Anglosphere (the UK, Australia, and Canada) are over 9%. So intuitively, that 5% figure seems low.
"Facebook isn't a social network, it is a scanner that digitises human beings. It is, for all intents and purposes, the camera that captures your soul. Facebook's business is to simulate you and to own and control your simulation, thereby owning and controlling you" [Aral Balkan]. "I call the business model of Facebook, Google, and the venture-capital-funded long tail of Silicon Valley startups "people farming". Facebook is a factory farm for human beings. And Mark's manifesto is nothing more than a panicked billionaire's latest sophomoric attempt to decorate an unpalatable business model grounded in the abuse of human rights with faux moral purpose to stave off regulation and justify what is unabashedly a colonial desire: to create a global fiefdom by connecting all of us to Facebook, Inc." Not so sure on this "individual sovereignty" stuff, but he's got Facebook dead to rights.
"Despite challenges, the New York City area could be the solution for America's absent apparel manufacturing. With the recent political landscape and push to bring production back to the U.S., the New York City area could again serve as America's major manufacturing hub. Beyond relocation of staff and materials, consumers are at the heart of this movement too. If consumers buy local and minimize their fast fashion purchases, apparel manufacturing will be more likely to happen in the city in coming years" [Sourcing Journal].
News of the Wired
"Cane used to beat members of Pink Floyd finally added to museum" [AV Club (PT)]. Friends, there's good news tonight!
"New Zealand appeals court upholds Kim Dotcom extradition ruling" [Ars Technica]. "In a ruling issued Monday afternoon local time (late Sunday night, Eastern Standard Time), Justice Murray Gilbert of the High Court of New Zealand ruled that while he agreed with one of Dotcom's attorneys' primary arguments—'that online communication of copyright protected works to the public is not a criminal offence in New Zealand'—the judge noted that nevertheless, Dotcom and his co-defendants remain eligible for extradition based on other elements in the case."
"You're a completely different person at 14 and 77, the longest-running personality study ever has found" [Quartz]. Don't I know it! "If your patterns of thought, emotions, and behavior so drastically alter over the decades, can you truly be considered the same person in old age as you were as a teenager? This question ties in with broader theories about the nature of the self. For example, there is growing neuroscience research that supports the ancient Buddhist belief that our notion of a stable 'self' is nothing more than an illusion."
Simon Stålenhag, uber-creepy:
@BrogieBaby @robincroneld So what about this? pic.twitter.com/i3DOt5nPFl

— Simon Stålenhag (@simonstalenhag) February 8, 2017
Some truth in this:
The front lines of fascism vs communism pic.twitter.com/c69qTDs1ek

— Deep Web Italian (@Deno_Tron) February 20, 2017
* * *
Readers, feel free to contact me with (a) links, and even better (b) sources I should curate regularly, and (c) to find out how to send me images of plants. Vegetables are fine! Fungi are deemed to be honorary plants! See the previous Water Cooler (with plant) here. And here's today's plant (via):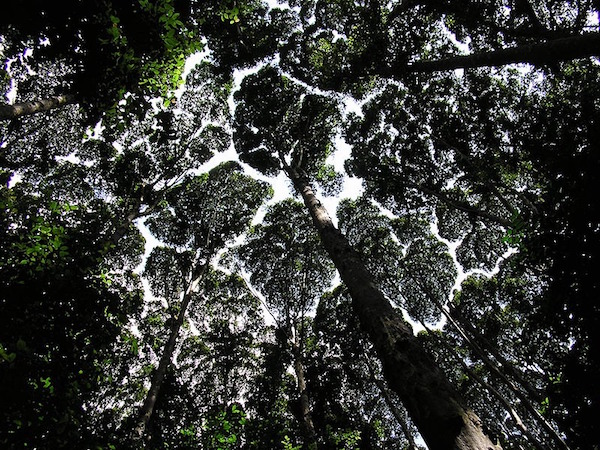 Crown shyness in Dryobalanops aromatica (Kapur trees) in Forest Research Center, Kuala Lumpur.
Readers, Water Cooler is a standalone entity, not supported by the very successful Naked Capitalism fundraiser just past. Now, I understand you may feel tapped out, but when and if you are able, please use the dropdown to choose your contribution, and then click the hat! Your tip will be welcome today, and indeed any day. Water Cooler will not exist without your continued help.