By Lambert Strether of Corrente
Trade
"The CETA Deception 2.0: How the Trudeau government is misrepresenting CETA" [Council of Canadians]. "CETA threatens the right to regulate in the public interest and the ability of governments to maintain control over vital natural resources and public services. CETA gives foreign investors extraordinary rights and powers – and for what gain? CETA's promised economic benefits remain elusive. A recent study has shown that CETA will result in job losses, net losses in government revenue, and increased inequality in both Canada and the EU…. The EU's 38 member states and regions must still ratify the agreement. Four regional governments in Belgium are set to refuse ratifying CETA unless their concerns about ISDS are addressed."
Politics
2016 Post Mortem
Rahm Emmanuel and his "chill pill": "Emanuel now says his goal [as DCCC chair] in 2006 was to "take cultural issues off the table" and "present economic issues." But on economics, his candidates represented the Washington consensus in favor of free trade agreements that enshrine investor rights – the same tired consensus against which Sen. Bernie Sanders mobilized deep opposition in the Democratic primaries last year, and that Trump exploited so cynically in November" [Chicago Reporter]. "The truth of the 2006 election was that the top three recipients of DCCC cash – who together got nearly $10 million – all lost, and of 22 initial candidates backed by Emanuel's committee, only nine won their elections. What swung the election to the Democrats was the deep unpopularity of President George W. Bush and the Iraq war, nourished by a new "netroots" insurgency within the Democratic Party. Emanuel's pro-war candidates had trouble catching the wave – but now he claims the election victory as his own. The Blue Dog Democrats Emanuel elected were a major source of trouble when President Obama was trying to pass an economic stimulus and health care reform. And these "Republican Lite" politicians were the first to fall in the Tea Party election of 2010." Because voters for real Republicans when the alternative is a fake Republican. As Clinton's failed turn to the right to pick up suburban Republican women shows. As the headline says: "Emanuel is the last person to give Democrats advice on strategy."

"In Race for DNC Chair, Tom Perez Pledges to Woo Back Red, Rural America" [CNBC]. "[Kathleen] Sebelius also announced her public support for Perez Tuesday." The organizer of the ObamaCare roll-out debacle, never held accountable. So I'm sure her endorsement carries great weight (though she doesn't actually have a vote; the article explains the mechanics of the "peculiar" race for DNC chair quite well).

"Tom Perez Apologizes for Telling the Truth, Showing Why Democrats' Flaws Urgently Need Attention" [Glenn Greenwald, The Intercept]. A hilarious trainwreck:

This is what Perez said:

. And you've got to be honest about it. That's why we need a chair who is transparent.

But Perez's commitment to "transparency" and "being honest" had a very short life-span. After his admission predictably caused controversy – with furious Clinton supporters protesting the truth – Perez … quickly slinked onto Twitter with a series of tweets to retract what he said, claim that he "misspoke" (does anyone know what that word means?), apologize for it, and proclaim Hillary Clinton the fair and rightful winner.

Not only that, Perez never did explain how he "misspoke," or what he meant to say. No doubt this ritual act of fealty to the perpetrators of the 2016 debacle will put him over the top.
Realignment and Legitimacy
To misquote Talleyrand on the Bourbons, the Democrats have learned nothing and forgotten a lot:

Palmieri on MSNBC says Dems should not use mass crowds to move left: "not everyone wants $15/hour…it's all about identity on our side now"

— Matt Bruenig (@MattBruenig) February 8, 2017

(Alert reader Roger Smith located the MSNBC clip.)

And speaking of identity politics:

this sneering contempt for everything left-of-center is so obnoxious pic.twitter.com/qsC5m9X3Tx

— Leliana, hello (@sonaralee) February 8, 2017

For more on Sady Doyle (quoted approvingly by Amanda Hess here), see the Podesta mail:

Here's a Wikileaks email showing some of the liberal bloggers huddling w/the Hillary campaign to push Bernie hits https://t.co/nedhU6kukA pic.twitter.com/hM6JjIkj0c

— Lee Fang (@lhfang) October 21, 2016

Putting the generals who built the Maginot Firewall in charge of #TheResistance. What could go wrong?

UPDATE Note that Will Bunch is one of the good guys, wrote a book on Sanders, so I take this "I do not think this means what you think it means" tweet more as symptom of the insanity than a personal failing:

6. Another core value for #TheResistance: The importance of education. So DeVos pick was more of a blow than any other nominee

— Will Bunch (@Will_Bunch) February 8, 2017

Translating, #TheResistance = what Thomas Frank would call the 10%, the professionals in Clinton's base, and what Chris Arnade calls "Front Row Kids." That's what the outrage over DeVos — who isn't a whole lot worse than charter advocate Arne Duncan on policy — as opposed to Tillerson or Price or Mnuchin really signals.

"Democrats are finding their inner Tea Party" [Axios]. "[T]he left is growing stronger rather than retreating after the historic setback on Election Day…. 'As the Tea Party learned in 2010, you need a call to action that's singular,' said Matt Bennett, co-founder of the Third Way. 'You can't go to town hall and say I demand the following 10 things..but if you go and say I demand you oppose Obamacare, it works.' Bennett said the party is unified against Trump, and he believes they need to take him on, one fight at a time."

And still from Axios, another case of "I do not think this means what you think it means": "Centrist Democrats were genuinely surprised by the intensity of the backlash against Trump's nominee for Education Secretary, Betsy DeVos. It happened organically. Democratic strategists like Anne Caprara of Priorities USA and Matt Bennett of Third Way guessed opposition would zero in on more obvious targets: Tom Price and ObamaCare, Steve Mnuchin and his Wall Street ties, Rex Tillerson because of Exxon and Russia ties, or Jeff Sessions on civil rights. That the hottest rage focused on DeVos taught Dem leaders in D.C. that they need to follow the organic resistance rather than try to over-engineer it themselves." But see above comment citing to Frank and Arnade; the "rage" — I thought liberals didn't do rage? Or hate? — was the offended amour propre of Clinton's credentialed base; nothing to do with policy at all. "Grassroots" my Sweet Aunt Fanny!

UPDATE "[W]hat we know about those districts that swung toward Clinton is that they're full of rich people who voted for Romney in 2012. The five Republican-held House districts with the biggest swings toward Democrats in the presidential race in 2016 are in Texas and Georgia. All have average household incomes over $100,000 per year. Three of those five districts are on the DCCC list" [Conor Sen, Bloomberg]. "Also on the list include four Republican-held districts in Southern California — the 39th, the 45th, the 48th and the 49th — which have average household incomes above $100,000. Democrats might be turning into the party of free trade, global business and immigration — the kind of party Romney hoped to lead in 2012." So, when the Democrat establishment says "Resist now, and we'll talk about economics later," that's why.

"As elections are their own protest against the powers that be, manifesting against an electoral fait accompli wastes valuable resources that could be better placed elsewhere, such as voter registration" [Counterpunch]. I understand the argument, but I'm not sure it's true, since protest in a location, as opposed to the ballot box, brings people in together in context. That said, it's not clear to me that whether the marches expand the [?????]'s base of support beyond the election, or not.

"Meet Gregg Phillips, the Granddad Trump Is Citing for His 3M 'Illegal' Voters Claim, Who Hasn't Released Any Proof" [Daily Beast]. I'm let getting to this, but I think this is the source, if I may so call it, of Trump's 3 million claim.

UPDATE "How Democratic Socialists Are Building on Bernie's Momentum" [Rolling Stone]. "[S]ince last March, the DSA's membership has nearly tripled, to more than 15,000 members, with 90 local groups in 37 states…. Eisenberg and other old-timers like self-described anarchist Carol Newton, 77, and 90-year-old retired social worker Jack Rothman are living evidence of one of the group's advantages: It's intergenerational, with activists from the Sixties passing along their knowledge to those of the social media generation, and vice versa. Ramirez recalls, for example, being amazed to learn about the time Newton knocked over a bus during a protest against the Vietnam War. "Somebody just goes, 'How the hell do you knock over a bus?' She's like, 'You just keep on pushing.' And it was just like, Jesus Christ, she has this awesome attitude.'"
Stats Watch
Wholesale Trade, December 2016: "Inventories have been on the climb raising the risk of unwanted overhang. But overhang isn't the story of the December wholesale trade report where a large 1.0 percent build is far outmatched by a 2.6 percent surge in sales" [Econoday]. "The results pull the stock-to-sales ratio down sharply to 1.29 from 1.31." And: "The headlines said this sector improved this month. The growth this month was in durables with non-duirables decelerating except petroleum with significantly grew. Overally, I believe the rolling averages tell the real story – and they improved this month. There is an obvious growth trendline in wholesale – and the data set is now showing normal growth for times of economic expansion" [Econintersect].
Jobless Claims, week of February 4, 2017: "Layoffs remain extremely low and are pointing to another strong employment report for February" [Econoday]. "There are no special factors in today's report, one that confirms strong demand in the labor market." And: "This was below the consensus forecast" [Calculated Risk]. But: "The trend of the 4 week moving average iinsignificantly worsened this week…The general trend of the 4 week rolling average is a slowing rate of improvement year-over-year which historically suggests a slowing economy" [Econintersect].
Bloomberg Consumer Comfort Index, February 2, 2017: "pressing to new post-election highs and new cycle highs" [Econoday].
Commodities: "The boom-and-bust farming business is falling deeper into a bust period in the U.S. A multiyear slump in prices for farm commodities brought on by a glut of grain world-wide is pushing many farmers deeper into debt… and the impact may send waves of change across supply chains built on agriculture goods. The U.S. share of the global grain market is less than half what it was in the 1970s, and farmers' incomes are due to drop 9% in 2017, extending the steepest slide since the Great Depression into a fourth year" [Wall Street Journal]. Possible explanation for those rural votes?
Commodities: "Globalization and speculation are fueling a rapid increase in the price of tires. Rubber prices are soaring" [Wall Street Journal]. " It is the latest illustration of the growing influence of China's futures markets, whose wild swings last year shook global prices for commodities. The volatile trading on the Shanghai Futures Exchange has triggered sharper swings at the Tokyo Commodity Exchange, where benchmark rubber futures are traded."
Shipping: "Yang Ming Transportation has a tough road ahead, but it is unlikely to go bust or become an acquisition target, according to analysts.The highly leveraged balance sheet of the Taiwanese carrier has stoked mounting concerns over its financial sustainability" [Lloyd's List].
Shipping: "Commerzbank AG on Thursday warned that its losses on shipping loans could be as high as EUR600 million ($641 million) this year after nearly doubling last year to EUR559 million. Last week, Deutsche Bank AG, Germany's largest bank, said its expected losses from shipping loans nearly tripled, to EUR346 million, from a year earlier. In Germany's port of Hamburg–one of Europe's richest cities–state-owned HSH Nordbank is racing to find a buyer or face liquidation after suffering massive losses on shipping-related debt" [Wall Street Journal, "Sinking Feeling: Shipping Is Latest European Banking Worry"]. But no derivatives, presumably. More: "Before the crisis, German lenders became the world's biggest issuers of shipping loans. , according to Petrofin Global Bank Research. , according to the German Shipowners' Association. Plunging world shipping rates and the bankruptcy of Korea's Hanjin Shipping last year helped create a bloodbath for the sector, which had previously seemed a safe bet for export-oriented Germany. Banks world-wide now are racing to dump bad shipping loans while shippers scramble to unload worthless ships. 'The market is deteriorating and everybody is trying to exit,' said Basil Karatzas, founder of Karatzas Marine Advisors & Co. in New York. Shipping losses are especially hard on German banks, which are trying to recover from the euro crisis, record-low interest rates and, at Deutsche Bank, scandals. Rather than aggressively write down shipping loans early, German banks let them linger and eat into profits."
Shipping: "The government warns nearly a third of the country's remaining shipyards must close as Beijing wrestles with overcapacity in a range of heavy industries. It's a sharp turn from the rapid growth in shipbuilding that began in the early 2000s as China pushed to become the world's biggest producer in a heavy industry tied closely to global trade. Most of China's private-sector shipyards have fallen from the map since tumbling industrial demand left major shipping operations with excess vessel capacity, but Beijing is keeping some state-run yards alive with subsidies. And any rebound in shipping demand will raise new potential for another rapid buildup in shipbuilding" [Wall Street Journal].
Shipping: "True, owners and operators are traditionally focussed on debt-funded assets and much of shipping is highly commoditised but its inherent inefficiencies and opaque business relationships create the means to make money. This structure theoretically makes shipping secure from disruption, but has not stopped the conversation about 'Uberisation' and the threat from non-industry players" [Splash 247]. Then on to the arguments for "transparency."
The Bezzle: "'Wiped out': Hedge fund assets could drop by 30%" [Business Insider].
Today's Fear & Greed Index: 67 Neutral (previous close: 61, Greed) [CNN]. One week ago: 51 (Neutral). (0 is Extreme Fear; 100 is Extreme Greed). Last updated Feb 9 at 12:09pm. Trump confirmations?
Big Brother Is Watching You Watch
"Neural face recognition network tuned with 650,000 pornstar images" [Naked Security]. "So yes, depending on where you live, there are laws against facial recognition without consent. It's not clear whether Pornstar.ID's use of facial scanning falls foul of these laws." And: "Users can upload photos to Pornstar.ID's site or send an image via tweet to have Pornstar.ID identify a woman performer (for whatever reason, Pornstar.ID is only focusing on women, not male adult film stars). If Pornstar.ID can't figure out who the performer is, it will suggest a list of similar-looking women." What could go wrong?
"De-anonymizing Web Browsing Data with Social Networks" (PDF) [ACM]. "Can online trackers and network adversaries de-anonymize web browsing data readily available to them? We show— theoretically, via simulation, and through experiments on real user data—that de-identified web browsing histories can be linked to social media profiles using only publicly available data. Our approach is based on a simple observation: each person has a distinctive social network, and thus the set of links appearing in one's feed is unique."
"What Vizio was doing behind the TV screen" [FTC (!)]. "Consumers have bought more than 11 million internet-connected Vizio televisions since 2010… Starting in 2014, Vizio made TVs that automatically tracked what consumers were watching and transmitted that data back to its servers. Vizio even retrofitted older models by installing its tracking software remotely. All of this, the FTC and AG allege, was done without clearly telling consumers or getting their consent. Vizio then turned that mountain of data into cash by selling consumers' viewing histories to advertisers and others. And let's be clear: We're not talking about summary information about national viewing trends. According to the complaint, Vizio got personal. The company provided consumers' IP addresses to data aggregators, who then matched the address with an individual consumer or household. Vizio's contracts with third parties prohibited the re-identification of consumers and households by name, but allowed a host of other personal details – for example, sex, age, income, marital status, household size, education, and home ownership. And Vizio permitted these companies to track and target its consumers across devices…. Vizio put its tracking functionality behind a setting called 'Smart Interactivity.'" Never play cards with a man called Doc. Never eat at a place called Mom's. And never buy anything that's sold as being "smart."
Our Famously Free Press
"Gannett managed to handily beat earnings expectations. This may be aided by acquisitions, but the flux within the media sector at this time is a situation that is likely to persist" [247 Wall Street]. "Digital-only subscriptions rose by 71.1% and the "digital-only plus Sunday" rose by 62.4% and topped 200,000 for the first time. Gannett showed that the USA TODAY had organic revenue growth of 1.4% as the growth of digital acted to offset print declines." FWIW, I felt that USA Today didn't succumb to the insanity, as did WaPo and the Times and even, at some points, McClatchy. Cool heads survive?
"How Silicon Valley Can Help Save Journalism" [Newsweek]. By keeping very far away?
The 420
"Rule number one of marketing marijuana: Avoid stoner clichés" [CNBC]. "Products will be successful – whether that be the plant itself, or as part of a food for example – if they are targeted carefully. 'The trends are leaning towards use-cases specific markets – this is good for a concert, this is good for date night, this is good for Sunday morning,' [Pamela Johnston, senior vice president of strategy and special projects at cannabis advisory services company Electrum Partners] says, adding that symptom-specific brands will also do well." And so corporatization proceeds apace [gag, spew].
Gaia
"Researchers confirm the existence of a 'lost continent' under Mauritius" [Phys.org]. "Scientists have confirmed the existence of a "lost continent" under the Indian Ocean island of Mauritius that was left-over by the break-up of the supercontinent, Gondwana, which started about 200 million years ago.The piece of crust, which was subsequently covered by young lava during volcanic eruptions on the island, seems to be a tiny piece of ancient continent, which broke off from the island of Madagascar, when Africa, India, Australia and Antarctica split up and formed the Indian Ocean."
"A 2016 RM Wrap Up & 2014 RMC Vids" [Radical Mycology]. Interesting site!
"Shell launches bid to leave massive, sludgy oil rig remnants in North Sea for 500 years" [Independent]. I don't think there are oceanic fungi. If there were, they could eat the oil…
Class Warfare
"Why I'm Homeless" [Tick Tock Sheptock]. I don't want to summarize. Well worth a read. What do you think?
"How often do we hear something like 'thank you for visiting Engulf and Devour' repeated semi-robotically?" [Of Two Minds]. "Colonization introduces an amazing array of bargain-priced goods and services.The 'natives' are happy to have access to all the goodies, but a short time later, the colonizers own the land, the markets, the politicians, the media and the labor force, and everyone who once had an independent livelihood and independent political voice is impoverished or is now an employee of the plantation, taking orders from the Big Boss."
"When the Census Bureau released its estimates for the U.S. population in December, most press coverage focused on which states saw the fastest population growth last year. What many missed, however, was that the Census Bureau significantly reduced its population estimates for each of the past several years, with the major reason for the downward revisions stemming from reduced estimates of net international migration" [Calculated Risk]. Hmm.
And then there's this (original chart, but I like the comment):
It's almost as if a shadowy cabal figured out how to get people to pay more to die faster. pic.twitter.com/9yvlvNZN0d

— Honest Hillary (@Honest_Hillary) February 8, 2017
"Marx's Revenge" [The Nation]. Review of a new biography of The Bearded One.
News of the Wired
"The U.S. Internal Revenue Service (IRS) is preparing to implement its authority to certify to the U.S. State Department an American citizen's 'seriously delinquent tax debt.' The State Department may then refuse to issue, or even can revoke, the person's passport" [247 Wall Street]. "According to the IRS website, seriously delinquent tax debt is 'an individual's unpaid, legally enforceable tax debt' totaling more than $50,000, including interest and penalties. There are certain types of debt that are excluded from that definition, including timely payments being made under an agreed installment plan."
"What We See When We Read" [Paris Review].
"Chill wind blows though naturists' ranks as row splits world of nudism" [Telegraph].
* * *
Readers, feel free to contact me with (a) links, and even better (b) sources I should curate regularly, and (c) to find out how to send me images of plants. Vegetables are fine! Fungi are deemed to be honorary plants! See the previous Water Cooler (with plant) here. And here's today's plant (via):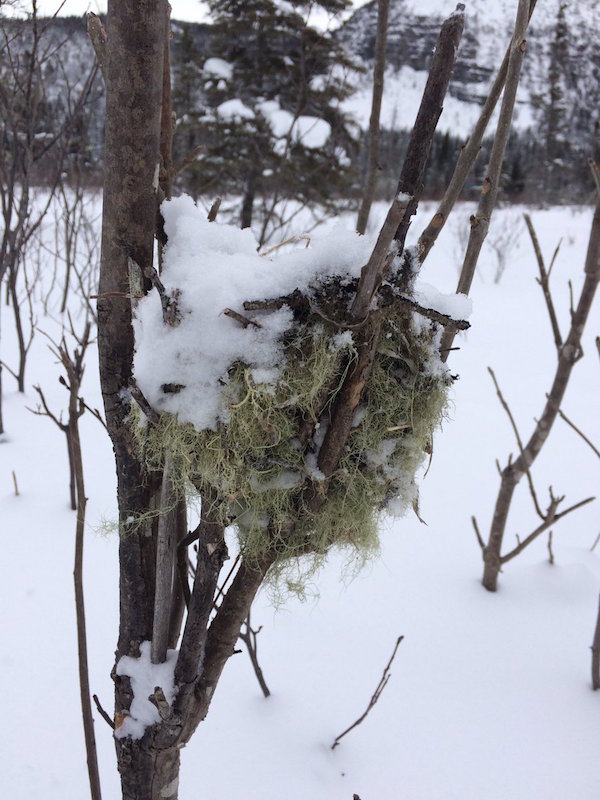 Newfoundland Black Ash. Plus snow!
Readers, Water Cooler is a standalone entity, not supported by the very successful Naked Capitalism fundraiser just past. Now, I understand you may feel tapped out, but when and if you are able, please use the dropdown to choose your contribution, and then click the hat! Your tip will be welcome today, and indeed any day. Water Cooler will not exist without your continued help.