We've written regularly about the how death rates have been rising among some large segments of the US population. One troubling finding was the Case-Deaton study that reported how lifespans have shortened among less educated white Americans aged 45-54. As co-author and Nobel Prize winner Angus Deaton said earlier this year, "Many areas of Appalachia and Mississippi Delta have lower life expectancy than Bangladesh." The Case-Deaton findings came after a 2015 Urban Institute study that found that death rates had increased among white women generally. A Mother Jones story depicted the problem as poverty-related:
The Urban Institute researchers attribute the rise in US deaths among white women to a number of factors. The largest is the sharp spike in overdose deaths from prescription painkillers like Oxycontin, which jumped from 3.3 to 15.9 deaths per 100,000 between 1999 and 2011—an increase of a factor of five. But even without the spike in drug overdoses, white women's death rates are rising. As deaths from car accidents, breast cancer, and murder have declined, women have died in higher numbers from more pedestrian health care problems, such as the flu and respiratory infections, as well as chronic illnesses linked to obesity, such as diabetes, kidney disease (a complication of high blood pressure), and heart disease….

The increase in death rates among white woman suggests that the economic factors that have long affected their black counterparts are now hitting white communities hard.
However, even middle and upper income women are not faring all that well. On Saturday, I flagged a Financial Times story, The huge disparities in US life expectancy in five charts, as a must read, and commented on this chart in particular: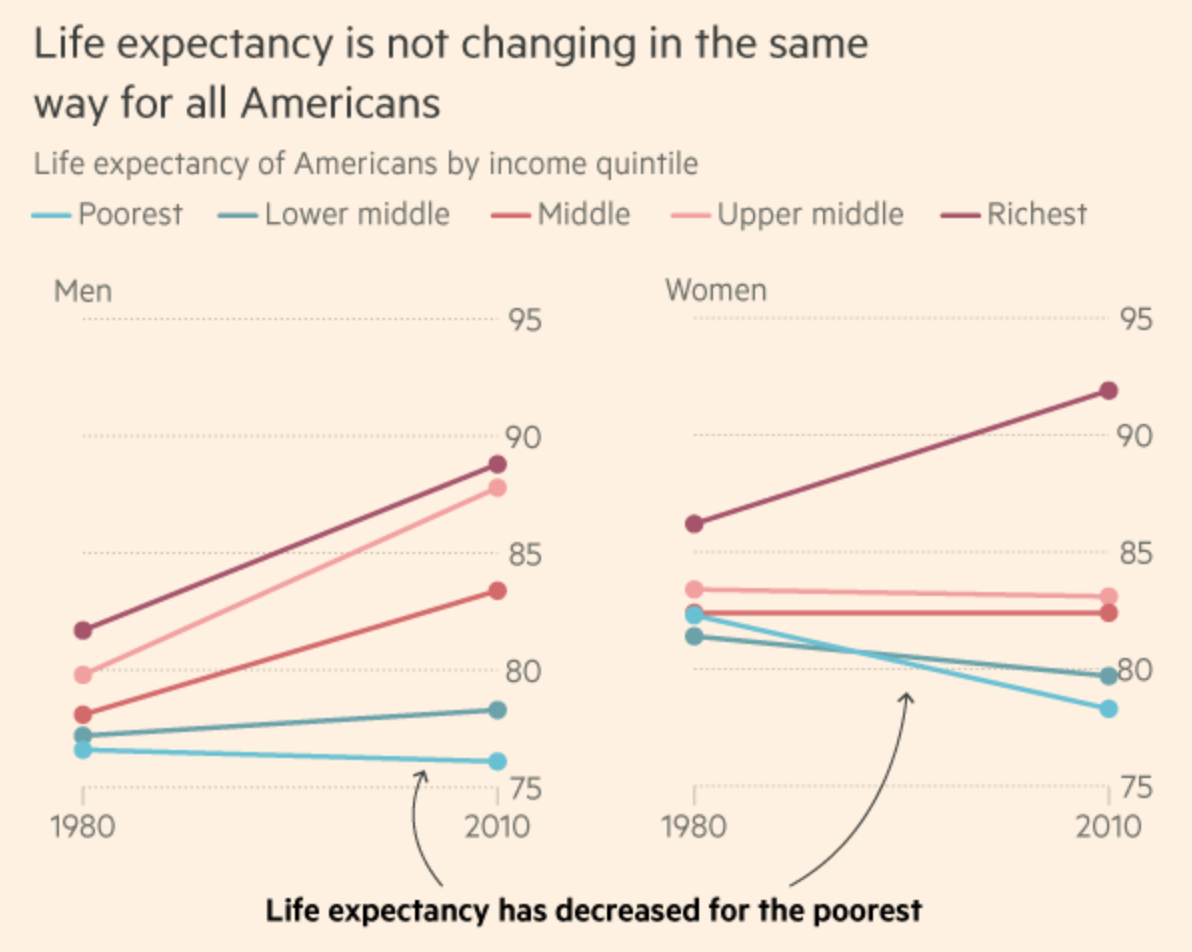 What leaped out for me is that life expectancy for middle and upper middle class men rose smartly from 1980 onward, yet it was flat for women in the same income groups. Life expectancy for men now exceeds that of women for those cohorts, an un-heard of reversal of widespread norms.
And notice that the flattening occurred during the period when women were making great strides in the workplace. I got my first permanent job in 1981, when the business world was (with a great deal of reluctance) becoming more open to women. The real path-breakers had come ten to twenty years before. And the women in these income groups presumably include a fair chunk of women who had careers.
Could it have to do with rising divorce rates and/or more unmarried women? Men are more likely to remarry than women. Singles who are older than the pairing-up years, save in a very few blue cities, are socially marginalized (they don't get invited to dinner parties with couples, for instance, because they are viewed as likely to prey on the men); I assume this is also true of divorced women.
Or are there economic stresses not adequately captured in the data? Consider this comment from kareninca:
Being an upper middle class woman is not what it used to be. Yesterday our house call vet (61 y.o., widowed ten years ago, no kids) told me that she did not intend to do anything to prolong her life; she did not want the FIT tests that I offered her when she said she does not get colonoscopies. Her only plan is to see her 96 y.o. mom (who has colon cancer) out of the world. Part of it is her bills; she gets calls all the time about them. And she owes the IRS money.

The thing is, her education and profession and income and home ownership in Silicon Valley (she bought the house long ago, but maybe she remortgaged?) would put her into "upper middle class" on most measures. But I'm guessing that she will not be one of those cheery old ladies of generations gone by; she will be adding to the new stats.

I think her economic situation is not uncommon for professional women of her generation (from my limited observations). I'm not sure the housewives are doing any better, but you'd expect someone with a real income to not be in this situation; it is scary.
Similarly, I have a friend who is 60 very up front (distressingly so) that she does not want to live all that long, as in maybe ten more years. I don't know her finances well but I am sure she has no debt, but I am also pretty sure she hasn't accumulated a big net worth despite having a high income (some of that is due to health issues when she was younger; the other is if you live in NYC, the costs are so high you either need to have bought real estate a long time ago or have a very high income to be able to sock a lot away). She likes her work and has an active social life. However, the physical part of aging is already getting to her psychologically, and many of the perks she gets with her work (the status of being a top player in her field, flying around the world) are also important to her, and she won't find adequate substitutes in her retirement, particularly on a lower income. And on a mundane level, she is planning to leave NYC for expense reasons, yet she has such a forceful personality that it will make it hard to get integrated elsewhere.
Reader thoughts and observations would be very much appreciated.