Dozens of Sheep Mysteriously Appeared and Disappeared on the Isle of Wight Atlas Obscura
Goldman Sachs to close London operations of internal hedge fund FT. Said not to be linked to Brexit (?).
A rash of invisible, fileless malware is infecting banks around the globe Ars Technica
Carbon compromise? The Grumpy Economist
Estonia 'not afraid' to be on Nato frontline, president says FT. Estonia to Putin and Trump: "Let's you and him fight!"
Worries Grow Over Euro's Fate as Debts Smolder in Italy and Greece Dealb%k, NYT
Greece's Migrant Crisis: Life in an Abandoned Pool International Business Times
Violence erupts in Paris suburbs over police sodomy case USA Today
Syraqistan
Trump Plays Cat and Mouse with Iran Counterpunch. Good detail.
China?
China vice premier says falsifying economic data will be punished: paper Reuters

Hong Kong store selling strawberries individually wrapped – for HK$168 – defends its packaging South China Morning Post (J-LS).
Modi's budget tries to soothe India's demonetization pain Nikkei Asian Review
Indian IT firms have been preparing for changes in H-1B visa laws for nearly a decade The Scroll
India's deploying its 160-year-old railways to counter China both at sea and along the Himalayas Quartz
Vietnam Plans to Triple Shrimp Exports as Rice Producers Suffer WSJ.
Our Famously Free Press
16 Fake News Stories Reporters Have Run Since Trump Won The Federalist. This is not unserious, say readers.

Poll: Trump More Widely Trusted Than News Media New York Magazine. As the punchline of the old joke goes: "I just have to run faster than you."
Big Brother Is Watching You Watch
Why is the FBI outsourcing some of its high-tech work to an Israeli company? McClatchy

Americans Clueless about Dangers of REAL ID CCHF. I couldn't disagree more with CCHF's health care policy recommendations, but they don't make stuff up.
#NoDAPL
Health Care
Judge blocks $54 billion Anthem-Cigna health insurance merger WaPo

Leaked HHS draft order to fix insurance market draws mixed reviews Modern Healthcare. Excellent detail.

The Marketplace Premiums Increase: Underwriting Cycle Or Death Spiral? Health Affairs. Single payer erased as a policy option, oddly.

Trump Administration May Use Executive Authority To Tweak Obamacare's Rules HuffPo. "Today, premiums for the old can be only three times as high as premiums for the young, which is what the Affordable Care Act stipulates. According to sources privy to HHS discussions with insurers, officials would argue that since 3.49 'rounds down" to three, the change would still comply with the statute."

Medicare Advantage coding intensity could cost taxpayers $200 billion PNHP

Pharmageddon Jacobin
2016 Post Mortem
House Democrats seize on anti-Trump strategy Politico. "Democratic aides say they will eventually shift to a positive economic message that Rust Belt Democrats can run on. But for now, aides say, the focus is on slaying the giant and proving to the voters who sent Trump into the White House why his policies will fail." Rather like St Augustine: "O Lord, help me to be pure, but not yet!" I wonder what the Outreach Chair for Senate Democrats thinks about this…

A centrist is addressing House Democrats, and progressives are furious WaPo. "[Adam Green, co-founder of the Progressive Change Campaign Committee] questioned why no progressive organizing groups were invited to address Democrats. He said his group asked for a role in the retreat it learned Third Way would be represented but was told by organizers that it was too late." After? Why after?

Rural Americans felt abandoned by Democrats in 2016, so they abandoned them back. Can the party fix it? WaPo. Note the particularities of how WaPo reifies (acceptable forms of) "the resistance."

From the Cold War to Clinton: How Liberals and Conservatives Have Separated Race From Class In These Times
Trump Transition
DeVos Was Inevitable Inside Higher Ed

Supreme Court Nominee Neil Gorsuch Calls Trump's Comments on Judiciary 'Demoralizing' WSJ

Jeff Sessions's Redemption Story Daily Beast (DK). DK comments: "This matches my personal recollections of the period." Fun fact: "A year ago, [Jeff Sessions] and New Jersey Sen. Cory Booker teamed up to award the Congressional Gold Medal to Selma marchers."

5 big issues where Sessions may have an immediate impact USA Today

Backing Into World War III Foreign Policy

* * *

Women of America: we're going on strike. Join us so Trump will see our power Linda Martín Alcoff, Cinzia Arruzza, Tithi Bhattacharya, Nancy Fraser, Barbara Ransby, Keeanga-Yamahtta Taylor, Rasmea Yousef Odeh, Angela Davis Guardian. It will be interesting to see who turns out.

'The Future Is Female': Watch Hillary Clinton's First Public Remarks Since Donald Trump's Inauguration Time

Why Stop At Rosie? 'SNL' Should Have Women Play Trump's Entire Administration HuffPo. I'm not sure the math of "The Party of Women" works for Democrats, especially given that 53% of women voted for Trump, but I guess we'll find out.

* * *

Intel chief reveals $7bn push on US manufacturing FT and Trump is 2nd president to tout unfinished Intel factory Boston Globe. If Trump is perceived to have delivered on jobs, much will be forgiven him.

Trump, aviation executives to discuss infrastructure Thursday: sources Reuters

Holy Warriors Against the Welfare State The Baffler (DG). DG: "Western Michigan has a peculiar history, even for the Great Lakes States. Again, though, the issues are complicated. As this article notes, the destructions of unions, which has led to the decline in income and restriction of the availability of health insurance, may be the foremost issue. And where are the Democrats?"

Donald Trump, Middle-School President Andrew Rosenthal, NYT. A pitch-perfect rendition of what it means to be "a front-row kid," in Chris Arnade's formulation.

What Steve Bannon Wants You to Read Politico

There's a simple legal reason Trump is probably going to get away with his conflicts of interest Quartz. Standing, as urged by Jeri-Lynn on January 24.

A Short History of the Trump Family LRB (J-LS). As Boswell quoted Dr. Johnson: "Sir, I love a good hater."
Guillotine Watch
Ready, Set, Grovel! Desperate Runners Battle for Slots in Trendy Races WSJ. Why, it's almost like groveling is the whole point!
Class Warfare
We Can't Think of Society As Similar to the Market: Pankaj Mishra The Wire

Feeling 'Pressure All the Time' on Europe's Treadmill of Temporary Work NYT
Meet the watchdog who posted USDA's animal welfare records Politico
The elderly, cognitive decline and banking The Economist. The subhead: "Banks need strategies to screw old people out of their money by replacing human tellers with crappy apps for helping vulnerable elderly customers."
The World as Representation The Archdruid Report
Antidote du jour: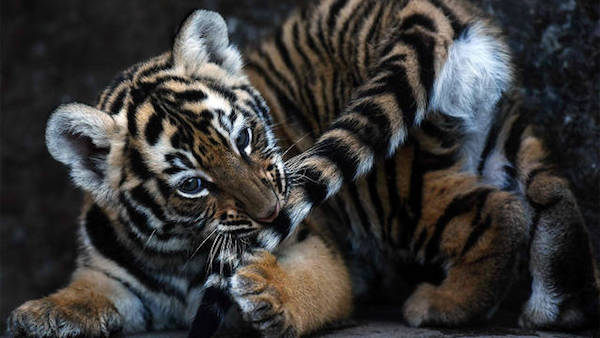 See yesterday's Links and Antidote du Jour here.