By Lambert Strether of Corrente.
Let's start with the voters, in particular Trump voters who are enrolled in ObamaCare. Sarah Kliff did a series of interviews[1] for Vox, summarized here:
I spent last week in southeastern Kentucky talking to Obamacare enrollees, all of whom supported Trump in the election, trying to understand how the health care law factored into their decisions.

Many expressed frustration that Obamacare plans cost way too much, that premiums and deductibles had spiraled out of control….

There was a persistent belief that Trump would fix these problems and make Obamacare work better. I kept hearing informed voters, who had watched the election closely, say they did hear the promise of repeal but simply felt Trump couldn't repeal a law that had done so much good for them.
For example, Debbie Mills:
"I guess I thought that, you know, he would not do this, he would not take health insurance away knowing it would affect so many peoples lives," says Debbie Mills, an Obamacare enrollee who supported Trump. "I mean, what are you to do then if you cannot pay for insurance?"[2]

Mills's expectation that Trump would keep the Affordable Care Act, on the one hand, feel unrealistic [to Kliff]: Of course Republicans would dismantle the law they spent six years campaigning against.

But it is also understandable: Legislators typically don't dismantle large health coverage programs that serve millions. Since their creation in 1965, Medicare and Medicaid have certainly faced some opposition but never threats of outright repeal.
It's early days yet, and things can always get worse, but as of today, Mills seems to be holding her own with Kliff on calling her shot. AP summarizes the current state of play:
While insisting they've not abandoned their goal of repealing President Barack Obama's health care overhaul, Republicans are increasingly talking about "repairing" it as they grapple with disunity, drooping momentum and uneasy voters. The GOP triumphantly shoved a budget through Congress three weeks ago that gave committees until Jan. 27 to write bills dismantling the law and substituting a Republican plan. Everyone knew that deadline was soft, but now leaders are talking instead about moving initial legislation by early spring.
(The quote is from a fine wrap-up by Kaiser Heatlth News). Mic amplifies:
Congressional Republicans seamlessly rolled out a pivot on Thursday that could signal a major shift in how they will approach health care reform. The longtime GOP mantra for the Affordable Care Act was "repeal and replace." Now, the same Republican leaders are using the term "repair" to describe their approach to the health care law.

The shift happened for a few reasons: Because Republicans do not have 60 votes in the Senate, they cannot repeal every word of the health care law. It also recognizes, from a policy standpoint, that a wholesale repeal may not be possible. Republicans have struggled to present a plan to preserve access to coverage for millions of Americans who gained it under the ACA, especially those with lower incomes.
Now, "repair" doesn't mean that the administration, whether from malevolence or chaotic policy-making, won't end up "affecting people's lives" adversely. Enrollment has dropped:
Enrollment in Obamacare health plans sagged markedly after President Trump's inauguration, according to new federal data that show sign-ups slowed in the final two weeks of the 2017 open enrollment period as Trump stepped up attacks on the healthcare law.

The slowdown is particularly noteworthy as enrollment was running slightly ahead of last year's pace until Trump took office Jan. 20 amid renewed promises to scrap the 2010 Affordable Care Act.

Altogether this year, slightly more than 9.2 million people signed up for coverage in the 39 states that use the HealthCare.gov marketplace operated by the federal government.

That is down from more than 9.6 million who signed up last year.

The enrollment tally — which doesn't include sign-ups from 11 states, including California, that operate their own marketplaces — is still substantial, undercutting claims by Republicans that the healthcare law is collapsing.

But the dramatic drop-off in the last two weeks fed rising criticism that the Trump administration is sabotaging the marketplaces to strengthen its political argument that the law must be scrapped…..

Trump also issued an executive order in which he suggested his administration wouldn't implement rules crucial to sustaining markets.

And over the last two weeks, Trump and many GOP lawmakers have stepped up their criticism of the marketplaces, even as insurance industry officials warned that Republicans risked destabilizing the markets.

Only about 376,000 people selected a health plan through HealthCare.gov in the two weeks leading up to the Tuesday deadline, according to the recently released data.

By comparison, nearly 687,000 people chose plans through HealthCare.gov in the final one week of the open enrollment period last year.
So, Trump stopped ObamaCare's marketing, and enrollment dropped off. (It's worth noting that universal benefits sell themselves; they don't need to be marketed in the first place[3]. So, from the 30,000 foot level, the enrollment drop-off is due to ObamaCare's horrid program design.) Presumably, only the healthy wait 'til the very last minute to enroll, and so Trump's executive order increased adverse selection in ObamaCare's risk pool, accelerating ObamaCare's death spiral. (On the death spiral, see here, here, and here.) Is 687,000 – 376,000 = 311,000 a big enough number to "sabotage" the program entirely? I doubt it.
Nevertheless, the mere prospect of "repair" could accelerate the death spiral, in itself. Bob Laszewski gives possible repairs and explains why:
These could include:

Refusing to enforce the very unpopular individual mandate's penalty for not purchasing health insurance.
Leaving the mandate and its penalty in place but dramatically increasing the Obama administration's "hardship" exemptions in the face of the expensive high deductible plans people now face.
Enabling health insurers to offer limited duration health insurance plans that they are still allowed to medically underwrite. The Obama administration had intended to eliminate these policies that provided more than three months of coverage. By bringing these policies back to the market, a parallel market of cheaper plans attractive to the healthy could be created thereby pulling healthy consumers out of the Obamacare pool.

If the pool were to be made worse than it is now, health plans would be challenged to figure out how they could remain in a market already intended for demolition once the new replacement plan was ready in 2019.

In 2017, or fewer insurers in the Obamacare insurance exchanges.

Republicans need to be careful. Making an already fragile insurance exchange market even worse could easily lead to some markets having only one or no health plans selling individual health insurance in 2018. Even if a health plan chooses to stay, a less stable market could lead to even higher prices and deductibles and even narrower provider networks for consumers.
Back to the voters! Let's look at those counties. First, here's a chart (for completeness, since most readers are probably familiar with it) of the counties Trump won. From Time: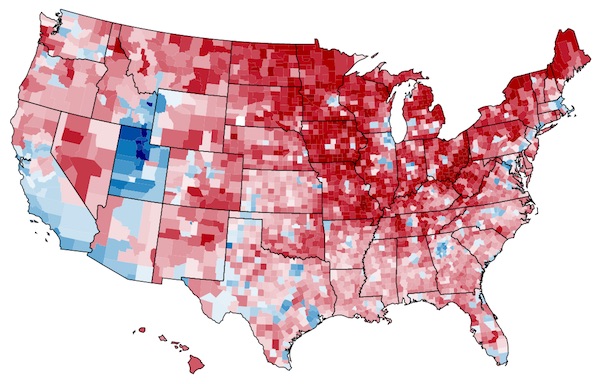 And now let's look at those 31% of counties that have only one insurer and 62% of counties that have two. (On the map, grey counties have three or more insurers, blue counties have two, and orange counties have one). Pay attention to the blue counties. From Kaiser Health News: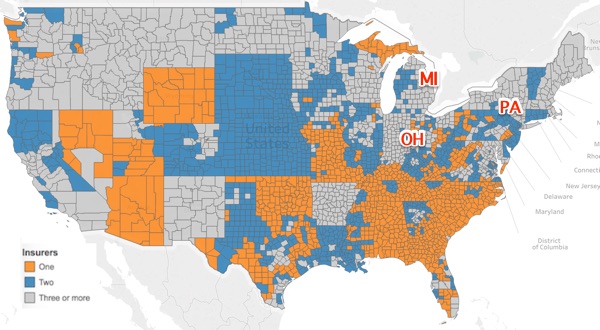 I'll take it as read that counties with a monopoly supplier have insurance that's (even) more crapified than those with several suppliers. So, where are the counties that are on the bubble between two and one suppliers? That is, the counties that will turn from blue to orange? Why, many of them are in the swing states that Trump very unexpectedly won in 2016: Michigan, Ohio, and Pennsylvania. So, if Trump wants to unswing those states in 2020 by pissing off Debbie Mills in her hundreds of thousands, then he should crapify her health insurance (even more) with "repairs" that make sure she's sending her checks to a monopoly supplier.
* * *
Tomorrow I'll look at TrumpCare and policy.
NOTES
[1] I like Kliff, but this piece is another "road trip" piece, where anthropologists from the metropolis visit the exotic primitives of the colonies. Kliff also encountered volatility voters:
The Kentucky voters I spoke with constantly mentioned "change" as a reason they supported Trump.

"That man has a head for business," one enrollee said. "He will absolutely do his best to change things."

Still, Oller acknowledged she took a leap of faith with Trump.

"," Oller said of her vote. "But I felt that we needed change."
[2] Mills' question is answered by Rule #2 of Neoliberalism.
[3] ObamaCare, among other things, is a welfare make-work program for 10%er symbol manipulators: Marketers, web designers, trainers, video producers, pollsters, and so on.