Yves here. One of the ironies of the fact that central banks appear to be throwing in the towel on negative interest rate policies (NIRP) is that their elite economist allies appear not to have gotten the memo. A noisy contingent is pushing to eliminate cash, and one of the big justifications is to allow central banks to engage in NIRP more effectively.
By Wolf Richter, a San Francisco based executive, entrepreneur, start up specialist, and author, with extensive international work experience. Originally published at Wolf Street
Markets are suspecting that central banks are in the process of exiting this fabulous multi-year party quietly, and that on the way out they won't refill the booze and dope, leaving the besotted revelers to their own devices. That thought isn't sitting very well with these revelers.
In markets where central banks have pushed  government bond prices into the stratosphere and yields, even 10-year yields, below zero, there has been a sea change.
The 10-year yield of the Japanese Government Bond (JGB) jumped 2.5 basis points to 0.115% on Thursday, the highest since January 2016, after an auction for ¥2.4 trillion of 10-year JGBs flopped, as investors were losing interest in this paper at this yield, and as the Bank of Japan, rather than gobbling up every JGB in sight to help the auction along, sat on its hands and let it happen.
And on Friday morning, the 10-year yield jumped another 3 basis points to 0.145%!
In September last year, the BOJ started the now apparently troubled experiment of trying to control not just short-term interest rates but also the entire yield curve. It targeted a 10-year yield of about 0% (it was negative at the time). Analysts believed that this would mean a range between -0.1% and +0.1%, and that if the yield rose to +0.1%, the BOJ would throw its weight around and buy.
But the fact that the BOJ allowed the yield to go above that imaginary line signaled to the markets that it no longer has the intention of capping the yield at +0.1%, that in fact the BOJ has stepped back.
This happened even as BOJ Governor Haruhiko Kuroda, on Thursday, once again was trying to jawbone the markets with a verbal commitment to his yield-curve targeting strategy and his mega-QQE of ¥80 trillion ($710 billion) a year in asset purchases.
The 10-year yield had fallen below zero for the first time on February 9, 2016, as the BOJ began dabbling with its own negative interest rate policy (NIRP), because its zero-interest-rate policy and its mega-QQE bond and stock buying binge somehow wasn't enough, and because everyone in Europe was doing it. But that's like so ancient history now (via Trading Economics; red marks in the charts below are mine):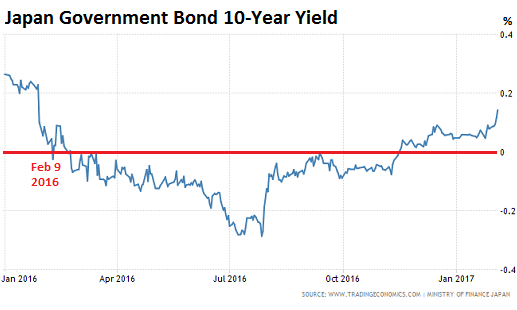 Germany, the second largest NIRP fiefdom, is subject to the ECB's crazed NIRP absurdity and asset-buying binge that includes government bonds, corporate bonds, covered bonds, asset backed securities, and what not.
But there too, bonds have fallen in price despite the ECB's purchases, with the 10-year yield emerging from negative la-la land just before the US election and soaring after it. There are now rumors that the ECB will announce sometime later in 2017 the untimely and slow death of QE (via Trading Economics):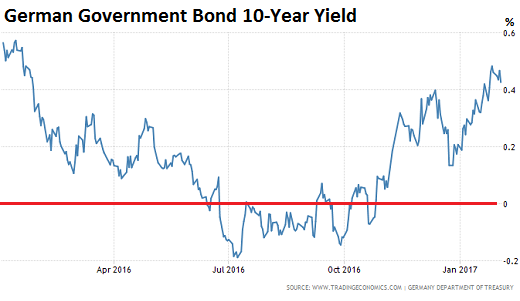 Denmark, whose households are the second biggest debt slaves in the world, still has its own currency and therefore its own monetary policy, and therefore its own NIRP. But the 10-year yield only briefly dipped below 0% and has since rumbled higher (via Trading Economics):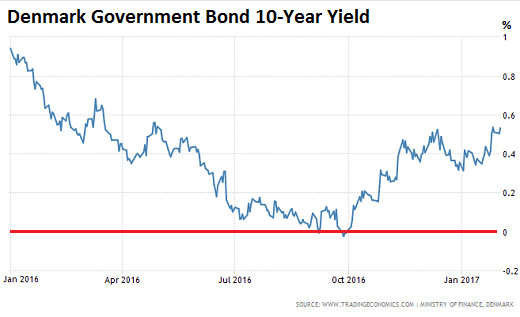 And that leaves Switzerland, whose households are the Number 1 debt slaves in the world, as the lone straggler in the 10-year negative yield absurdity, but it too is about to exit.
Its 10-year yield plunged below 0% in January 2015, the first sovereign debt in that maturity to do so, when the Swiss National Bank scuttled its currency cap against the euro, and at the same time cut its benchmark interest rate from -0.25% to -0.75%. It was a day of chaos that those who got tangled up in it will likely never forget. A lot of wealth was transferred, by dint of a central bank decision.
The charts above covered one year because that was the time frame of negative 10-year yields in those countries. But in Switzerland, the story started two years ago hence the five-year chart. On Wednesday, the 10-year yield rose to -0.10%, and on Thursday, it rose further to -0.024%, getting perilously close to 0%, before easing back to -0.04% (via Trading Economics):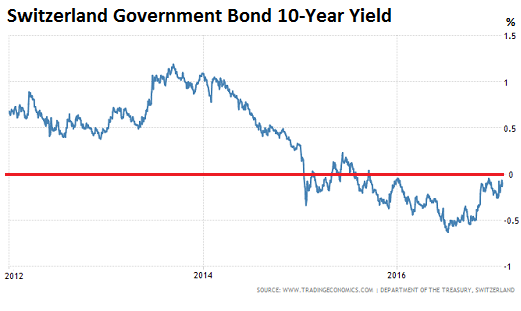 In France, the 10-year yield never quite made it into the negative. The French government would like nothing more than to maximize its profits from its debts, which the negative-yield absurdity allows it to do. But it only got within a hair of it in September 2016 when the 10-year yield reached an all-time low of +0.10%. Close, but no cigar.
France, I believe, was the country whose 10-year yield got the closest to participating in the NIRP absurdity without actually making it. Alas, since then, bond prices have tumbled as the 10-year yield has soared over a full percentage point to 1.05% (via Trading Economics):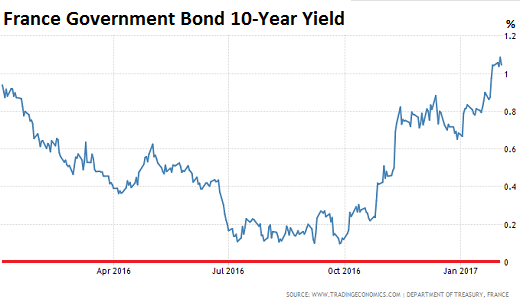 These 10-year yields are still very, very low at a time when the annual inflation in the Eurozone has shot up to 1.8% and is threatening to tear higher. Financial repression at its finest continues.
In the US, 10-year Treasury prices have also fallen and the 10-year yield has surged by over a full percentage point since last summer. Unlike the central banks in Japan and Europe, the Fed is on a path of raising rates and is also thinking out loud about unwinding its big-fat balance sheet by shedding some of its Treasuries or mortgage backed securities or both.
So it would make sense for US yields to rise. But why are yields in the bailiwicks of the other central banks so jumpy? Because markets smell a rat – as central banks, despite ceaseless jabbering, appear to be sitting on their hands after years of iron-fisted market domination.
But markets have gotten so used to central-bank booze and dope that they "cannot believe" it will ever really end. Read… "Watch Out for the Shock"