By Lambert Strether of Corrente
Trade
"The Netherlands Bureau for Economic Policy Analysis said on Friday that the volume of exports and imports of goods was 1.2% higher than in 2015, marking a slowdown from the 2% rate of growth recorded in the preceding year and the smallest rise since volumes crashed in 2009" [Wall Street Journal]. "However, there were signs exports and imports might be reviving, with volumes up 1.1% in the final three months of the year compared with the third quarter, almost double the rate of increase in the three months to September…. The sluggishness of trade in 2016 partly reflected broader weakness in the demand for goods, with developed economies recording their slowest expansion since 2013 and some large developing economies still contracting."
Politics
2016 Post Mortem
SOTU
Trump quoted approvingly on infrastructure: "[TRUMP:] , and maybe even three times, if we had people who had the ability to negotiate. To launch our national rebuilding, I will be asking Congress to approve legislation that produces a $1 trillion investment in infrastructure of the United States, financed through both public and private capital, creating millions of new jobs. This effort will be guided by two core principles: Buy American and hire American" [Logistics Management]. Gosh, I didn't see that underlined portion get a lot of press, did you? Once again, Trump says the unsayable; not that Blobs squirm in their seats; they can't. Perhaps they undulate? Still, isn't a trillion pretty measly, especially given that the spending will be spread out over several years? (To be fair, there's probably enough pork in that trillion to help with 2018, and maybe that's all they're aiming for anyhow.) And can public-private partnerships really do the job? Very, very dubious. FDR certainly didn't think so; nor did Eisenhower. And of course Trump says it's about "the" — that is, his — "ability to negotiate." Mere puffery! Then again, if you look at history instead of in Trump's funhouse mirror version of it, Trump is, in a way, right: If the left learned to negotiate from a position of strength, more (at least) of the country would be be rebuilt. We know this because noisy Third Way blunderer Larry Summers suppressed out Christina Romer's high estimate for Obama's stimulus package in 2009, replacing it with a "politically feasible" and much lower number.

More on infrastructure: "Thousands of bridges need to be replaced or massively bolstered. Water infrastructure is ancient. Ask California how it feels about dams. Refineries are ancient, more pipeline projects are coming, and try comparing the city roads and many parts of the national highway system to other countries. We won't even bother pointing out the ancient ports and airports" [MarketWatch]. "What is up for grabs is the potential for new billions and billions of dollars for each of the major infrastructure companies. The goal is to "Buy American, and Hire American!" Just do not be so naïve as to think that some foreign outfits won't be involved. In some cases there may be little choice, and in other cases some of the foreign companies may employee more Americans than actual American companies do. Again, it just doesn't matter if the infrastructure spending tallies up to $750 billion, $900 billion, $1 trillion or even more. What matters is 'More, Much More! and Coming Soon!'" It will be interesting to see if the deficit hawks lose this one. If only deficit owls were the winners!

" It's Republican unity, but it comes with a price. The laundry list has expensive items: paid family leave, health care tax credits, a sweeping tax cut, a big boost in military spending, and the trillion-dollar infrastructure plan. When Republican members of Congress were done applauding, those price tags started to make themselves known. The ultimate cost may be the very unity the president was trying to purchase. Trump is still facing down a party with deep divisions on how to handle "repeal and replace" Obamacare – something that was supposed to be the easy part of the Republican agenda. Trump has redefined what it means to be conservative, but only to an extent. Last night may be remembered as a high point for party unity, when it needs to be a starting point" [ABC].

"Trump was calm. He read from a teleprompter, with little ad-libbing. He adopted the tone, cadence and vocabulary expected of a major political speech. Even his body language was more controlled" [WaPo]. "The address might have seemed unusual for Trump as a result. But if you listened closely, it became clear that the difference was in its style, not its substance. Underneath the polished exterior were the same themes and promises that Trump used to fire up his base during the election and that continue to provoke controversy in the early days of his presidency. Consider the images he summoned. 'Dying industries.' 'Crumbling infrastructure.' 'Our terrible drug epidemic.' 'Our neglected inner cities.' 'Attacks at home.'" "American is already great" didn't click for a reason….

"Democrat giving response to Trump speech calls himself a Republican" [New York Post]. Good to see Democrat centrists achieving a level of honesty. About time! Kentucky Governor Steve Beshear:

The dem A-team consists of some ghosts in an abandoned Appalachian tavern. pic.twitter.com/PV7dct3HkG

— Blagojevist (@blagojevism) March 1, 2017

I would have said that tavern was out of Stephen King. But whatever! Anyhow, everything that's wrong with Establishment Democrats is here, even leaving aside Beshear's Kinsley gaffe. Look at the optics: It's like some idiot Democratic strategist asked: "How can we appeal to the white working class?" (because never, ever just "working class"). And answered: "I've got it! We'll put Beshear in a gen-u-wine diner with his neighbors!" (all of whom are white. "What do some different white people think, Milford?" [reference]). Then besides the gaffe and the butchered identity politics, we've got the rancid policy: Beshear sells ObamaCare hard, and suppresses all mention of #MedicareForAll! Bonus points for kicking the left! (Beshear says: "You know, in 2010, this country made a commitment, that every American deserved health care they could afford and rely on." This is an outright lie. ObamaCare has never provided a universal benefit, and was never designed to. Shocking, I know.)
Trump Transition
"'It's normally so busy here,' marveled a State Department staffer as we stood watching the emptiness. 'People are usually coming in for meetings, there's lots of people, and now it's so quiet.' The action at Foggy Bottom has instead moved to the State Department cafeteria where, in the absence of work, people linger over countless coffees with colleagues. ('The cafeteria is so crowded all day,' a mid-level State Department officer said, adding that it was a very unusual sight. 'No one's doing anything.') As the staffer and I walked among the tables and chairs, people with badges chatted over coffee; one was reading his Kindle" [The Atlantic]. Not to worry. The Blob will have them fomenting wars again quite soon!
Realignment and Legitimacy
"Will Disney's Bob Iger Run for President in 2020? Hollywood Friends Are Nudging" [Hollywood Reporter].

"Oprah Realizes You Don't Need Experience to Be President" [Bloomberg].
Stats Watch
Institute For Supply Management Manufacturing Index, February 2017: "In a report of rare strength, the ISM manufacturing index jumped 1.7 points in February to a 57.7 level that beats the Econoday consensus by 1.3 points. This is the strongest rate of monthly growth in composite activity since August 2014" [Econoday]. "The report in fact is filled with superlatives…. [P]erhaps most impressive is the breadth of strength with 17 of 18 industries reporting monthly growth…. This report perhaps is the greatest expression yet of post-election strength in anecdotal surveys, strength that has yet however to find its way to actual government data on the factory sector which have been consistently soft." But: "Overall, surveys do not have a high correlation to the movement of industrial production (manufacturing) since the Great Recession" [Econintersect]. And: "There is certainly nothing in the data which would discourage an increase in interest rates by the Federal Reserve" [Economic Calendar].
Purchasing Managers' Manufacturing Index, February 2017: "slightly lower rates of growth for both orders and output in February" [Econoday]. "There are soft spots in this report but, like so many anecdotal reports, the results are mostly solid and stand in sharp contrast to weakness in actual factory data from the government." And: "The overall data still suggests that the first-quarter performance will be the strongest for two years" [Economic Calendar].
Personal Income and Outlays, January 2017: "Inflation is nearly at the Fed's 2.0 percent target, up a sharp 3 tenths to 1.9 percent for the PCE price index which is the strongest rate since April 2012" [Econoday]. "The monthly gain, reflecting rising energy costs, rose an outsized and higher-than-expected 0.4 percent for the highest reading since February 2013…. The PCE price index will put the pressure on the Fed to raise rates at the mid-month policy meeting. Though it's not quite at target, its clear upward trajectory makes a successful breach all but certain." But: "Personal consumption has been the major driver of GDP since the end of the Great Recession. Inflation however, is dragging down the nominal numbers – and year-over-year consumption continues to outpace income growth. Remember these are average numbers – not median" [Econintersect].
Construction Spending, January 2017: "Construction spending fell a sharp 1.0 percent in January but the weakness is in public spending, not residential spending where gains are substantial" [Econoday]. "But public spending looks to get a boost down the road with new fiscal initiatives while the strength of the report, residential investment, is very solid and looks to improve further given gains in related permits." And but: "But the confusion is that construction spending does not correlate to construction employment – casting doubt on the validity of one or both data sets" [Econintersect].
MBA Mortgage Applications, March 1, 2017: After adjustments, "Purchase applications for home mortgages rose a seasonally adjusted 7 percent" [Econoday].
Commodities: "China will increase its annual gold output to 500 tonnes by 2020 from around 450 tonnes currently, according to the Ministry of Industry and Information Technology (MIIT)" [Xinhua]. "It aims to consolidate and upgrade the industry by reducing the number of gold miners to around 450 from more than 600, and shutting down 40 tonnes of outdated production capacity by the end of 2020."
Commodities: "Water is the new carbon for institutional investors and money management firms across the globe, as risks and opportunities arising from water scarcity climb up the risk agenda" [Pensions & Investments]. Paging Michael Burry!
Retail: "J.C. Penney to close 130 to 140 stores and offer early retirement to 6,000 workers" [Los Angeles Times]. Eesh. Dead store walking Sears and J.C. Penney are anchor tenants at the Bangor Mall. Along with Macy's. Oh well, there's a always heroin.
Shipping: "As we roll into 2017, it's clear that the $36 billion less-than-truckload (LTL) sector is enjoying a financial renaissance as carriers continue their new-found pricing discipline and resist the urge to expand capacity beyond fulfilling immediate shipper needs" [Logistics Management].
The Bezzle: "You're Overpaying for Drugs and Your Pharmacist Can't Tell You" [Bloomberg]. "Pusey's contracts with drug-benefit managers at his Medicap Pharmacy in Olyphant, Pennsylvania, bar him from volunteering the fact that for many cheap, generic medicines, co-pays sometimes are more expensive than if patients simply pay out of pocket and bypass insurance. The extra money — what the industry calls a clawback — ends up with the benefit companies. Pusey tells customers only if they ask."
Political Risk: "Three ways to trade the Trump presidency" [Quartz]. Buy. Sell. Run.
Today's Fear & Greed Index: 78 Extreme Greed (previous close: 64, Greed) [CNN]. One week ago: 80 (Extreme Greed). (0 is Extreme Fear; 100 is Extreme Greed). Last updated Mar 1 at 11:41am. Big swing, galvanized by the SOTU?
Health Care
"If Obamacare Exits, Some May Need to Rethink Early Retirement" [New York Times]. "[J]ob lock [is] the need to maintain a job to get health insurance. … Though not all studies have found evidence of job lock in the pre-Obamacare era, a majority of high-quality studies have. That's the conclusion of systematic reviews conducted by the Government Accountability Office and several health economists. Because people approaching retirement age are more prone to illness and high health care costs, employment-based insurance is particularly valuable to older workers — so much so that many studies document that it influences retirement decisions. One study found that workers whose employers offered retiree health benefits were 68 percent more likely to retire early than those who lack employer-based retiree coverage."
"VP Mike Pence vows 'no one is going to fall through the cracks' in plan to repeal, replace Obamacare" [Good Morning America]. No, they will be liquified, and poured through the cracks. (Not including, of course, the 20 million or so who have already "fallen through the cracks" of ObamaCare, and cannot take advantage of its narrow networks, high deductibles, balance billing, opaque policies, and increasing premiums.)
Black Injustice Tipping Point
"A World That Draws a Line: Interracial Love Songs in American Country Music" [Viewpoint]. Fun!
Class Warfare
"The Solidarity Ecosystems of Occupied Factories" [Truthout (DB)]. "This was the uncertain footing from which the first steps were taken to put the Thessaloniki factory back to work after its bosses disappeared, owing the workers months of back pay. With no managers around, it fell upon the shop floor workers to figure out how the business they had worked in for so long was actually run."
"The rise of the useless class" [Ideas.Ted.Com]. "In the 19th century the Industrial Revolution created a huge urban proletariat, and socialism spread because no other creed managed to answer the unprecedented needs, hopes and fears of this new working class. Liberalism eventually defeated socialism only by adopting the best parts of the socialist program. In the 21st century we might witness the creation of a massive new unworking class: people devoid of any economic, political or even artistic value, who contribute nothing to the prosperity, power and glory of society. This 'useless class' will not merely be unemployed — it will be unemployable." Now there's a happy thought!
"Japanese man stabbed himself because he didn't want to go to work" [International Business Times]. "He was subsequently arrested for wasting police time."
News of the Wired
"New Zealand Will Give You a Free Trip If You Agree to a Job Interview" [Time]. "[Wellington, New Zealand] is looking to bring in 100 new software developers, creative directors, product managers, analysts, and digital strategists from around the world to invigorate the country's growing tech scene."
* * *
Readers, feel free to contact me with (a) links, and even better (b) sources I should curate regularly, and (c) to find out how to send me images of plants. Vegetables are fine! Fungi are deemed to be honorary plants! See the previous Water Cooler (with plant) here. And here's today's plant: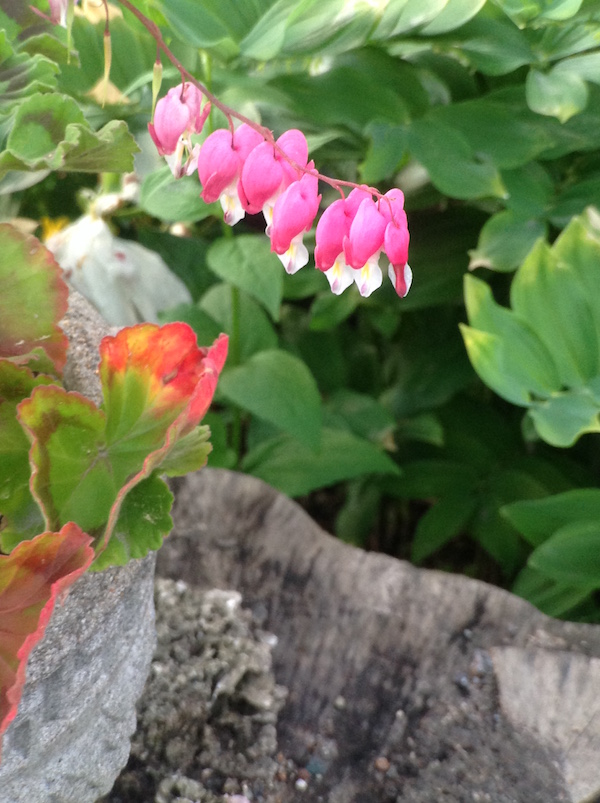 Readers, Water Cooler is a standalone entity, not supported by the very successful Naked Capitalism fundraiser just past. Now, I understand you may feel tapped out, but when and if you are able, please use the dropdown to choose your contribution, and then click the hat! Your tip will be welcome today, and indeed any day. Water Cooler will not exist without your continued help.