By Lambert Strether of Corrente
Trade
"Here's what happens when the U.S. pulls out of a major trade deal [like TPP]: New Zealand seizes the opportunity to send more of its milk and cheese to China. Japanese consumers pay less for Australian beef than for American meat. Canadians talk about sending everything from farm products to banking services to Japan and India" [Politico]. "Indeed, a primary goal of the TPP was to force countries with low standards to operate on a level similar to the U.S., which would create less of a competitive disadvantage for U.S. workers and companies." Totally what ISDS was all about! And a bit revisionist: "One study found that even with a conservative estimate of trade's contribution to inequality, the losses from a projected TPP-produced increase in inequality would have wiped out tiny projected gains from the deal for most U.S. workers. The net result would have been wage losses for all but the richest 10 percent of the United States. That is, for anyone making less than $88,000 per year, the TPP would have meant a pay cut" [Public Citizen]. So the 10% on up would have made out like bandits, and nobody else? Odd.
Politics
2020
"Reid brought Warren onto the Democratic Senate leadership team in 2014, and she was one of the people he most trusted to keep the Senate caucus on its bearings through the difficult weather ahead. Shortly before Thanksgiving, he summoned Warren to the minority leader's office. When she arrived, the room was littered with art supplies; on an easel was a half-finished portrait of Reid that would be unveiled at his retirement party the following month. Its subject was preoccupied with the future of the party to which he had dedicated decades of his life. Reid told Warren she needed to think seriously about running for president in 2020" [New York Times]. What a shame Warren didn't endorse Sanders. If she had, she might be Secretary of the Treasury today. Oh well.
Health Care
"American Health Care Act" (PDF) [Congressional Budget Office]. From the report:

Major Changes to Medicaid. CBO estimates that several major provisions affecting Medicaid would decrease direct spending by $880 billion over the 2017-2026 period. That reduction would stem primarily from lower enrollment throughout the period, culminating in relative to the number under current law. Some of that decline would be among people who are currently eligible for Medicaid benefits, and some would be among people who CBO projects would be made eligible as a result of state actions in the future under current law (that is, from additional states adopting the optional expansion of eligibility authorized by the ACA). Some decline in spending and enrollment would begin immediately, but most of the changes would begin in 2020 [that is, after the 2018 midterms and too late to affect the 2020 Presidential race], when the legislation would terminate the enhanced federal matching rate for new enrollees under the ACA's expansion of Medicaid and would to states for medical assistance provided through Medicaid.

Throw Momma from the train, given how many elders in nursing homes are covered by Medicaid. Here's how the cap would work. I apologize for the length:

Per Capita-Based Cap on Medicaid Payments for Medical Assistance. Under current law, the federal government and state governments share in the financing and administration of Medicaid. In general, states pay health care providers for services to enrollees, and the federal government reimburses states for a percentage of their expenditures. All federal reimbursement for medical services is open-ended, meaning that if a state spends more because enrollment increases or costs per enrollee rise, additional federal payments are automatically generated.

Under the legislation, . The final limit on federal reimbursement for each state for 2020 and after would be the average cost per enrollee for five specified groups of enrollees (the elderly, disabled people, children, newly eligible adults, and all other adults), reflecting growth in the CPI-M from 2016 multiplied by the number of enrollees in each category in that year.

The limit on federal reimbursement would reduce outlays because (after the changes to the Medicaid expansion population have been accounted for) Medicaid spending would grow on a per-enrollee basis at a faster rate than the CPI-M, according to CBO's projections: at an average annual rate of 4.4 percent for Medicaid and 3.7 percent for the CPI-M over the 2017-2026 period. With less federal reimbursement for Medicaid, states would need to decide whether to commit more of their own resources to finance the program at current-law levels or whether to reduce spending by cutting payments to health care providers and health plans, eliminating optional services, restricting eligibility for enrollment, or (to the extent feasible) arriving at more efficient methods for delivering services. CBO anticipates that states would adopt a mix of those approaches, which would result in additional savings to the federal government. (Other provisions affecting Medicaid are discussed below.)

Somehow, I don't think 25% less spending can be achieved through "arriving at more efficient methods for delivering services." Also, a funding cap is a disincentive for funding prevention and care for epidemics. Do we really want that? We do if we want die-offs, I suppose, as with the opioid epidemic, but that policy success was achieved through malign neglect. Now we're being open, which is pleasingly feral, but…

"With a semi-snow day in Washington to let the numbers sink in and the fallout spread, debate over whether the CBO offers good or bad news only hints at the disconnect in GOP circles. There are tensions everywhere – between what Ryan has long planned, what tea partiers and outside conservative groups have yearned for, and, critically, what President Trump promised. The president's pledge to "take care of everybody" and bring "insurance for everyone"? We're looking at 14 million fewer Americans with health care in the short term. By 2026, per the CBO, about 52 million people are estimated not to have insurance, vs. 28 million if Obamacare stays intact" [ABC]. So, to be clear, the Democrats — while posing as moral exemplars — are throwing 28 million people under the bus, and the Republicans are throwing an additional 24 million. It's gonna be a bumpy ride, America!

"So there you have it: A Trump administration that has promised health-insurance coverage vs. House Republicans who believe freedom means that you shouldn't be forced to have it. Populism vs. Tea Party. Trumpism vs. Ryanism" [NBC]. And let's not forget McConnellism: A bunch of Senators who just want to get re-elected.

"U.S. Sen. Susan Collins, R-Maine, said of the report, "The CBO estimate that millions of Americans could lose their health insurance coverage if the House bill were to become law is cause for alarm. It should prompt the House to slow down and reconsider certain provisions of the bill." [Bangor Daily News].

"We're going to have insurance for everybody"— Donald Trump, Washington Post interview, 01/15/2017" [NBC].

UPDATE "Trump's Counties Lose Out to Clinton's in GOP Health Tax Cuts" [Bloomberg]. The two individual tax cuts contained in the Republican plan to replace Obamacare apply only to high-earning workers and investors, roughly those with incomes of at least $200,000 for individuals and $250,000 for married couples. Taxpayers in counties that backed Trump would see an annual windfall of about $6.6 billion, a Bloomberg analysis of Internal Revenue Service data shows. In counties that backed Clinton, it'd be about $21.9 billion…. Trump voters in Rust Belt states expressed some frustration about the potential cuts for the wealthy, even as they remain supportive of the president." Basically, they think their own tax cuts will come. Sure seems like careless drafting/presentation by Ryan, though. "More money in your pocket" is always a nice thing to be able to say.
Our Famously Free Press
"We now live in a tri­furc­ated me­dia en­vir­on­ment: a con­stel­la­tion of con­ser­vat­ive me­dia sources on­line, talk ra­dio, and cable; an ana­log­ous group­ing of lib­er­al me­dia out­lets; and broad­er main­stream out­lets in the middle, al­though zealots on both sides see the main­stream as in ca­hoots with the op­pos­i­tion" [Charles Cook, The Cook Report]. Let's not forget the small independent blogs!
New Cold War
"That night at the French ambassador's Christmas party, Trevor Potter struggled to come up with small talk after meeting [Russian Ambassador Sergey] Kislyak. The palatial mansion was adorned with winter decorations, including a group of penguins on a staircase glittering with fake snow. Potter remarked that the display must remind Kislyak of the climate back home. Without a trace of humor, Kislyak sternly informed him that penguins live exclusively in the southern hemisphere; there are none in Russia" [The Atlantic]. Washington is an imperial capital, fer gawd's sake. The Democrat pearl-clutching and dot-connecting on who talked to the Russkis and when and why and how and what they said and "ZOMG!!!" is beyond absurd. Profitable for Democrat-aligned media outlets no doubt, and red meat for fundraising on the the Benghazi model, but absurd nonetheless.
Trump Transition
"Presidential Executive Order on a Comprehensive Plan for Reorganizing the Executive Branch" [WhiteHouse.gov].

Sec. 2. Proposed Plan to Improve the Efficiency, Effectiveness, and Accountability of Federal Agencies, Including, as Appropriate, to Eliminate or Reorganize Unnecessary or Redundant Federal Agencies. (a) Within 180 days of the date of this order, the head of each agency shall submit to the Director a proposed plan to reorganize the agency, if appropriate, in order to improve the efficiency, effectiveness, and accountability of that agency.

(b) The Director shall publish a notice in the Federal Register inviting the public to suggest improvements in the organization and functioning of the executive branch and shall consider the suggestions when formulating the proposed plan described in subsection (c) of this section.

(c) Within 180 days after the closing date for the submission of suggestions pursuant to subsection (b) of this section, the Director shall submit to the President a proposed plan to reorganize the executive branch in order to improve the efficiency, effectiveness, and accountability of agencies. The proposed plan shall include recommendations for any legislation or administrative measures necessary to achieve the proposed reorganization.

Well, that's interesting! Not that I wouldn't like to see a massive shrinkage of our tumorous intelligence community, but somehow I don't think that's on offer. Clever, because it gives Republicans something to unite around; they all hate big gummint, modulo the Pentagon and whatever's good for the district.

"A group of prominent Senate Democrats on Monday raised the specter of a shutdown over the funding of President Trump's proposed wall along the border with Mexico" [New York Times]. So Democrats won't do this for Medicaid, but will do it for the Wall? Odd, unless there's some parliamentary rationalization I'm missing.

"President Donald Trump's Supreme Court nominee has breezed through more than 70 meetings with senators. Opponents who've scoured his record have found little to latch onto. And some Democrats are privately beginning to believe that Gorsuch — barring a blunder at his Senate confirmation hearings next week — will clinch the 60 votes he needs to be approved without a filibuster" [Politico]. Can we please stop all the "Trump is a fascist" memes, Democrats? If he is, you are too, because you're normalizing him.
Realignment and Legitimacy
"After a brief, high-profile vacation following the end of his two-term presidency, the Democrat announced the launch of a charity, the Obama Foundation. But aside from a website with a cryptic video and a call for supporters' opinions to go with donations, details are shrouded in secrecy" [RealClearLife]. "The much-anticipated foundation is clearly still in planning mode. Experts estimate that it could take more than $1.5 billion alone to construct the Obama Presidential Center, which will include the foundation, presidential library, and museum, in the Jackson Park neighborhood of Chicago's South Side." $1.5 billion? That's real money! I wonder what Obama's gonna do to raise it?
Stats Watch
Producer Price Index (Final Demand), February 2017: "Producer prices show significantly more pressure than expected in February, at a 0.3 percent headline with the two main groupings — less food & energy and less food, energy & trade services — also rising 0.3 percent. Year-on-year, overall producer prices are up 2.2 percent for the hottest rate in nearly 5 years" [Econoday]. "Energy, as it has been in recent months, is a main source of pressure." And: "After last month's pause in inflation, it has returned with a vengance this month" [Econintersect]. And: "At odds is just how much a federal funds rate hike is priced into the market…. PPI rose by 0.3% in February, higher than the Bloomberg consensus estimate of 0.1%. That might not sound too high on a monthly reading, but the annualized number came to 2.2%" [247 Wall Street]. "What matters here is that anything close to 2% gets the Federal Reserve within its target range in order to justify hiking rates." And but: "After January's outsized gain, I had looked for a bit of a breather. However, price pressures continued to build. While there is very little in the core PPI that passes through directly, even roughly, to the CPI in the same month, I find these PPI results to be ominous for the near- and medium term inflation outlook" [Amherst Pierpont Securities, Across the Curve]. The bulk of the firmness in the PPI came once again in the services categories. While even the concept of a "producer" or wholesale price for a service product is often questionable, the BLS is certainly measuring something, and what statisticians are finding is that a variety of services are becoming more expensive. In January, it was mainly airfares and banking and investment services. Last month, it was banking services (again), insurance, legal fees, architectural and engineering services, hotel rates, restaurants, and the infamous wholesale and retail trade margins. Again, none of this will feed through directly into the February CPI, but the evidence is building to support my argument that a tight labor market will eventually show itself in services price inflation. A broad-based rise in the core PPI driven by an array of services categories should be viewed as much more impactful than a scenario where a handful of goods categories drove the advance."
NFIB Small Business Optimism Index, February 2017: "The small business optimism index fell 0.6 points in February to 105.3, retreating slightly from the lofty levels reached in the previous months after the post-election surge in November and the largest increase in the history of the survey in December that shot the index to the highest reading since December 2004" [Econoday]. "The small decrease was in line with expectations and the fact of the index remaining above 105 for three consecutive months indicates the continuation of a very high level of optimism for small business owners." And: "Small business optimism remained at one of its highest readings in 43 years, as small business awaits a new healthcare law, tax reform, and regulatory relief from Washington" [Econintersect]. Let me know how that works out…
Commodities: "Copper prices climbed Monday, helped mainly by ongoing supply disruptions at two massive mines in Chile and Indonesia, intensified by an indefinite strike that broke Friday at Freeport-McMoRan's (NYSE:FCX) Cerro Verde mine in Peru the country's largest" [Mining.com].
Shipping: "Panjiva [an online search engine with detailed information on global suppliers and manufacturers] reports a February decline in U.S-bound waterborne shipments" [Logistics Management]. Could be the Lunar New Year, "but perhaps more significant as it relates to the data, [Panjiva Research Director Chris Rogers' said, is that there was a situation in December and January in which both overseas and United States manufacturers saw the incoming Trump administration potentially taking quick action in the form of unilaterally imposed tariffs and taxes, leading the manufacturers to move merchandise before any action was taken. 'What we saw in late January after the inauguration and into February was that the initial rhetoric is quick action being taken by the new White House was not the case, with things from a policy perspective being a lot less hawkish than was initially thought,' he said."
Shipping: "So many open jobs for truck drivers! It's another bogus skills shortage story." [Fabius Maximus]. "Shortages of goods, labor, or services indicate that in their price. For truckers that means offering wages that drivers consider worthwhile for the services and conditions demanded. As usual in these bogus "skill shortages stories", the truth is easy to find. The trucking industry runs a state-of-the-art worker exploitation model. But there is a shortage of marks to burn"
Robot Vehicles: "Transportation Secretary Elaine Chao said recently she is excited about the new automated technologies that have the potential to "dramatically change commercial transportation" and private travel, expanding access for millions. 'The private sector is driving these innovations, working with cities and states like yours to demonstrate the safety and efficiency of automated cars and trucks,' Chao recently told a gathering of state highway officials at the annual meeting of the American State Highway and Transportation Officials (AASHTO). 'Automated technology, which includes autonomous or driverless vehicles, also has the potential to improve safety on our roads and highways, which is always a priority,' Chao said" [Logistics Management]. One wonders whether Chao's DOT infrastructure disbursements will reflect this perspective.
Robot Vehicles: "Intel Corp. is placing the biggest bet yet that the future of automotive supply chains will be based on computer chips. The semiconductor giant struck a deal to buy Mobileye NV for about $15.3 billion, the WSJ's Austen Hufford reports, the latest big investment by a technology company in the future of self-driving cars. Jerusalem-based Mobileye makes chip-based camera systems that power semi-automated driving features already being used in cars, and wants to make that technology central to self-driving cars of the future. The acquisition will accelerate the race by auto makers, part suppliers and increasingly aggressive tech companies in the autonomous-vehicle sector. And the sheer scale of Intel's Mobileye acquisition reflects the widespread view that the auto-supply sector is where future value is expected to be generated" [Wall Street Journal].
Retail: "U.S. consumers want vehicles built on light truck bodies — pickups, sport utility vehicles and crossovers. U.S. carmakers have failed to switch production from passenger cars to light trucks fast enough to keep up with the changing demand, and now they are paying the price with bloated inventories of cars nobody wants to buy" [247 Wall Street]. "Auto industry inventories at the end of February totaled 4.1 million units, up nearly 300,000 year over year and the highest for any month since July 2004, according to Automotive News. Passenger-car inventory totaled 79 days of supply, 12 days above the long-term average and the second-highest total in 25 years. Light-truck inventory began the month of March with 71 days of supply, three days below the long-term average."
Credit: "Keeps getting worse and looks to me like it's well below stall speed" (charts) [Mosler Economics].
Today's Fear & Greed Index: 52 Neutral (previous close: 64, Greed) [CNN]. One week ago: 70 (Greed). (0 is Extreme Fear; 100 is Extreme Greed). Last updated Mar 14 at 12:02pm. Hitting an air pocket!
Gaia
"Earth's lost history of planet-altering eruptions revealed" [Nature]. "Enormous volcanoes vomited lava over the ancient Earth much more often than geologists had suspected. Eruptions as big as the biggest previously known ones happened at least 10 times in the past 3 billion years, an analysis of the geological record shows…. Technically, the eruptions are known as 'large igneous provinces' (LIPs). They can spew more than one million cubic kilometres of rock in a few million years. By comparison, the 1980 eruption of Mount St Helens in Washington state put out just 10 cubic kilometres… On average, LIPs occur every 20 million years or so. The most recent one was the Columbia River eruption 17 million years ago, in what is now the northwestern United States." Tick tick tick…
Class Warfare
More proof, if proof were needed, that being a start-up is about screwing your workers:
Applied for a job at @SkipTheDishes. They cancelled my interview b/c I asked about wages/benefits @CBC @CBCNews @ctvwinnipeg #boycottSkip pic.twitter.com/CjBdnFvY1P

— . (@feministjourney) March 13, 2017
"Judge criticizes lawyers in Waffle House chairman's sex-tape case" [Atlanta Constitution]. Splendid reporting, and the moral of the story is: Only screw your workers metaphorically. Waffle House chair Joe Rogers seems to have forgotten this. Also, when your lawyers says "Pay up, and it will go away," do that.
"As China's Coal Mines Close, Miners Are Becoming Bolder In Voicing Demands" [NPR]. Seems familiar, somehow.
"In July 2015, Wanda Holbrook, a maintenance technician performing routine duties on an assembly line at Ventra Ionia Main, an auto-parts maker in Ionia, Michigan, was "trapped by robotic machinery" and crushed to death. On March 7, her husband, William Holbrook, filed a wrongful death complaint (pdf) in Michigan federal court, naming five North American robotics companies involved in engineering and integrating the machines and parts used at the plant: Prodomax, Flex-N-Gate, FANUC, Nachi, and Lincoln Electric" [Quartz].
"Right-Wing Billionaires Have a Project to Rewrite Our Constitution, and They Are Shockingly Close to Pulling It Off" [Thom Hartmann, Alternet].
"Need a Pothole Fixed? Maybe a Portland Anarchist Can Help!" [Blogtown]. Good PR. But how is this different from holding a bake-sale to prop up a public school gutted by neoliberalism?
News of the Wired
"These Cities Have the Best Quality of Life. And the Top 25 Are All Outside the U.S." [Time]. "U.S. cities did not score particularly highly. San Francisco, at No. 29, was the highest-ranked U.S. city followed by Boston (35), Honolulu (36), New York City (44), Seattle (45), Chicago (47) and Washington, D.C. (49)." Interesting factoids, but the article is a shameless piece of product placement for Mercer, a headhunting firm for multinationals. If you click through, you've got to fill out a form to get the whole list! Shame on you, Time!
"The Web we have is not broken for Google and Facebook. People farmers are reaping the rewards of their violations into our lives to the tune of tens of billions in revenue every year. How can they possibly be our allies?" [Aral Balkan]. A critique of Tim Berners-Lee's recent thoughts on the internet.
"Warning: Your New Digital World Is Highly Addictive" [Scientific American]. I dunno. Is "behavior addiction" really a thing?
"When a bunch of punks paid tribute to Johnny Cash at a low point in his career" [Dangerous Minds].
* * *
Readers, feel free to contact me with (a) links, and even better (b) sources I should curate regularly, and (c) to find out how to send me images of plants. Vegetables are fine! Fungi are deemed to be honorary plants! See the previous Water Cooler (with plant) here. And here's today's plant: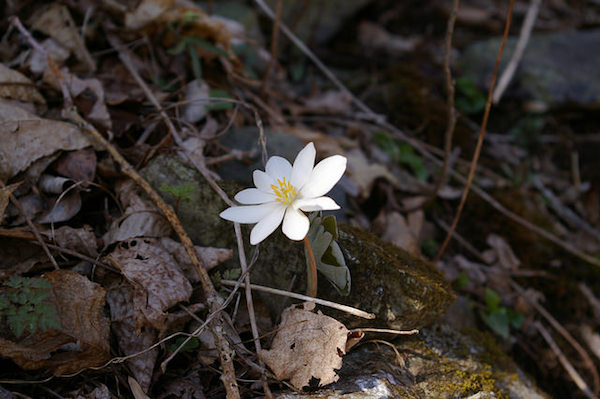 Bloodroot. I always find rotting leaves encouraging, and I love the subtly different shades of darkness.
Readers, Water Cooler is a standalone entity, not supported by the very successful Naked Capitalism fundraiser just past. Now, I understand you may feel tapped out, but when and if you are able, please use the dropdown to choose your contribution, and then click the hat! Your tip will be welcome today, and indeed any day. Water Cooler will not exist without your continued help.