By Lambert Strether of Corrente
Readers, I confess — and this may show something about my temperament — that I sprang back instead of springing forward. After having a conversation about the time change! I'll add more politics links in a bit. UPDATE 2:47 UPDATEs complete.
Trade
"New Trump administration trade initiatives are picking up steam, but so is opposition in Washington and in parts of the U.S. that are critical to the White House agenda…. Republican lawmakers in states that depend on exports are raising concerns over efforts they fear could undermine shipments of agriculture goods and aerospace parts" [Wall Street Journal].
Politics
Lambert here: Readers, I can't recall a time when we've had multiple struggles for power, each enormously consequential in themselves, where policy is so enmeshed with complex technical material. We have the struggle to "repeal and replace" ObamaCare, which has suddenly turned into an effort to gut Medicaid; the struggle over Russsia policy, which is starting to turn on questions of surveillance law, and takes place against the background of an attempted soft coup by the intelligence community, the Democrat Establishment, and their assets in the press; and the struggle over the nature and the implications of Clinton's 2016 debacle. And we don't even have a financial crisis, or an EU crisis! It's a wonderful time to be a blogger but there are a lot of plates to keep spinnning at once:
I'm not suffering from historical amnesia, am I?
2020
It's horrible that I have to introduce this category, but it is what it is. We are where we are.

UPDATE "We picked the wrong billionaire: The case for Mark Zuckerberg 2020" [Salon]. "When I think about the politicians likely to get in on the 2020 race, I don't know that I see anyone other than Zuck who could reset the Obama Era order — or actually innovate beyond it by bridging the gap between the lightning pace of technological change and bureaucracy. It is essential to do the work of ending oppression, but it might be easier to dismantle oppressive institutions under a millennial who has already successfully dismantled institutions." These people are the stupidest people on the face of the earth.
New Cold War
UPDATE "It would have been impossible to imagine a year ago that the Republican Party's leaders would be effectively serving as enablers of Russian interference in this country's political system. Yet, astonishingly, that is the role the Republican Party is playing" [Robert Kagan, Brookings Institute]. You know, the liberal Brookings Institute. From the heart of The Blob, from the same Kagan clan of flexians that brought you the war with Iraq!
Health Care
"Trump holds 'listening session' for 'victims' of ObamaCare" [The Week]. There's no reason to put "victims" in scare quotes; the NC comments section provides plenty of examples. This is also a smart political move by Trump (even apart from stealing the "listening" concept from Clinton). Ask yourself: Did the Democrat ever do this? No, of course not. ObamaCare is already great, because Obama. Except not.

"How the GOP health-care plan could gut the Medicaid expansion" [Harvard School of Public Health]. "[A]fter 2019, anyone on Medicaid who has more than a one-month gap in their health coverage will lose eligibility for the currently generous 90% federal funding that the ACA currently provides. Since Medicaid recipients frequently move in and out of coverage—because of job losses or changes, seasonal work, or changes in family circumstances—the Republican proposal effectively means that Medicaid-eligible individuals may not be able to afford coverage once they lose it for any reason."

"Trump was bullish about Republican chances of passing a health care bill, tweeting Monday, 'Republicans will come together and save the day.' 'ObamaCare is imploding. It is a disaster and 2017 will be the worst year yet, by far!' he tweeted" [AP]. "You must do it, Catullus. You must do it whether it can be done or not." I don't see where the Republicans get the votes; in the House, the loons in the Freedom Caucus; in the Senate, Senators up for re-election in Medicaid expansion states, and Republican governors like Kasich. Nevertheless, the Republicans are feral in a way the that Democrats are not; they have the will to power. But is there a "they" there, now? Or has the Republican Party as a collective entity lost its will to power, even as factions within it have not?
Trump Transition
"President Trump plans to host Chinese President Xi Jinping at the gold-plated Mar-a-Lago estate in Florida next month for a lowering-the-temperature summit with vast economic and security implications" [Axios]. "Gold-plated"? Breaking my heart. I thought the gold was solid!

"Trump to Meet the 'Other' World Leader Wiretapped by Obama" [Russia Insider]. That is, Angela Merkel. My impression is that Russia Insider isn't especially reliable, but weapons-grade snark like that is too good not to link to.

UPDATE "'What I can say is there are many ways to surveil each other,' [Trump senior counselor Kellyanne ] Conway said as the Trump presidency marked its 50th day in office during the weekend. 'You can surveil someone through their phones, certainly through their television sets — any number of ways'" [USA Today]. "[H]er remarks are significant — and potentially explosive — because they come amid a request by the House Intelligence Committee for the White House to turn over any evidence by Monday that the phones at Trump Tower were tapped as part of what the president claims to be a secret plot by the Obama administration to monitor his campaign…. Now comes Conway's insinuation of a much broader surveillance plan against Trump. Her suggestion, while further stirring up the debate, appears to indicate that the White House does not plan to back down from Trump's original Twitter claim in spite of strong assertions that it is not true from the U.S. intelligence community as well as from former president Barack Obama himself and members of his inner circle."

UPDATE "The definitive Trump-Russia timeline of events" [Politico]. Fine word, "definitive"! For example:

March 19: John Podesta's staff is [1] told incorrectly by another Clinton campaign staffer that an email instructing him to change his password is legitimate. [2]The action allows Russian hackers into Podesta's account.

Seems odd that there's a link at [1] but not at [2]. An editorial oversight, I am sure.

"Traditional television, a medium considered so last century, has watched audiences drift away for the better part of a decade. Now rattled liberals are surging back, seeking catharsis, solidarity and relief" [New York Times]. "'When Obama was in office, I felt like things were going O.K.,' Jerry Brumleve, 58, a retiree from Louisville, Ky., said last week as he stood in line for a 'Daily Show' taping in Manhattan. These days, he is a newfound devotee of Rachel Maddow of MSNBC — his wife, Yvonne, chimed in — and believes Mr. Stewart's successor, Trevor Noah, has finally 'hit his stride.'" Joseph Goebbels, courtesy phone…

UPDATE "During his political rise, Stephen K. Bannon was a man with no fixed address" [WaPo]. WaPo does actual reporting, things like utility bills, which is pleasant to see. I think they buried the lead: "'[E]ntire Jacuzzi bathtub seems to have been covered in acid,' the landlord wrote in the February 2015 email to Bannon." Really? Was it brown?

How soon we forget:

Remember when connecting factual dots without proving an explicit quid pro quo was considered unacceptable? That was only a few months ago.

— David Sirota (@davidsirota) March 13, 2017
Realignment and Legitimacy
UPDATE "While Trump Was Dominating In Deep-Red Oklahoma, This Democrat Won A Landslide" [HuffPo]. Critical:

As precinct data rolled into his war room at the Aloft Hotel in downtown Oklahoma City last November, Joe Maxwell realized his team had a landslide on its hands.

He saw no need to delay the victory speeches, having been up since before daybreak orchestrating a statewide get-out-the-vote operation for what was expected to be a close contest. His team took the elevator to the rooftop bar, where about 50 small farmers gathered anxiously to watch the returns and, they hoped, celebrate.

For the previous 14 months, they had battled a so-called "right to farm" ballot initiative, with Maxwell serving as "the general" (to quote his friends) of that campaign. Corporate agricultural interests in Oklahoma hoped the measure would protect factory farming from environmental, food safety and humanitarian regulations. The deep-red state's Republican governor and every member of its all-GOP congressional delegation backed it.

In response, Maxwell, who works for the Humane Society, had helped assemble an opposition force of animal welfare activists, environmental groups, Native American tribes and family farmers. Few political strategists would have picked that coalition to overcome the influence of the state's dominant industry. But there Maxwell was, quietly enjoying a beer as he listened to former state Attorney General Drew Edmondson (D) deliver the news of their crushing victory to a cheering audience. The 'no' vote had carried every congressional district in the state and defeated Big Ag by more than 20 points.

If you think of Iowa farmers battling Big Ag as a colonized people battling metropolitan capital, a lot falls into place. Of course, the Democrat Establishment would dismiss this. What does smashing Big Ag by 20 points have to do with Vladimir Putin? (And why did anti-fracking groups never coalesce with anything larger, or did they and I missed it?)

UPDATE "Democrats Strike Back in the Redistricting Wars" [Bloomberg]. Hey, with Eric Holder chairing the effort… Done deal, or what?

"Is Trump Trolling the White House Press Corps?" [The New Yorker]. Spicer's calling on a bunch of thirty-somethings from right-wing venues. First, so what? Maybe the White House Press Corps could junk the access journalism and do some actual reporting. Second, in 2016 most of the major venues — most certainly the Times and WaPo — became open advocates for one candidate in their reporting. They became political players. And now they're being treated that way. Why is anybody surprised by this?

UPDATE "Five myths about the deep state" [Marc Ambinder, WaPo]. I invite defenders of the "deep state" as a coherent concept to rule Ambinder's use of the term correct or incorrect.
Stats Watch
Labor Market Conditions Index, February 2017: "Monthly employment reports have been very solid but the labor market conditions index is barely above zero, at 0.6 percent in February" [Econoday]. "Aside from a series of negative readings this time last year, this indicator's current run is the weakest of the recovery." Whoa!
Shipping: "Trucking companies are brimming with confidence in the U.S. economy, if hiring is any indication. Fleets hired at the fastest pace in five years in February" [Wall Street Journal].
Logistics Manager's Index: "The Logistics Manager's Index (LMI), which is similar in approach to the long-running Purchasing Managers Index produced by the Institute for Supply Management (ISM), is based on a brief monthly poll that asks North American logistics managers whether factors like warehousing capacity, utilization, and prices; inventory levels and costs; and transportation capacity, utilization, and prices are increasing, decreasing, or staying the same. This information can serve as a leading indicator of the health of the overall economy, according to Dale S. Rogers, professor of logistics and supply chain management at Arizona State University, one of the five schools collaborating on the index" [DC Velocity]. "Separate indices for the various elements are combined to create the overall LMI score, which is indicated as a percentage. The November/December LMI came in at 62.9 percent, an increase of 8 percentage points from the October reading of 54.9 percent. The LMI is calculated using a 'diffusion' index—a reading above 50 percent indicates that logistics activity is expanding, and a reading below 50 percent indicates that it is shrinking."
Labor Power: While old-style manufacturing jobs will not return, there is great potential for job growth in modern factories where people and automated equipment work together (you can read about one such factory here). However, these will require employees with different skill sets from those needed in the past" [DC Velocity]. "As a nation, we need to concentrate our educational efforts on the technical jobs needed for the future because competition will be fierce. Remember those 1.4 million new robots expected within the next two years? An estimated 40 percent of them will be headed to factories in China." Hmm.
From the Department of Don't Worry, Everything's Great: "U.S. Subprime Auto Loan Losses Reach Highest Level Since the Financial Crisis" [Bloomberg].
Rapture Index: Closes up 1 on inflation: "Slow economic growth is putting downward pressure on prices" [Rapture Ready]. Record High, 189 (October 10, 2016). Current: 182.
Today's Fear & Greed Index: 63 Greed (previous close: 65, Greed) [CNN]. One week ago: 69 (Greed). (0 is Extreme Fear; 100 is Extreme Greed). Last updated Mar 13 at 1:02pm. Dullsville.
Black Injustice Tipping Point
Noted without comment:

I talked to one of my friends today and he randomly raved about Taco Bell's innovation in menu design. I haven't had Taco Bell in forever.

— deray mckesson (@deray) March 12, 2017
Class Warfare
Why the Internet should be a public utility:
the map is pretty staggering. pink is poor areas, green is areas where AT&T provides decent internet. almost no overlap. pic.twitter.com/ay9Jw7KR0J

— libby watson (@libbycwatson) March 10, 2017
UPDATE "Amazon's Antitrust Paradox" [Yale Law Journal]. Extremely important. From the abstract:
This Note argues that the current framework in antitrust—specifically its pegging competition to "consumer welfare," defined as short-term price effects—is unequipped to capture the architecture of market power in the modern economy. We cannot cognize the potential harms to competition posed by Amazon's dominance if we measure competition primarily through price and output. Specifically, current doctrine underappreciates the risk of predatory pricing and how integration across distinct business lines may prove anticompetitive. These concerns are heightened in the context of online platforms for two reasons. First, the economics of platform markets create incentives for a company to pursue growth over profits, a strategy that investors have rewarded. Under these conditions, predatory pricing becomes highly rational—even as existing doctrine treats it as irrational and therefore implausible. Second, because online platforms serve as critical intermediaries, integrating across business lines positions these platforms to control the essential infrastructure on which their rivals depend. This dual role also enables a platform to exploit information collected on companies using its services to undermine them as competitors.

This Note maps out facets of Amazon's dominance. Doing so enables us to make sense of its business strategy, illuminates anticompetitive aspects of Amazon's structure and conduct, and underscores deficiencies in current doctrine. The Note closes by considering two potential regimes for addressing Amazon's power: restoring traditional antitrust and competition policy principles or applying common carrier obligations and duties.
News of the Wired
To spot a liar, look at their hands" [Quartz]. "Those who were lying were found more likely to have animated hand movements, make strong eye contact, nod their heads, and scowl. When researchers transcribed the audio, they also found that liars were more likely to say 'um' and to use pronouns that distanced themselves from the action, such as 'he' or 'she' rather than 'I' or 'we.'" Now you've told them!
"These are the signs a civilisation is about to collapse – and they're here now" [Metro]. Sort of amazing to see a UK free tab citing Peter Turchin and Arthur Demarest, "a professor at Vanderbilt University who specialises in the end of civilisations… Demarest says that the collapse, when it comes, can be very quick indeed – with Mayan civilisation going from a relative peak in 790AD to being 'in pieces' by 810AD." Not sure what that does to valuations….
"Numbers are this really simple invention. These words that reify concepts are a cognitive tool. But it's so amazing to think about what they enable as a species. Without them we seem to struggle differentiating seven from eight consistently; with them we can send someone to the moon. All that can be traced back to someone, somewhere saying, "Hey, I have a hand of things here." Without that first step, or without similar first steps made to invent numbers, you don't get to those other steps" [Smithsonian]. "You develop numbers that allow you to trade in more precise ways. As that facilitates things like trade and agriculture, that puts pressure to invent more numbers. In turn those refined number systems are going to enable new kinds of trade and more precise maps, so it all feeds back on each other. It seems like a chicken and egg situation, maybe the numbers came first but they didn't have to be there in a very robust form to enable certain kinds of behaviors. It seems like in a lot of cultures once people get the number five, it kickstarts them. Once they realize they can build on things, like five, they can ratchet up their numerical awareness over time. This pivotal awareness of "a hand is five things," in many cultures is a cognitive accelerant." Well worth a read!
* * *
Readers, feel free to contact me with (a) links, and even better (b) sources I should curate regularly, and (c) to find out how to send me images of plants. Vegetables are fine! Fungi are deemed to be honorary plants! See the previous Water Cooler (with plant) here. And here's today's plant (PP):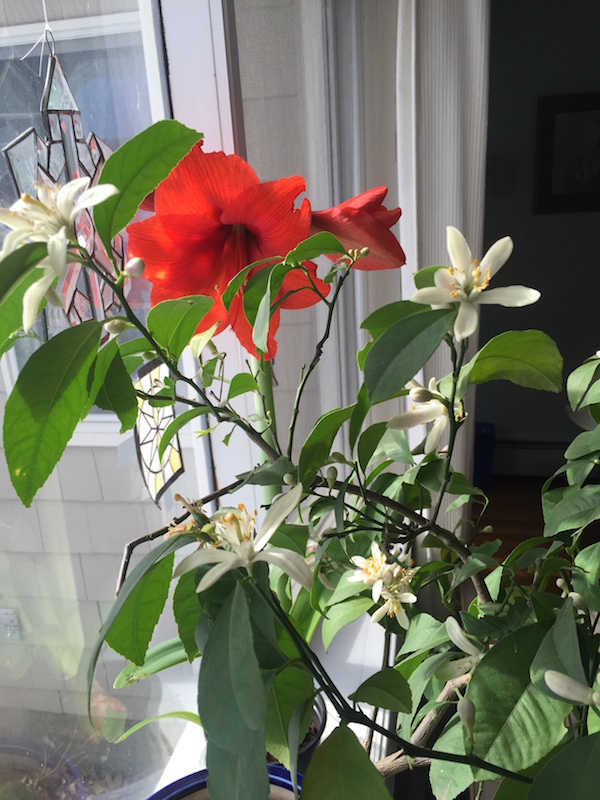 PP writes: "Meyer lemon tree blooming with amaryllis behind." At this point, anything with the word "bloom" in it encourages me; and the reflections of the amaryllis in the glass ornament are pleasing.
Readers, Water Cooler is a standalone entity, not supported by the very successful Naked Capitalism fundraiser just past. Now, I understand you may feel tapped out, but when and if you are able, please use the dropdown to choose your contribution, and then click the hat! Your tip will be welcome today, and indeed any day. Water Cooler will not exist without your continued help.