By Lambert Strether of Corrente
Readers, I have an odd schedule today, so I'm putting Water Cooler together earlier than usual. Hence, missing stats, plus some material I stashed after blowing past it in the usual mad rush to post. –lambert
Trade
"Tisa plans final album" [Solomon Star]. Google hits on TISA not all they could be. But indicative?
"Tisa the giraffe dies at Wellington Zoo after general anaesthetic" [New Zealand Herald].
"Malcolm Turnbull is in more trouble than a Stark at a wedding. The polls are down and the knives are out. Part of the problem is he talks a lot but he doesn't do very much – and there is no better example of that than what he has been doing on trade" [Australian Financial Review]. "One of the biggest trade deals currently being negotiated by 50 countries including the US, European Union and Australia is TiSA – the Trade in Services Agreement. This agreement focuses on services and would cover 70 per cent of the world's trade in services. Turnbull has said TiSA is a top priority. Last week at Senate estimates we found out just how important the Turnbull government thinks it is. We asked how many people were working on the deal in the Department of Foreign Affairs and Trade. The answer – less than one."
"Galvanized by a need to band together against other trade pacts and a desire to preserve the time, effort and intentions that went into the trade agreement, the 12 TPP countries plus China and South Korea are convening in Chile this week" [Sourcing Journal]. "Though the U.S. will be represented at the meeting, the attendee will be the ambassador to Chile rather than the U.S. Trade Representative, who is awaiting confirmation, or another trade official. Rather than forge ahead with separate deals, some members of the group may simply be hoping that if they're able to keep momentum going on the deal, it will survive long enough to wait out the current political climate in the U.S. Some U.S. government officials may have hopes of their own for this meeting, according to Akira Amari, former Japanese cabinet member. They think that a "TPP minus one" deal could be enough to incite businesses to lobby the U.S. government into reconsidering participation in the pact."
Politics
Health Care
"Obamacare: Share Your Story" [WhiteHouse.org]. Trump shamelessly steals another Democrat trope (and how come they're so easy to steal, eh?)
New Cold War
"The American Empire Isn't in Decline" [Jacobin]. "We own all your helmets, we own all your shoes / We own all your generals – touch us and you'll lose…."

"Trump Takes on The Blob" [Politico]. "In just a few weeks as president, Trump managed—or threatened—to blow up many of The Blob's most cherished beliefs about American power. In doing so, he finally united Democrats and many Republicans, hawks and doves, neocons and Obamians, in a frenzy of worry. Whether left or right, fierce advocates of "soft power" or proponents of the "bomb, bomb, bomb" school of international relations, most of the U.S. foreign policy establishment had spent the hours since noon on January 20 in alternating states of fear, rage, dismay, bewilderment and mental exhaustion. The old distinctions no longer seemed to matter as much; for the moment, at least, they were all The Blob now."
Trump Transition
"Nothing in the two pages produced on Tuesday night suggested any ties with Russia," although the tax return is from 2005 [New York Times]. So Maddow is the Northingburger Queen? No line item reading "Dmitri, services rendered: $1,000,000"?

On Trump's EO reorganizing the executive branch: "If there's anything that Trump hates, it's having his hands tied and not being in control. He's only recently come to realize that the President of the United States is not a CEO position but rather a coequal COO position in an organization without a CEO but with a General Counsel (the Supreme Court), a CFO (Congress), and a Board of Directors (Voters). He didn't sign up for this so he is trying to change the game and the only way he can do this is to remake the executive branch in his own image but first he needs to go to war with it" [John Laprise, Medium]. I agree LaPrise describes one plausible motivation for Trump, but it also tosses the Freedom Caucus a big gummint chew toy. Politics aside, this is a good summary and well worth a read.

"Democrats in Congress have long argued that the ongoing intelligence committee investigations into Russia's interference in the presidential election and the Trump campaign's ties to the Kremlin are unlikely to get to the bottom of the issue. Now a group of 'Never Trump' Republicans are planning to pressure GOP leaders to establish a bipartisan select committee to take over the inquiries and settle the matter once and for all" [WaPo]. And we all know how effective the "Never Trump" crowd was in the primaries…

"Trump made clear after the election that he had no appetite to go after Clinton legally, and on Monday his administration went further: His Justice Department went to court to fight those still going after Clinton" [WaPo]. "Two conservative legal groups [Judicial Watch and Cause of Action] were in federal court in Washington on Monday morning to compel the release of more Clinton emails. And the Trump administration was on the other side,"
2016 Post Mortem
"Unity commission another challenge for Democrats" [The Hill]. "Progressive calls for open primaries have been met with concerns that new Democratic voters may not share the party's values." They say that like it's a bad thing!

From the Senior Editor of the New Republic:

4. There's also the feeling, on many parts of the left, that Clintonian Dems are using Russian story to evade blame for failed election.

— Jeet Heer (@HeerJeet) March 14, 2017

Ya think?

"Kremlin spokesman: Russian ambassador met with advisers to Clinton campaign too" [The Hill]. The audacity!
Realignment and Legitimacy
"The surge of activism sweeping the U.S. since Donald Trump's election has energized the nation's largest socialist organization, which has tripled in size over the last year to claim more than 19,000 dues-paying members. That's a record for the DSA, which was founded in 1982" [Los Angeles Times]. "The Democratic Socialists of America's membership spike seems driven by three factors: younger Americans, who polls say are more open to socialism than previous generations; the 2016 Democratic primary campaign of U.S. Sen. Bernie Sanders (I-Vt.), a self-described democratic socialist whose race ignited a grassroots following but also left bitter feelings about the Democratic Party; and the galvanizing effect that Trump's election has had on left-leaning Americans, who have increasingly turned to grassroots activism."

Sanders in coal country, McDowell County, West Virginia:

Coal miner thanks bernie for advocating for him more than his own senator McConnell. looking forward to how people twist this into misogyny pic.twitter.com/4GLkdRpAIO

— Katie Halper (@kthalps) March 14, 2017

I don't get it. Why isn't Sanders calling out this guy for his white privilege and then segueing to his talking points on Putin, like normal Democrat? I look at Sanders as a sort of Johnny Appleseed; see the link to the DSA above.

More on Sanders in coal country, via [PoliticsUSA]. "Not only did Sanders debunk the myth that Trump and Republicans constantly feed to their base of supporters that there isn't enough room in the budget to help those who need it most, but he also convinced one coal miner – a man who voted for Trump – that it's time to make health care in the United States a universal right." Video:

Same county that voted Trump by 75% erupts when a coal miner says ALL Americans deserve #healthcare, aka #MedicareForAll! #AllInwithBernie pic.twitter.com/PMwBZlu0YU

— RoseAnn DeMoro (@RoseAnnDeMoro) March 14, 2017

And the crowd goes wild. I can't find the transcript, though. Readers?

Blue-State Secession Is Dumb and Cruel" [The Nation]. A nice takedown of Kevin Baker's " shrieking" in Salon. To me, what's important about Baker's article is that liberals have now abandoned universal benefits as a value; the undeserving shouldn't have them. Hence, ObamaCare's lack of universality, the presence of (credentialed) liberal gatekeepers everywhere, etc.
Stats Watch
Shipping: "[Maritime analytics company Windward says that] cargo ships and other vessels are routinely 'going dark, making it impossible for authorities to know where they are or what they are doing, risking collisions and loss of life in busy shipping lanes" [Sky News]. "Windward's data showed that 2,850 ships disappeared off the radar before entering European waters in January and February alone, and while some may have had technical difficulties, most are thought to have been engaged in illegal activity." Hmm. Given collapsing margins in shipping, such behavior is only to be expected?
Retail: "Macy's is morphing into a discount store" [Business Insider]. "The department-store chain is testing self-service systems in its shoe departments and at its beauty counters, meaning customers would serve themselves instead of finding a salesperson to retrieve shoes or make eyeliner recommendations. This model copies highly successful off-price retailers like TJ Maxx and Nordstrom Rack. Customer service was once what set Macy's apart from those retailers. Macy's is realizing that the traditional department store model is crumbling, and it needs to become more like a discount store to stay competitive…." Shrinking their way to profit…..
Retail: "Traditionally, Macy's staffs its shoe sections with a salesperson who runs back and forth between the selling floor and the backroom. But at the locations in this test, customers grab their own size and colors themselves from stacks of shoes, more of which will be on the floor now. In addition to J.C. Penney, which is also testing 'open sell,' this way of presenting shoes is similar to practices at off-price chains like TJX Cos' T.J. Maxx and Marshalls, as well as DSW" [Fortune]. "Open sell" is GENIUS! That said, I have biggish feet that fall between sizes. And I've noticed (at the local shoe store I go to) that the size ranges available seem to be decreasing. So I depend on random manufacturing variation, and I need a salesperson to find me the 13 that really a 13-wide. Either that, or I'm going to be sitting on the floor in front of the stak of shoes, trying on shoe after shoe 'til I find the one that fits. More crapification…
The Bezzle: "If Google wins its trade secrets suit against Uber, it could tank Uber" [Boing Boing]. Couldn't happen to a nicer bunch. And when you think about it, a pile of cash like Uber's got would be expected to attract predators. "But what if Uber loses all its self-driving car research to Google, ordered by a court to go back to square one because it's been caught stealing trade secrets?… At that point, Uber isn't just at square one, it's at square minus one million, having to find an exit for the investors who gave it billions to subsidize our rides in a winner-take-all bet on self-driving cars that the company has lost."
The Bezzle: "How used cars became a security nightmare" [Engadget]. "[IBM's X-Force Red leader Charles Henderson] quickly realized that everything about security in the world of connected cars revolves around the first owner. They literally haven't thought through what happens when someone sells it. Henderson tested four major auto manufacturers and found they all use apps that allow previous owners to access the cars from a mobile device. In his talk, he was careful not to tell us who his car's manufacturer is. And he discovered that only the manufacturer can remove users from its car. The new car owners remain unaware. 'There's nothing on the dashboard that tells you 'the following people have access to the car.'" Holy moley, this is a must-read. This makes the Internet of Shit Things look like nothing. I hesitate even to imagine the software development process that led to such a result…
The Bezzle: "Urgent action is needed to curb price gouging by electricity companies who are earning "excessive" profits, sometimes as high as 43 per cent of the total household electricity bill" [Australian Financial Markets]. "While all [Australian] states have deregulated retail electricity prices in the past decade, the report argues that power bills are so complicated and consumers are so bored by them that the free market has not produced the same price competition and innovation as in . The report focuses on Victoria because it was the first state to deregulate in 2009 and provides a clear case where final retail prices to consumers have been rising despite falling electricity generation (wholesale) and distribution (network) costs." I know at this point I'm cranky and counter-suggestible, but what "other markets" are we talking about, exactly? And what "innovations"? Makes me think that phishing equilibria aren't accidental to markets, but essential. After all, "free exchange" isn't the point of a market, is it? Information asymmetry is the point!
Our Famously Free Press
"Many publishers have scrambled to adopt AMP, Google's answer to Facebook Instant Articles. As the Guardian's experience showed, Accelerated Mobile Pages can be a success if publishers put the work in. AMP has gradually been taking over the Guardian's mobile traffic; today, 60 percent of its Google mobile traffic is AMP, well above the 10 to 15 percent that publishers have been getting from AMP…" [Digiday]. "AMP pages are 2 percent more likely to be clicked on and clickthrough rates on AMP pages to non-AMP pages is 8.6 percent higher than they are on regular mobile pages." Putting your content into a proprietary data format controlled by a corporate entity far more powerful than you are; what could go wrong? And then there's this: "Some publishers have complained that they're not making as much ad revenue on AMP pages as their regular mobile pages; depending on factors like how many ad units the publishers run on their AMP pages and what kinds of ad units they sell on their regular mobile pages." Sounds like a phishing equilibrium to me…
Class Warfare
" works like this. There is a ruling set with certain nefarious structural interests. The ruling set could be the ruling class (capitalism), white supremacists (racism), cis-male patriarchy (gender oppression), heterosexual norms (sexual oppression), able-bodies (ableism)…and others. Adolph Reed, building on a long tradition of thinking, has pointed out that racism divides the working classes and helps capitalists maintain power. Yet we know this same thing happens in other social categories. Racism divides women in their struggle against patriarchy. It divides queer communities in their struggle against normativity" [Hampton Institute]. "In each case, wrenching has the same form but different contents: in the struggle of a subordinated set against a ruling set within one social category, another social category–adjacent to their struggle–divides the subordinated set. That's wrenching: when a subordinated set is struggling against a ruling set in one social category and the subordinated set is divided by another social category orthogonal to their struggle." Interesting concept!
"The American middle class keeps shrinking. 'The share of American adults in middle-income households also decreased, from 55% in 2000 to 51% in 2014,' Pew Research Center reports. 'At the same time, the share of adults in the upper-income tier increased from 17% to 20%'" [CNBC]. Not news, really, but I find the next sentence remarkable for CNBC: ", it's a crucial element and the one that's easy to measure and track" (at which point, we discuss the parable of the drunk looking for their keys under the streetlight). "Income is just one part of class" is a statement you don't hear a lot from neoliberal economists, or even (?) liberal ones.
"Welcome to a world of unimaginable wealth and rampant inequality, a world where monolithic corporations act as a law unto themselves, where automation and technological progress threaten to undermine the very foundations of society, and where frightened, forgotten, and furious citizens turn in droves towards political extremism" [Ars Technica]. It's a tabletop board game, silly! "To emerge victorious in New Angeles, you have to defeat a corporate rival chosen randomly and secretly from among your fellow players. You'll aim to finish the game with more capital—or victory points—than this rival, meaning that multiple players can win. And while a sharp and savvy executive can find plenty of ways to generate cash, that's not the game's only concern. Almost every action you take has an effect on the broader city, sometimes sparking civil unrest and fueling resentment among the populace. Allow dissent to get out of control and the US government will step in to impose—shudder!—market regulation, ending the game in a loss for all players." Cash isn't capital…
"Google's parent company, Alphabet, says it plans to apply machine learning technology to promote more civil discourse on the internet and make comment sections on sites a little less awful…. "We have more information and more articles than any other time in history, and yet the toxicity of the conversations that follow those articles are driving people away from the conversation," said Jared Cohen, president of Jigsaw, formerly known as Google Ideas" [New York Times]. Ah, "the conversation." Gotcha. And then there's this, which is the class warfare part:
The Times's comments section is managed by , who manually review nearly every comment.

Because this requires considerable labor and time, The Times allows commenting on only about 10 percent of its articles. The Times said in a statement last year that it made its comments archive available to Jigsaw to help develop the machine-learning algorithm running Perspective. Linda Zebian, a spokeswoman for the Times, declined to comment on Wednesday.
Some thoughts: Sure, maybe the pencil-necked MBAs at The World's Greatest Newspaper would rather fire 14 people in favor of an an algo, as opposed to hiring 140 so that humans moderate everything. I mean (guessing) $30K * 140 = $4,200,000 = 14 Thomas Friedmans, so that's real money. On the other hand, Thomas Friedman's value approximates zero, and we at NC know the value of a well-curated comments section; imagine scaling that to, well, "the national conversation." On what you will see is the other hand, there's a technical question: Some noticed a ginormous increase of Hillbottery in Times comments post-Democrat National Convention. Assuming — and there's every reason to, given that the Times has, in essence, adopted the business model of Daily Kos — that comment moderation enabled or even skewed those numbers, how do you get an algo to do that? Get a list of pre-approved sample comments from the campaign and feed it to the algo? Or better, pre-approve a list of commenter IPs controlled by the campaign? One hates to be cynical, but 2016 was so clarifying..
"[T]he commanding new fact-on-the-ground is that the American electorate has for now sided with the anti-globalist argument, and we face the imminent presidency of Donald Trump as a result. Should localists declare victory? As we're about to see, the situation is complicated and holds some opportunities along with plenty of perils" [Common Dreams (DB)]. Let's be clear: Trump's ascendancy probably represents not a victory for localism or even populism, but merely a co-optation of legitimate popular frustrations by a corporatist huckster who intends to lead his merry band of cronies and sycophants in looting what's left of America's natural and cultural resources. This would be the antithesis of green localism." Yeah, basically!
News of the Wired
"What should an anthropology of algorithms do?" (PDF)) [Nick Seaver].
"Why Calvin and Hobbes is Great Literature" [Literary Hub]. "Comics, if we define them at their broadest as sequential art, have been with us from the beginning, on the walls of caves, on the sides of pottery, and in how we translated the many languages of starry night skies into our own, simplifying the chaos of why-are-we-here into creations. And when we remove their words altogether, comics suddenly create a new potential for language: a universal form, a language without language that all may be able to understand, a rejection—and resurrection—of the Tower of Babel." Interesting article, but I'm dubious about universal forms…
"Federal agents can search your phone at the US border — here's how to protect your personal information" [Business Insider]. "First, Wessler says, travel only with the data that you need. That may mean using burner phones or laptops for traveling. After all, he said, 'authorities can't search what you don't have.' Second, use encryption services. The Electronic Frontier Foundation and Wired both have exhaustive guides to keeping federal authorities — or hackers, for that matter — from accessing your data. Always choose long, strong, unique passwords for each device and account."
* * *
Readers, feel free to contact me with (a) links, and even better (b) sources I should curate regularly, and (c) to find out how to send me images of plants. Vegetables are fine! Fungi are deemed to be honorary plants! See the previous Water Cooler (with plant) here. And here's today's plant: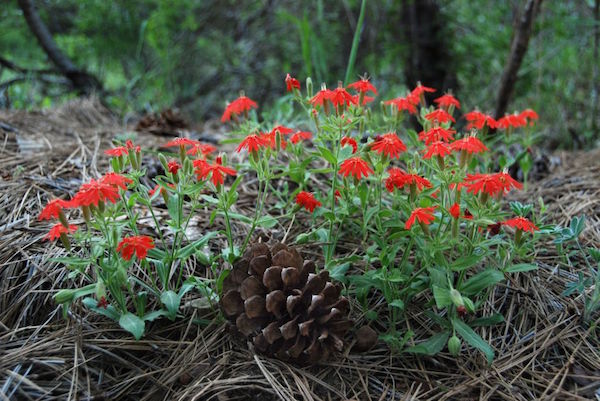 A California pink (Silene californica). But you can't tell me that pine-cone wasn't dropped by a human hand! I prefer a little more disorder…
Readers, Water Cooler is a standalone entity, not supported by the very successful Naked Capitalism fundraiser just past. Now, I understand you may feel tapped out, but when and if you are able, please use the dropdown to choose your contribution, and then click the hat! Your tip will be welcome today, and indeed any day. Water Cooler will not exist without your continued help.