By Lambert Strether of Corrente
Trade
"'It's hard to overstate how much the German chancellor, who aides say has been preparing for her visit to the White House for weeks, has riding on this meeting,' Politico Europe's Matthew Karnitschnig reports. 'When it comes to the existential questions of the economy and security, the U.S. remains Germany's indispensable partner,' Karnitschnig writes. 'What's less obvious is what the U.S. gets out of the deal. Merkel's challenge during several hours of both one-on-one and group meetings with Trump will be to convince him that the answer is 'plenty." To help sell her argument, Merkel is bringing high-profile CEOs of German companies to help the president recognize how much they invest in the U.S. and how many Americans they employ" [Politico].
Politics
New Cold War
"In a congressional investigation—particularly one as politically fraught as an inquiry into Russian meddling in U.S. elections—bipartisanship is essential to success. Tracking and analyzing any Russian contacts and activities will present huge challenges. It will require access to individuals and documents not only here at home, but in other countries as well. Some of the evidence will be classified. There may be leaks and false leads. Targets of the investigation will be defensive. Witnesses may obstruct the inquiry. There will be efforts to delay and efforts to seek back channels to weaken the committee's commitment to the facts" [John Warner and Carl Levin, Politico]. "Despite all of these threats, the investigation can be successful, but only if those members of Congress leading the inquiry direct the majority and minority staffs to operate in a completely bipartisan manner—to link arms and hold tight."

"The outcry over Russian machinations comes with a heavy dose of irony considering that, twenty years ago, the United States launched an even bolder interference campaign to ensure Boris Yeltsin's reelection" [Jacobin]. A truly confident ruling class would do a lot less whinging than ours does.
Health Care
"U.S. President Donald Trump on Friday met with a dozen conservative Republicans from the House of Representatives and said all of them were now planning to support the bill to replace Obamacare after previously opposing or questioning it" [Reuters]. "'All of these no's or potential no's are all yeses,' Trump told reporters at a meeting with members of the House of Representatives' conservative Republican Study Committee."

"In a letter Thursday, governors from Ohio, Nevada, Michigan and Arkansas wrote Senate Majority Leader Mitch McConnell and House Speaker Paul Ryan and said the legislation the House is considering "does not ensure the resources necessary to make sure no one is left out, and shifts significant new costs to states." They said the bill "does not meet" goals set out by President Donald Trump about state flexibility and making sure people are covered" [Bloomberg]. Ohio and Michigan: Two important swing states Trump won.

"Sen. Collins says she can't support House health care plan in current form" [Portland Press Herald]. "'This bill doesn't come close to achieving the goal of allowing low-income seniors to purchase health insurance,' Collins said." And Maine is the oldest state. 'The Ryan bill does not adjust for geography or for income – except for higher incomes – so a 60-year-old living in Portland or Caribou would receive $4,000 to help pay for a health plan regardless of whether the enrollee earns $20,000 or $50,000. Also, health care costs can vary widely by region and are typically much more expensive in rural areas. For instance, a silver plan for a 60-year-old who earns $30,000 purchased on the ACA marketplace would currently cost $8,692 in Portland, but $13,317 in Caribou." Portland is District 1 (went for Clinton). Caribou is District 2 (went for Trump). Collins was born in Caribou.

"[A] quieter group of lawmakers from districts that Trump either lost, or barely won, are assessing the plan, too, and some are already leaning against it. Tipping to conservatives' wishes would risk alienating those concerned about phasing out Medicaid subsidies too quickly or about fallout from the Congressional Budget Office projections of higher premiums and an increase in the number of uninsured" [RealClearPolitics]. "The process, which could drag on through the next recess, could leave some of the already vulnerable members susceptible to attacks from constituents wary of health care changes. On this legislation and other measures, this group of lawmakers will be interesting to watch, particularly the 23 Republicans who hail from districts Hillary Clinton won in 2016."

UPDATE "The real question is whether McConnell, Pence, and Ryan will wind up deciding the risk of gutting the filibuster is acceptable if the only alternative is the complete collapse of the Obamacare repeal-and-replace process, leading to angry 'red-state' mobs inspiring a new tea party movement, and perhaps a fatal intra-party split" [Ed Kilgore, New York Magazine]. "If nothing else, this approach could be a 'break glass in case of an emergency' fallback if all else fails, as it certainly looks like it may." (That last link is worth a clickthrough, too; it's fun to read a "Republicans in Disarray" story, for a change.) If the Republicans do this, the Democrats are going to look awfully foolish for not having done it in 2009.

"The Lessons of Obamacare" [Ezra Klein and Sarah Kliff, Vox]. "Obama had a habit, back in meetings during the Affordable Care Act's drafting, his former advisers recall. He would start twisting an invisible Rubik's cube in the air, working his hands around to try to make the pieces fit together just right." This is simply sycophantic, unsurprsingly for Klein, less so for the normally level-headed Kliff. The pieces to fit together shouldn't exist in the first place. Medicare for All isn't a Rubik's Cube; it's a simple, rugged, and proven solution. And here they simply rewrite history:

Jacob Hacker, a Yale political scientist who wrote his dissertation on the Clinton administration's failed effort, distills the problem well. 'When it comes to health care, it's one thing to make the system better,' he says. 'It's a whole other to remake it entirely. You can ask Americans to walk forward, slowly, knowing they can scramble back to the ledge if need be. You cannot ask them to jump.'"

Hacker was the primary academic proponent of the so-called public option, originally proposed as Medicare-like and of Medicare scale, that career "progressives" used to suck away all the oxygen from single payer, at which point, having served its purpose, it dwindled into nothing. If you look at the polls, and if you listen to the voters, including Trump voters — as Sanders is doing in Town Halls right now — you'll see that people are, well, dying for Medicare for All. It's the political class that's trembling at the ledge. Klein and Kliff have themselves confused with people who matter.
Trump Transition
"While the White House has lofty aspirations with its proposed $1 trillion infrastructure investment plan, it looks like there may be some harsh budgetary realities to deal with first, considering the proposed cuts for the United States Department of Transportation (DOT) as per President Trump's budget blueprint, which was released yesterday" [Logistics Management]. "[I]t sets out the administration's governing priorities, including a stark austerity message for programs popular with both Republicans and Democrats. DOT spending would decline 12.7% from this year and the Army Corps of Engineers, which maintains ports and inland waterways, would cut its spending by one-sixth. The administration says some of that spending could come back if it can pass a $1 trillion infrastructure bill" [Wall Street Journal]. So no net stimulus? Apparently not–

"[T]he administration now says an infrastructure plan would come after Congress copes with health care and tax reform—two difficult issues laden with political minefields. One growing concern is that much of the investment may come in the form of tax breaks rather than direct federal spending, and so there may be few new projects beyond those state and local governments were planning anyway" [Wall Street Journal].

"[F]or all the pain it proposes, the budget summary is pathetically weak on substance and analysis. It deals only with discretionary spending, the roughly one-third of the budget for which Congress is supposed to appropriate money annually. Unlike the first-year, so-called skinny budgets offered by presidents going back to Ronald Reagan, it omits any figures on mandatory programs, including Social Security, Medicare and Medicaid, as well as estimates of tax revenues, interest payments or deficits, and any explanation of the document's underlying economic assumptions" [Editorial Board, New York Times].

"The problem with Spicer citing the possibility of incidental collection, of course, is that Trump claimed the ["wiretap"] surveillance was targeted at him — and directed by Obama. Incidental collection is, by definition, incidental — i.e. unintentional. The wiretap wouldn't be of Trump Tower; it would be of whomever was contacting Trump Tower" [WaPo]. Sure, if you have faith, as process liberals do, that (a) the distinction between wiretapping and other forms of harvesting conversations is important (this distinction bedevilled the discussion of Bush's program of warrentless surveillance, when the NSA first began sucking up everything), and (b) that the (so-called) FISA Court would never, ever authorize a fishing expedition, where "incidental" collection was the actual goal.

"For the Record: White House budget director did not say Meals on Wheels did not show results" [WaPo]. I thought that talking point smelled funny; liberal and the Democrat Establishment tend to focus on programmatic "totem animals" (like saving polar bears because they're cute, instead of saving entire habitats, far more important, and indeed, necessary to save the polar bears, too, but harder to fundraise off of, because habits are not cute, unless your John Muir or something). So liberal Democrats are vulnerable to defeat in detail when one of their talking points goes bad, as seems to be happening now with the Russkis flap. Of coure, if the Democrats were able to develop and communicate an actual governing philosophy, the details wouldn't matter so much, now would they?
2020
"Chelsea Clinton fuels speculation of political run" [The Hill]. "In the meantime, the mom of two small children has a full schedule: She's vice chair at the Clinton Foundation, where she works , and is an adjunct professor at Columbia University, where she teaches a global health governance class." "Several times a week." Fancy!
2018
"There are three dis­tinct­ive sea­sons in the bi­an­nu­al elec­tion cycle. The first is to fig­ure out what happened in the last elec­tion and why. The second is to re­cruit the strongest can­did­ates you can find. The third is the cam­paign it­self" [Cook Political Report]. "This year, Demo­crats be­came so con­sumed with the Demo­crat­ic Na­tion­al Com­mit­tee elec­tions that they didn't really ex­am­ine what happened on a na­tion­al level." The losers get to write the history (when they're winners in the party).
2016 Post Mortem
"Wells Fargo executives were awarded more money in 2016 despite scandal, filing shows" [Charlotte Observer]. Just think. If Obama had met Loretta Lynch on the tarmac and gotten her to throw some Wells Fargo executives in jail, Hillary Clinton [genuflects] might be President today!
Realignment and Legitimacy
"[T]he urban/rural and exurban/inner suburban split we saw in the 2016 campaign is alive and well a month into President Trump's tenure. Those who live in exurban and rural areas give him a 53-59 percent job approval rating, while those in cities and inner suburbs give him subpar job ratings. Just 35 percent of urban suburbanites and 23 percent of city dwellers approved of the job he was doing" [Cook Political Report].
Stats Watch
Quadruple Witching:
Leading Indicators, February 2017: "Leading indicators are showing a rare string of strength, rising in February for a third month at a very strong 0.6 percent rate. Emerging strength in factory readings have been driving the gain along with continued strength in consumer expectations and low and favorable levels for jobless claims" [Econoday]. "Stock prices have also been a plus. This report is pointing to accelerating conditions for the nation's economy over the next six months." But: "The rate of growth may be improving on this index. Because of the significant backward revisions, I do not trust this index" [Econintersect].
Industrial Production, February 2017: "Factory production, as signaled by record acceleration in advance anecdotal reports, is beginning to find its footing. The manufacturing component of the industrial production report jumped 0.5 percent in February to signal the largest increase in month-to-month volumes since July 2015" [Econoday]. "The gain includes strength in business equipment as well as auto production and is underscored by an outsized 3 tenths upward revision to January which also now stands at 0.5 percent….. For the last several months regional reports like Empire State and especially the Philly Fed have been signaling a major breakout for the factory sector, one that, until today's data at least, had yet to appear in the numbers out of Washington. Today's report mark the beginning of a significant climb for a sector that limped through 2016." And: "The market expected some improvement this month in industrial production – but got the opposite. Utilities were the wobble this month as both manufacturing and mining improved. This report actually is relatively strong. The manufacturing surveys all predicted improvement – and it was delivered" [Econintersect]. And: "below expectations of a 0.2% increase, but January was revised up" [Calculated Risk].
Consumer Sentiment, March 2017 (preliminary): "The consumer sentiment index, which unlike other confidence readings had been edging back slightly, is once again showing increasing strength" [Econoday]. "But it's the expectations component, up 2 tenths to 86.7, that once again reveals a deep schism in the report's sample. Expectations among Democrats are at 55.3 in a reading consistent with what the report describes as an imminent recession. In contrast, Republican expectations at 122.5 are consistent with extraordinary strength, described in the report as a new economic era. Independents are the swing factor and their expectations are right in between, at 88.3. The report notes that respondents are showing selective attention to economic news with Democrats concentrating on the unfavorable and Republicans on the favorable." 21st Century Schizoid Confidence Fairy…
Atlanta Fed Business Inflation Expectations, March 2017: "[M]oderate rate but still the high for this economic cycle" [Econoday].
Labor Market Conditions: "The US Labor Market Conditions Index (LMCI) rose 1.3 in February following a 1.3 gain the previous month" [Economic Calendar]. "The overall increases in the index have, however, been relatively subdued over the past few months with the largest monthly gain only 1.3. The readings are well below the increases seen during 2014 and 2015."
Retail: "As the world's largest retailer, Wal-Mart has a uniquely large impact on many state economies, and it is the largest employer in 23 states" [247 Wall Street].
Rail: "Week 10 of 2017 shows same week total rail traffic (from same week one year ago) marginally improved according to the Association of American Railroads (AAR) traffic data" [Econintersect]. "Although the data was better this week, the intuitive portions of the data remain soft." Again, "stuff" is moving. But…
Shipping: "Back in the 1980s, the last time shipping had plummeted so low, a slew of well known shipping brands were scuttled, never to trade again. The difference between then and now is two-fold – 30 years back interest rates were running at 15%, today they're next to nothing. Also back then, American banks in particular – and to a certain extent French ones – were far more prominent, and their brutal attitude when things hit the fan was to deploy lawyers and clear out fleets fast" [Splash 247]. "Nowadays, we live in different times where vultures lie in wait and struggling lines are picked up for a pittance and carry on, prolonging the agony of what has been one of most protracted recessions in the history of commercial shipping."
Fodder for the Bulls: "The global economy enjoys a synchronised upswing" [The Economist]. "The past decade has been marked by false dawns, in which optimism at the start of a year has been undone—whether by the euro crisis, wobbles in emerging markets, the collapse of the oil price or fears of a meltdown in China. America's economy has kept growing, but always into a headwind (see article). A year ago, the Federal Reserve had expected to raise interest rates four times in 2016. Global frailties put paid to that. Now things are different."
The Fed: "Federal Reserve Chair Janet Yellen said yesterday that "the economy is doing well" as she announced the Fed's third benchmark rate hike since the Great Recession. Yet there are important arguments against the rate hike: Unemployment hasn't fallen to the level it reached in the late 1990s; wages are still stagnant; people of color are still unemployed at much higher rates than white workers. So it may be far better to let the economy "run hot" (i.e., risk a bit of inflation) than to lock in this labor market for the long term" [Lenore Palladino, Medium]. "There's also another key issue that's discussed far less frequently: Increasing the target rate means increasing the interest payments that the Federal Reserve makes on the excess reserve balances that private banks hold with the Fed.
These payments aren't small change. Back-of-the-envelope math tells us that the Fed paid an average of $8 billion a month in excess reserve interest payments just since January of 2014 — and payments have been above $10 billion per month since the Fed raised the core rate in December 2015.[2] Should these payments continue, as the benchmark rate rises and the economy is judged to be 'doing well?'"
Today's Fear & Greed Index: 50 Neutral (previous close: 53, Greed) [CNN]. One week ago: 61 (Greed). (0 is Extreme Fear; 100 is Extreme Greed). Last updated Mar 16 at 11:50am. Trump euphoria wearing off?
Gaia
"Animal behaviour: World of webs" [Nature]. "Arachnid Orchestra & Cosmic Dust: The Multiverse Tour" is an exhibit in Buenos Aires, starting Apriil 6. So, for our Argentinian readers!
The 420
"One of the unintended side effects (probably) of legalizing marijuana for recreational use could be a drop of 7.1% in retail sales of beer, or about $2 billion, according to the Cannabiz Consumer Group. In states where recreational use is already legal, 27% of beer drinkers claim they have already substituted (or would substitute if it were legal to do so where they live) cannabis for beer" [247 Wall Street].
Guillotine Watch
Metaphor along the Acela corridor:
Class Warfare
"The Increasing Significance of the Decline of Men" [New York Times]. The future is female…
"Credentials, Jobs and the New Economy" [Tressie McMillan Cottom, Inside Higher Ed]. (This is Tressie MC, who wrote that excellent report on a Trump rally at a time when the mainstream press was even more filled with useless drivel and propaganda than usual.) Important: "[O]f the 109 students formerly or presently enrolled in for-profit colleges that I interviewed between 2011 and 2015, no one talked about the context of their college choices in ways that would suggest that more accurate or clear job-placement data would have changed their circumstances or decisions. Instead, they talked about a credential as insurance against risks they could not continue to bear alone… What JJ really needed was to not need a credential at all. It was only when the conditions of the labor market devalued his and Janice's experiences that they considered college."
News of the Wired
"P. G. Wodehouse's American Psycho" [McSweeney's]. Finally!
"Google Home is playing audio ads for Beauty and the Beast" [The Verge]. Glass bowls…
"How to Clear a Path Through 60 Feet of Snow, Japanese Style" [Atlas Obscura]. Vertical feet…
* * *
Readers, feel free to contact me with (a) links, and even better (b) sources I should curate regularly, and (c) to find out how to send me images of plants. Vegetables are fine! Fungi are deemed to be honorary plants! See the previous Water Cooler (with plant) here. And here's today's plant (Lee):
Lee writes: Dark Star Ceonothus (CA native), Emeryville, CA 03/15/17.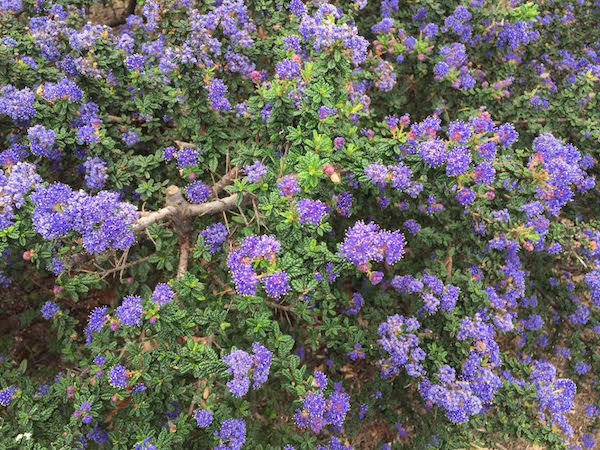 Taking me back… Musical interlude:
Readers, Water Cooler is a standalone entity, not supported by the very successful Naked Capitalism fundraiser just past. Now, I understand you may feel tapped out, but when and if you are able, please use the dropdown to choose your contribution, and then click the hat! Your tip will be welcome today, and indeed any day. Water Cooler will not exist without your continued help.