By Lambert Strether of Corrente
Readers may be interested to know that I got a new Dell Inspiron 15 3000 for $400 with Ubuntu pre-installed. May not have been the utter cheapest, but at least I have a solid backup machine for when the Mac laptop goes down. And who knows, maybe linux is good for something. And I won't have to spend time chewing my hands over bizarre linux configuration issues! (Adding, all the other spex are fine, whatever they are. All I need to do on it, really, is surf the web and write posts. I'm not going to be programming or, gawd forbid, playing games. So terabytes, shmerabytes.)
Anyhow, shopping sucked up my time, and so Water Cooler will (again, I'm sorry!) be unnaturally short. I will return in full force tomorrow, just as soon as my handler, Dmitri, gives me my talking points.
So some questions:
1) Have you recently purchased an especially nifty piece of kit? (I like that Anglo expression, "kit.") Anything from a new laptop to a second-hand unit of earth-moving machinery to some furniture to a coffee-grinder to gardening tools to an old-fashioned safety razor (I'm very happy with mine). Good experiences, please! Let's drive away the angst, a little.
2) Has spring come unnaturally early for you this year? I'm seeing 50° in February, which is a little high for mud season. I welcome the low heating bill, but all that cold water pouring down from the Artic, I dunno… Bit of chiaroscuro on the angst there, sorry, and so to continue–
3) What are we not talking about because we're talking about Trump?
Talk amongst yourselves! (And I assume everybody knows where that tagline comes from….)
* * *
Readers, feel free to contact me with (a) links, and even better (b) sources I should curate regularly, and (c) to find out how to send me images of plants. Vegetables are fine! Fungi are deemed to be honorary plants! See the previous Water Cooler (with plant) here. And here's today's plant (CR):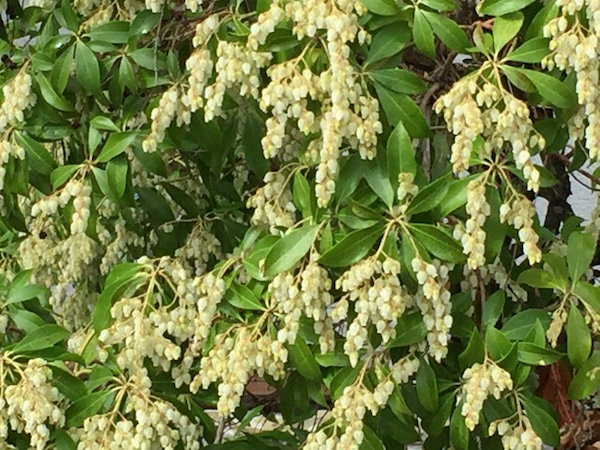 CR comments: Plantidote–Japonica blooming 5 weeks early in Cleveland, OH.
Readers, Water Cooler is a standalone entity, not supported by the very successful Naked Capitalism fundraiser just past. Now, I understand you may feel tapped out, but when and if you are able, please use the dropdown to choose your contribution, and then click the hat! Your tip will be welcome today, and indeed any day. Water Cooler will not exist without your continued help.