By Gaius Publius, a professional writer living on the West Coast of the United States and frequent contributor to DownWithTyranny, digby, Truthout, and Naked Capitalism. Follow him on Twitter @Gaius_Publius, Tumblr and Facebook. GP article archive  here. Originally published at DownWithTyranny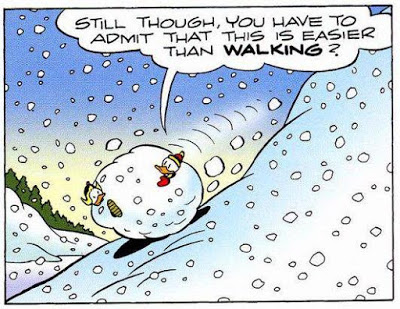 "So far, so good," though I think they forgot that the ball is going to get larger.
Quick and dirty (very dirty).
I've written many times that things are happening on the climate front much more quickly than anyone anticipates. (Just one example: "The Greenland Ice Sheet Is Melting 600% Faster Than Any Model Predicted," but there are dozens of other pieces that could be cited.)
I've called this tendency to under-anticipate the pace of climate change "being wrong to the slow side." We have a strong (and encouraged) tendency to believe that the relentless march out of the climate range that nurtured human civilization will happen slowly, incrementally, gradually — yet we consistently find out, again and again, in instance after instance, that these changes can also occur in unanticipated leaps and collapses as well.
These leaps and collapses are going to become more frequent, as the pace of change accelerates and larger and more significant elements of the climate system destabilize. Leave a glass of ice sitting at room temperature, and the ice will melt slowly at first, but that melt-rate will inevitably accelerate. Same with a destabilized, out-of-equilibrium climate system.
You could call the accelerating pace of climate change a kind of Snowball Effect — a mirror of what happens when a snowball starts rolling down a hill. After a period of slow and gradual movement, it picks up both speed and momentum (added mass) until it becomes a large, destructive force.
This is another of those stories of rapid change. Via Inside Climate News:
Massive Permafrost Thaw Documented in Canada, Portends Huge Carbon Release

Study shows 52,000 square miles in rapid decline, with sediment and carbon threatening the surrounding environment and potentially accelerating global warming.

Huge slabs of Arctic permafrost in northwest Canada are slumping and disintegrating, sending large amounts of carbon-rich mud and silt into streams and rivers. A new study that analyzed nearly a half-million square miles in northwest Canada found that this permafrost decay is affecting 52,000 square miles of that vast stretch of earth—an expanse the size of Alabama.

According to researchers with the Northwest Territories Geological Survey, the permafrost collapse is intensifying and causing landslides into rivers and lakes that can choke off life downstream, all the way to where the rivers discharge into the Pacific Ocean.

Similar large-scale landscape changes are evident across the Arctic including in Alaska, Siberia and Scandinavia, the researchers wrote in a paper published in the journal Geology in early February. The study didn't address the issue of greenhouse gas releases from thawing permafrost. But its findings could help quantify the immense global scale of the thawing, which will contribute to more accurate estimates of carbon emissions.
Arctic permafrost, as the name implies, is soil that has remained frozen — both on land and underwater — since before the last ice age. That soil is now thawing at an accelerating rate. This releases both methane locked into the soil, and CO2.
About Arctic methane:
Large quantities of methane are stored in the Arctic in natural gas deposits, permafrost, and as undersea clathrates. Permafrost and clathrates degrade on warming, thus large releases of methane from these sources may arise as a result of global warming.[3][4] Other sources of methane include submarine taliks, river transport, ice complex retreat, submarine permafrost and decaying gas hydrate deposits.[5]
But thawing permafrost also releases CO2 itself:
As the permafrost thaws, microbes wake up and begin digesting the newly available remains of ancient plants and animals stored as carbon in the soil. This digestion produces either carbon dioxide or methane, depending on soil conditions. Scientists want to understand the ratio of carbon dioxide to methane gas released by this process because it affects the strength of the permafrost carbon feedback loop: greenhouse gases released due to thawing permafrost cause temperatures to rise, leading to even more thawing and carbon release.
How much carbon (in aggregated methane and CO2 form) are we talking about?
[T]he Arctic permafrost is like a vast underground storage tank of carbon, holding almost twice as much as the atmosphere. At that scale, small changes in how the carbon is released will have big effects. [emphasis mine]
There's twice as much carbon in the permafrost as there is in the air today. Let that sink in. The amount of CO2 in the atmosphere is 400 ppm (parts per million by volume). Pre-Industrial atmospheric CO2 was 280 ppm. There's enough carbon in the permafrost to more than double today's 400 ppm number before natural processes start to remove it — and that net-removal of CO2 assumes that humans stop adding their own, something we show no sign of doing.
As the report cited at the top noted, scientists haven't quantified the amount of carbon release yet; they've simply documented the accelerated thawing. Later studies will do that.
Your takeaway, though, is simple — the snowball is picking up speed. Is it an emergency yet? Time, perhaps, to act?
(Update: The sudden-change stories just keep coming in. As I write, a science station on the Antarctic peninsula has just recorded a record-breaking high of 63.5° Fahrenheit, or 17.5 degrees Celsius. Ninety percent of the earth's fresh water is locked up as ice in Antarctica, the melt of which would raise sea levels a stunning 200 feet.)