The bear necessities of life! Pandas' joy as they sit back and relax in the bath (but they can't resist a bit of splashing) Daily Mail (Li)
The challenges of measuring Mount Everest Live Mint (J-LS)
Earth's lost history of planet-altering eruptions revealed Nature (guurst)
Worldwide solar power growth increased by 50 percent in 2016 TreeHugger
If we assume global warming is a hoax, what should we expect to see? SyfyWire (resilc)
Climate Change Studies By Academia Paid For By Fossil Fuel Industry Gas2 (Glenn F)
Divisive 'Bitcoin Unlimited' Solution Crashes After Bug Discovered Bloomberg
In Africa, Scientists Are Preparing to Use Gene Drives to End Malaria MIT Technology Review (J-LS)
California Judge Rules Against Monsanto, Allows Cancer Warning on Roundup Truthout (martha r)
Poultry breeder Aviagen culls U.S. flock over bird flu fears Reuters (J-LS)
China?
The magnificent irony of Louvre's soft-power lesson to China South China Morning Post (J-LS)
Demonetisation Was Bad Economics But as an Act of Vigilantism it Served Modi Well Politically The Wire (J-LS)
South Korea dog row brews as Park Geun-hye faces questions BBC
And now for an idiotic war on batteries MacroBusiness
How Much Europe Can Europe Tolerate? Project Syndicate (David L)
Brexit
The conundrum of Theresa May's Great Repeal Bill Financial Times

Brexit Drains Swamp in London, Creatures Head to Luxembourg Wolf Richter
Dutch voters in crucial poll as Europe watches Financial Times
Turkey: 14 union leaders face imprisonment ActNow (Sid S)
Syraqistan
Saudi Arabia launches girls' council – without any girls BBC (J-LS)

Why has Iran wrecked its economy to fund war in Syria? Asia Times (resilc)

America has spent more rebuilding Afghanistan than it spent rebuilding Europe under the Marshall Plan Boing Boing
New Cold War
When 'Disinformation' Is Truth Consortiumnews (martha r)

Dem senator: Justice Department should investigate RT America The Hill. EDH: "Forget about health care, let's chase up RT."

How Russia's attack on Freeland got traction in Canada McLeans. Wowsers. This is the second article by Gavin trying to defend Freeland. Trying to claim that the absolutely true fact that her grandfather was a Nazi propagandist, and that she lied about is a "hoax" is a sign of desperation (aside from the fact that the article's length is in and of itself a "the lady doth protest too much" tell). Freeland might have a defense if she could credibly claim she only recently found out about the truth of her family's history, but she hasn't gone that route, suggesting she has been knowingly misrepresenting her past for some time. And the mud-throwing at Greenwald is another backfire. Before this article ran, Mark Ames said via e-mail,

If anything has happened in Canada to "subvert the public's faith in its establishment institutions" it's the media's coverage of Freeland's Nazi grandpa. I'm hearing this a lot from Canadian lefties, how shocked they are. They really didn't think it was this rigged. Classic establishment panic, then blame all the damage on the evil foreigners

Moscow moves to absorb rebel Georgian region's military Reuters. Marshall: "They've been in South Ossetia for years now."

Israel interferes in our politics all the time, and it's never a scandal Mondoweiss (Sid S). From last month.
Big Brother is Watching You Watch
Vibrator maker ordered to pay out C$4m for tracking users' sexual activity Guardian (Timotheus)

Vibrator Maker To Pay Millions Over Claims It Secretly Tracked Use NPR. J-LS: "And don't neglect to check out the embedded document, We-Vibes Motion For Approval of Settlement."

Is Facebook A Structural Threat To Free Society? TruthHawk (Paul R). I hope to get Marina to comment on this. This strikes me as a rather large exaggeration of what The Borg can/could do. For one, mapping to external databases is not reliable. I know of at least 2 databases (one that you would expect to be pretty rigorous) that thinks a different person with a similar name in the NYC metro area is me.

American Citizens: U.S. Border Agents Can Search Your Cellphone NBC News
Trump Transition
The Foreign Workers of Mar-a-Lago New Yorker

Trump Tax Records Leaked to MSNBC, White House Confirms Wall Street Journal. Trump paid a lot of taxes that year for a rich guy. People have been nuttily acting as if Trump's tax returns are a Rosetta stone. They aren't. It is embarrassing how none of these people have talked to a tax expert. Getting Trump's tax returns will NOT tell them something about who he borrows from. Get over it. Any borrowing by him will be non-recouse, by virtue of being secured by real estate and/or via a corporate entity. Non recourse loans are not listed on individual returns.

Rachel Maddow's Trump taxes scoop was a cynical, self-defeating spectacle. Slate (resilc). Got this after I penned the bit right above. Good for Slate.

Texans Get First Land Notices for Trump's Border Wall – The Daily Beast (resilc)

Trump Wins Saudi Praise After Meeting Prince Bloomberg. Wow, how sporting of them to make a show of kissing the ring. Now they can go back to doing dictation in private (not that transmission is 100%, mind you…)

Trump to Nominate Goldman Banker to No. 2 Post at Treasury Wall Street Journal. Gee, a few weeks ago, Trump swore off this sort of thing..

Chinese Firm Gives Kushner Family 'Sweetheart Deal' New York Magazine (resilc)

Rex Tillerson 'used email alias' at Exxon to talk climate change BBC
There Really Was A Liberal Media Bubble FiveThirtyEight (UserFriendy)
Republicans Keep Showing Us Who They Are Nation. Resilc: "Save the fetus, kill everybody else is their shtick."
The Left Might Have A Hard Time Replicating The Tea Party's Success FiveThirtyEight (UserFriendly). Argues that the Tea Party's clout among other things, came from the backing of big money donors. So according to this line of thinking, "the left" needs to sell out.
Charles Peters on Recapturing the Soul of the Democratic Party Washington Monthly (resilc)
A Soft Coup, or Preserving Our Democracy? American Conservative (resilc)
Rep. Gutierrez Handcuffed After Refusing to Leave Meeting with ICE NBC (resilc)
Obamacare
The Rising Tide of Militarism in the 21st Century: From Clinton, Bush, Obama and Trump James Petras (UserFriendly)
Ron Paul: Whistle-blowers are heroic, patriotic USA Today (resilc)
How to Become an International Gold Smuggler Bloomberg (guurst)
Why Last Week's Oil Price Crash Was Inevitable OilPrice
Citi Tells Investors to Stop Worrying and Learn to Love Oil Bloomberg
PwC suggests MF Global was a risk culture run amok Financial Times
Wall Street Has Found Its Next Big Short in U.S. Credit Market Bloomberg (UserFriendly)
Class Warfare
Your Tax Dollars Subsidize Amazon. Are the Jobs Worth It? Bloomberg (resilc)

Uber is using in-app podcasts to dissuade Seattle drivers from unionizing The Verge

AUTOMATION IN THE 1940S COTTON FIELDS JSTOR (Micael)

Emboldened by Trump, Minimum-Wage-Hike Opponents Fight Back American Prospect (resilc)

Liberals and diversity Matt Bruenig. A must read. The Democrats are really doubling down.

THE FOREIGN WORKERS OF MAR-A-LAGO New Yorker. Tom D:

I used to enjoy The New Yorker, but the bias of its stories now bothers me immensely.

Their latest Financial Page segment takes the President to task, rightly, for using foreign workers on H-2B visas to staff Mar-a-Lago. But of course they couldn't stop there, so the last 40% of the column is used to justify the use of H-1B visas in the tech industry, and how the tech companies would just move to Mumbai or Vancouver if we didn't let them bring cheap workers to America.

The rich part was the byline on the article … not James Surowicki, but their up-and-coming, well-credentialed young writer, Sheelah Kolhatkar. Yep, they used an Indian-American writer to justify giving visas to Indian tech workers, but not to seasonal laborers. Priceless.

Too few truck drivers – another bogus skills shortage story Fabius Maximus (resilc)
New take on Milgram experiment shows regular people still follow orders instead of their conscience Los Angeles Times (resilc)
Making Athens Great Again Atlantic (Micael). About exceptionalism and mortality.
THE REGRETTABLE DECLINE OF SPACE UTOPIAS Culture & Politics (UserFriendly)
Antidote du jour. From Josh, whose older Burmese died of cancer a few years ago. The kittens he got are now grown up and even for siblings are very fond of each other: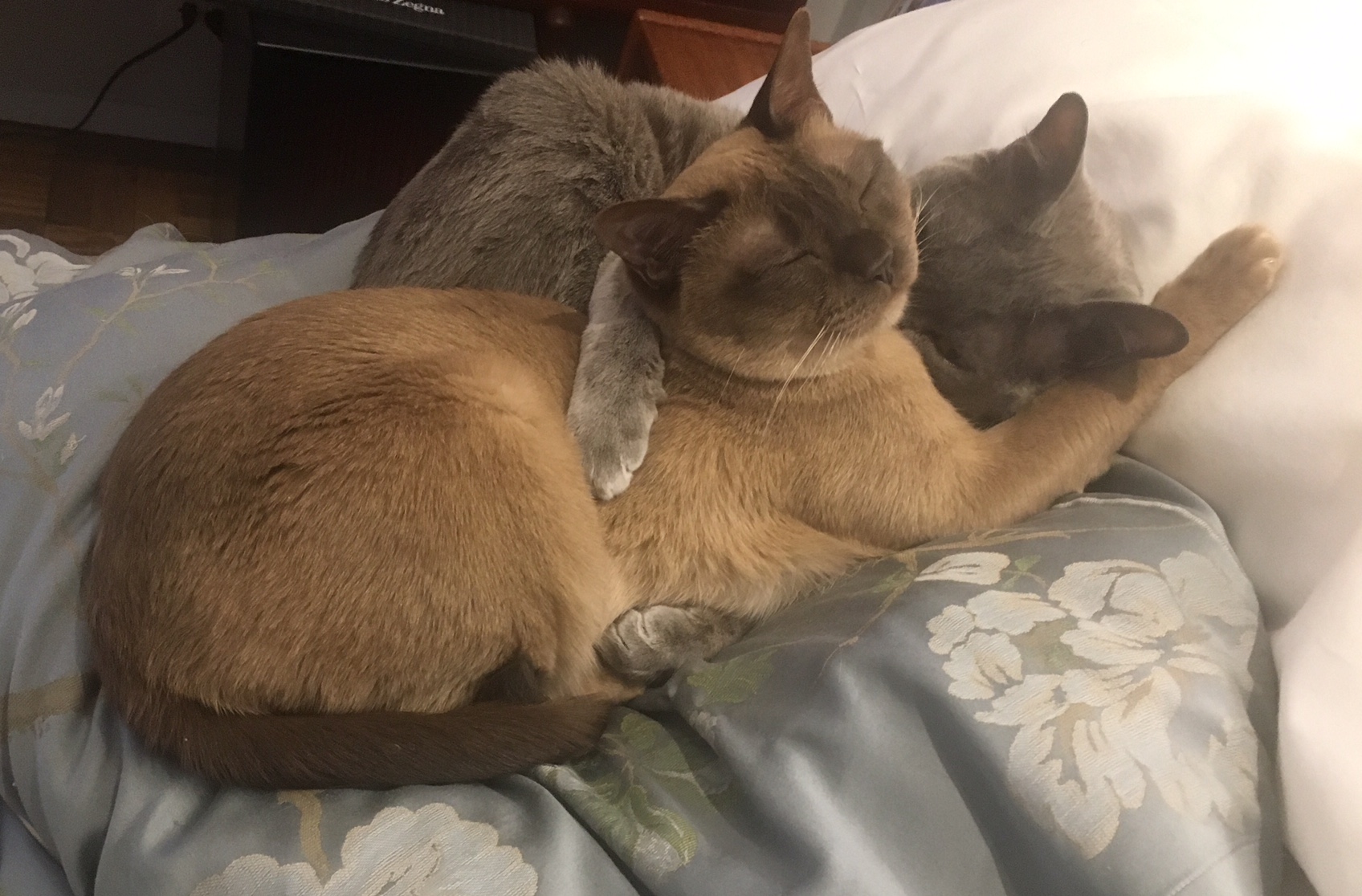 See yesterday's Links and Antidote du Jour here.