At the end of January, Silicon Valley was up in arms that one of their pet means of keeping wages down, the H-1B visa program, appeared to be in Trump's crosshairs. The president had issued an executive order calling for a review of all visa programs, with an eye to improving US employment and economic productivity. The new Administration had also circulated a draft calling for the head of Homeland Security to review work visa programs within 90 days. One of the idea featured in the document was that visas go to "the best and brightest" when the H-1B program uses a lottery that outsourcers like WiPro and Tata Consulting game effectively.
Even if the Administration had acted immediately, that 90 day timeframe now looks too leisurely. As Bloomberg describes tonight, H-1B visa applications are due at the beginning of April, so if the Trump Administration fails to implement its fixes by then, it's at least a year before they'll have any effect. Moreover, the lack of apparent momentum on this front does not bode well for meaningful changes.
The article describes how the program has moved almost entirely away from its original goals. One aim was to import workers when employers couldn't find qualified Americans. The second was to cap the number of H-1B holders, since both the bill's drafters and industry lobbyists wanted companies to bring in "talent" via green cards and help them become citizens, rather than rent them.
The result instead has been the creation of a large industry of foreign workers who largely work abroad. Not only do they undercut US wages and eliminate entry-level jobs, meaning the US is no longer developing its own tech professionals, but the fact that much of the work is done overseas also results in reduced taxes to states and municipalities.
And as Robert Cringley pointed out in 2015, the results aren't good for the employers either:
Now let's look at what this has meant for the U.S. computer industry.

First is the lemming effect where several businesses in an industry all follow the same bad management plan and collectively kill themselves…

The IT services lemming effect has companies promising things that can not be done and still make a profit. It is more important to book business at any price than it is to deliver what they promise. In their rush to sign more business the industry is collectively jumping off a cliff.

This mad rush to send more work offshore (to get costs better aligned) is an act of desperation. Everyone knows it isn't working well. Everyone knows doing it is just going to make the service quality a lot worse. If you annoy your customer enough they will decide to leave.

The second issue is you can't fix a problem by throwing more bodies at it. USA IT workers make about 10 times the pay and benefits that their counterparts make in India. I won't suggest USA workers are 10 times better than anyone, they aren't. However they are generally much more experienced and can often do important work much better and faster (and in the same time zone). The most effective organizations have a diverse workforce with a mix of people, skills, experience, etc. By working side by side these people learn from each other. They develop team building skills. In time the less experienced workers become highly effective experienced workers. The more layoffs, the more jobs sent off shore, the more these companies erode the effectiveness of their service. An IT services business is worthless if it does not have the skills and experience to do the job.

The third problem is how you treat people does matter. In high performing firms the work force is vested in the success of the business. They are prepared to put in the extra effort and extra hours needed to help the business — and they are compensated for the results. They produce value for the business. When you treat and pay people poorly you lose their ambition and desire to excel, you lose the performance of your work force. It can now be argued many workers in IT services are no longer providing any value to the business. This is not because they are bad workers. It is because they are being treated poorly. Firms like IBM and HP are treating both their customers and employees poorly. Their management decisions have consequences and are destroying their businesses.
Counter that reality with the size of the outsourcing business. Per Bloomberg:
Outsourcers, like India's Wipro Ltd. and Cognizant Technology Solutions of the U.S., take over and manage the technology systems for corporations in the U.S., Europe and Asia.
In the U.S., outsourcers bring staffers into the country on work visas, train them in the tech departments of leading corporations and then rotate them back to India where pay and living costs are lower. Outsourcing companies now get far more visas than traditional technology companies, according to data collected by Howard University's Ron Hira through Freedom of Information Act requests. Tata Consultancy Services Ltd. received 5,650 H-1Bs in 2014 while Amazon, the largest recipient in the latter group, got 877.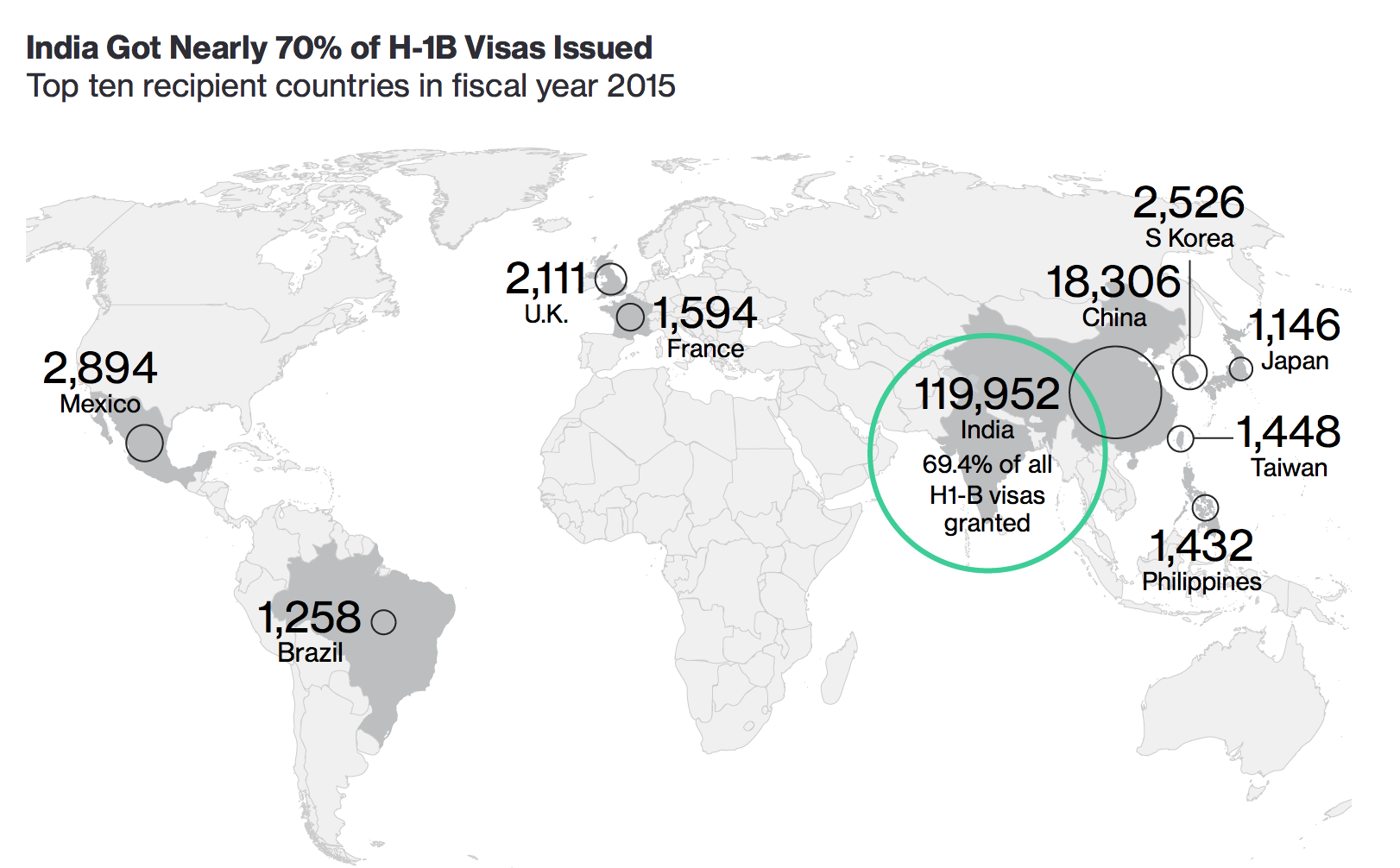 And yes, these visas do go primarily to foreign companies: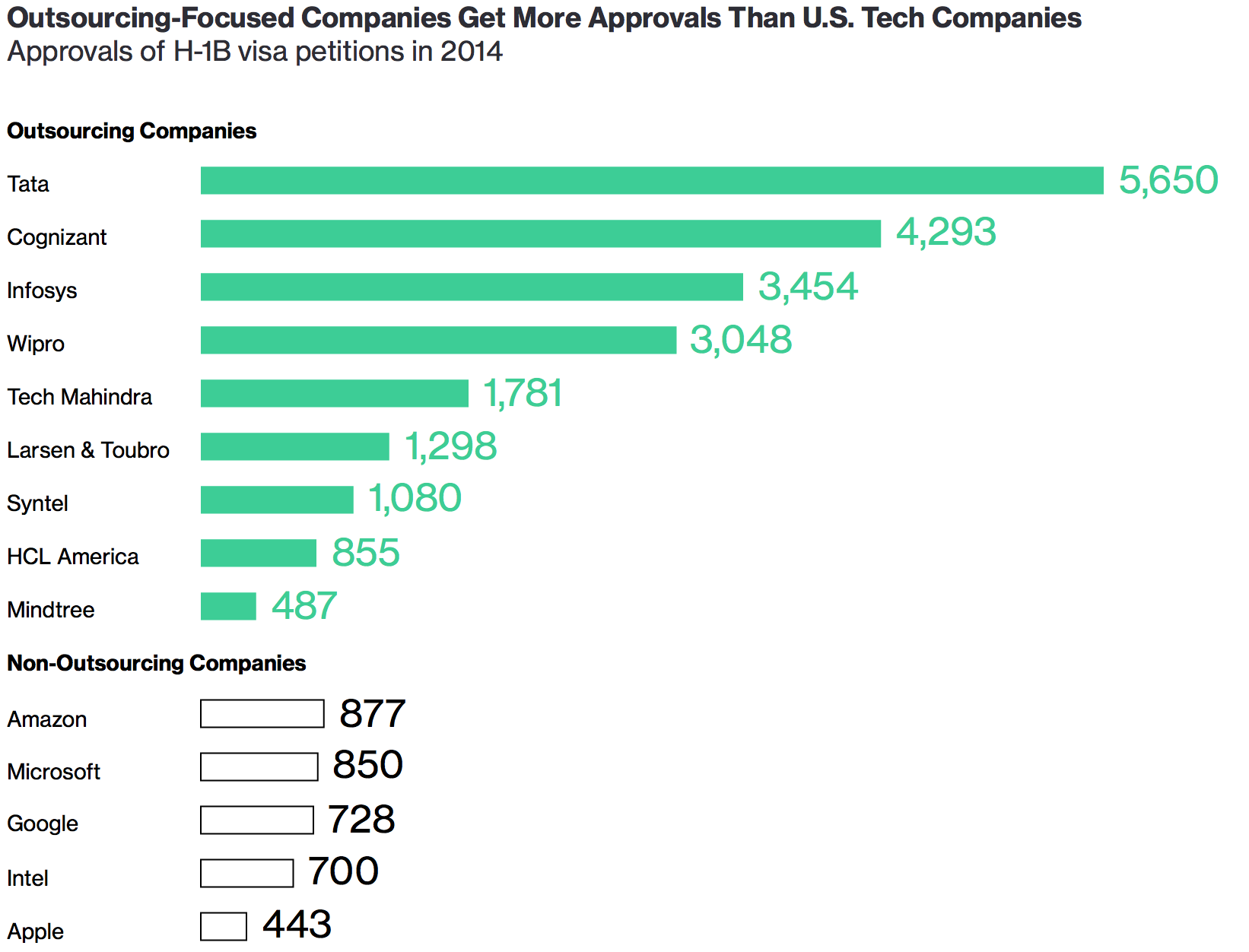 And the foreign outsourcers pay less that US tech companies using H-1B visas (who let us not kid ourselves, are primarily using these visas to lower costs):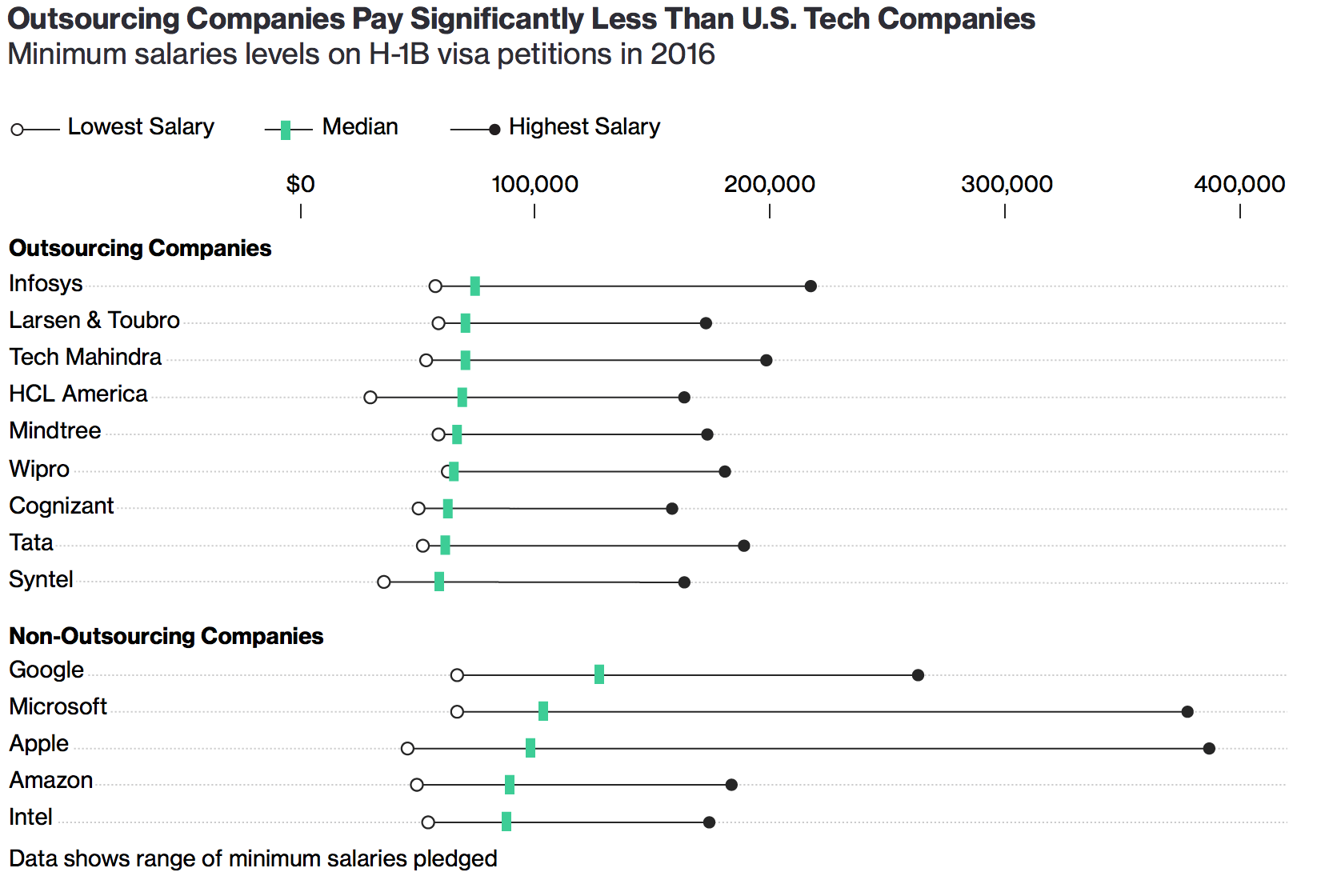 The Bloomberg account points out that there are some things that Trump could do via executive order, but then refers back to the same draft discussion document that was widely reported on at the end of January, so there isn't any evidence that Team Trump has made any progress on this issue. Senator Dick Durbin has reminded Trump of his vow to "end forever" how H-1B visas lower US wages. The story notes:
One option would be to change how the 85,000 visas each year are allocated among applicants. In recent years, the government has used a random lottery, which rewards companies like the outsourcers that submit the most applications. Instead, the government could give H-1Bs first to companies that pay workers the highest salaries or to those in traditional technology fields, rather than outsourcing.
With the Trump Administration short-staffed, rumored to be beset by infighting, and distracted by scandal management, it's become an open question as to how many of Trump's plans will get off the drawing board. And that's before getting to his fickleness about content.