By Lambert Strether of Corrente
Trade
"President Donald Trump and Chinese President Xi Jinping did not announce any major breakthroughs on trade at the end of their two-day summit on Friday. But the two leaders agreed to restructure existing bilateral forums into a new U.S.-China Comprehensive Dialogue overseen by the two presidents and focused on four distinct areas: security concerns, economics relations, law enforcement and cybersecurity and social and cultural issues" [Politico].
Politics
Syraqistan
"A pair of veteran leaders on the left, former Democratic National Committee Chairman Howard Dean and Center for American Progress President Neera Tanden, called on Hawaiians to vote Rep. Tulsi Gabbard out of office after the Democrat questioned whether Syrian President Bashar al-Assad was responsible for last week's chemical attack" [CNN (DK)]. Orthodoxy enforcement won't be easy in this case: Gabbard won 81.2% of the vote in her last election.
New Cold War
Bughouse:

I try to ignore the anti-Putin lunatics but .@LouiseMensch blames Putin for Ferguson uprising. Yeah. She does. pic.twitter.com/zB1UiFedcX

— Margaret Kimberley (@freedomrideblog) April 9, 2017

Louise Mensch is a "Russia Critic" given space at the New York Times: "What to Ask About Russian Hacking?" Hosannas and endorsements from liberals followed. Here's one from Obama's old prof:

Listen to this impressive interview with the incomparable @LouiseMensch: https://t.co/TPXGptQsIE

— Laurence Tribe (@tribelaw) March 18, 2017

"Incomparable" indeed!
2016 Post Mortem
"Bernie Sanders's Misguided Attacks on the 'Liberal Elite'" [The New Republic]. This is actually more interesting than the headline. "When journalist Chris Arnade, for insance, argues that Trump and Sanders represent the 'revolt of the back row kids' against front-row types like Hillary Clinton, he's analytically replacing divisions based on class with divisions based on paying attention in class. For Arnade, merit—doing well in school—replaces money as the fundamental organizer of social divisions. Arnade sympathizes with those who have lost out in neoliberalism, but he accepts neoliberalism's account of how losers and winners are structured. And yet, neoliberalism is a lie." Hmm.
Realignment and Legitimacy
"Kansas Democrat Proudly Wears Support Of Bernie Sanders Group In Unexpectedly Close Race" [HuffPo]. "The Democratic Party, however, is staying away from the race" [HuffPo]. For "however," read "of course." Fixed it for ya.

"How liberal activists took over the Democratic Party" [McClatchy]. "Even political decisions – like the party's involvement in a U.S. House of Representatives special election in Georgia – have been spearheaded by activists, who first started raising gobs of money for the de facto Democratic nominee, Jon Ossoff." It would be irresponsible not to speculate, so I'll speculate that the Democrat War Room being run by Clintonites at the DNC is acting as a cut-out for a lot of this. The whole story, shockingly for McClatchy, reads like a beat sweetener.

UPDATE GA-06: "Polls show Ossoff receiving about 40 percent of the vote; if no candidate reaches 50 percent in the April 18 election, the race will move to a runoff between the top two voter-getters" [McClatchy].

UPDATE GA-06: "Mr. Trump's takeover of the Republican Party has blurred the bright-line ideological distinctions that defined the right for the past eight years. Driven more by personal loyalty and a ravenous appetite to win than by any fixed political philosophy, the deal-cutting president has been received warmly by some mainstream conservatives. At the same time, even ideological hard-liners who share the president's pugilism but not his pragmatism have stuck by him because Mr. Trump has made the right enemies — and gleefully ridiculed them with public insults rarely heard from a president" [New York Times]. "These loyalties have upended the Tea Party-versus-establishment divide, which has dominated fratricidal primary seasons since 2010 but increasingly has the air of fins on the back of a car, a quaint relic from an earlier era. With Mr. Trump in charge, the political market for purity on the right has been devalued."

"New York is the first state to make 4-year college tuition free for middle-class students" [MarketWatch]. "Under the plan, in-state students whose families earn $125,000 or less [in other words, working class] can participate. Altogether, the program is expected to cost New York $163 million and is expected to benefit roughly 940,000 families. New York is the first state to offer free four-year tuition." This near-universal program providing concrete material benefits, especially to the working class, would "never, ever" have happened without the Sanders campaign. Of course, the program could still be sabotaged in the execution, but for now, let's savor a victory. However, what about the students who didn't win the birth lottery, weren't covered by this program, when incurred massive debts that cannot — pause for a hat tip to that loveable goof, Joe Biden 2020 — that can't be discharged in bankruptcy? If there's any justice in the world, the flip side of free college is a Debt Jubilee, so when is that happening? (Pause to think through the policy details on this….)

"Don't let establishment opportunists ruin the resistance movement" [Thomas Frank, Guardian]. "Harbingers of this approach are already visible. Mark Zuckerberg of Facebook has written a nonspecific but distinctly anti-Trump manifesto. Budweiser is running commercials perceived to be critical of Trumpism, as is Coca-Cola. Starbucks has made its antipathy clear. A bunch of tech companies have declared their undying hostility to Trump's immigration policies. Before long, no doubt, Nike or Reebok will be encouraging you to make a stand against fascism with a specially branded line of resistance sneakers." This is from March. Frank called his shot on the Pepsi ad!

"Last fall, as presidential candidate Donald Trump promised America more oil and coal production, a small refinery town in Northern California stood up against its biggest employer and taxpayer. Valero, the Texas-based petroleum giant, had sought routine approval for a huge crude-by-rail project. The city council of Benicia, however, decisively rejected Valero's proposal" [Capital and Main]. ""We had a small but extremely well-informed group of people who have been working on these issues for a long time," said Benicia Mayor Elizabeth Patterson, "and I give all the credit to that group." Patterson is a longtime environmentalist who has been mayor since 2007 and was re-elected in November." Activist successes like this require mastery of technical detail, the regulatory process, legal issues, and relationship building, especially with legislators and the press. They also require coalition-building, and public speaking and media skills. I would have expected the anti-fracking effort, to pick a single example, to have cross-fertilized electoral politics (and in some way other than siloed efforts holding up signs in marches). This happened in Benicia , but it doesn't seem to have happened nationally, and I'm not sure why. Or is this happening — say, in Richmond, California, or Colorado, or upstate New York, and I missed it?

"Introducing the 2017 Cook Political Report Partisan Voter Index" [Cook Political Report]. Fun stuff. More and more interesting maps these days..
Stats Watch
Labor Market Conditions Index, March 2017: "With the unemployment rate down 2 tenths in March to 4.5 percent, the economy is at full employment but it isn't giving much of a lift to the labor market conditions index which is barely holding above zero at only 0.4 in March" [Econoday].
State Coincident Indexes, January 2017: "Over the past three months, the indexes increased in 46 states, decreased in three, and remained stable in one…. In the past month, the indexes increased in 38 states, decreased in five, and remained stable in seven, for a one-month diffusion index of 66. For comparison purposes, the Philadelphia Fed has also developed a similar coincident index for the entire United States. The Philadelphia Fed's U.S. index rose 0.7 percent over the past three months and 0.2 percent in January" [Federal Reserve Bank of Philadelphia].
Construction: "Update: Framing Lumber Prices Up Year-over-year" [Calculated Risk]. "The price increases in early 2013 were due to a surge in demand (more housing starts) and supply constraints (framing lumber suppliers were working to bring more capacity online). Prices didn't increase as much early in 2014 (more supply, smaller "surge" in demand). In 2015, even with the pickup in U.S. housing starts, prices were down year-over-year. Note: Multifamily starts do not use as much lumber as single family starts, and there was a surge in multi-family starts. This decline in 2015 was also probably related to weakness in China."
Shipping: "E-commerce users typically need two to three times the amount of warehouse and distribution space that traditional users do" [Logistics Management]. "That's mostly because e-commerce fulfillment requires more inventory, labor and automation."
Shipping: "Wednesday's ProMat keynote panelists agreed it is time to embrace the shift to digital supply chains seen in MHI's latest annual industry report, titled "Next-Generation Supply Chains: Digital, On-Demand and Always-On" [Logistics Management]. "According to the report, nine technologies including sensors, Cloud solutions, robotics, 3D printing, the (IoT) and [,(?)] and drones are working together to create supply chains that are digital, on-demand and always-on." I've helpfully underlined the technologies I could also file under The Bezzle. Was I too kind?
Shipping: "The backhaul North Europe-Asia capacity crunch could last for months, according to new research from liner analysts Drewry" [The Loadstar]. "Drewry said eastbound shippers were 'struggling for space.' with some 'waiting up to eight weeks to load.' It added that even when shippers had been able to load their export containers, they were obliged to pay 'considerably more than the usual going rate.'" Cartels work!
Shipping: "[Swift Transportation Co. and Knight Transportation, two] of the largest trucking companies in the U.S are merging in a rare consolidation in the fragmented truckload services market" [Wall Street Journal]. More concentration.
The Bezzle: "10 shocking passages from the Wells Fargo report on aggressive sales practices" [MarketWatch]. All so ghastly I can't even pick out the highlights. Too bad Putin forced Obama not to indict any Wells Fargo executives; Clinton might have won if he had.
The Bezzle: "Libor: Bank of England implicated in secret recording" [BBC]. Roll the tape:
In the recording, a senior Barclays manager, Mark Dearlove, instructs Libor submitter Peter Johnson, to lower his Libor rates.

He tells him: "The bottom line is you're going to absolutely hate this… but we've had some very serious pressure from the UK government and the Bank of England about pushing our Libors lower."

Mr Johnson objects, saying that this would mean breaking the rules for setting Libor, which required him to put in rates based only on the cost of borrowing cash.

Mr Johnson says: "So I'll push them below a realistic level of where I think I can get money?"

His boss Mr Dearlove replies: "The fact of the matter is we've got the Bank of England, all sorts of people involved in the whole thing… I am as reluctant as you are… these guys have just turned around and said just do it."
The Bezzle: "The Gig Economy's False Promise" [Editorial Board, New York Times]. "But so far, experience with these companies shows that without the legal protections and ethical norms that once were widely accepted, workers will find the economy of the future an even more inhospitable place." If only there were some institutional structure that could bring pressure to bear. Some sort of collective action….
Labor Power: "The thousands of folks walking the show floor at ProMat 2017 in Chicago this week witnessed material handling automation on a scale unimaginable just two years ago. But the breathtaking high-tech improvements come with a hitch: a shortage of skilled workers to service the increasingly complex stuff" [DC Velocity]. If only we had some mechanism, however imperfect, for matching the demand for these skilled workers to the supply of them!
Labor Power: ". Wages for workers in warehouses – including the distribution centers run by Amazon, FedEx Corp. and others that handle online orders – are rising at their fastest pace in over a decade, the WSJ Logistics Report's Jennifer Smith writes. The pay hikes come as the warehouse boom runs headlong into a tightening labor market. Warehouse work can be grueling, and logistics companies are finding they can no longer attract a deep a pool of applicants with pay that is often just above minimum wage. In addition to offering higher hourly wages, operators are attracting labor through performance incentives and poaching nearby rivals" [Wall Street Journal].
Labor Power: "Though videos of the Tesla factory emphasize robotic automation, over 6,000 workers engage in intense manual labor to build the cars." [David Dayen, Capital and Main]. "[A] factory that prioritizes production goals over health and safety. Now they're fighting back against low pay, hazardous conditions and a culture of intimidation, seeking to unionize through the United Auto Workers. Tesla is the only U.S. automaker using nonunion workers at a stateside plant, and breaking through would give organized labor a foothold in the tech industry as well. Until then, the Tesla experience reveals that green jobs aren't necessarily good jobs without worker power. 'They want to make sustainable cars,' says [Tesla worker Richard Ortiz] . "We need sustainable employment.'"
Political Risk: "After an unpredictable political cycle and an equally unpredictable M&A environment in 2016, dealmakers have refreshed their outlook for M&A activity under the Trump administration—and they like what they see. According to Brunswick Group's 10th Annual Global M&A Survey, about 44% of respondents expect M&A activity to increase in 2017, a significant surge since last year, when only 13% of respondents were optimistic about M&A levels growing in the wake of record-breaking levels in 2015. At the same time, practitioners expect more scrutiny of cross-border deals, particularly from China, and a lighter touch with regard to antitrust obstacles. And the impact on jobs will be front and center" [The Harvard Law School Forum on Corporate Governance and Financial Regulation].
UPDATE Public Relations: "Man pulled off of United plane in Chicago set for Louisville" [WHAS]. And by "pulled," we mean "dragged down the aisle." The video:
@United overbook #flight3411 and decided to force random passengers off the plane. Here's how they did it: pic.twitter.com/QfefM8X2cW

— Jayse D. Anspach (@JayseDavid) April 10, 2017
The Twitter reacts to the CEO's statement:

humans we are excreting sadness fluids from the United brood mother's apology glands, we will look with all 40 million of our eyes pic.twitter.com/qyaHfcSHjf

— Ed Zitron (@edzitron) April 10, 2017
Shaking my head. Third World stuff wherever you look.
Rapture Index: Closes down 1 on Anti-Semitism. "There has been a decrease in anti-Semitic activity" [Rapture Ready]. Record High: 189, October 10, 2016. Current: 182.
Today's Fear & Greed Index: 38 Fear (previous close: 40, Fear) [CNN]. One week ago: 46 (Neutral). (0 is Extreme Fear; 100 is Extreme Greed). Last updated Apr 10 at 11:28am.
Health Care
"The physicians with whom I've spoken agree that doctors who put in the extra time to create relationships with patients do it because they feel it is the right thing to do, despite the fact that the system doesn't reward their efforts. But a system that relies on physician good-heartedness alone is hardly sustainable, especially given that half of physicians already report professional burnout" [Health Affairs]. "The good news is that a quiet revolution is now afoot in medicine. Many doctors, just like their patients, long to have more healing encounters and foster strong patient-doctor relationships. To achieve that, we will have to rethink how we deliver medicine." The title: "How To Win The Doctor Lottery." I'm sure some readers have won this lottery, and equally sure some have lost. We need more winners.
Gaia
"After severe coral bleaching in the northern third of the reef last year, an aerial survey [by the ARC Centre of Excellence for Coral Reef Studies] has found the middle third has been hit by intense bleaching in 2017, damaging 1,500 kilometers, or 900 miles, of coral and leaving only the southern third unscathed" [MarketWatch]. "'This year, 2017, we are seeing mass bleaching, even without the assistance of El Niño conditions,' [Terry Hughes, director of the ARC Centre]."
Class Warfare
"Late capitalism: the infographic" [Bat Bean Beam]. Fun takedown of "How to Build Wealth on the Minimum Wage."
News of the Wired
"In Search of the Axe for the Frozen Sea Within Us" [Power of Narrative]. Still worth a read.
Not just for Australian politics junkies:
.@theage People are already tweeting one of the best Clarke & Dawe sketches, "The Front Fell Off" (1991) https://t.co/GTCCpwyBnr I agree.

— Stilgherrian (@stilgherrian) April 10, 2017
* * *
Readers, feel free to contact me with (a) links, and even better (b) sources I should curate regularly, and (c) to find out how to send me images of plants. Vegetables are fine! Fungi are deemed to be honorary plants! See the previous Water Cooler (with plant) here. And here's today's plant (via):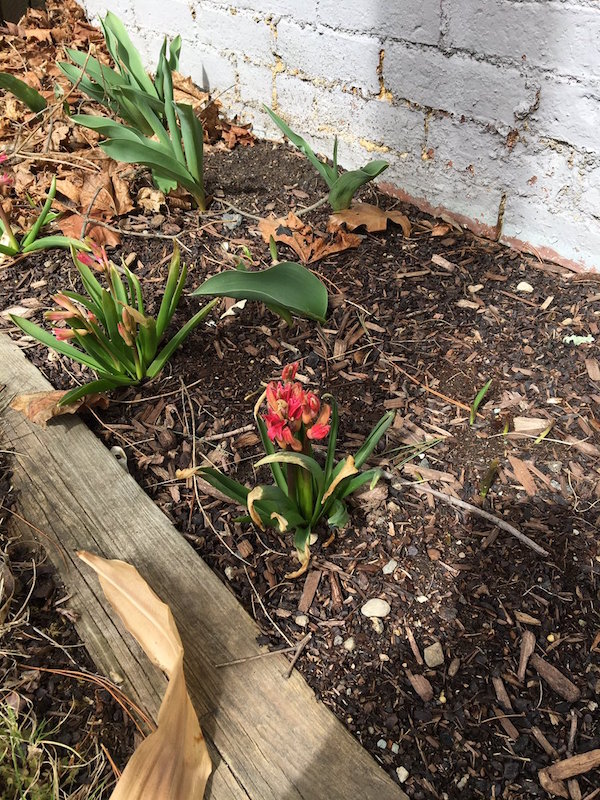 Cambridge, MA. Is that bark mulch?
Readers, Water Cooler is a standalone entity, not supported by the very successful Naked Capitalism fundraiser just past. Now, I understand you may feel tapped out, but when and if you are able, please use the dropdown to choose your contribution, and then click the hat! Your tip will be welcome today, and indeed any day. Water Cooler will not exist without your continued help.