By Lambert Strether of Corrente
Trade
" Trade observers have their eyes trained on Mar-a-Lago today, where President Donald Trump meets with Chinese President Xi Jinping for the final day of their two-day summit… The Nelson Report, a newsletter focused on Asia, reported it heard from official sources that there would be no joint statement after the meeting, though Spicer told reporters on Air Force One there would be a readout about what the leaders discussed. Spicer also indicated there might not be a press conference, but cautioned not to rule anything out."
Politics
Syraqistan
Various Theories of Trump, all interesting if true, or maybe interesting anyhow. Are the strikes kinetic, or designed to communicate, and if so, what?

In Southeast Asia, there's the saying: "Kill a chicken to scare the monkey." So the chicken would be Assad. Who's the monkey? Could there be more than one?

"Facta non Verba: How to Own Your Enemies" [Nassim Nicholas Taleb, Medium]. "anjar became in 1118 the sultan of the Seljuk Turkish Empire of Asia minor (that is, modern day Turkey), Iran, and parts of Afghanistan. Soon after his accession, he woke up one day with a dagger next to his bed, firmly planted in the ground. In one version of the legend, a letter informed him that the dagger thrusted in hard ground was preferable to the alternative, being plunged in his soft breast. It was a characteristic message of the Hashishins, a.k.a. Assassins, making him aware of the need to leave them alone, say send them birthday gifts, or hire their actors for his next movie. Sultan Sanjar had previously snubbed their peace negotiators; so they moved to phase two of a demonstrably well planned out process. They convinced him that his life was in their hands and that, crucially, he didn't have to worry if he did the right thing –they had proven to him that they were both in control and reliable. Indeed Sanjar and the Assassins had a happy life ever-after." Another narrative supported by the heads-up.

* * *

Not that impressed:

I'm deeply concerned the strike in Syria could lead the U.S. back into the quagmire of long-term military engagement in the Middle East.

— Bernie Sanders (@SenSanders) April 7, 2017

Not that impressed: "Sen. Warren: Syrian regime must be held accountable, but…" [WWLP].

"Waiting for the bodybags" [Carl Beijer]. That won't happen on the field. Depending on how you define field.

From the heart of The Blob at Foreign Policy:


.@djrothkopf: "For all his blunders, Trump acknowledged, at least implicitly, a mistake and corrected it." https://t.co/rDkUDfSuFD

— FP Media & Comms (@FPMediaDept) April 7, 2017

No pleasing some people:


"more than 24 hours" please before you pursue a war I approve of and have advocated for pic.twitter.com/UhWBR3UUqd

— Bugei Nyaosi (@bnyaosi) April 7, 2017
Our Famously Free Press
Deja vu all over again:

before any verified reporting of the impact of the missile strike, every media talking head and politician is calling them "surgical" pic.twitter.com/d81KwQVnTf

— Lee Fang (@lhfang) April 7, 2017

And every liberal who wrote an "I was wrong on Iraq" is cheering this war on.
Trump Transition
"If you could be a fly on the wall eaves­drop­ping on a meet­ing these days, only one would be more in­ter­est­ing than the brain­storm­ing ses­sions that Sen­ate Ma­jor­ity Lead­er Mitch Mc­Con­nell and House Speak­er Paul Ry­an are hav­ing with their re­spect­ive lead­er­ship teams. It would be the meet­ing at which White House Chief of Staff Re­ince Priebus and his le­gis­lat­ive-af­fairs team ex­plain to Pres­id­ent Trump the mech­an­ics and con­sequences of a loom­ing April 29 gov­ern­ment shut­down, which would co­in­cid­ent­ally fall on Trump's 100th day in of­fice. The timeline is tight: Con­gress leaves this Fri­day for the East­er-Pas­sov­er re­cess, the Sen­ate re­turns on April 24, the House re­turns on April 25, and the cur­rent con­tinu­ing res­ol­u­tion ex­pires at mid­night on April 28" [Cook Political Report]. "A shut­down would af­fect vir­tu­ally the en­tire fed­er­al gov­ern­ment. Last year, only one of the 12 ap­pro­pri­ations bills, for vet­er­ans and mil­it­ary con­struc­tion, was fun­ded bey­ond April 28. In re­cent years, Con­gress has be­come heav­ily de­pend­ent on passing om­ni­bus ap­pro­pri­ations bills, with vir­tu­ally everything tossed in­to the mix."

Infrastructure at last: "California's $54 billion plan to fix roads and fund highway improvements cleared a major hurdle late Thursday, passing in the state legislature and setting the stage for what could become a massive spending spree" [CNBC]. "The legislation, part of a transportation funding package, provides money for local and state projects to fix roads, highways and bridges as well as to fund other transportation programs. The plan would generate about $5.2 billion in new taxes annually over the next decade by increasing gasoline taxes by 12 cents per gallon to 30 cents per gallon in the Golden State."
2018
Preet Bharara: "'I don't have any plans to enter politics, just like I have no plans to join the circus … and I mean no offense to the circus,' he said in his address at Cooper Union in New York on Thursday" [CNBC].
2016 Post Mortem
"The October Non-Surprise" [EmptyWheel]. Marcy straightens out the timeline: "Both The Wikileaks Podesta Release and Access Hollywood Tape Drowned Out the Intelligence Community Report On Russia."

"The Deification of Hillary Clinton" [The New Republic]. Review of Susan Bordo's The Destruction of Hillary Clinton. Fun stuff: "Bordo's objection seems to be that anyone opposed Clinton at all, even from the left. What she does not grasp—and is seemingly not interested in grasping—is that Clinton's critics from the left were not opposing a caricature of her as some kind of right-wing political operator. We opposed Clinton-the-hawk and Clinton-the-means-tester. Our objection was about politics, not personality. Similarly, we do not reject the feminism of Bordo and Clinton because of its ideological rigidity, as Bordo suggests. We reject it because it is insufficient. America was not 'already great.' Our lives are proof."

"Fantastic Lies: Of Bernie Bros & Bolshevik Bot Networks" [Nina Illingworth]. Awesome takedown. I mean, if retweeting Russia Today clips took Clinton down, she certainly didn't get much value-for-money out of the billion dollars she tossed to the Democrat strategists and consultants and media buyers and bag-men and spear-carriers…
Realignment and Legitimacy
"However, Trump's troubles don't necessarily lead to success for Democrats. In fact, too many people – including those in the media – are desperate to find a Trump "buyer's remorse" story that just isn't there. One reason, it is simply too early. For most normal people, 75 days into the toughest job in the world isn't enough to time to make a judgement on his future success. More important, this storyline misses an important psychological element: nobody likes to be told that they made a mistake – or that they exhibited bad judgement. You want to be understood for why you made that decision, not mocked for doing it" [Amy Walter, Cook Political Report]. (Walter looks at the same Greenberg report I looked at here.) "Telling voters that Trump doesn't 'give a shit' about them – as DNC Chair Tom Perez has said, does nothing to alleviate – or acknowledge – the real-life concerns that brought voters to Trump in the first place. … [A] message that is focused solely on 'fighting Trump' and none about 'fighting for' regular will fall flat in those swing districts Democrats are trying to hold/gain in 2018." Well, I don't care what Democrats are "fighting for." They're always doing that, and it's not the same as winning, is it?

"A Consequential Presidency" [Washington Monthly]. A review of Michael Tomaskey's Bill Clinton. "[Tomasky] pointed out that to regain power again, Democrats will once more have to attract the votes of those who left their party, in this case for Trump. Once called 'Reagan Democrats,' these generally white, modestly educated, working-class voters were wooed back to the fold by Bill Clinton's Third Way liberalism. In 2008, after the disastrous Bush presidency, some flocked to Obama's uplifting themes, but over the next eight years they slid steadily back into the GOP column. 'I know lots of these people," wrote Tomasky, who grew up in West Virginia… 'My dear mom was one, and virtually all her friends from church. Loads of old high-school classmates…Millions are in fact liberals, to some degree or another, and many millions more may not be liberals but sure aren't conservatives…They are, in fact or in potential, part of our team, and we need to treat them that way. The Democratic Party needs to identify leaders who can connect with these ." Bill Clinton was one such leader, and the Democrats are going to need to find more like him." Hmm [strokes chin]…. Nobody comes to mimd!

"What's Become of the American Dream?" [Peggy Noonan, Wall Street Journal]. Nooners channelling Daniel Patrick Moynihan (and J.D. Vance) on families. Not good, in terms of the Zeitgeist Watch. On the bright side, Nooners doesn't use "folks"!
Stats Watch
Employment Situation, March 2017: "Throw ADP out, it was the weather in March! Or at least the Category 3 storm that swept the Northeast may explain a much weaker-than-expected 98,000 increase in March nonfarm payrolls. This compares with Econoday's consensus for 175,000 and a low estimate of 125,000. It is also the weakest reading since May last year" [Econoday]. "But there is one standout sign of strength in the report and that's the unemployment rate which fell a very sharp 2 tenths to 4.5 percent as the number of unemployed fell by 326,000 to 7.2 million. This is the lowest unemployment rate since the height of the last expansion in April 2007 and it raises the issue of wage inflation which, however, has yet to build. Average hourly earnings rose only 0.2 percent in the month for a year-on-year rate that, at 2.7 percent, is down 1 tenth in the month and further away from the 3 percent line. … Retail trade fell 30,000 in March following February's 31,000 decline. Trade & transportation payrolls decreased 27,000 following a 16,000 decline. But both manufacturing and mining show useful gains, at 11,000 each and with construction, despite the weather, still rising 6,000. The government hiring freeze put in place in late January didn't hurt March payrolls for this reading which rose 9,000." It was the "big storm"! And: "The headline jobs number was below expectations, and there were combined downward revisions to the previous two months. However the weakness in the headline jobs number can be blamed on the weather (both payback from a warm February, and storms during the reference week in March). Note: The weather impact was no surprise (I took the under in my employment preview) [he did!]" [Calculated Risk]. "Overall this was mostly a solid report." But: "The headline seasonally adjusted BLS job growth was terrible and significantly below expectations. Last month's gains were revised down" [Econintersect]. "The rate of growth for employment significantly degraded this month (red line on graph below). This is a year-over-year analysis which has no seasonality issues. The unadjusted jobs increase month-over-month was the worst since the end of the Great Recession." And: "[A] report that simultaneously may be blamed on weather and may question some of the new pro-growth expansion's real effectiveness" [247 Wall Street].
Employment Situation, more from the mainstream: "U.S. payroll gains slowed in March while the jobless rate unexpectedly dropped to the lowest in almost a decade, suggesting the labor market is returning to a more sustainable pace of progress" [Bloomberg], And: "[A] drop in the unemployment rate to a near 10-year low of 4.5 percent suggested labor market strength remained intact" [Reuters]. And but: "Hiring in March was expected to drop after the monthly gains of more than 200,000 in the two previous months, but this was the weakest showing for the economy in nearly a year" [New York Times']. "The latest report will only add to the debate over whether so-called soft data, like stronger sentiment among businesses, is actually prompting companies to hire more workers. March's data suggests it is not, as does the 38,000 downward revision in estimated job creation in February and March." And but: "Overall, this is a mixed — but still solid — report with wages rising as expected, the unemployment rate plunging, but overall job gains disappointing. For the Federal Reserve, this report isn't likely to change their view of the health of the U.S. labor market" [Yahoo Finance]. "Additionally, some economists had said that worse-than-average winter weather in March had potential to depress the headline payrolls number." I wish there were a way to get a more definitive answer than guesswork whether it's the weather or not. Readers?
Wholesale Trade, March 2017: "The stock-to-sales ratio is unchanged at 1.28. Though questions of overhang are building in the retail sector where sales have been soft, inventories at the wholesale level look lean and stable" [Econoday]. And but: "The growth this month was in machinery / durables with automotive / furniture decelerating. Overally, I believe the rolling averages tell the real story – and they declined this month. There is an obvious growth trendline in wholesale – and even our analysis showing decline this month did not break this trendline. Inventories remain at elevated levels. To add to the confusion, year-over-year employment changes and sales growth do not match" [Econintersect].
Debt: "With both bad loans and interest rates on the rise, financial institutions are becoming more selective in doling out credit for new-car purchases, adding to the pressure for automakers already up against the wall with sliding sales, swelling inventories and a used-car glut" [Bloomberg].
Rail: "Rail Week Ending 01 April 2017: March Totals Up 5.5% Year-over-Year" [Econintersect].
The Bezzle: "I was the last drop-off that night, and I asked Kevin if I could stick around to compare what he earned with what we had paid. He agreed, so we sat in his car and waited for the trip summary to appear. Once it did, we noticed something odd: Uber had charged me $11.46, but it told Kevin my fare was $10.26, of which he got $7.30. The difference—$1.20, or 10% of what I paid—was unaccounted for" [Quartz]. Uber is just crooked from top to bottom, isn't it?
The Bezzle: "Why All Your Gadgets Want You to Talk to Them" [New York Magazine]. "But the sense I get talking to various people in industry is that the true promise for tech companies and voice assistants isn't in being a walking, talking information directory. Instead, it's about the industry's strong belief that the smart home, despite slow adoption rates, is coming — and that the smart home is going to need a voice operating system, one that can understand and respond primarily via voice commands." In my house, the light switches are near the door, so you can turn them on when you walk in the room and off when you leave. I've got an another light at my desk so — follow me closely here — I can turn it on when I sit down to work, and off when I'm done, and I stand up. Do I really need an enormously expensive and insecure computing device to turn on the lights? I guess what I'm really objecting to is Silicon Valley's hubris: They seem to think no engineering was ever done before programmers existed. That's not so. See Donald Norman, The Design of Everyday Things. If these idiots really want to sell me on this concept, I need to be able to say "Siri! Clean the refrigerator!" Or "Siri, fire up the charcoal in the grill!" I think we'll be waiting some time for that.
I don't know where to file this: "Yahoo and AOL will form new company called … Oath" [CNN Tech]. "Oath." Really? Shouldn't that, given my experiences with Yahoo, be "oaths," plural?
Today's Fear & Greed Index: 39 Fear (previous close: 43, Fear) [CNN]. One week ago: 47 (Neutral). (0 is Extreme Fear; 100 is Extreme Greed). Last updated Apr 7 at 12:13pm. Mr. Market thinks Trump's Syrian bombing is sketchy?
Black Injustice Tipping Point
"WHY FERGUSON FAILS" [On the Top Step]. Well worth a read, from somebody who ran for office in Ferguson. I'd quarrel with one or two of the received ideas, but it's deeply felt and very knowledgeable.
"Minority Neighborhoods Pay Higher Car Insurance Premiums Than White Areas With the Same Risk" [Pro Publica].
Class Warfare
"Not only has poverty risen across the country, but the likelihood of living in an extremely poor, economically distressed neighborhood as a low-income individual has also gone up. In 2009, 11.7% of all Americans living below the poverty line resided in neighborhoods where at least 40% of residents were poor. In 2015, that share increased to 14.1%. People of all incomes living in extremely poor neighborhoods face greater obstacles to living healthy, safe, and prosperous lives. But for people earning poverty wages and who often struggle to provide basic necessities, the challenges of living in such neighborhoods are even greater" [247 Wall Street (!)]. #1: Bakersfield, CA.
News of the Wired
"Temple Grandin on the kinds of minds science desperately needs" [Elsevier]. Grandin: "When I look at the methods of an experiment, I see the actual animals, I see the experiment. So when I review journal articles, I tend to really go over the methods: the sampling procedures, what kind of animals they use. Other people are tearing apart the statistics, and I'll (notice) they didn't even tell me what breed of pig they used in the experiment. And that can affect the results in a really bad way." If only economists experimented with Grandin's attitude…
"Over The Air: Exploiting Broadcom's Wi-Fi Stack (Part 1)" [Project Zero]. Lucidly written, almost like a detective novel.
"The secret world of microwave networks" [Ars Technica]. This is neat, too. Microwave networks have speed and construction advantages over cable (plus we don't know know where they are or who owns them). "Making profits from better-informed knowledge of business or government (where obtaining that might seem an activity of public value) is a criminal offence: making profits from marginally faster dissemination of that knowledge (where achieving that appears to have no public value at all) is a legitimate market practice" [Financial Times].
"AN OFF-GRID SOCIAL NETWORK" [André Staltz]. This looks super-neat. "[Scuttlebutt's] architecture is built so that network connections accurately represent the social graph and word of mouth. Typically with social networks like Facebook or Twitter, the network connections are centralized with their servers. The network architecture looks completely different to social architecture. Most users don't care about this because the network architecture is invisible to them. However, it becomes a real problem once an authoritarian government or even the host company itself takes control over the network architecture in ways that disrupt the social architecture. It is not uncommon for a government to shut down a social network in a country for days/weeks, affecting how people communicate with each other. This has happened in Egypt, Cameroon, and Brazil. , with peer-to-peer infrastructure accurately matching peer-to-peer interactions. It makes communication and the spread of information highly resilient, bringing improvements to freedom of speech with modern information technologies." Any readers with experience?
* * *
Readers, feel free to contact me with (a) links, and even better (b) sources I should curate regularly, and (c) to find out how to send me images of plants. Vegetables are fine! Fungi are deemed to be honorary plants! See the previous Water Cooler (with plant) here. And here's today's plant: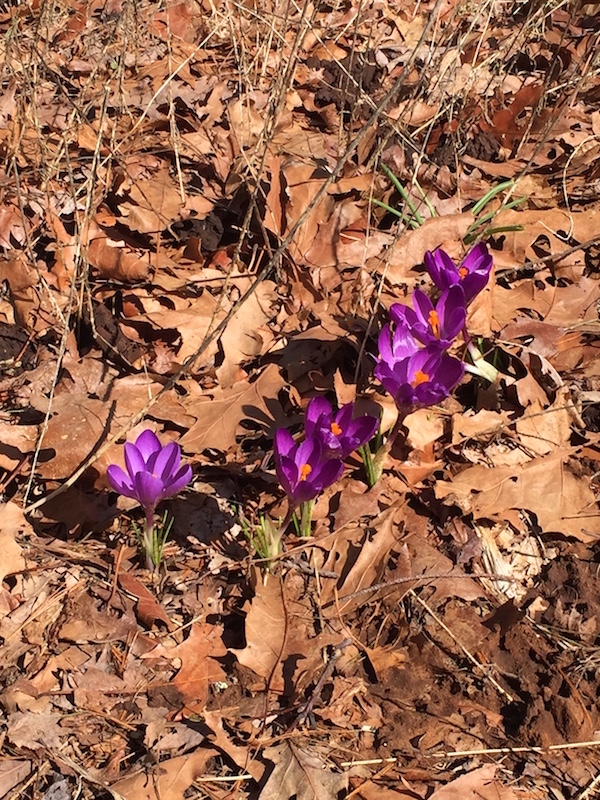 Encouraging for the onset of spring and the soil. Let no organic matter leave the property!
Readers, Water Cooler is a standalone entity, not supported by the very successful Naked Capitalism fundraiser just past. Now, I understand you may feel tapped out, but when and if you are able, please use the dropdown to choose your contribution, and then click the hat! Your tip will be welcome today, and indeed any day. Water Cooler will not exist without your continued help.