By Lambert Strether of Corrente
I'm going to add a few more political links; I got sidetracked on this and that. –lambert
Trade
"Trump's decision this week to launch an investigation that could restrict steel imports from all over the world — not just China, its chief target — is a bit of a double-edged sword. It could anger key international allies if restrictions are approved, or disappoint Trump's base of blue-collar workers if they're not [Politico]. "Despite the more than 150 countervailing and anti-dumping duty orders the United States already has on steel imports, the system is 'fairly porous,' Commerce Secretary Wilbur Ross said, 'so we're groping here to see whether the facts warrant a more comprehensive solution that would deal with a very wide range of steel products and a very wide range of countries.'"
Politics
New Cold War
"Congress should consider delaying an upcoming U.S. Navy request for as much as $9 billion to start work on 12 better-armed successor vessels to the troubled littoral combat ship, according to [the GAO]" [WorkBoat] "A delay beyond fiscal 2018 is warranted because too many unanswered questions remain about the new frigate's cost and capabilities, the Government Accountability Office said in a report Tuesday." OTOH, if the administration ever wants to make nice to Susan Collins…

"Maxine Waters: Tension In Syria 'Phony,' A Ruse To Lift Oil Sanctions On Russia" [HuffPo]. Damn. What's that high-pitched warbling sound?

"It's Not 'McCarthyism' to Demand Answers on Trump, Russia, and the Election" [Katha Pollitt, The Nation]. "McCarthyism was a miasma of innuendo, divorced from facts. In the matter of Russia and Trump, a small number of individuals are suspected of serious and specific crimes." I would have thought Pollitt was smarter than this. Here's a tweet from Louise Mensch, the Tory CT enthusiast given space on the Times Op-Ed page as a Russian election hacking expert and annointed by Larry Tribe as "incomparable":

A "small number." "Serious and specific." Really, Katha? Really?
Trump Transition
"Congressional leaders' efforts to hatch a massive spending deal have been thrown off course by the Trump administration's 11th-hour intervention, leaving the bipartisan bill teetering on the brink of collapse just a week before a government shutdown deadline" [Politico]. "The hard line taken by White House officials, particularly Office of Management and Budget Director Mick Mulvaney, has strained an emerging deal between House and Senate leaders that would skirt hot-button issues that could shut down the government. In particular, administration officials' hopes of giving President Donald Trump a win during his first 100 days, such as border wall funding or a crackdown on sanctuary cities, have complicated what had been a relatively smooth, bicameral, bipartisan negotiation, according to staffers in both parties."

"Earlier this month, one administration official told RCP that 'no one here or on the Hill has any interest in having a showdown at the OK Corral.' Multiple sources confirmed Thursday that this remains the prevailing sentiment among congressional Republicans and the administration" [RealClearPolitics].

"US Treasury Secretary Mnuchin: Tax Reform Will Be Passed Before The End Of 2017" [Economic Calendar]. "As far as individual tax reform is concerned, Mnuchin wants three or four individual tax brackets and that any revenue lost from lower tax rates would be made up with extra growth and dynamic scoring of the plans. He also commented that the focus was on boosting economic growth." Dynamic scoring creates revenue? That's so meta!
2016 Post Mortem
"Shattered is sourced almost entirely to figures inside the Clinton campaign who were and are deeply loyal to Clinton. Yet those sources tell of a campaign that spent nearly two years paralyzed by simple existential questions: Why are we running? What do we stand for?" [Matt Taibbi, Rolling Stone]. "If you're wondering what might be the point of rehashing this now, the responsibility for opposing Donald Trump going forward still rests with the (mostly anonymous) voices described in this book." Well, not entirely, surely? I'm about two-thirds of the way through the book, now. I'm starting to think that the real value of Shattered is not as the story of a campaign, but as a portrait of a dominant faction of the political class (and still dominant in the media, and in large parts of the intelligence and national security communities). That said, the campaign story is pretty telling. Reinforcing a point made yesterday–

"According to the book, the woman who feigned to know little about the mechanics of her private, unsecured email server — where she stowed government records vulnerable to attack from our enemies — actually knows a lot about email servers. It turns out Clinton spied on her 2008 campaign staff after losing to Obama by having an aide access the server and download all staff emails so she could determine who she could blame for her loss" [RealClearPolitics].

"Vacation's Over: Obama Returns to Public Life Next Week" [New York Times]. "As he begins his paid speeches, Mr. Obama, who is represented by the Harry Walker Agency, is scheduled to engage in a private conversation with the historian Doris Kearns Goodwin for the employees of the A&E television network."… 'Why are we not hearing from [Obama]? We've got to hear from him,' said Sarah Kovner, a New York City Democratic activist who raised more than $1 million for Mr. Obama's campaigns. 'Democrats are desperate.'" Oddly, no mention of Obama's Presidential Library at all.
2017
GA-06: "I asked Ossoff if he would support a Medicare-for-all proposal of the sort that Sanders backs. He would not. 'I think we should be focused on incremental progress based upon the body of law on the books rather than going back to square one and proceeding from a starting point of ideological purity,' he said. 'I think there needs to be less ideology around health care policy on the left and the right.' (Ossoff demurred on whether he'd back a Medicare buy-in option for Obamacare exchanges.)" [Salon]. So, Ossoff is against #MedicareForAll. Ergo, Ossoff is not a progressive. And the incrementalism is pure Clinton.
2020
UPDATE "PLEASE, GOD, STOP CHELSEA CLINTON FROM WHATEVER SHE IS DOING" [Vanity Fair]. "Chelsea, people were quietly starting to observe, had a tendency to talk a lot, and at length, not least about Chelsea. But you couldn't interrupt, not even if you're on TV at NBC, where she was earning $600,000 a year at the time. 'When you are with Chelsea, you really need to allow her to finish,' Jay Kernis, one of Clinton's segment producers at NBC, told Vogue. 'She's not used to being interrupted that way.'" Ouch!
Realignment and Legitimacy
"Rebekah Mercer is a warrior and a patriot" [Ted Cruz, Time]. Wowsers.

UPDATE "A New Harvard Study Just Shattered the Biggest Myth About Bernie Supporters" [Resistance Report]. "The survey, conducted by Harvard University and The Harris Poll, disproves the "Bernie Bro" trope with hard numbers. According to the survey results, which were conducted among 2,027 registered voters between April 14 and April 17, 2017, Sanders is actually more popular among women, African Americans, Hispanics, and Asian Americans than white people and men."

UPDATE "At Democratic 'Unity' Rally in Miami, It's Still 'Bernie' Who Draws Young Latinos" [CNBC]. "The divisions among the party were obvious; there were even some boos heard in the crowd when Sanders thanked the DNC Chair Deckchair." Hmm. The boos keep happening, don't they?

UPDATE "How a community changed by refugees came to embrace Trump" [AP]. Lewiston, Maine.

UPDATE "Obama came into office at a very important historical moment. There was tremendous public support for him when he came in. The country was in a serious crisis—maybe not as serious as when Franklin Delano Roosevelt came in, but it was really serious. What did Obama do? He put the same guys back in that caused the problem in the first place. He passed a piddling little stimulus plan. He spent his whole first year fighting about health care and ended up with a plan that's better than nothing, but considering what was possible with 60 votes in the Senate and a majority in the House… We got the change that he wanted, which was minimal. But he campaigned on the promise of change with a capital C, with the backing of large numbers of people—whom he then demobilized… [I]n the first two years he had a real opportunity, which he did not seize" [Eric Foner, The Nation].
Stats Watch
Purchasing Managers' Index Composite Flash, April 2017: "Loss of momentum is the continuing signal from Markit Economics' U.S. samples" [Econoday]. "Orders are subdued in both sectors with manufacturers, in a special sign of defensiveness, growing cautious over inventories. In a specifically negative signal for the April employment report, service hiring slowed to a nearly 7-year low. Escalating input costs are squeezing the sample as selling prices aren't keeping up."
Existing Home Sales, March 2017: "The resale market, after a period of steady sales, is now accelerating to new expansion highs" [Econoday]. And: "The headlines for existing home sales growth pace declined improved saying "finding available properties to buy continues to be a strenuous task for many buyers, there was enough of a monthly increase in listings in March for sales to muster a strong gain". Our analysis of the unadjusted data agrees" [Econintersect]. But: "Warmer weather in February might have boosted sales for March and early April" [Calculated Risk]. "Inventory is still very low and falling year-over-year (down 6.6% year-over-year in March). More inventory would probably mean smaller price increases, and less inventory somewhat larger price increases."
Retail: "Mall of America has prepared a spectacular celebration for its 25th birthday. A huge light show will be accompanied by smoke and music. The party is fitting. Mall of America has largely dodged the secular collapse of one of America's largest industries and employers" [247 Wall Street]. "If the American mall is dying, the plague has not spread to Bloomington, Minnesota."
Big Ag: "American farmers are finding themselves forced to the sidelines of the global food supply chain. The U.S. agricultural juggernaut is being overtaken by booming harvests in developing countries like Brazil, which controls 43% of the export market for soybeans, up from 12% in the late 1980s, and is close to surpassing the U.S. in corn exports" [Wall Street Journal]. "That gives Brazilian farmers greater sway over prices. It also means U.S. growers increasingly make decisions about what to plant and when to sell their harvest based on weather, transportation snarls and other events in faraway places. . The shift affects more than just farmers, as rural communities depend on tax revenue and the value of farmland to pay for local services." Yikes.
Concentration: There are approximately 105,500 gas stations in America. Yet just 10 companies have a hammerlock on the industry. They own over half the stations in country. Seven are branded by large oil companies, although in many cases, they do not own the businesses or their locations" [247 Wall Street]. "It makes some sense that the largest oil companies and refineries should control the distribution of one of their most widely used products. However, the distribution does not necessarily come with ownership. Exxon Mobil sold off its Exxon and Mobil stations in 2008 and the new owners maintained the brands. "
Labor Power: "U.S. maritime labor, concerned about retaining shipper confidence badly dented during the last round of contract negotiations, is taking steps to facilitate negotiations and speed agreement with waterfront management when the next bargaining cycle formally commences, a maritime labor expert told an industry conference last week" [DC Velocity].
The Bezzle: "In a study earlier this year of safety complaints against automakers, auto data and research company iSeeCars.com reported that Tesla ranked third, behind only Jeep and Chrysler, as receiving the most safety complaints of any auto brand" [247 Wall Street].
The Bezzle: "Wells Fargo agreed Friday to expand a recently settled class-action lawsuit by an additional $32 million as well as extend claims for fraudulent accounts that may have been opened going back to 2002" [AP]. If you're on the street, and you reach into somebody's pocket and grab their wallet, that's a crime (and in New York, a felony). But if you're in the C-suite, and you set up a whole system of "sales practices" to reach into people's bank accounts and grab their cash, your corporation pays a fine (and, to be fair, you might have some "compensation" clawed back). And people wonder why there's anger out there.
Fodder for the Bulls: "Global economic activity is picking up with a longawaited cyclical recovery in investment, manufacturing, and trade. World growth is expected to rise from 3.1 percent in 2016 to 3.5 percent in 2017 and 3.6 percent in 2018, slightly above the October 2016 World Economic Outlook (WEO) forecast" (PDF) [International Monetary Fund]. "Stronger activity and expectations of more robust global demand, coupled with agreed restrictions on oil supply, have helped commodity prices recover from their troughs in early 2016. Higher commodity prices have provided some relief to commodity exporters and helped lift global headline inflation and reduce deflationary pressures. Financial markets are buoyant and expect continued policy support in China and fiscal expansion and deregulation in the United States. If confidence and market sentiment remain strong, short-term growth could indeed surprise on the upside." Then come the qualifications: "On the domestic front, policies should support demand and balance sheet repair where necessary and feasible; boost productivity through structural reforms, well-targeted infrastructure spending, and other supply-friendly fiscal policy measures; and support those displaced by structural transformations, such as technological change and globalization. ." Yay austerity!
The Fed: "Quantitative tightening? Oh please. Central banks, courtesy of the eurozone and Japan, are still buying financial assets with both hands. And that might be all you need to know about stock and bond market performance in 2017, say analysts at Bank of America Merrill Lynch" [MarketWatch]. "The fact is that monetary authorities have snapped up a record amount of financial assets in the year to date, the analysts noted in their weekly 'Flow Show' note published late Thursday. That's despite all the focus on the Federal Reserve's plan to begin winding down its balance sheet and speculation the European Central Bank could be nearing the end of its bond-buying spree."
Today's Fear & Greed Index: 32 Fear (previous close: 34, Fear) [CNN]. One week ago: 25 (Extreme Fear). (0 is Extreme Fear; 100 is Extreme Greed). Last updated Apr 21 at 12:20pm. As Haygood points out, Mr. Market must be scared of heights.
Health Care
"[T]he proposed [AHCA] would limit the per capita growth of Medicaid, the health program for the poor, to the medical-care component of the consumer price index starting in 2020. But that could affect people who qualify for both Medicaid and Medicare. An analysis by Avalere Health, a health consulting firm, found that this could lead to a $44 billion spending cut for dual-eligible beneficiaries. That, in turn, could increase Medicare spending through higher rates of hospitalization and other services, further weakening the financial health of the program" [WaPo].
"A healthcare expert explains why you should think twice before taking an ambulance to the hospital" [Business Insider]. Because — wait for it! — the ambulance can be out-of-network! Just try not to bleed out in an Uber, because the poor shlub of a driver will have to pay for the cleanup themselves….
Gaia
"Federal regulators are reviewing about two dozen applications from companies seeking to send America's gas bonanza overseas. That's putting the U.S. on course to become a net exporter of natural gas by 2018, the first time that's happened since the 1950s" [WorkBoat].
Black Injustice Tipping Point
Schooling Deray:
ne·o-lib·er·al·ism
noun
a modified form of liberalism tending to favor free-market capitalism.

Synonyms: Deray pic.twitter.com/Wk0xRWyklZ

— Ella Septima-Hamer (@Jbrous14) April 20, 2017
I'd say turning #BlackLivesMatter into a platform for Taco Bell product placement is near-peak neoliberalism (and how come "Watch whiteness work" never seems to apply to the Mount Pelerin Society?) Deray is on the Democrat Unity Commission. I'm sure he'll fit in fine, just fine.
"The Decline of Black Business" [Washington Monthly]. Dunno how this got by Clara's orthodoxy enforcers:
"[O]ne of the legacies of Obama's economic policies has been a particularly sharp drop in the number of black-owned banks. This is not only the result of lessened enforcement of the anti-monopoly laws but also an unintended side effect of measures like the Dodd-Frank Act. In the process of attempting to keep big banks from failing, Dodd-Frank created regulatory burdens that small banks could not meet. These policy changes contributed to a 14 percent decrease in the number of community banks between 2010 and late 2014. Particularly hard hit were black-owned banks, which decreased by 24 percent during this period.

Black-owned financial institutions and the businesses that depend on them for credit were also deeply damaged by the misallocation of bank bailout funds. Referring to the government's Troubled Asset Relief Program (TARP), former Atlanta banker George Andrews says, "If there ever was a crime committed to our community it was in the way the government handled TARP funds." According to a 2013 study of TARP investments,
Obama wouldn't have bailed out his own grandmother's bank!
"For a decade after 1967, the specter of Black Power terrified officials at the highest levels of the British state. Cabinet ministers and senior civil servants feared that black radicals, along with the Irish Republican Army, the Angry Brigade, and increasingly militant unions, might be strong enough to bring down Her Majesty's government" [Jacobin]. "London once sat at the center of a slave-trading empire, which, after abolition, imposed colonial rule over much of Africa, Asia, and the Caribbean. A movement determined to resist 'White Power' didn't struggle to find support in the nation's capital."
Class Warfare
"How Western civilisation could collapse" [BBC]. "Safa Motesharrei, a systems scientist at the University of Maryland, uses computer models to gain a deeper understanding of the mechanisms that can lead to local or global sustainability or collapse. … That economic stratification may lead to collapse on its own… came as more of a surprise to Motesharrei and his colleagues. Under this scenario, elites push society toward instability and eventual collapse by hoarding huge quantities of wealth and resources, and leaving little or none for commoners who vastly outnumber them yet support them with labour. Eventually, the working population crashes because the portion of wealth allocated to them is not enough, followed by collapse of the elites due to the absence of labour. The inequalities we see today both within and between countries already point to such disparities. For example, the top 10% of global income earners are responsible for almost as much total greenhouse gas emissions as the bottom 90% combined. Similarly, about half the world's population lives on less than $3 per day. "
"Growing life span inequality has given the rich an extra $130,000 in government benefits" [Matt Yglesias, Vox]. "Rising economic inequality, in short, has fed growing inequality in life expectancy, which, through the operation of American retirement programs, has generated even more economic inequality. And the kind of program tweaks that have been discussed by budget cutters don't come close to closing that gap. A tax-based strategy that took from the haves and used it to avoid the need for cuts, by contrast, really might." Possibly, but since Federal taxes don't fund spending, because a more confiscatory approach would make it harder for the rich to buy the State with all those portraits of Benjamin Franklin under their sofa cushions.
"In a country where the pollster Bernard Sananès recently said every other person now knew someone in their circle who could not find a job, more work was the chief concern of voters on Château-Chinon's main street" [Guardian]. "'If jobs were brought back, 80% of the other problems would be fixed,' said Didier Felzines, who owned a bike shop. 'The rise of racism would be sorted too, because why do people become scared of others? Because there aren't any jobs left … As soon as a foreigner arrives, they say: 'Oh no, he's going to take the jobs'. If there were more jobs, people would be happy to see foreigners, there would be no more fear.'" But that's France. So no relevance here.
"Olbermann: Trump hosted 'trailer park trash'" [The Hill]. No class hatred there!
"South-East Asian cities are waging war on street food" [The Economist]. The destruction of Soi 38 in Bangkok, once a foodie destination, so that a condo tower can be constructed. Because if there's anything Bangkok has a shortage of, it's condo towers.
News of the Wired
"But it's not enough. For many people working in animal advocacy, the failure of science to produce better ethical results has been a bitter disappointment. For us (a scientist and an ethicist), an early feeling of optimism has given way to frustration, even alarm, about what is happening to animals globally. Animals are, by many measures, objectively worse off than ever before. Despite the extensive database on the cognitive and emotional capacities of cows and pigs, burgers and bacon continue to be popular foods. According to a recent report by the Worldwatch Institute, global meat production and consumption have increased steadily over the past four decades, rising by 20 percent in the last decade alone" [New York Magazine].
"[Merriam Webster] is a group effort – a minimum of ten editors have examined each entry – and Stamper's book is, too. Throughout she quotes generously from colleagues with wise, lively thoughts on etymology, language change and, of course, defining. The most fractious words are not the long Latinate entries, but simple ones; most basic verbs are, like the US infrastructure, refreshed every half-century or so. Revising take took Stamper four weeks, an effort she was proud of until she met an OED lexicographer who had spent nine months on run. Even then, of course, the task was not done. "You're kidding yourself if you think you've pinpointed" a word's full meaning, as Stamper's colleague notes. "There's still stuff oozing around the edges'" [Times Literary Supplement]. Fun read on making dictionaries!
* * *
Readers, feel free to contact me with (a) links, and even better (b) sources I should curate regularly, and (c) to find out how to send me images of plants. Vegetables are fine! Fungi are deemed to be honorary plants! See the previous Water Cooler (with plant) here.
And here's today's plant (Bob):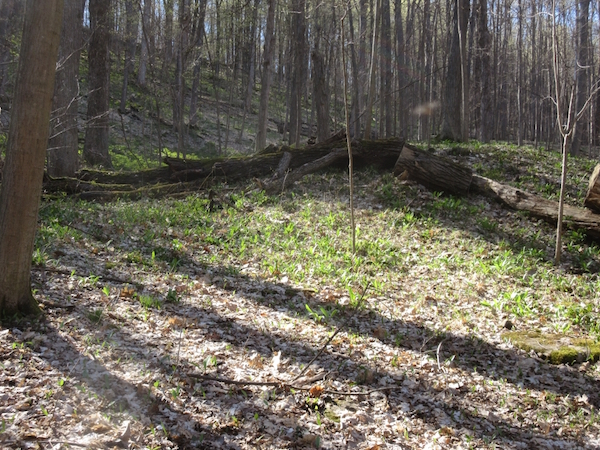 Bob writes: "Everything green in there is a leak, or 90% anyway."
* * *
Readers, Water Cooler is a standalone entity, not supported by the very successful Naked Capitalism fundraiser just past. Now, I understand you may feel tapped out, but when and if you are able, please use the dropdown to choose your contribution, and then click the hat! Your tip will be welcome today, and indeed any day. Water Cooler will not exist without your continued help.