By Lambert Strether of Corrente
Trade
"Trudeau and Mexican President Enrique Peña Nieto caught up with each other on a call Thursday after the NAFTA panic. The two 'welcomed U.S. President Donald J. Trump's statement that he is prepared to renegotiate the agreement to the benefit of all three countries,' according to a readout from Trudeau's office" [Politico].
Politics
2020
"How Dare Chelsea Clinton, a Well-Educated, Accomplished Woman, Share Her Opinions" [Cosmopolitan]. "Chelsea 'had a tendency to talk a lot, and at length, not least about Chelsea,' writes T. A. Frank in Vanity Fair. 'But you couldn't interrupt, not even if you're on TV at NBC, where she was earning $600,000 a year at the time.' Imagine that: A woman who is being paid handsomely for voicing her insights, and you can't even interrupt her? Unbelievable."
2016 Post Mortem
"House Democrats bury 2016 autopsy" [Politico]. "The report [authored by Sean Patrick Maloney (D-N.Y.)] provides recommendations on how the DCCC should modernize its data collection and overhaul its media operation, according to sources who were briefed on it. The document is also said to criticize the organization for the lack of diversity in consultants whom the DCCC employs. Maloney offered suggestions for how DCCC should regroup ahead of the 2018 midterms, including hiring someone specifically in charge of diversifying the group's consulting ranks…. The Maloney report did not criticize specific members of leadership, according to sources."
Trump Transition
"Why Democrats need to stop concern-trolling Trump about the deficit" [The Week]. "If the additional dollars spur the creation of additional goods and services, then they'll absorb the new money supplies. Only when everyone already has a good paying job, and all the productive factors in the economy are being put to full use, will the newly created money inevitably chase the same amount of goods and services that existed before. And that's what causes prices to rise."
Democrats in Disarray
"I have spent the last three weeks driving around the deindustrialized midwest… And what I am here to say is that the midwest is not an exotic place. It isn't a benighted region of unknowable people and mysterious urges. It isn't backward or hopelessly superstitious or hostile to learning. It is solid, familiar, ordinary America, and Democrats can have no excuse for not seeing the wave of heartland rage that swamped them last November" [Thomas Frank, The Guardian]. "The wreckage that you see every day as you tour this part of the country is the utterly predictable fruit of the Democratic party's neoliberal turn. Every time our liberal leaders signed off on some lousy trade deal, figuring that working-class people had "nowhere else to go," they were making what happened last November a little more likely." Moreover:

The way I see it, the critical test for our system will come late next year. The billionaire great-maker in the Oval Office has already turned out to be an incompetent buffoon, and his greatest failures are no doubt yet to come. By November 2018, the winds of change will be in full hurricane shriek, and unless the Democratic Party's incompetence is even more profound than it appears to be, the D's will sweep to some sort of mid-term triumph.

But when "the resistance" comes into power in Washington, it will face this question: this time around, will Democrats serve the 80% of us that this modern economy has left behind? Will they stand up to the money power? Or will we be invited once again to feast on inspiring speeches while the tasteful gentlemen from JP Morgan foreclose on the world?

The Democrat establishment has already given its answer: That's why Clinton supporter and #MedicareForAll hater Ossoff has $8 million dollars to appeal to suburban Repubicans in Geogia 6, and Sanders supporters in Kansas (Thompson) and Montana (Quist) get zilch. Of course, the Democrat establishment is profoundly incompetent, as Shattered proves, so they may well blow 2018, as well as 2016.

"The First 117 Days of Chuck Schumer" [RealClearPolitics]. A bill of particulars drawn up by a Republican, but still very funny.
Realignment and Legitimacy
"'Fallen! Fallen Is Babylon The Great!'" [Rod Dreher, The American Conservative]. Shout-outs to Chris Arnade, Anne Coulter, and Ian Welsh. We live in strange times.
Stats Watch
GDP, Q1 2017 (Advance Reading): "The weakest showing since the last recession for consumer spending held down first-quarter GDP which could manage only a 0.7 percent rate of annualized growth. Consumer spending rose at only 0.3 percent which is by far the worst showing since no change in fourth-quarter 2009" [Econoday]. "Weakness in consumer spending is strongly associated with recession but not other data in the report. At a 13.7 percent pace, residential investment posted a second straight very strong quarter. And in a rare show of strength, nonresidential investment, which has been subdued, jumped at a 9.4 percent rate with both structures and equipment showing unusual strength. A surge in mining investment is a standout of the report." And: "I am not a fan of quarter-over-quarter exaggerated method of measuring GDP – but my year-over-year preferred method showed only moderate deceleration from last quarter. First quarter GDP seems plagued with seasonal adjustment issues – as low numbers occur often since the end of the Great Recession" [Econintersect]. And: "The first-quarter GDP releases have tended to under-perform over the past few years. Growth in the first quarter of 2016 was held to 0.8% while there was contraction for the first quarter of 2014. Although adverse weather conditions have had an impact, there are also important doubts surrounding seasonal adjustments" [Economic Calendar]. And: "[T]he soft Q1 GDP data is part of a recent trend of weak first quarters, and was mostly due to weak PCE and inventory adjustment – no worries" [Calculated Risk]. And: "Despite the anemic first-quarter performance, the U.S. economy's prospects for the rest of the year appear solid" [WaPo]. .And: "Don't panic" [New York Times].
Chicago Purchasing Managers Index, April 2017: "Business activity is once again strong in the Chicago area" [Econoday]. "Business activity is once again strong in the Chicago area." And: "above consensus expectations of a figure around 56.5, the third successive monthly increase, and the strongest reading since January 2015" [Economic Calendar]. And but: "The results of this survey continue to agree with district Federal Reserve manufacturing surveys – and aligns with the overall trend of the ISM manufacturing survey. And they were ALL wrong when the hard data came out for last month" [Econintersect].
Employment Cost Index, Q1 2017: "It was way back in the fourth-quarter of 2007 that the employment cost index last jumped 0.8 percent, as it did in the first quarter. The surge is split nearly evenly between wages & salaries .. and benefits" [Econoday]. "Pressure in this report comes at a time when the unemployment rate is very low, at 4.5 percent, and reports are building, including from the Federal Reserve's Beige Book, that labor is in short supply especially skilled labor. This pressure has yet to appear in average hourly earnings or consumer prices but this may only be a question of time. If wage inflation does begin to pick up, we can look back at this report as the first indication."
Consumer Sentiment, April 2017: "backed off from strength" [Econoday]. "The report continues to note strong polarization on expectations with Democrats decidedly pessimistic and Republicans optimistic. The swing group, independents, are solidly in the optimistic camp. Confidence readings surged following Donald Trump's election and have since platued, and their strength has yet to translate to strength in consumer spending which, as illustrated in this morning's GDP report, is very soft."
Rail: " If coal and grain are removed from the analysis, rail over the last 6 months been declining around 5% – but this week declined 0.4 % (meaning that the predicitive economic elements declined year-over-year). Also consider rail movements are below 2015 levels – even though they are above 2016 levels" [Econintersect].
Shipping: "There are no accusations of any wrongdoing and no evidence [DryShips] or its CEO [George Economou] engineered a one-week stock rally that briefly pushed its shares up 1,500% last November for no apparent reason (!!!). But the ability of DryShips to reap ongoing gains from the runup, both for the carrier and Mr. Economou, highlight how the complicated structures of vessel ownership and management may be more important to bulk carriers than the movement of supply and demand in commodity shipping markets" [Wall Street Journal].
The Bezzle (?): "[A] few companies are getting closer to mass production of higher-order tissues (bone, cartilage, organs) and other individually tailored items, including implants. This kind of precision medicine, treating patients based on their genes, environment, and lifestyle, could herald the end of long organ donor lists and solve other problems, too" [Bloomberg]. Reading the story, it's not clear how close "getting closer" really is. I'm unsure whether I should file this under The Bezzle, or not. Readers?
The Bezzle: "Goodbye Amazon…And Good Riddance" [Princeton Audio]. "We aspire to be Craft Audio pioneers leading a reclamation of local manufacturing in small town Wisconsin; technical innovators who dare to question stagnant orthodoxies that compromise sound quality; and champions of a return to cherished traditions of American handcrafting. We've achieved that–and more. … We make [our speakers] one at a time, to our customer's desired spec. If all goes smoothly, this process takes about six weeks. Amazon relentlessly pushed us to accept lead-times that were typically only four days, and sometimes demanded fulfillment of orders in as little as 24 hours–including delivery." And then there's this:
Amazon has a reputation for being a bully, and they strong-armed us into prioritizing their orders over customer orders that came in to us through our own website–something that really set our collective teeth on edge–and threatened us with steep fines if we could not accommodate their ridiculous turnaround times. Those fines not only wiped out our slim profit margins, but caused us to actually lose money on each speaker sold through them. When we attempted to slightly raise our prices in order to cope with our own rising costs of production, they said no.

I'll repeat that: . It was not open for discussion. In fact, the one and only time that anyone at Princeton Audio ever spoke in person to anyone from Amazon.com was the day we ended our relationship with them over the phone. Prior to that, our Amazon buyer had refused to ever reply to any of our questions or requests for support. Like I said, nice folks, huh?
Wowsers. Readers, have any of you ever experienced this?
Today's Fear & Greed Index: 51 Neutral (previous close: 50, Neutral) [CNN]. One week ago: 35 (Fear). (0 is Extreme Fear; 100 is Extreme Greed). Last updated Apr 28 at 12:01pm. "Put and Call Options" are registering Extreme Greed. Safe Haven Demand is registering Extreme Fear. Mr. Market placing a bet with his broker on Line 1, with the realtor handling his mountain redoubt in Montana on hold?
Health Care
"By this time, it's becoming increasingly clear that Republicans have not repealed Obamacare because a lot of Republicans do not want to repeal Obamacare" [Washington Examiner]. Which should be unsurprising, since ObamaCare is a Republican plan. Moreover, it's the worst possible Republican plan, since Republicans have found it impossible to crapify further. (Of course, the administration could be doing its own little bit to accelerate the death spiral, but those effects won't show up for awhile. Still, I paid my "shared responsibility" penalty this year!)
Water
"More details being made public in WV water crisis settlement" [Gazette-Mail].
Class Warfare
"As a pilot, I've seen up close that global companies skirting American labor rules have to be stopped" [Quartz]. "Even after posting record profits last year and signing off on millions for its top executives, [DHL] is pushing its contracted cargo carriers in the US to provide service at substandard rates. The enormous pressure trickles down to pilots like me, leading to lower standards in pay, benefits, and quality of life found at iconic American shipping companies such as UPS and FedEx…. Despite the mounting criticism it has faced over its own labor practices, Amazon is now taking its cue from DHL and using similar tactics that degrade standards for American workers. In hopes of expanding its new Prime Air venture, the company has hired two DHL cargo contractors, while also unveiling plans to use DHL's existing facilities for its air delivery operations."
"Meet the People Who Train the Robots (to Do Their Own Jobs) [New York Times]. "We spoke with five people — a travel agent, a robotics expert, an engineer, a customer-service representative and a scriptwriter, of sorts — who have been put in this remarkable position. More than most, they understand the strengths (and weaknesses) of artificial intelligence and how the technology is changing the nature of work." Ah, "technoology"…
News of the Wired
"Gender and verbs across 100,000 stories: a tidy analysis" [Variance Explained]. With handy charts.
"Lab-grown 'mini-brains' mimic brain development" [IEEE Spectrum].
" I thought it would be fun to analyse my own pathetic handwriting from the point of view of a designer and actually point out why it sucks. So here goes" [Medium]. I'm a real outlier, here. I use Apple Pen on my iPad — there had better be a linux version — to take notes and annotate photographs, and the initial look was so ugly that I deliberately re-engineered by handwriting, and now my handwriting is (I think) less ugly and sloppy. The downside is that I have trouble writing my signature properly (that is, so that it conforms with my old signature).
"More exposure to vegetation linked with lower mortality rates in women" [Harvard School of Public Health]. "Boston, MA ─ Women in the U.S. who live in homes surrounded by more vegetation appear to have significantly lower mortality rates than those who live in areas with less vegetation, according to a new study from Harvard T.H. Chan School of Public Health and Brigham and Women's Hospital (BWH). During an eight-year study period, there were fewer deaths among women who lived in the greenest surroundings—their mortality rate was 12% lower than those living in homes in the least green areas…. "We were surprised to observe such strong associations between increased exposure to greenness and lower mortality rates," said Peter James, research associate in the Harvard Chan School Department of Epidemiology. 'We were even more surprised to find evidence that a large proportion of the apparent benefit from high levels of vegetation seems to be connected with improved mental health.'"
* * *
Readers, feel free to contact me with (a) links, and even better (b) sources I should curate regularly, and (c) to find out how to send me images of plants. Vegetables are fine! Fungi are deemed to be honorary plants! See the previous Water Cooler (with plant) here.
And here's today's plant (AM):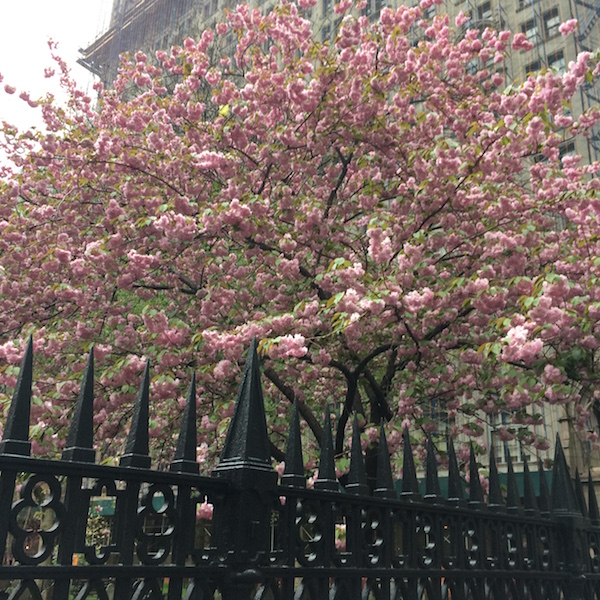 AM writes: "Yesterday's plant reminded me that I took some pictures on Earth Day in NYC. Spring has sprung in Tribeca!! A cherry (??) tree at Trinity Church…"
* * *
Readers, Water Cooler is a standalone entity, not supported by the Naked Capitalism fundraisers. Please use the dropdown to choose your contribution, and then click the hat! Your tip will be welcome today, and indeed any day. Water Cooler will not exist without your continued help.