By Lambert Strether of Corrente
.
Trade
"A readout of the calls sent out late last night by the White House narrows any chance that Trump will sign an executive order withdrawing from the deal, which was expected to happen Friday. It also signals a defeat for the economic nationalist faction of Trump's advisory circle. Peter Navarro, the head of Trump's National Trade Council, drafted the order in close cooperation with White House chief strategist Steve Bannon" [Politico]. "The White House readout also provided an indication that Trump will continue to follow the congressional consultation process as laid out by trade promotion authority legislation — a process Trump called 'ridiculous' last week. Trump and the other leaders agreed to 'proceed swiftly, according to their required internal procedures, to enable the renegotiation of the NAFTA deal to the benefit of all three countries,' the statement said." "Proceed swiftly, according to their required internal procedures." Is that like make haste, slowly?
Politics
Corruption
Shot: "Obama's $400,000 Wall Street Speech Is Completely In Character" [HuffPo]. Chaser: "Ask all the bankers he jailed for fraud."
Trump Transition
"House Democrats will oppose a short-term spending bill if Republican leaders attempt to expedite an ObamaCare repeal bill this week, Rep. Steny Hoyer (D-Md.) warned Thursday" [The Hill]. "Hoyer, the Democratic whip, spoke with House Majority Leader Kevin McCarthy (R-Calif.) Thursday morning to warn him of the Democrats' position. The threat is significant because GOP leaders will likely need Democratic votes to pass a short-term spending bill in the face of opposition from conservatives historically opposed to government funding bills." Too funny. Ryan is so bad that even the Democrats can outmaneuver him.

"We expect Congress to pass a week-long stop-gap government funding bill. That means a shutdown will be averted, giving the two parties time to iron out more details, but pushing this crisis into another week. That's a bad sign for other legislative priorities. By the way: no money was included to build a wall on the U.S.-Mexico border" [Politico].

"If the House schedules a vote [on a new version of the AHCA] soon, it's not going to have any analysis from the Congressional Budget Office to look at. So it won't have any idea how many states might apply for waivers from the required benefits or the ban on charging higher rates to sick people, or how many people might be affected" [Axios].
2016 Post Mortem
"The Clinton Comedy of Errors" [Current Affairs]. A review of Shattered, well worth a read. This caught my eye:

Shattered depicts a calamity of a campaign. While on the surface, Hillary Clinton's team were far more unified and capable than their counterparts in 2008 had been, behind the scenes there was utter discord. The senior staff engaged in constant backstabbing and intrigue, jockeying for access to the candidate and selectively keeping information from one another. Clinton herself never made it exactly clear who had responsibility for what, meaning that staff were in a constant competition to take control. Worse, Clinton was so sealed off from her own campaign that many senior team members had only met her briefly, and interacted with her only when she held conference calls to berate them for their failures. Allen and Parnes call the situation "an unholy mess, fraught with tangled lines of authority, petty jealousies, distorted priorities, and no sense of general purpose," in which "no one was in charge."

Of course, a Clinton administration would have been completely different.
Realignment and Legitimacy
"A fall 2015 Harvard poll of 18-29 year olds reported integrity, level-headedness and authenticity as the three most valued attributes in a presidential candidate—some of which can be easily signaled through swearing" [Politico]. Authenticity: If you can fake that, you've got it made. Hence Perez using "sh*t" profusely, as we pointed out Tuesday (with a bit of history on how that worked out the last time we tried it). I mean, come on. Bernie doesn't have to effing cuss, right? Could there be a reason for that?

"Are Trump voters ruining America for all of us?" [USA Today]. Apparently so:

The fact of the matter is that too many Trump supporters do not hold the president responsible for his mistakes or erratic behavior because they are incapable of recognizing them as mistakes. They lack the foundational knowledge and basic political engagement required to know the difference between facts and errors, or even between truth and lies.

And yet, without a hint of irony or even cognitive dissidence, in the preceding paragraph we have this:

Possibly. A hard knot of Hillary Clinton's supporters, for example — led by Clinton herself — refuse to accept that her defeat was anything less than a plot by the Russians or the FBI (or both). The idea that Clinton was an awful candidate who ran a terrible campaign is utterly alien to them.

Assuming that the headline is a Betteridge's Law violation, one can only conclude that Trump voters had plenty of help. I mean, is Putin Derangement Syndrome based on foundational knowledge? Does it show the capacity to distinguish between truth and lies?

"The 'deep state' is President Trump's most compelling conspiracy theory" [WaPo]. (The headline is lazy journalism; the term doesn't originate with Trump.) Results from Post polling:

I don't have the time or (right now) the inclination to disentangle the Post's new definition of the "deep state" from other definitions. (Basically, I've suggested that since we're stuck with the term, we try to retrofit a degree of conceptual rigor onto it through developing patterns of usage, but its advocates seem curiously unwilling to take up the challenge.) At this point, the "deep state" is rather like Obama: "a blank screen on which people of vastly different political stripes project their own views." That is, no doubt, why organs like WaPo find it so useful.

"Though Trump's agenda has unified Democrats in near-term opposition, clear fault lines have quickly emerged about the party's long-term strategy to regain power. On one side are those—largely affiliated with Senator Bernie Sanders—arguing for a biting message of economic populism, which is intended largely to recapture working-class white voters that stampeded to Trump in 2016. On the other are party strategists who want Democrats to offer a more centrist economic message, aimed primarily at reassuring white-collar suburbanites drawn to the party mostly around cultural issues:" [Ronald Brownstein, The Atlantic]. No, Ron. Please sit down. And just try, try, for once in your life, to say "working class" without prepending "white." In my language: "[U]niversal programs that provide concrete material benefits, especially to the working class" are not intended to "recapture working-class white voters." They are intended — after doing a lot of people a lot of good — to capture all working class voters, and to create a multigenerational left coalition of a New Deal-like scale and duration and power, instead of endlessly sintering together 50% plus one "coalitions" based on demographic verticals, as both liberals and conservatives have been doing, throughout their oscillations in office. That's my story and I'm sticking to it.

"The 22 Dems Supporting Sanders' $15 Minimum Wage Bill… and 24 Who Aren't" [Common Dreams].
Stats Watch
Kansas City Fed Manufacturing Index, April 2017: "The pace of growth slowed in the Kansas City manufacturing sector from March's unusually strong 20 to an April reading of 7" [Econoday]. "March was the strongest month for this report since early in the expansion, 6 years ago, which makes April's numbers look weak by comparison." And: "Kansas City Fed manufacturing has been one of the more stable districts and their index declined (similar to the other Fed districts). Key internals likewise were positive but declined" [Econintersect].
Durable Goods Orders, March 2017: "Aircraft lifted durable orders throughout the first quarter and made for a very solid 0.7 percent rise in March. But the story is different when excluding civilian aircraft as the ex-transportation reading fell 0.2 percent which is below Econoday's low estimate" [Econoday]. "[C]ore capital goods (nondefense ex-aircraft) are soft." And but: "This series has wide swings monthly so our primary metric is the three month rolling average which marginally improved. The real issue here is that inflation is starting to grab in this sector making real growth much less than appears at face value – and this month if we inflation adjust the rolling averages they decline. The trends on this series are indicating marginal economic improvement" [Econintersect]. "What should be concerning to analysts is the continuing contraction of backlog (unfilled orders) which have been contracting year-over-year since mid 2015." And: "[T]here is no evidence of a significant increase in capital spending despite an underlying increase in business confidence" [Economic Calendar].
International Trade in Goods, March 2017: "Slightly narrower than expected" [Econoday]. "Exports fell 1.7 percent as both consumer goods and vehicles were down sharply. Lower oil prices during March also cut into exports, specifically industrial supplies which also fell sharply. Imports, likewise held down by lower oil prices, fell 0.7 percent but with consumer goods and capital goods, in inescapable signs of weak domestic demand, both down. Trade has not been a plus for the U.S. economy and the outlook for the rest of the year, given slow improvement in foreign markets and talk of trade wars, is guarded."
Pending Home Sales Index, March 2017: "Resales have been moving to expansion highs though moderate retracement is the outlook for April and perhaps even May" [Econoday]. "Though negative, today's results are not a surprise for a housing sector that as a whole is entering the Spring selling season with strength." But: "[R]olling averages marginally improved. Because there is so much noise in the monthly numbers the rolling averages are the best way to view the data" [Econintersect]. "I continue to see few signs that the residential sales market is improving."
Retail Inventories [Advance], March 2017: "Retail inventories rose 0.4 percent in March following a similar build in February. Much of the build may be unwanted given weakness in underlying retail sales" [Econoday]. "Inventory build is a positive for GDP but, against the backdrop of slow growth, is a likely negative for future production and employment."
Wholesale Inventories [Advance], March 2017: Edged lower and February revised down [Econoday]. "These results point to strong inventory management at the wholesale level but will be negatives for quarterly inventory change in tomorrow's GDP report."
Bloomberg Consumer Comfort Index, week of April 23, 2017: Very strong [Econoday]. "Strength in confidence readings ultimately points to strength in the jobs outlook."
Retail: "Overall purchases of consumer packaged goods in the U.S. declined 2.5% in unit terms in the first quarter… hitting results at companies including Procter & Gamble Co., PepsiCo Inc. and Nestlé SA. The results suggest that the sector is undergoing a deep structural shift: The 20 largest consumer packaged goods companies last year had flat sales while smaller ones posted sales growth of 2.4%, according to Nielsen" [WSJ]. Crapification? Cost-consciousness? Alexa? ("Alexa, order tissues" vs. "Alexa, order Kleenex™.")
Real Estate: "[The U.S. industrial property segment] vacancy rate hits 5.3 percent, 300 basis points below 10-year average" [DC Velocity]. "U.S. industrial demand has been spurred by the growth of e-commerce, which has led to the development of more and larger warehouses and distribution centers. A recent pickup in the global economy and international trade has provided a secondary boost."
Shipping: "Container port congestion in China is spreading up and down the coast as new liner alliance schedules added to poor weather cause disruption to container shipping operations" [Lloyd's Loading List]. "Forwarding sources said another factor in the congestion was improved access to the port of Shanghai via the Yangtze River. The completion of river improvements along the Yangtze meant vessels from western parts of China such as Chongqing can reach Shanghai more easily, which has increased the number of ships, one forwarder told Lloyd's Loading List."
Shipping: "[UPS] first-quarter operating profit slipped 2.4 percent in the U.S. package division even as revenue rose 5 percent from a year earlier, Atlanta-based UPS said in a statement Thursday. That signaled continued challenges in the company's efforts to benefit from surging e-commerce, since home deliveries are less efficient than shipments to businesses" [Bloomberg].
The Bezzle: "Uber targets 2020 for on-demand VTOL demo flights in Dallas and Dubai" [TechCrunch]. If only there were an algorithm that could replace the stories planted by public relations firms with blank space, or soothing music, or beautiful pictures of plants or animals…
The Bezzle: "Juno always had the best sales pitch. The company started in New York in early 2016, a late entrant to the competitive ride-hailing business, but quickly made a name for itself by promising to be nicer to drivers. Juno pledged to keep its commission low, at 10% of a fare, and to operate a round-the-clock support center. It also told drivers that, by working enough hours, they could earn Juno stock from a special program, and share in the company's long-term success" [Quartz]. Wait for it… "The agreement [Juno driver Steven Savader] signed does give Juno the option to pay him in cash instead of in shares. However, the numbers emailed to him today, and to a driver contacted by the New York Observer, suggest that Juno has priced the shares at less than 2 cents apiece. That's not even a tenth of the $0.20 share price Juno advertised to drivers in recruiting materials last summer. Two other contracts seen by Quartz offered $100 payments for 1,604 and 3,580 shares respectively, or 2.8 cents and 6.2 cents per share, suggesting that there may have been a minimum payment of $100." Read the whole thing, it's just as slimy as you would expect.
The Bezzle: "The $30bn sex tech industry is about to unveil its biggest blockbuster: a $15,000 robot companion that talks, learns, and never says no" [Guardian].
Public Relations: "United Airlines just announced 10 major changes to avoid another violent passenger-removal incident" [Business Insider]. This doesn't look so bad, I have to say. Airline experts?
Honey for the Bears: "Throughout San Francisco and Silicon Valley, cash-rich technology firms have built or are erecting bold, futuristic headquarters that convey their brands to employees and customers" [The Economist]. See Parkinson's Law, chapter 6:
It is now known that a perfection of planned layout is achieved only by institutions on the point of collapse…. [P]erfection of planning is a symptom of decay. During a period of exciting discovery or progress there is no time to plan the perfect headquarters. The time for that comes later, when all the important work has been done. Perfection, we know, is finality; and finality is death.
Today's Fear & Greed Index: 48 Neutral (previous close: 46, Neutral) [CNN]. One week ago: 34 (Fear). (0 is Extreme Fear; 100 is Extreme Greed). Last updated Apr 27 at 12:04pm.
Black Injustice Tipping Point
"How African-Americans Can Break the Cycle of Inherited Poverty" [Ebony]. This is rich, given that Ebony isn't paying its (black) writers the money it owes them.
"Blunt Talk: The Racist Origins of Pot Prohibition" [Rolling Stone]. "At first, back in the late 19th Century, academic and medical conversations about the dangers of inebriation included every popular mood-altering substance: cocaine and opium, yes, but also alcohol, tobacco, coffee, and tea. But in the next 50 years, concerns about inebriation only translated into law if the substance wasn't already controlled by a powerful industry, and if there was a perception, accurate or not, that a given drug was being used by poor people, immigrants, and people of color."
Class Warfare
The flood of inequality charts isn't slowing:
Income gains going to top 1% in
1954-7: 5%
1975-9: 25%
2009-12: 95%https://t.co/qJ7ZBYmd9O pic.twitter.com/ZmBQucq8TA

— Conrad Hackett (@conradhackett) April 27, 2017
Another:
CHART | Income #inequality in the US increased almost continuously from the late '70s until 2013 https://t.co/QJqbxT4vAS pic.twitter.com/eC3jAQvC8g

— Bruegel (@Bruegel_org) April 27, 2017
"Noticed today that there's some new hostile architecture in Lamont Park: wooden dividers installed on all the benches so folks can't lie down. I've lived on the block facing this park for 7 years and have never found people resting on the benches to be a problem. Anyone have an idea who is responsible for this and how we can speak out against it?" (photos) [Popville]. If the dividers are conservative dividers, look for the credit reader where you can pay for your rest. If the dividers are liberal dividers, survey the park for the gatekeeper who will determine, after an interview and extensive testing, whether you are worthy to lie down, or not.
"The student loan crisis is fueled by a weak labor market" [Washington Center for Equitable Growth]. "The researchers find that falling home prices during the Great Recession were responsible for up to 32 percent of the growth in student loan defaults. What's more, low-income borrowers appeared to be most sensitive to the change in home prices, probably because they faced the largest earning plunges, had the smallest savings cushions, and, as a result, may not have been able to continue repaying their loans."
"Boeing Co. could bring more work in-house as part of an effort to reduce the cost of building jetliners that also includes introducing more automation and job cuts" [Wall Street Journal]. Think they'll do this in Seattle, Washington, or in union-busting South Carolina?
News of the Wired
Net neutrality:
For those that don't understand, THIS is what the internet could look like without #NetNeutrality. ISPs could destroy small businesses. pic.twitter.com/cgtnL2GvZe

— The Humanist Report (@HumanistReport) April 26, 2017
* * *
Readers, feel free to contact me with (a) links, and even better (b) sources I should curate regularly, and (c) to find out how to send me images of plants. Vegetables are fine! Fungi are deemed to be honorary plants! See the previous Water Cooler (with plant) here.
And here's today's plant (pq):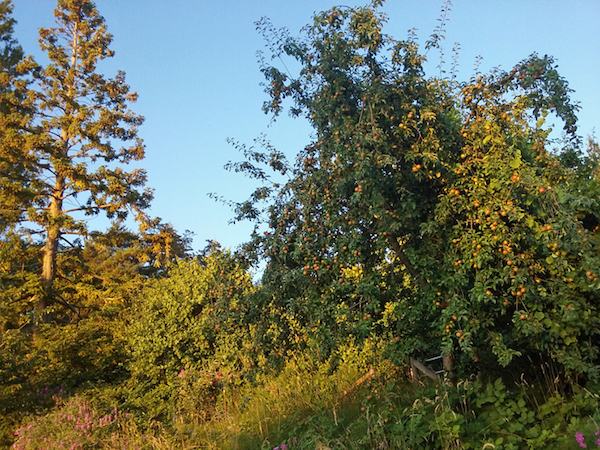 pq writes:
These trees are on my daily walk… I don't know what made me think of the golden apples of the Hesperides, other than a fanciful imagination. The Hesperides were associated with sunset and west. Then, there is something magical about this tree in the golden light of the setting sun.
* * *
Readers, Water Cooler is a standalone entity, not supported by the very successful Naked Capitalism fundraiser just past. Now, I understand you may feel tapped out, but when and if you are able, please use the dropdown to choose your contribution, and then click the hat! Your tip will be welcome today, and indeed any day. Water Cooler will not exist without your continued help.