By Lambert Strether of Corrente
Readers, sorry this will remain a bit light, but I need to run some errands. Talk amongst yourselves! –lambert
Politics
New Cold War
"The infamous collection of reports about President Donald Trump's alleged dealings with Russian businesses and government officials appears to be Sergei Millian, a Florida-based real estate agent who is known for what one former associate called "talking so much shit'" [Salon]. BWA-HA-HA-HA-HA!!!! It's CurveBall all over again!

"Watching the hearings, I learned my 'Bernie bro' harassers may have been Russian bots" [ShareBlue]. Hmm.
Realignment and Legitimacy
"Neofascism in the White House" [Monthly Review (stormcrow)]. I'm slightly skeptical, because I accept neither the "deep state" nor "alt-right" as received categories. And if you want to write about fascism, neo or not, you've gotta know the territory, no? Nevertheless, well worth a read and quite distinct from limosine liberal hysteria.

"Bernie Sanders and Elizabeth Warren Rally the 'Revolution' In Boston and Prepare for Next Big Fight Against Trump" [Alternet]. If Warren had endorsed Sanders in 2016, she might be Treasury Secretary today. On the other hand, I guess this rally happening is better than it not happening.

"Poll: Close Race Between Democrat and Republicans for Price's Seat" [Roll Call]. The Republicans, wittingly or no, are really giving Ossoff a leg up in GA-06, by splitting their vote among (I count) 17 (!) candidates, such that Ossoff leads his nearest rival by 20 points (!!). Of course, if I were totes Machiavellian, and wanted the Democrats to keep on doing exactly what they're doing (vague message, good press, lots of money, appeal to suburban Republicans, all straight out of the Clinton 2016 playbook), then I might invest in an Ossoff win, in the expectation of returns in 2018 and beyond. Not that I'm foily.

"Help End the Cycle of Sexism — Withdraw Your Endorsement of Arturo Carmona" [Medium]. Berniecrats doing some enforcement. Good.

"The NJ Pinelands Commission: How one of government's most successful environmental bodies was overtaken by the fossil fuel industry" [Proud Bernie Democrat]. Excellent post. One of the reasons it's so great that Yves keeps pounding away on CalPERS is that you can see how chicanery works in committee. Politics isn't all marching with signs and pink hats…..
Stats Watch
Gallup US Consumer Spending Measure, March 2017: "March daily self-reports of spending averaged $100, about the same as the $101 average in February. This is the highest spending estimate for any March in Gallup's tracking since 2008" [Econoday]. "Those in households with annual incomes of $90,000 or more typically spend more than twice as much as those making less than $90,000, and that was the pattern in March as well (average daily spending of $163 vs. $75, respectively)."
Purchasing Managers' Manufacturing Index, March 2017: "Markit Economics' U.S. manufacturing sample is reporting a loss of momentum" [Econoday]. "New orders, in part reflecting subdued export demand, slowed to a 5-month low in March and the sample is cutting inventories, two key signs of softness." Oopsie…
Institute for Supply Management Manufacturing Index, March 2017: "5 tenths lower from February which is the first month-to-month slowing for this composite since August" [Econoday]. "his is a strong signal of activity. Actual government data have not shown anywhere near the strength for the factory sector as have the bulk of anecdotal reports. But the anecdotal strength for the most part is not easing which is pointing very strongly to a pivot higher for factory data out of Washington." Well, except for those purchasing managers…
Construction Spending, February 2017: "Construction spending rose a very solid 0.8 percent in February and was led by residential construction" [Econoday]. "Nonresidential construction is holding back the total, down 0.3 percent in the month and reflecting weakness in the transportation, commercial, and manufacturing components. Federal spending was also down for a second straight month, 2.8 percent lower following a 5.6 percent drop in January."
Political Risk: "The use of the yuan in global trade has, if anything, gone into reverse. It accounted for 1.7% of payments in December, down from 2.3% a year earlier, according to payments network SWIFT. That's consistent with the weak uptake shown in the IMF data" [Asia Times].
Today's Fear & Greed Index: 42 Fear (previous close: 47, Fear) [CNN]. One week ago: 29 (Fear). (0 is Extreme Fear; 100 is Extreme Greed). Last updated Apr 3 at 1:26pm. Bad karma at the Nineteenth Hole on Sunday afternoon…
Health Care
Meme:
This is fraud, theft and abuse #MedicareForAll pic.twitter.com/RGhOFauWhI

— All On Medicare (@AllOnMedicare) March 31, 2017
Medical coding shot, with CEO chaser:
Why health costs high? Ex: price gouging on my son's bill @BostonChildrens – paid out of pocket (HDHP). Then I got CEO card asking 4 more $ pic.twitter.com/uDQzwLXaHG

— Darshak Sanghavi (@darshaksanghavi) March 30, 2017
Black Injustice Tipping Point
"Bob Lee (1942–2017). Bob Lee, a key member of the Illinois Chapter of the Black Panther Party (ILBPP), founder of the original Rainbow Coalition in Chicago, and self-described lifelong community organizer, passed away Tuesday March 21, 2017 after a battle with cancer. " [Jacobin]. "I last saw Bob Lee less than two weeks before his death in his hospital room in Houston, Texas. Still the consummate organizer, he was trying to organize the hospital's nurses and dining staff from the confines of his hospital bed. As I watched his efforts in amazement, Bob reminded me that "one should never pass up an opportunity to organize those in need.'"
Our Famously Free Press
"The Future of Free Speech, Trolls, Anonymity and Fake News Online Pew" [Research Center]. I hate being thrown in the "Anonymous" bucket. Like many other bloggers, I have a persistent online persona, rather like Publius in the Federalist Papers.
Class Warfare
"Employee burnout is becoming a huge problem in the American workforce" [Quartz]. Why we need robots!
News of the Wired
"Are trigger warnings more harmful than taboo subjects?" [Financial Times]. Priming.
"It's time to drop the vagina as a protest symbol" [WaPo].
"From L.A. to Tehran, nose jobs are a rite of passage and a quiet rebellion for many Persian women" [Los Angeles Times].
"Restaurant owner says age ban is 'right for my business'" [Mooresville Tribune]. "'People don't want to come in and spend money on a nice meal and an evening out, when there's constantly food on the floor, loud electronic devices keeping kids entertained, and small children screaming,' he said. 'It was just the right decision for my business.'"
* * *
Readers, feel free to contact me with (a) links, and even better (b) sources I should curate regularly, and (c) to find out how to send me images of plants. Vegetables are fine! Fungi are deemed to be honorary plants! See the previous Water Cooler (with plant) here. And here's today's plant (MR):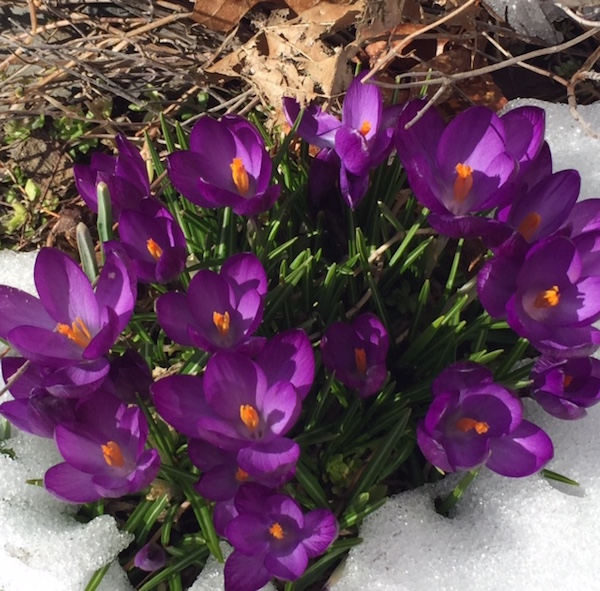 MR writes: "My early bulbs in the snow that fell in yesterday's storm. They were completely covered by the snow this morning. Every hour, as the sun rose higher, the snow crept down lower, revealing the buds. Then they opened." So, optimism!
Readers, Water Cooler is a standalone entity, not supported by the very successful Naked Capitalism fundraiser just past. Now, I understand you may feel tapped out, but when and if you are able, please use the dropdown to choose your contribution, and then click the hat! Your tip will be welcome today, and indeed any day. Water Cooler will not exist without your continued help.