By Lambert Strether of Corrente
Trade
"According to an administration draft proposal being circulated in Congress by the U.S. trade representative's office, the U.S. would keep some of Nafta's most controversial provisions, including an arbitration panel that lets investors in the three nations circumvent local courts to resolve civil claims. Critics of these panels say they impinge on national sovereignty" [Wall Street Journal]. "The document appears to be a compromise between the desires of trade hawks to use Nafta renegotiations as a way to set a new trade agenda and moderates who back the U.S. traditional commitment to free trade. The Congress is split along those lines as well."
"The decades-long rising wave of globalization that remade the world economy is receding. The recent rise of nationalist politicians and protectionist trade rhetoric is the culmination of a broader push against global business since the financial crisis… that's left global trade barely growing when compared with overall economic output, international capital flows pulling back and managers of multinational companies starting to dismantle the sprawling supply chains that they've built up over decades. The overall picture, from Brexit to Beijing, shows a trading world undergoing fundamental, long-term change—Maersk Chief Financial Officer Jakob Stausholm calls it 'a deflationary mindset.' That's left merchandise exports contracting and global supply chains no longer growing. China is helping drive the trend with its push to produce more goods for domestic consumption, and big industrial players are following" [Wall Street Journal]. So Trump isn't leading. He's following.
"The Trump administration is poised to demonstrate its promised tough approach to trade rules in a long-simmering dispute with the European Union over beef… and has a menu of goods lined up for punitive tariffs of 100% that could roll out in the White House's first formal push in a trade dispute. The beef case, which has been simmering in the World Trade Organization for years, may provide a window into how aggressive the administration will be with trading partners. The value of imports involved is relatively small, amounting to only around $100 million, but the potential impact on light motorcycles and high-end groceries is also already prompting a backlash. U.S. importers say tariffs on products from paprika to foie gras and fine cheeses would be tough for their customers to swallow" [Wall Street Journal].
Politics
New Cold War
"The BBC has learned that US officials 'verified' a key claim in a report about Kremlin involvement in Donald Trump's election – that a Russian diplomat in Washington was in fact a spy" [BBC]. Ah, just like "British intelligence has learned." Moving on: "So far, proving that the Trump campaign joined with Russia to steal the US presidency – nothing. But the FBI Director, James Comey, told a hushed committee room in Congress last week that this is precisely what his agents are investigating." "Hushed!" Fancy. And this is the key claim (and the "verification"): "But have told me the US government identified Kalugin as a spy while he was still at the embassy." Sort of amazing nobody's willing to go on the record on this, given that — if liberals are to be believed — it's a case of treason. Or let the public see any evidence. Why doesn't the intelligence agency drop the other shoe and fake some evidence? After all, they're experts at that.

"Who is 'Source D'? The man behind the Trump-Russia dossier's most salacious claim" [WaPo]. "[T]he Trump administration remains unable to shake the Russia story. While some of the unproven claims attributed in the dossier to Millian are bizarre and outlandish, there are also that he had contacts with Trump's circle." Hard to see how any administration could "shake" this "story," given how easy it must have been to write. (As per Water Cooler yesterday, I'd pursue the New York Real Estate angle. But that would take reporting, not access journalism.)
2016 Post Mortem
"Creating a National Precinct Map" [Decision Desk HQ]. Interesting, but unfortunately the interactive version isn't online now because of server load.
Trump Transition
"President Donald Trump says he's willing to work with Democrats to craft a new health-care plan, but that idea doesn't appeal to House Speaker Paul Ryan" [MarketWatch]. "'I don't want that to happen,' the Wisconsin Republican said in an interview with 'CBS This Morning.' Ryan continued: 'You know why? I want a patient-centered system. I don't want government running health care…we should give people choices.' House Republicans pulled a bill to repeal and replace Obamacare last week after it became clear they did not have the votes." Shopping for health care. It's the American Dream!

Well, this blew up fast:

The Freedom Caucus will hurt the entire Republican agenda if they don't get on the team, & fast. We must fight them, & Dems, in 2018!

— Donald J. Trump (@realDonaldTrump) March 30, 2017

Boom:

•

It didn't take long for the swamp to drain @realDonaldTrump. No shame, Mr. President. Almost everyone succumbs to the D.C. Establishment. https://t.co/9bDo8yzH7I

— Justin Amash (@justinamash) March 30, 2017

"With the Republican caucus fractured and even moderate Senate Democrats feeling feisty, the road to legislation now runs through minority leaders Sen. Chuck Schumer and Rep. Nancy Pelosi" [Politico]. Gridlock is our friend. And this, IMNSHO, is why the story isn't Trump's tweets, or the Russian nonsense, but what Trump and the Republican caucus can do all on their own: Executive branch personnel, Executive Orders, regulations, international negotiations. And whoever in Congress or the administration thought to leverage the "Congressional Review Act" wasn't stupid or incompetent; quite the reverse.

"Why Democrats Should Work With Trump" [Will Marshall, New York Times]. "Unlike depriving millions of Americans of health insurance, revamping America's outdated tax code and modernizing our run-down infrastructure are progressive causes Democrats should be for. And unlike Republicans, whose ideological rigidity and strident partisanship often border on nihilism, Democrats still hew to the quaint notion that the people elected them to solve problems, not prevent them from being solved. McConnellism is not in the party's DNA." Marshall is from the Progressive Policy Institute, and what a loon. You don't "work with" Baby Hitler! Until you do! (I mean, health care… What if (liberal) Pelosi could do a few deals with the (conservative) devil to stave off (the left's) #MedicareForAll for another election cycle or two? Would that be so very wrong?

"In modern times Congress moves slowly. It took George W. Bush 166 days to win bipartisan approval of Medicare Part D, the prescription drug benefit for older Americans. It took 187 days for Barack Obama to get the Affordable Care Act passed on party lines" [Lou Cannon, RealClearPolitics]. "But the replacement bill known as the American Health Care Act, proposed by House Speaker Paul Ryan, lasted only 17 days… How did this happen? There are many explanations, but the most obvious one is that the AHCA did not go through the usual legislative process."
Realignment and Legitimacy
"Here's why Hillary Clinton and Barack Obama are wearing leather jackets" [Moneyish]. I don't know when "rocking" came into vogue, or why. I wish it would go away.

"A Liberal Fantasy Ripped from a Hollywood Script" [Politico]. "No, Democrats—the 25th Amendment won't save you from Donald Trump." Now that Hitler couldn't get a bill passed, perhaps it's time for some of the other liberal fantasies to be laid to rest.
Stats Watch
Corporate Profits, Q4 2016: "Corporate profits rose 22.3 percent year-on-year in fourth-quarter 2016 to $1.741 trillion from $1.423 trillion in fourth-quarter 2015" [Econoday].
GDP, Q4 2016 (final): "An upgrade for consumer spending gives a boost to the third estimate for fourth-quarter GDP, now at 2.1 percent annualized growth vs 1.9 percent in the second estimate" [Econoday]. "Nonresidential fixed investment is downgraded to 0.9 percent from 1.3 percent." But: "It seems GDP keeps getting better. Personal consumption is now stronger and in the normal range historically since the Great Recession. I have been a doubter on GDP improvement continuing into the 4th quarter, but this was a relatively strong quarter" (charts) [Econintersect]. "A particularly telling representation of slowing growth in the US economy is the year-over-year rate of change. The average rate at the start of recessions is 3.35%. Nine of the eleven recessions over this timeframe have begun at a higher level of real YoY GDP…. [T]he Q4 GDP Third Estimate of 2.1% topped forecasts but is well below the 3.5% GDP for the previous quarter." And but: "In her press conference following the March Federal Reserve Open Market Committee meeting, Fed Chair Yellen stated that GDP was a noisy indicator, especially with underlying doubts surrounding seasonal estimates, and the data is also subjected to considerable revisions" [Economic Calendar].
Bloomberg Consumer Comfort Index, week of March 26, 2017: "Erasing a month of steady incremental gains, the consumer comfort index fell" [Econoday]. "The week included the administration's unsuccessful efforts to repeal Obamacare. The nearly 50 level, though, still points to unusual strength in consumer confidence."
Jobless Claims, week of March 25, 2017: "Initial jobless claims did fall 3,000 in the March 25 week but the level of 258,000 is higher than expected and, next to the prior week's 261,000, is the highest so far this year" [Econoday]. "After last week's report, the Labor Department issued seasonal corrections to this year's data which lowered rates early in the year at the expense of March."
Housing: "It is now official that the United States has turned into a renter's paradise. Think that is hyperbole? Fifty-two of the 100 largest cities in the U.S. are now majority renter in terms of household composition. And there is no clear pattern here. You have places with incredibly affordable housing like Detroit tipping over into the renter majority category at the same time places like affluent Irvine have tipped over as well. Bottom line, more renter households are forming at a time when real estate values are once again peaking" [Dr. Housing Bubble].
Retail: "Canal Street was never a high-end retail experience. But, like many streets in New York City and in cities across the US, it is becoming increasingly desolate. Boarded-up stores line the thoroughfare that bisects much of lower Manhattan. Many stores that are still open for business also display signs that read 'for lease' or 'for rent'" [Guardian]. "'It's not Trump,' said one downcast store-owner recently. 'It's not the economy. Something else is happening. People aren't spending.'" Yves keeps mentioning stores in Manhattan that are closing. What's happening in retail where you are?
Commodities: "The Great Nevada Lithium Rush to Fuel the New Economy" [Bloomberg]. "The lightest metal on the periodic table of the elements and a superb conductor, it's what gives the lithium ion batteries in our cell phones, laptops, newer Priuses, and Teslas the ability to recharge more times, last longer, and provide more energy per weight or volume than other battery chemistries. And it's cost-effective: The lithium in a Tesla costs around $500, less than a roof rack. It's also what makes devices explode."
Shipping: "UPS Inc. said today it has added six locations to its full-container load and less-than-container load multimodal rail service between Europe and China" [DC Velocity]. "The company touts that the service can save shippers up to 65 percent compared to the cost of airfreight, while improving transit times by 40 percent over slower ocean freight services."
Shipping: "Hong Kong registered online booking portal Freightos has raised $25m in funding from a group of investors led by GE Ventures" [Air Cargo News]. "Since its July 2016 launch, Freightos Marketplace orders have increased 600%, said the company, and there are now over 10,000 registered users, including top 20 global freight forwarders, and dozens of sellers. Clients include including Nippon Express, CEVA Logistics, Hellmann Worldwide Logistics and Sysco Foods."
Shipping: "The number of idle boxships has fallen to its lowest level in six months, with demolition activity continuing at a pace and previously dormant vessels being given a new lease of life as carriers scramble to meet their alliance obligations" [Lloyd's List].
The Bezzle: "Uber's autonomous cars drove 20,354 miles and had to be taken over at every mile, according to documents" [Recode]. The metric is "miles per intervention."
The Bezzle: "One of China's top bike-sharing startups is now paying users to ride its bikes" [Quartz]. "How can Mobike afford to pay users to ride its bikes? The company has received over $300 million in venture capital funding recently, including from a recent funding round led by Chinese tech giant Tencent and private equity firm Warburg Pincus, which gives it plenty of money to burn on 'growth.'" Travis? Hey, Travis!
The Bezzle: "Airbnb Bribes Host With Cash Under NDA After 200 Partiers Destroy Apartment Complex" [Observer].
The Bezzle: "Munchery Stiffs Early Backers and Cuts Staff in a Bid for Survival" [Bloomberg]. Any time you see a startup with one of those cute names, run a mile.
The Bezzle: "Rover and DogVacay merge to dominate the pet-sitting market" [TechCrunch]. "Both had a very similar model, with a marketplace for pet sitting, dog walking and other pet-care services. Each take about a 20 percent cut from bookings. Total bookings on the combined sites amounted to $150 million for 2016. The growing businesses are not yet profitable." As I said…
The Bezzle: "[Google and the Center for Financial Services Innovation] have been collaborating on ways to help customers wade through financial apps in the Google Play store. They are also trying to guide developers on building better consumer tools" [American Banker]. "The big vision is to help bridge the gap in the underserved community and bring the best financial tools to help them manage their day-to-day" finances, said Ashraf Hassan, partner development manager at Google Play."
The Bezzle: "What makes economics a science?" [Lars P. Syll]. "[I]f we are to believe most mainstream economists, models are what make economics a science." Well worth a read, all the way to the conclusion: "Mainstream economic models are nothing but broken pieces models. That kind of models can't make economics a science." But I never date models, so I wouldn't know.
Labor Power: "There are now twice as many solar jobs as coal jobs in the US" [Vox]. "It all adds up to a lot of jobs. Even though solar power still provides just a fraction of America's electricity — about 1.3 percent — the industry now employs more than 260,000 people, according to a new survey from the nonprofit Solar Foundation. And it's growing fast: Last year, the solar industry accounted for one of every 50 new jobs nationwide."
Political Risk: "The Gap Between Sentiment and Certainty Is 'Stunning'" [Wall Street Journal]. "The gap between "hard" and "soft" data measuring the U.S. economy has never been more disparate, according to a new report from Morgan Stanley, which means investors who have been putting too much weight on the soft data may be in for a rude awakening in a matter of weeks…. That's typical of the way the soft data has been running lately: far above expectations, and pointing to an economy that should be growing sharply. The hard data, on the other hand, is coming in pretty much as expected, and pointing to an economy that is stuck in its familiar, unsatisfying rut." Readers who have been following stats will have seen this playing out daily and weekly. Morgan Stanley produced a chart: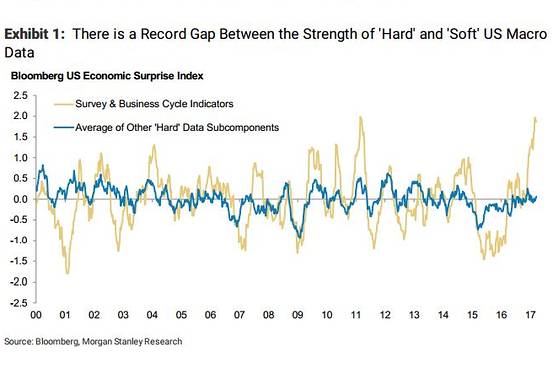 Political Risk: "[T]he GDP trackers that measure actual economic activity are much weaker than the NY Fed's, which incorporates soft data" [Business Insider].
Political Risk: "How long will the soft data support Donald Trump?" [WaPo]. "Still, each day the hard data doesn't match the soft data, the latter will be more likely to converge towards the former. What Mohamed El-Erian calls 'The Confidence Economy' will come to an end."
Today's Fear & Greed Index: 43 Greed (previous close: 34, Fear) [CNN]. One week ago: 30 (Fear). (0 is Extreme Fear; 100 is Extreme Greed). Last updated Mar 30 at 11:49am. Apocalypse Later?
Our Famously Free Press
"If you publish serious claims without any basis that mislead readers, and then refuse to acknowledge new evidence that disproves your original claims – all because you dislike the people you originally smeared with falsehoods too much to correct your error or because you hope the embarrassment will disappear faster if just you ignore it – why should anyone view you as being different than Macedonian teenagers or "alt-right" conspiracy sites? What are the cognizable differences?" [Glenn Greenwald, The Intercept].
Big Brother Is Watching You Watch
"'Appflash' will come pre-installed on all Verizon Android handsets; it's a Google search-bar replacement, but instead of feeding telemetry about your searches, handset, apps and activities to Google, it will send them to Verizon" [Boing Boing].
"The vote by the U.S. Congress to repeal rules that limit how internet service providers can use customer data has generated renewed interest in an old internet technology: virtual private networks, or VPNs" [Reuters]. "VPNs cloak a customer's web-surfing history by making an encrypted connection to a private server, which then searches the Web on the customer's behalf without revealing the destination addresses. VPNs are often used to connect to a secure business network, or in countries such as China and Turkey to bypass government restrictions on Web surfing."
Imperial Collapse Watch
"As the U.S.'s top tech brands ramp up operations in India, they are running into unexpected resistance: Their Chinese equivalents are stepping in to bolster their Indian competitors with billions of dollars in investments and expertise" [Wall Street Journal]. Good thing the chips in our weaponry all are US-made, since that seems to be all we'll have left. Oh, wait…
Class Warfare
"Unauthorized workers in the US now earn almost as much as those who work legally" [Quartz]. "George Borjas, a veteran labor economist at Harvard, just made a strange discovery. Since the early 2000s, unauthorized immigrants have gotten paid around 9% less, on average, than legal workers with the same skills and backgrounds, he found. Then all of a sudden in 2008—just as the American economy tipped into the abyss of the Great Recession—the average hourly wages of unauthorized immigrants started to climb. And as their pay rose, that 'wage penalty' started shrinking, falling under 6% in 2010. By 2014, unauthorized immigrants, on average, earned only 3.4% less than their legal peers…. Indeed, Borjas' research turned up an intriguing pattern that suggests the policy and legal environment could play a key role. Contrary to the "sanctuary cities" springing up in some states, a handful of other states—Arizona, Alabama, Mississippi, and South Carolina—have instituted aggressive policies requiring businesses to check employment eligibility of their prospective hires, starting in 2008. In these states, Borjas found, the wage penalty widened by a whopping 40%." I like "unauthorized," if only because, at the systemic level, these immigrants clearly were authorized. Again, they call it "class warfare" for a reason…
"The picture is particularly dark at the bottom of American society. Death rates of people with no more than a high school education have increased at least twice as fast as the national average in every age group. Poorly educated Americans are also much more likely to say they are in bad health than in the past, or compared with their more successful compatriots" [Breaking Views]. "Something is going seriously wrong. It cannot simply be the economy, because the U.S. experience of growth, unemployment and de-industrialisation is shared by other prosperous countries, which have not suffered an increase in deaths of despair. There must be some other reasons for this grim variation on American exceptionalism…. It makes sense that anomie, alienation and the loss of communities are doing more damage in the United States than in other modern lands. Loneliness comes especially easily in a country that has always valued rugged individualism. It also makes sense that the damage is greatest among the Americans who have been most dislocated by the social devaluing of less-skilled labour. The economic pain of this group has been amplified by the fragmentation of families and the decline of what was once another example of American exceptionalism among rich nations: deep religious belief." They call it "class warfare" for a reason…
"Drugs, Alcohol, and Suicide Represent Growing Share of U.S. Mortality" [Shannon M. Monnat, University of New Hampshire Carsey School of Public Policy]. "Researchers have identified multiple physiological, pain-related, psychosocial, family and interpersonal, socioeconomic, and neighborhood environment factors that are associated with substance abuse and suicide.12 Recent academic and journalist workalso suggests ties to declining social supports and rising income inequality, economic distress, and instability that have followed from decades of declines in secure and livable wage jobs for those in the working class.13 Although there are political and economic constraints to implementing comprehensive policies that address the underlying causes of high rates of drug, alcohol, and suicide mortality, such policies are likely to provide the best chance for reducing these deaths."
News of the Wired
"76% of high-performance employees say trade mastery, not money, most important in career decisions" [Medium]. So, not being alienated from your labor makes you happy. Who knew?
"Does Science Advance One Funeral at a Time?" (PDF) [Pierre Azoulay, Christian Fons-Rosen, Joshua S. Graff Zivin, NBER Working Paper No. 21788]. "To our surprise, it is not competitors from within the field that assume the mantle, but rather outsiders that step in to fill the void created by a star's absence. Importantly, this surge in contributions from outsiders draws upon a different scientific corpus and is disproportionately likely to be highly cited. Thus, consistent with the contention by Planck, the loss of a luminary provides an opportunity for fields to evolve in new directions that advance the frontier of knowledge within them. The rest of the manuscript tries to elucidate the mechanisms responsible for this phenomenon. It does not appear to be the case that stars use their influence over financial or editorial resources to block entry into their fields, but rather that the very prospect of challenging a luminary in the field serves as a deterrent for entry by outsiders."
* * *
Readers, feel free to contact me with (a) links, and even better (b) sources I should curate regularly, and (c) to find out how to send me images of plants. Vegetables are fine! Fungi are deemed to be honorary plants! See the previous Water Cooler (with plant) here. And here's today's plant (JM):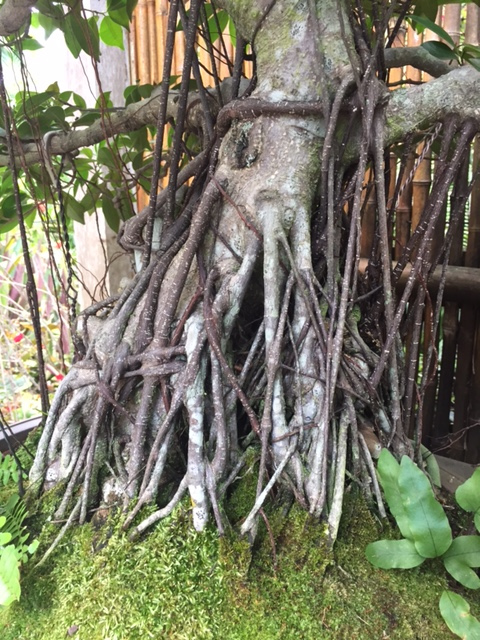 Because it's been a gnarly week!
Readers, Water Cooler is a standalone entity, not supported by the very successful Naked Capitalism fundraiser just past. Now, I understand you may feel tapped out, but when and if you are able, please use the dropdown to choose your contribution, and then click the hat! Your tip will be welcome today, and indeed any day. Water Cooler will not exist without your continued help.