By Lambert Strether of Corrente
Trade
"Canadian Ambassador to the United States David MacNaughton says officials in Ottawa are approaching a proposed renegotiation of NAFTA with a positive attitude rather than a confrontational one and are looking forward to modernizing the pact — but that doesn't mean they're going to let President Donald Trump and the new administration get everything they want" [Politico]. "As for their own demands, Canadian officials are focused less on issues of leverage and more on areas where both sides can benefit, MacNaughton said. 'It's not a matter of figuring out how one can get the better of the other, because our economies are so integrated that we're focused in on things that will benefit us both, like freer movement of labor,' [MacNaughton] said." "[F]reer movement of labor"?
"Can Trump Match Xi Jinping's Game?" [The New Yorker]. "Not in Beijing's wildest dreams did they imagine a counterpart with Kushner's characteristics: trusted by the President, overworked, and undertrained…. China has not assigned a novice to handle the world's most complex bilateral relationship, but it will not object if America is inclined to do so."
Politics
Syraqistan
Trump should talk to this guy:

What will we get for bombing Syria besides more debt and a possible long term conflict? Obama needs Congressional approval.

— Donald J. Trump (@realDonaldTrump) August 29, 2013

"America can't save Syria. And it shouldn't try" [The Week]. "[W]e know very little about what is actually happening in Syria. We are at the mercy of propagandists just to get basic information."

"How Does Media Know What Happened In Syria Chemical Attack?" [ShadowProof]. A look at the sourcing. "The truth is hard to come by because both the Syrian regime and several of the militant groups involved in the opposition have records of spreading propaganda and manipulating facts. It is up to the press to be more careful in scrutinizing information so the country does not become further destroyed by the deployment of more military forces, even if those forces are supposedly humanitarian."

"Washington's Supreme Hypocrisy on Chemical Weapons and Civilian Deaths" [Informed Comment]. "The use of chemical weapons by the Syrian Army in Idlib is an atrocity and the pictures of dead children tug at the heart. But the outrage of American politicians inside the beltway about it draws on the myths of American exceptionalism and Alzheimer's of the political memory. It is also very suspicious in that the loudest voices of sympathy are the ones closest to the US military industrial complex, which has been regretting the missed opportunity of a Syria War." But in Yemen and Mosul and whereever drones strike, dead children are jake with the angels.

"WMDs In The UNSC – History Repeats Itself, First As Tragedy, Second As Farce" [Moon of Alabama]. It's deja vu all over again…

"With each passing day our new president is discovering that every big problem he faces is like Obamacare — if there were a good, easy solution it would have been found already, and even the less good solutions are more than his own party is ready to pay for or the country is ready to tolerate" [Thomas Friedman, New York Times]. "Would have been found already…" Like single payer? Anyhow, lest we forget:

May 29, 2003. And Friedman still has a job!
New Cold War
"House Intelligence Committee Chairman Devin Nunes (R-Calif.) temporarily recused himself Thursday from all matters related to the committee's ongoing probe into Russian interference in the presidential election, as House investigators look into ethics charges against him" [WaPo].
Trump Transition
"Senate Republicans go 'nuclear,' pave the way for Gorsuch confirmation to Supreme Court" [WaPo]. Of course, if the Democrats had used the "nuclear option" to pass Medicare for All in 2009, they'd have an FDR-style lock on the electorate right now. But n-o-o-o-o-o. It took Harry Reid until 2013 to touch the filibuster, and that was for judicial nominations, too. Use it or lose it, Democrats.
2020
"Joe Biden Is Writing a Book About the Year His Son Beau Died" [Time].
2016 Post Mortem
"Hillary Clinton's Fashion Model Nephew Knows How to Strike a Pose" [Time].
Realignment and Legitimacy
"Exclusive Interview: Nina Turner on the Ongoing Fight for the Populace" [Progressive Army].

UPDATE "Ignoring The People – Where The Left Of The Aisle Side Fails" [Moon of Alabama]. "Since the election the U.S. Democrats have been outraged over Trump and obsessed by "Putin did it" conspiracy theories. What they did not do was to assess why the Clinton campaign failed, why the party has lost seats all over the country over the last eight years and why the formerly core Democratic constituency voted for Trump. The reason for that are straightforward and simple. Trump promised jobs, less globalization, less war and less obsession with social matters of marginal interest. Stuff that workers outside of the coastal cities like. The Clinton campaign was mealy mouthed on policies except for some special peoples' "right" of using the other genders toilet facilities. Her campaign was solely built on bashing Trump and it failed."

"Democrats are still ignoring the people who could have helped them defeat Trump, Ohio party leaders say" [WaPo]. That's not a bug, it's a feature. More from Mahoning County.

"My Most Unpopular Idea: Be Nice to Trump Voters" [Nicholas Kristof, New York Times]. Plenty of eliminationist rhetoric from liberal goodthinkers. 2016 was wonderfully clarifying, as I keep saying.

"Georgia Democrat Jon Ossoff Raises $8.3M: [Roll Call]. "95 percent of first quarter donations came from out of state."

"The Resistance Didn't Turn Out Many Votes in LA's First Post-Trump Primary" [Fusion]. But apparently turnout was low across the board; nobody did well, including the Berniecrats.

"Greens, GOP team up to sue Democrats" [Metro (JE)]. Not a good look, IMNSHO. IIRC, PA Greens took Republican constributions, which New York's Ursula Rozum was smart enough not to do.

"Paul Ryan Eager to Talk About Taxes, 'Hillbilly Elegy'" [Roll Call]. Ryan needs to find his own woods to wander around in. And notice the J.D. Vance "Hillbilly Elegy" love. I don't think Paul Ryan's going to be name-checking Chris Arnade anytime soon.
Stats Watch
Jobless Claims, week of April 1, 2017: Below consensus [Econoday]. "A last look at the labor market before tomorrow's employment report is very positive." And:
After two successive weeks above 250,000 which created some speculation that the jobs market could be cooling slightly, the latest data will reinforce confidence in the labour market. The evidence still suggests that companies are reluctant to shed staff, especially in view of skills shortages" [Economic Calendar]. And so: "Conclusion: None of the indicators alone is very good at predicting the initial BLS employment report. The ADP report suggests another strong report, however the ISM surveys suggest weaker job growth. Weekly unemployment claims suggest weaker job growth, and the weather impact appears to be negative. I'll break with my recent 'over' picks, and take the 'under' for March" [Calculated Risk].
Challenger Job-Cut Report, March 2017: "in line with trend and points to stable conditions in the labor market ahead of tomorrow's employment report" [Econoday]. And but: "Job cuts announced by US-based employers rose 17 percent from the February total of 36,957 to 43,310 in March" [Econintersect].
Gallup Good Jobs Rate, March 2017: "at its highest point since November 2016" [Econoday].
Chain Store Sales, March 2017: "Chain stores are reporting mostly weaker rates of year-on-year sales in March than in February which is a negative indication for the ex-auto ex-gas reading of the monthly retail sales report" [Econoday]. "Heavy weather and delays in this year's tax refunds are negative factors for March."
Bloomberg Consumer Comfort Index, week of April 2, 2017: "Recovered 5 tenths of the prior week's 1.6 percentage point fall that followed the Trump administration's unsuccessful effort to repeal Obamacare" [Econoday]. "The index is near the best levels of the 7-1/2 year expansion." Expansion? Huh? Is that like a recovery?
Real Estate: "Black Knight Financial Services reported that in Q4 of 2016 44 percent of refinances were cash-outs" [Dr. Housing Bubble]. "This percentage was the highest level of cash-outs in the last eight years. What was happening eight years ago? The housing market was imploding in epic fashion and nearly 8 million people lost their homes to foreclosure."
Retail: "Costco Wholesale Corp. COST +1.45% admits to being slow to embrace online sales, but anyone who has shipped a one-gallon jug of mayonnaise can understand why" [Wall Street Journal]. "The wholesaling giant is taking a contrarian stance on e-commerce… Costco's measured stance is backed by strong store sales that come even as many brick-and-mortar chains falter, and by the tough financial equation that online sales bring to its business. Shipping the hefty-size goods that consumers buy from Costco in bulk could eat into profit margins that are already low for most household staples—particularly as carriers move to charge by dimension as well as weight."
Retail: "In a filing that details steep losses and plans to close some 400 stores, the largest footwear chain in the U.S. says its troubles in a changing retail market worsened in 2015. It says the labor dispute that backed up cargo flows kept the company from stocking its shelves during the crucial Easter selling season. By the time delayed inventory arrived, Payless had to sell the shoes at a deep discount 'in order to realign inventory and product mix.' That left the company without the cash it needed to respond to the growing dominance of e-commerce in consumer market" [Wall Street Journal].
Commodities: "For example, the Financial Times reported that seaborne oil tanker traffic is down this year by 16 percent, a sign that the OPEC cuts are showing up at sea. Not all oil is traded at sea, obviously – some is shipped via pipeline or moved directly from the wellhead to refineries, processing facilities or storage. But such a drop off in the volume of oil moved at sea suggests that the supply cuts are being felt in the market" [OilPrice.com].
Shipping: "US authorities are warning shipowners to alter course in the North Atlantic due to an unseasonal peak in the number of icebergs spotted in the area" [Splash247]. "The US Coast Guard's International Ice Patrol – established in the wake of the sinking of the Titanic – has warned the number of icebergs in the main shipping lanes of the North Atlantic has spiked from 37 last week to around 450 this week. Normally in early April there is an average of 80 icebergs in the region. Ships near the Newfoundland coast have had to slow down to 3 or 4 knots and many transatlantic vessels are rerouting, some adding an extra 36 hours detour in to their voyages to avoid the sudden spread of ice seen in the ocean."
Shipping: "Container lines have come under fire from European shippers claiming the capacity crisis on eastbound exports has resulted in lost contracts and sales" [The Loadstar]. Again, consolidation (cartelization) plus the overcapacity from stupid money to the shipbreakers.
Supply Chain: "DHL Supply Chain, the contract logistics arm of Deutsche Post DHL Group, said today it will begin testing the use of so-called collaborative robots, designed to work with human warehouse and DC workers, for an unidentified customer in the life sciences sector" [DC Velocity]. "The 10 robots, called "LocusBots" after their creator, Wilmington, Mass.-based Locus Robotics, will be tested as a picker companion for piece-picking order fulfillment in the warehouse, located in Memphis. During the two-month test period, the so-called cobots will identify and transport pick items so DHL Supply Chain's pickers don't have to push carts or carry bins, said the company, which is based in Columbus, Ohio." So even the warehouse jobs are going away?
Supply Chain: "[Amazon] is taking a big stake in fuel-cell maker Plug Power Inc. that could make it one of the largest shareholders in a company that helps power material-handling equipment" [Wall Street Journal]. "Plug Power is a relatively small operation, generating $85.9 million in revenue last year and no annual profits in its 20 years of existence… Plug Power's biggest customer last year was Amazon's top rival in the retail business, Wal-Mart Stores Inc."
Honey for the Bears: "The International Chamber of Commerce 2016 Global Survey on Trade Finance, published in December, reports that a growing number of banks are concerned about their ability to finance international trade. In the survey, 61% of the 357 respondents – national, regional and global banks with trade finance functions from 109 countries – reported a global shortage of trade finance. This is a sharp change on earlier years and is connected to the collapse in commodity prices, but the health of the banks is a factor, too" [Splash 247]. "I don't need to tell you – no Letter of Credit means no Bill of Lading. We last saw this back in the Asian crisis of 1997. This time – not just Southeast Asia."
The Fed: "Overall, the minutes cast little light on the potential for a further rate hike at the June meeting which limited the overall impact. Clearly inflation indicators over the next two months will be a crucial factor in determining the balance of power within the FOMC" [Economic Calendar].
The Fed: "Lots To Chew On In The FOMC Minutes" [Tim Duy's Fed Watch]. "Fed officials aren't growing nervous about just equities. They are seeing high prices across a wide range of risky assets. If it was just one asset class, they might conclude that it doesn't pose systemic risk for the US economy. Or they might conclude that macro prudential policies were sufficient to maintain financial stability. But a wide range of assets might require a more blunt tool – like higher rates. Another space to watch. Where this space gets messy is the tendency of equity prices to remain high even as the Fed tightens – a pattern which may induce the Fed to tighten much more aggressively than they should. Bottom Line: The Fed clearly anticipates more tightening, likely at a pace of one action per quarter between interest rates and balance sheet."
The Fed: "It appears that the FOMC finally began to consider seriously how and when to begin working down the balance sheet in March. No final decisions were reached, but a number of things were discussed and debated. The Committee began by reaffirming the 2014 framework, namely that reductions in the Fed's holdings should be "gradual and predictable," and "accomplished primarily by phasing out reinvestments of principal received from those holdings." In other words, no outright sales (at least not early on)" [Amherst Pierpont Morgan, Across the Curve].
Today's Fear & Greed Index: 46 Neutral (previous close: 47, Neutral) [CNN]. One week ago: 29 (Fear). (0 is Extreme Fear; 100 is Extreme Greed). Last updated Apr 3 at 5:30pm.
Health Care
"Conyers: Medicare for All's time has come" [Detroit Free Press]. Conyers: "For years, I've also watched as Democrats, , have avoided putting their name behind single payer by saying they're focused on politically achievable short-term goals. Single payer is politically achievable." Plus a nice shout-out to Jessi Bohan. It would sure be nice if conflicts between HR676 and Sanders' forthcoming bill don't turn into a trainwreck.
Class Warfare
"[David Rockefeller} was proud to be part of the so-called "secret cabal" that wanted a more integrated global structure, with America at the head of it. This was both in the country's interest, and its moral obligation. At the Council on Foreign Relations, at Bilderberg meetings, or on the Trilateral Commission which he founded in 1973, he relished discussing world affairs with people of equal quality and influence from North America, Europe and Asia. Their exclusiveness led many people to think these talking shops sinister, or an undisclosed tunnel to power. He found them just an invaluable way of linking the likeminded" [The Economist].
Help me:
Programs do, importantly, often expand our collective notion of what's possible. Think the Panthers Free Breakfast Program. Charter Schools.

— deray mckesson (@deray) January 30, 2015
News of the Wired
"Apple iPad (2017) review: the best feature is the price" [The Verge]. Running gag: "It's an iPad!" In other words, a device to consume content…
"Hieronymus Bosch action figures are the greatest thing from any dimension" [Ars Technica]. I probably should have filed this under Politics…
"F*ck You And Die: An Oral History of Something Awful" [Motherboard]. This too…
And then there's the wonderful world of advertising:
PEPSI: we're gonna make the most offensive ad

NIVEA: lol nice try n00b. check this out

SONY: hold my beer, bitches pic.twitter.com/sK3QdfvTRL

— KRANG T. NELSON (@KrangTNelson) April 5, 2017
And I've got to give Yglesias kudos for this subtweet (courageous in today's climate):
Here's Brezhnev at the Soviet Pepsi factory. pic.twitter.com/DHXub77uUW

— Matthew Yglesias (@mattyglesias) April 5, 2017
* * *
Readers, feel free to contact me with (a) links, and even better (b) sources I should curate regularly, and (c) to find out how to send me images of plants. Vegetables are fine! Fungi are deemed to be honorary plants! See the previous Water Cooler (with plant) here. And here's today's plant (via):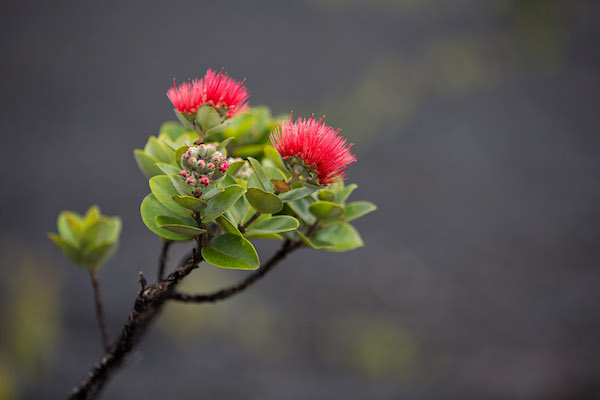 "Metrosideros polymorpha, or ʻōhiʻa lehua (sometimes simply the lehua tree or ʻōhiʻa), is the most abundant native tree species on the six largest Hawaiian islands." And being attacked by a fungus, sadly.
Readers, Water Cooler is a standalone entity, not supported by the very successful Naked Capitalism fundraiser just past. Now, I understand you may feel tapped out, but when and if you are able, please use the dropdown to choose your contribution, and then click the hat! Your tip will be welcome today, and indeed any day. Water Cooler will not exist without your continued help.