Black holes theorized in the 18th century PhysOrg (Chuck L)
Possible signs of life found ten kilometers below seafloor PhysOrg (Chuck L)
Agriculture is depleting world aquifers, new satellite measurements show MinnPost (guurst). :-(
The Dark Secret at the Heart of AI MIT Technology Review (Chuck L). Not smart to be deliberately incubating Skynet. What if a self driving car gets road rage? They'd presumably be better at it than a person.
Giant viruses found in Austrian sewage fuel debate over potential fourth domain of life Science (martha r). Look at what we grew in the sewage!
The FDA just struck a deal that could replace animal testing with a tiny chip Business Insider (David L)
A New, More Rigorous Study Confirms: The More You Use Facebook, the Worse You Feel Harvard Business Review (resilc)
China?
China faces a tough fight to escape its debt trap Financial Times
Americans deploy nuclear sniffer plane to Okinawa Nikkei (Dan K)
Ecuadorians Reject Neoliberalism in Presidential Race New Economic Perspectives. Funny that the MSM didn't report on this. This means Assange still has a refuge in London.
Syraquistan
Imperial Collapse Watch
D.C.'s war madness The Week (Sid S)

Who's Playing The Long Game–and What's Their Game Plan? Charles Hugh Smith (Chuck L). He overstates some of his points. Stuff like "The Neocon camp has also ordered its media arm–the corporate-owned mainstream media– to go into full attack mode" is cringe-making. But if you discount the hyperbole, there is some good stuff in here.
Big Brother is Watching You Watch
The relentless push to add connectivity to home gadgets is creating dangerous side effects that figure to get even worse. MIT Technology Review (martha r)
Trump Transition
Obamacare
Universal healthcare supporters see their chance: 'There's never been more support' Guardian (martha r)
Gabbard: 'We need to learn from Iraq' The Hill (resilc)
Liberal leaders call for challenge to Gabbard over Syria skepticism CNN. Oliver: "I must confess I had not heard of Ms Gabbard before now, but she seem very rational. CNN's performance during this interview is well, what can I say."
Seeking 2020 clout, California looks to jump the primary queue Politico
Newly Energized Liberals Pour Record Effort Into Local Races Wall Street Journal
Virginia (VA) Poll – Dem Gov Primary Quinnipiac (martha R)
Live results: Kansas special election The Hill (martha r)
US state could vote to bring back duels for public officials Independent
United Removal Fiasco
Pentagon awards contract to United Airlines to forcibly remove Assad Duffelblog (Li)

United Airlines Promised Federal Regulators That All Ticketed Passengers Are Guaranteed Seats David Sirota, International Business Times

How Algorithms and Authoritarianism Created a Corporate Nightmare at United Global Guerillas (Chuck L). Note the plane was not overbooked, so point that out wherever you see someone getting that wrong. However, the guys who dragged the passenger off the plane do not appear to be "airport police," as in being sworn in with specific authority under local municipal rules. Per the Financial Times: "The Chicago department of aviation, whose security staff were used to remove the passenger…"
"The Fundamental Problems of the Financial Crisis Are Still with Us" Finanz und Wirtschaft. Interview with Raghuram Rajan, one of the few Serious Economists to warn all was not well before the crisis. Joe Costello: "Gets more than many, but phew…"
Trump's DOJ takes same hard line as Obama's in Wells probe American Banker
Argument preview: Court to consider application of Fair Debt Collection Practices Act to debt buyers SCOTUSblog (martha r)
What's New in Republicans' Plan to Replace Dodd-Frank Wall Street Journal
NY Fed research implies small business expectations are mostly worthless FT Alphaville
I Was a Whistleblower. The Fed Is Not Doing Enough to Fix Wall Street's Culture of Fear ProMarket
Guillotine Watch
Court rules 'genius' Randy Work has to pay full £72.5m in divorce Financial Times
Class Warfare
Antidote du jour. From the winners of the Sony World Photography Awards (Scott):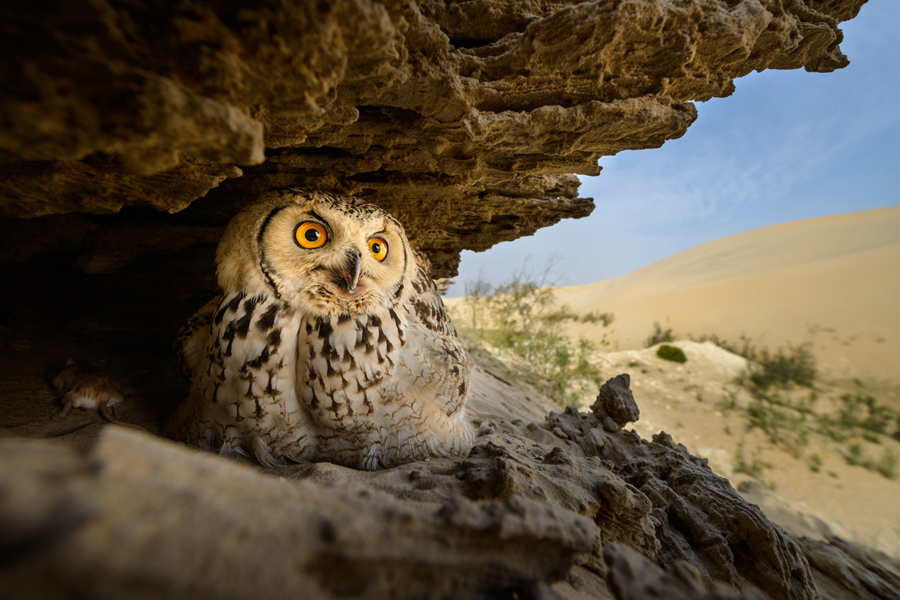 And a bonus video. A bit leisurely, but I get a kick out of the feisty Shetland pony.
See yesterday's Links and Antidote du Jour here.