What's the best way to tickle a rat? Cosmos (EU)
At the animal café Bangkok Post (furzy)
Greenhouse gas effect caused by mangrove forest conversion is quite significant PhysOrg (Chuck L)
To save money, Kentucky Coal Museum turns to solar panels ars technica (Chuck L)
An Indian court says glaciers and rivers are 'living entities.' Could the same approach work in the US? Christian Science Monitor (Glenn F)
Scientists identify parts of brain involved in dreaming Guardian (Brian C)
New approach makes cells resistant to HIV MedicaleXress (Chuck L)
GETTING REAL: the raging fire in the hold of SS Eutanic John Ward (Chuck L). Tries too hard to be colorful but some good observations.
NATO's top mission: Preparing for Trump Politico
French Elections
Marine Le Pen Denies French Guilt for Rounding Up Jews New York Times (furzy). An awfully big gaffe awfully close to the first round.

Le Pen attacked for denying French role in wartime roundup of Jews Politco
Syraqistan
A multi-level analysis of the US cruise missile attack on Syria and its consequences The Saker (YJT). Today's must read. I sometimes have doubts about the Saker, but this strikes me as sound. The one point where I think he may be giving Russia too much credit is in the Tomahawk diversion thesis (as in if they could do it, why in part but not in full? To freak out the US types that their pricey weapons are horribly unreliable To test their tech without showing their hand too much? To send a warning, since some cooler heads might think it was likely that Russia had this capability, which in turn might lead to a rethink on some courses of action?)

Russia-Baiting Pushed Trump To Attack Syria — And Increases The Risk Of Nuclear Annihilation Norman Solomon (Sid S)

Sean Spicer Just Threatened to Massively Escalate the War in Syria Vanity Fair. Resilc: "But american cluster bombs in Yemen is A-OK."

'Syria will implode if Assad goes', says Peter Ford BBC (furzy)

Syria, Iran and Israel – Clinton mails reveal the motivation behind. Defend Democracy (furzy)

H. R. McMaster Manipulating Intelligence Reports to Trump, Wants 150,000 Ground Soldiers in Syria Defend Democracy

Wag The Dog — How Al Qaeda Played Donald Trump And The American Media Huffington Post (Sid S). By former weapons inspector Scott Ritter. You need to read past a long set up to get to the goods.

Trump's Bombing of Syria: Continuation of a 68-Year-Old Policy George Washington

Kremlin, angry at Syria missile strike, says Putin won't meet Tillerson Reuters. The headline verges on misreporting. For Tillerson to meet Putin would be a departure from diplomatic protocol. Tillerson is meeting his counterpart, Foreign Minister Lavrov. The fact that Putin "often" met with Kerry does not mean it was a given, and there's no evidence that a meeting had been set up and was cancelled, which would have been a show of unhappiness.

Migrants from west Africa being 'sold in Libyan slave markets' Guardian. Sid S: "Gaddafi was terrible. Look what followed."
New Cold War
Britain defies allies on Russia sanctions The Times

Snowden on NSA and Cyberwar Defend Democracy
Imperial Collapse Watch
Exclusive: Spyware firms in breach of global sanctions Aljazeera (Bill B)
Selection and maintenance of the aim Irrussianlity (Chuck L)
Big Brother is Watching You Watch
Trump Transition
Obamacare
4 ways states can prevent the Affordable Care Act from "exploding" Vox (Kevin C)

Maryland on track to give attorney general power to sue for drug price-gouging Washington Post
Schumer Backs Off Appointing Airbnb Lobbyist To FTC, After IBTimes Questions International Business Times
California's Drought Is Over, but the Rest of the World's Water Problems Are Just Beginning Mother Jones (resilc)
To feed Upstate NY beer industry, state's barley growers need U.S. aid, Schumer says Syracuse
ProPublica, New York Daily News, Post's Fahrenthold win Pulitzers CNN (furzy)
Officer on leave after dragging United Airlines passenger off plane Reuters (furzy). Lambert had a longer and better version of the video in Water Cooler but this one shows how badly beaten up the passenger was. Ugly. United gave him a boarding pass. I don't see how they can then kick him off after they gave him a seat. This was their screw up and they need to own it. The idea that an employee "had to fly" is ludicrous. If it was necessary for route management purposes that should have been in the system or the gate agents notified if there was a problem (and with FCC flight management systems they would know of a serious flight delay and related crew problem well before this plane boarded). And do not kid yourselves, there would have been no accountability ex smartphones. The airlines would have gotten the crew to back the removal effort and have depicted passengers who said otherwise as "he said, she said". And even now, United is apparently trying to blame the officer, when you can be sure he would have lost his job if he didn't "remove" the passenger.
Passenger Forcibly Removed From United Flight, Prompting Outcry NPR. Jason: "Headline doesn't mention that the jackboots knocked out the victim cold. And he was claiming he's a doctor that needs to work at the hospital tomorrow. Neoliberalism continues its march."
Airlines Treat You Badly Because They Can Buzzfeed (bob k)
Drugmakers Help Turn Patients With Rare Diseases Into D.C. Lobbyists KHN (Dan K)
Class Warfare
Antidote du jour. Robert H: "Buddy was a five year old foster dog who needed to have 17 teeth pulled (17 teeth remain). Here he is after six months in his new home."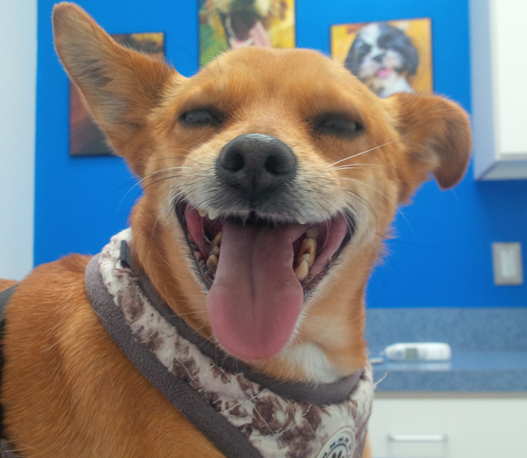 See yesterday's Links and Antidote du Jour here.