Three $5000 no-strings-attached grants available Medium (Paul R)
Hydrostor Building Underground Caverns For Affordable Compressed-Air Energy Storage IEEE (Chuck L)
The Large Bitcoin Collider Is Generating Trillions of Keys and Breaking Into Wallets Motherboard (resilc). We've long said Bitcoin = "prosecution futures."
The Tesla Semi: A Bad Idea Forbes (resilc)
Sperm tested as possible candidate for delivering cancer medications in female patients PhysOrg (Chuck L)
China?
US balks at branding China a 'currency manipulator' Financial Times
North Korea
Refugee Crisis
More than 2,000 migrants rescued in dramatic day in Mediterranean Reuters (furzy)
Big Brother is Watching You Watch
Battle intensifies between Trump's CIA, WikiLeaks The Hill

Whistleblower uncovers London police hacking of journalists and protestors WSWS
Syraqistan
Trump Transition
Obamacare
Trump is now destroying a healthy health-care system Washington Post (furzy). Only inside the Beltway could you get a piece like this. On the one hand, Milbank is on solid ground in his forecast about what getting rid of the insurer incentives means for the future of exchange plans. On the other hand, anyone who can declare that health care [as opposed to health insurers] to be healthy needs his head examined.

Health-Law Impasse Puts Squeeze on Congress Wall Street Journal
Reminder: You Are Hardly Overtaxed in America! Barry Ritholtz. Resilc: "You are if you add up all the out of pocket costs that are covered in 'socialist" countries, like damage on my truck due to potholes, copays for health, out of pocket after school programs, lost time due to bad infrastructure….."
Mick Mulvaney Seems Complacent About a Government Shutdown Washington Monthly
Why Do Democrats Feel Sorry for Hillary Clinton? New York Magazine (resilc). UserFriendly: "Hell YESS!" Moi: When Andrew Sullivan is good, he really is very good.
Faux-Progressive PAC "End Citizens United" run by Third Way employees and Establishment Dem Insiders reddit (martha r)
Torture hoods used in U.S. prisons Workers World. Martha r: "Story lacking in sourcing but seems important."
Sanders wins big with free public college and Medicare for all The Hill (martha r)
Tennessee House passes free community college bill Associated Press (martha r)
Iowa's New Voter-ID Law Would Have Disenfranchised My Grandmother Nation (martha r)
Going Solar in West Virginia American Prospect (resilc)
Chicago schools' big experiment with a different disciplinary tool: empathy Christian Science Monitor (furzy)
How a gritty Midwestern city is emerging as a model for civility Christian Science Monitor (furzy). Being well-spoken with good manners is a class marker.
No DAPL
Snipers and Infiltrators at Standing Rock: Quashing Protests at Taxpayer Expense Counterpunch (martha r)
United Fiasco
The Elements of Bureaucratic Style Long Reads (martha r)

Monetary Barbarism at United Airlines Counterpunch (martha r)
Economic Gains Elusive Despite Strong Confidence Wall Street Journal. Lambert had a lot of detail on this in Water Cooler yesterday.
Fall in US consumer prices dents 'Trumpflation' hopes Financial Times
Class Warfare
Why libraries could soon need a national endowment Christian Science Monitor (furzy). The gutting of public libraries is yet another sign of our decline as a society.

Welfare for Everyone Jacobin (UserFriendyly). Don't entirely agree with the claim about Medicaid expansion. It was the component that was not designed by the health insurance lobby as a vehicle for gaming. And I have trouble with the argument that it was Medicaid expansion that prevented repeal. First, low income people are not an influential political franchise Second, there was tons of screaming about getting rid of coverage for people with pre-existing conditions. Third and most important, the Republican were at odds internally re what to do next, and there did have to be a next of some sort.

The IRS is using private debt collectors again. That's a problem. Slate (resilc)

Uber registers $2.8bn loss in 2016 expansion drive Financial Times

Top Frustrations With Tax System: Sense That Corporations, Wealthy Don't Pay Fair Share Pew Research Center
Antidote du jour. Paul R: &oung mule deer licking minerals off a hewn rock by the bike trail at Grand Canyon, yesterday [as in April 11]."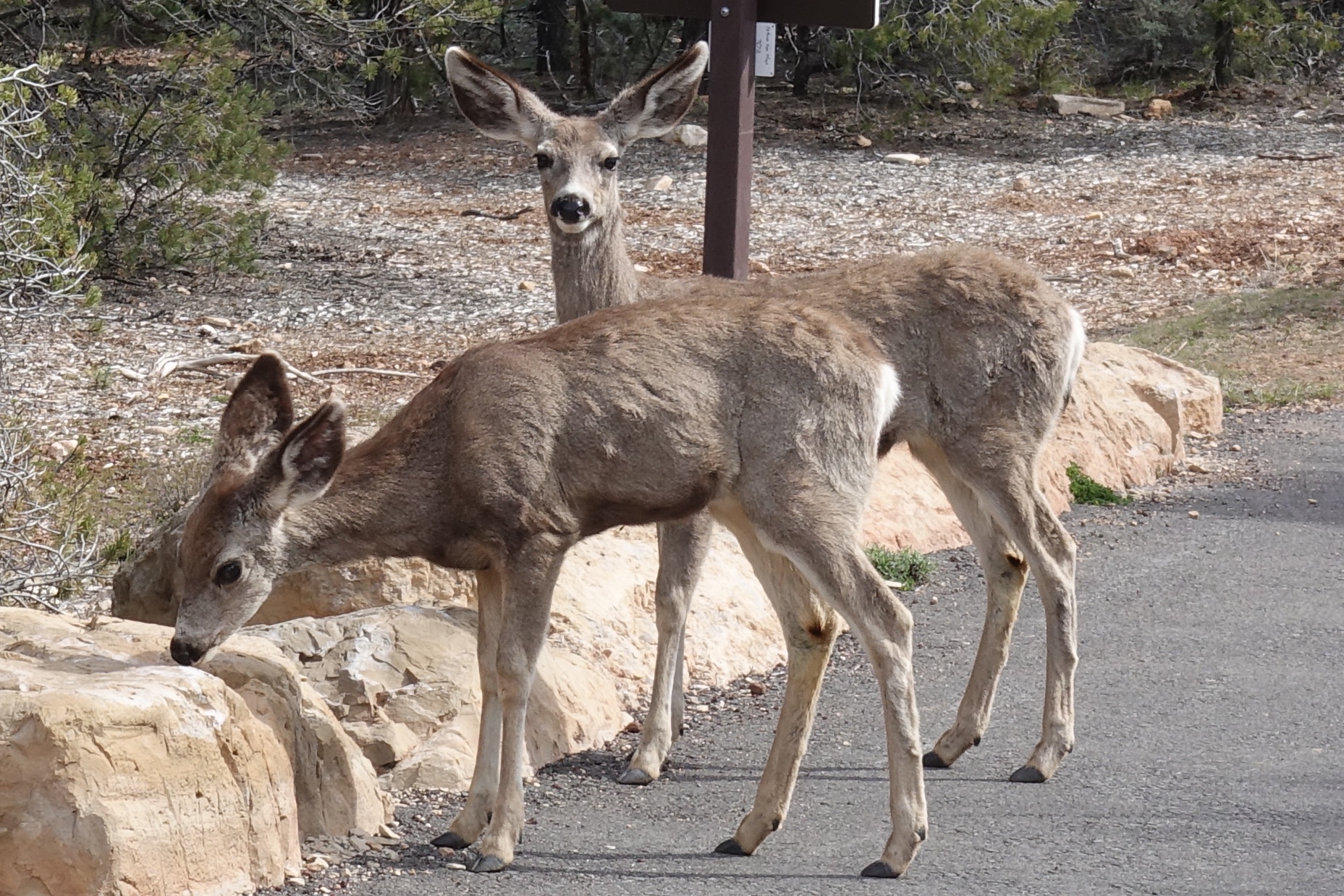 And a bonus video (Ignacio). The comments in Spanish on YouTube indicate that the cat likes going down stairs this way.
See yesterday's Links and Antidote du Jour here.