Yves here. I must confess to a bit of frustration with today's Links. You can see they are heavy on international news, for good reason. Yet I am bothered that important domestic financial and economics stories are going under the radar as a result.
Dingo Wins Competition for World's Most Interesting Genome Smithsonian (Chuck L)
ARE SOME SOLAR PANELS MORE ENVIRONMENTALLY FRIENDLY THAN OTHERS? JSTOR (Micael). I am surprised that this is even a matter of debate.
The Crisis of Attention Theft—Ads That Steal Your Time for Nothing in Return Wired (resilc)
Ukraine launches big blockchain deal with tech firm Bitfury Reuters (furzy). Given that Ukraine is one of the most corrupt countries in the world, this does not look like all that positive a development.
New documentary gives an insight into the thankless task of moderating the internet ThaiVisa (furzy)
How a Cannabis Expert Sneaks Weed Past the TSA LifeHacker (Dan K)
A New "CRISPR Pill" Makes Bacteria Destroy Its Own DNA Futurist (Dan K)
The Endangered 'Good Doctor' Wall Street Journal (J-LS). Important. Hopefully you can find a way to get past the paywall.
North Korea
Pence to South Korea: 'Our trade relationship is falling short' The Hill. Weird to be raising this while sabre-rattling at the North is on.
French Election
The establishment in panic will attempt to "bury" Jean-Luc Mélenchon as it did with Bernie Sanders failed evolution

L'évolution de l'ensemble des sondages, avec le dernier @opinionway :#Macron 22,4%#LePen 21,7%#Fillon 20,8%#Mélenchon 19,1% pic.twitter.com/J9XXVMa7WD

— mathieu gallard (@mathieugallard) April 17, 2017

Translation: all within the margin of error

Emmanuel Macron says German surplus hurts Europe Politico

France frontrunners address supporters in end spurt of presidential campaign DW

The Last Days of Charles De Gaulle Foreign Policy
Brexit
Ireland seeks common Brexit strategy with Dutch and Danes Irish Times
PFI scandal as Scottish NHS faces £10billion bill for hospitals that cost £2billion Daily Record (Richard Smith)
Turkey
Protests as Turkey extends state of emergency DW

5 takeaways from Turkey's doubt-inducing referendum Politico

Turkey's referendum fell short of democratic standards, international observers say Politico
Syraqistan
>BRICS Issues Joint Statement: Illegal Military Intervention in Syria Is Unacceptable Defend Democracy. Oddly, not reported in the mainstream English language press.

Will Syrian State Collapse & Fall into More Chaos If Assad Is Toppled? Democracy Now! (Sid S)

Through the 'War on Terror' Looking Glass Consortium News (Sid S)

Stop swooning over Justin Trudeau. The man is a disaster for the planet Guardian (dc_buc)
Trump Transition
Gorsuch Full of Questions on First U.S. Supreme Court Day Bloomberg. One can hope that he puts off his fellow jurists but he probably won't.
Democrats welcome Bernie takeover The Hill (resilc)
New DNC Chair Tom Perez Booed At DNC Reboot Tour Daily Caller (UserFriendly). Do watch the short clip.
DNC Tries to Shame Bernie Sanders For His Email List Observer (UserFriendly). As some people close to the Sanders operation have said, this continued demand shows how clueless the DNC is. Sanders' mailing list is productive due to Sanders. People would unsubscribe en masse and send hate mail if the DNC were to try to fundraise from them.
Reeling From Low Oil Prices, Saudis Look To Freeze Megaprojects OilPrice. Resilc: "Freezing Yemen and support to Wahabbi radicals too?"
James Bullard on Life as a Fed Bank President and Monetary Policy in 2017 Macro Musings (Scott). Podcast.
Boeing to Dismiss Hundreds of Engineers Amid Sales Slowdown Bloomberg
Theranos Agrees Not to Operate Blood Lab for Two Years Wall Street Journal. Can someone explain to me why Elizabeth Holmes isn't in jail?
Fees fall along with performance; how much is hard to tell, exactly Pensions & Investments (DO)
Bad actors in the financial industry want the fiduciary rule weakened Economic Policy Institute
Why Cancer Drug Prices Keep Rising in the U.S. Nautilus (Dr. Kevin)
Class Warfare
Why the US science and engineering workforce is aging rapidly PNAS (micael). This deserves a major debunking. We aren't growing our next generation of computer scientists due to offshoring and I suspect that it true for other fields. Readers also tell me getting an engineering degree does not pay (save maybe in petroleum engineering) unless you get a law degree too and do intellectual property law. Plus educational attainment in the US is falling generally.

WORKING MORE FOR LESS: DANGERS OF THE GIG ECONOMY JSTOR (Micael)

New York Moves to Require Uber to Provide Tipping Option in Its App New York Times

Pomona College Students Say There's No Such Thing as Truth, 'Truth' Is a Tool of White Supremacy Reason. Dan K: " do think there is a discussion to be had about overt and inherent racism in classical materials, but banning them is a poor remedy." Moi: When Reason has the better argument, you know it's bad…..The other bit is that at least historically, the Claremont Colleges were where rich families from the West who didn't want their sons to go to college in the East sent them. So I wonder if there are big class issues there that are being conflated with racism.

The American Dream is Killing Us Mark Manson. Andrew G: "This is an older blog post by one of my newly discovered authors who very much resonates with me. I have a feeling it will also resonate with the NC readership."
Age of sincerity aeon (Micael)
Antidote du jour (VDA via Lawrence R): "A visit from Ms. Turkey was our Easter present. Isn't she beautiful?"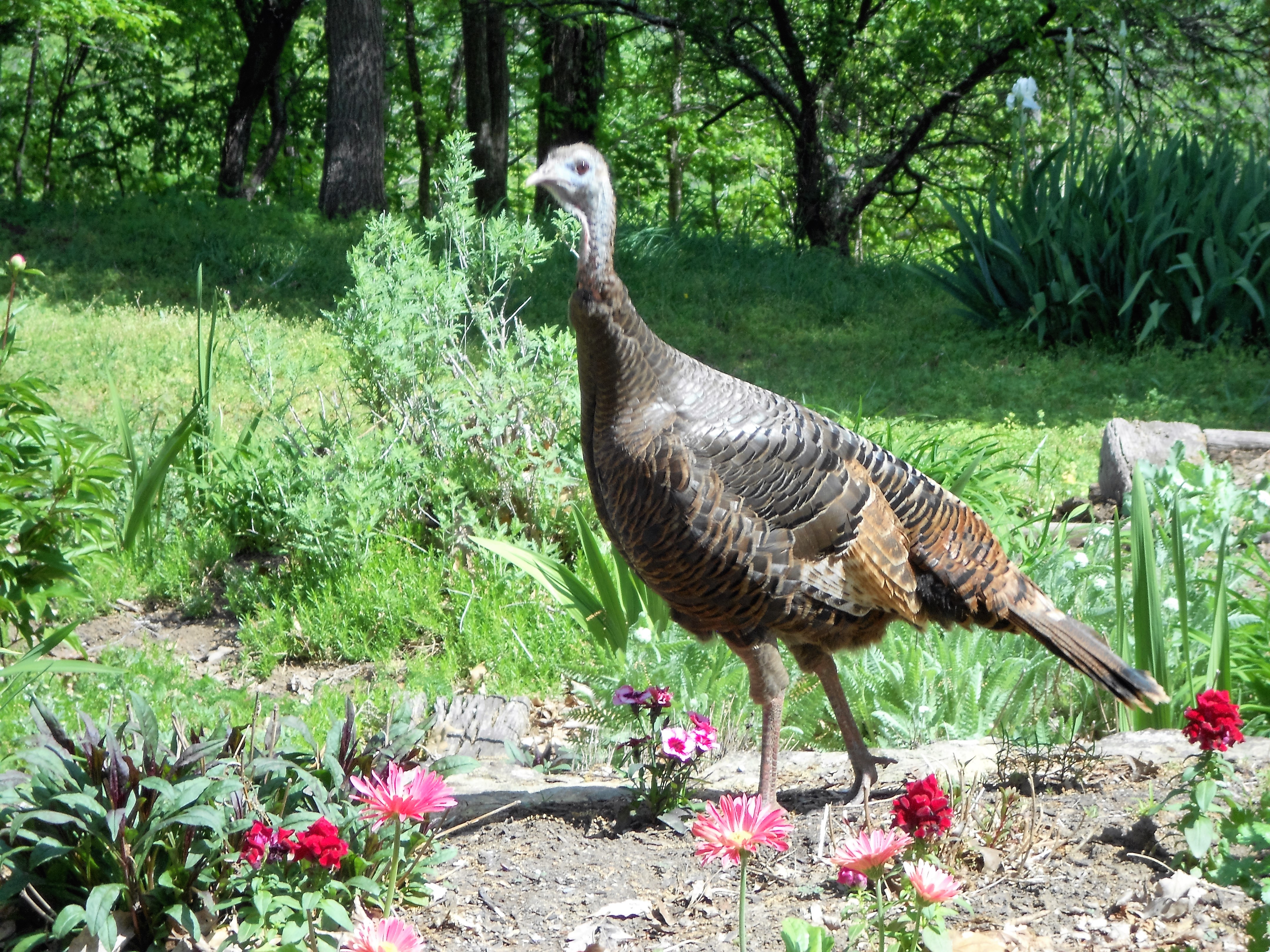 And a bonus video (furzy). The shots are amazing, such as the osprey shaking water off while flying.
See yesterday's Links and Antidote du Jour here.