By Lambert Strether of Corrente.
"Net neutrality" is one of those unexciting-sounding concepts, like "food safety" or "indoor plumbing," that in fact has immense infrastructural implications, both for people's daily lives and for our political economy as a whole. In summary, if you want access to the internet to look like this, you should be against net neutrality, like the administration's new chair at the FCC (via):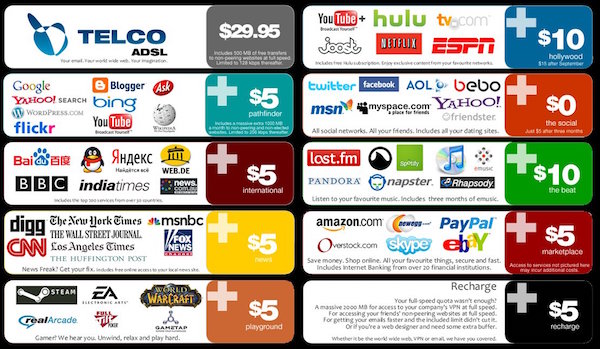 If you don't, then you should be for net neutrality. In this post, I'll explain what net neutrality is, review how net neutrality was protected under the Obama administration, how and why the Trump administration seeks to remove that protection, take a quick look at the current state of play, and conclude with how contact the FCC to share your views.
What Is Net Neutrality?
The term "net neutrality" was coined by Tim Wu (interviewed at NC here when he was a candidate for Lieutenant Governor of New York). In fact, Wu wrote the FAQ (which you should read in its entirety):
Network neutrality is best defined as a network design principle. The idea is that a maximally useful public information network aspires to treat all content, sites, and platforms equally. This allows the network to carry every form of information and support every kind of application.
That's more than a little wonky, so let's give an English translation. From the Google:
The principle that Internet service providers should enable access to all content and applications regardless of the source, and without favoring or blocking particular products or websites.
And if you think about how you "surf the web," treating "all content, sites, and platforms equally" ("access to all content and applications regardless of the source ") pretty much describes how your Internet works; you can click seamlessly from a small blog like Naked Capitalism to an enormous website like Google's search page to YouTube or Vimeo for video to satellite imagery from NASA to a Bear Cam in Katmai National Park, Alaska. Who could be against that?
Well, I'm not going to describe the entire corporate landscape of Internet Service Providers (ISP) and all their incentives (telcos large and small, cable companies, satellite dish companies, etc). But here's a high-level metaphor: The Internet was famously described by then-Alaska Senator Ted Stevens as "a series of tubes" (the "Intertubes"). What if you not only owned one of those tubes, but you owned some of the data — but not all! — of the data flowing, like water, through your tubes? (Much like Time-Warner owns a tube, and also rents movies — data — on demand.) Wouldn't you want to maximize the profit from your control of your tube — and cripple your competitors — by giving your data priority? Of course you would. Hence the reductio ad absurdum of the image above. And hence the necessity for regulation to ensure, as Tim Wu puts it, "a maximally useful information network" (emphasis mine).
How the Obama Administration Protected Net Neutrality
Although the Obama administration initially set the table for net neutrality's abolition — its choice for FCC Commissioner, Tom Wheeler, was a tube cable lobbyist — a successful grassroots campaign — which, besides online activists, also included corporate heavweights that benefit from net neutrality, like Google — ultimately led in 2015 to net neutrality's adoption, as the FCC decided to regulate ISPs under Title II of the Communications Act as common carriers. (This is like treating ISPs as public utilities, and the issue is often framed that way, but the two are not identical in function or law). Tim Wu explains "common carrier":
The concept of a "common carrier," dating from 16th century English common law, captures many similar concepts [to open access and anti-discrimination remedies for "threats to the end-to-end nature of the Internet"]. A common carrier, in its original meaning, is a private entity that performs a public function (the law was first developed around port authorities).
Taxis, for example, are common carriers. After stopping for you in the tube street, your taxi driver can't discriminate by handing you a different rate sheet if they don't like the look of you, or refuse to take you to your destination. (And when they do, they're failing in their duty.)
Ars Technica explains how the common carrier concept operates for ISPs under the FCC's ruling:
FCC officials also provided further background in a phone call with reporters today. One thing they were clear on: this isn't "utility-style regulation," because there will be no rate regulation, Internet service providers (ISPs) won't have to file tariffs, and there's no unbundling requirement that would force ISPs to lease network access to competitors.

But the order does reclassify ISPs as common carriers, regulating them under Title II of the Communications Act, the same statute that governs telephone companies.

Internet providers will be common carriers in their relationships with home Internet and mobile broadband customers; they will also be common carriers in their relationships with companies that deliver content to subscribers over the networks operated by ISPs. That includes online content providers such as Amazon or Netflix.

. "Broadband providers may not block access to legal content, applications, services, or non-harmful devices… may not impair or degrade lawful Internet traffic on the basis of content, applications, services, or non-harmful devices… [and] may not favor some lawful Internet traffic over other lawful traffic in exchange for consideration—in other words, no 'fast lanes.' This rule also bans ISPs from prioritizing content and services of their affiliates," the FCC said. The core provisions of Title II banning "unjust and unreasonable practices" will be used to enforce these rules.
In other words, the tube owners won't be able to maxmize profit from their control of their tubes by treating data owned by others differently data they own themselves, exactly like taxi drivers can't discriminate against riders, because taxis are common carriers. The New York Times gives the political background for the FCC decision. From 2015:
The new rules, , are intended to ensure that no content is blocked and that the Internet is not divided into pay-to-play fast lanes for Internet and media companies that can afford it and slow lanes for everyone else. Those prohibitions are hallmarks of the net neutrality concept.

Before the vote, each of the five commissioners spoke and the Republicans delivered a scathing critique of the order as overly broad, vague and unnecessary. Ajit Pai, a Republican commissioner, said the rules were government meddling in a vibrant, competitive market and were likely to deter investment, undermine innovation and ultimately harm consumers.

, say adopting the Title II approach opens the door to bureaucratic interference with business decisions that, if let stand, would reduce incentives to invest and thus raise prices and hurt consumers.

. In a statement, Michael Beckerman, president of the Internet Association, which includes Google, Facebook and smaller online companies, called the F.C.C. vote "a welcome step in our effort to create strong, enforceable net neutrality rules."

The F.C.C.'s yearlong path to issuing rules to ensure an open Internet precipitated an extraordinary level of political involvement, from grass-roots populism to the White House, for a regulatory ruling. The F.C.C. received four million comments, about a quarter of them generated through a campaign organized by groups including Fight for the Future, an advocacy nonprofit.
Ajit Pai is, of course, the new FCC commissioner under the incoming Trump Administration, which immediately moved to re-open the debate and roll back the ISPs Title II designation, as the 3-2 party line votes suggests they would. Since none of power players or financial incentives have changed, we can expect quite a battle.[1] And exactly as in 2015, we should not assume the battle is lost. It isn't.
How the Trump Administration Seeks to Eliminate Net Neutrality
Here's the PDF of Pai's full speech, where he begins his assault.[2] Gizmodo has a fine summary here, of which I'll pull out just one point, since I've been focusing on those tubes and, as the first image shows, what the "Intertubes" would look like if those tube owners weren't forced to act as common carriers:
In his speech, Pai said "Nothing about the Internet was broken in 2015. Nothing about the law had changed. And there wasn't a rash of Internet service providers blocking customers from accessing the content, applications, or services of their choice."

This is incredibly disingenuous. Note how Pai said ISPs weren't blocking traffic to certain sites, because sure, that wasn't happening. But blocking wasn't the only kind of harm prevented by the net neutrality order: it also had bright-line rules against paid prioritization and throttling, where ISPs would limit or boost traffic to certain websites.

One of the most high-profile examples of abuse was Comcast throttling traffic to Netflix in order to extract a payment deal from the streaming video provider, which it eventually agreed to pay. And in 2012, AT&T blocked FaceTime on iPhones, claiming it was using too much bandwidth. In this case, critics argued it was an attempt to block a service that competed with its own voice services. And as the biggest ISPs keep gobbling up content-producers, like AT&T buying DirectTV and then providing free access to its content, the risks that ISPs will start prioritizing traffic only increase.
(There are plenty of other specious arguments in Pai's screed, like the idea that net neutrality — as opposed to monopolization — is preventing ISPs from investing in infrastructure. I'm sure we'll get to all of them over time.) Tim Wu explains what's really going on — ka-ching — on the opinion page of the New York Times. Speaking to motive:
President Trump's chairman of the Federal Communications Commission, Ajit Pai, on Wednesday announced plans to eliminate net neutrality (technically, make it "voluntary") despite its popularity, record of success and acceptance by most of the industry.

His proposal is of dubious legality. But should it succeed, the only real winners will be the cable and phone industries [the tube owners], which will gain yet another way to raise prices for everyone. The proposal is the epitome of senseless government action and sharply out of step with Mr. Trump's populist mandate. Did Trump voters really vote for higher cable bills?
In addition:
The more convincing explanations for this change are more straightforward — and darker — than Mr. Pai's. Much of Silicon Valley and Hollywood have supported both net neutrality and the Democratic Party, making an attack on the policy a kind of punishment. If Mr. Pai's reasoning sounds forced and unconvincing, it is because this proposal comes right from the swamp, and can be attractive only to those who have lived there long enough to no longer notice the stench.
And the World Wide Web Foundation concludes:
Today Federal Communications Commission (FCC) chairman Ajit Pai made clear he intends to dismantle strong net neutrality protections in the US.

If approved, his plan would reverse a 2015 FCC ruling to reclassify internet service providers (ISPs) as common carriers under Title II of the Communications Act. The 2015 regulation was key for the roll-out of effective and enforceable net neutrality rules that would prevent ISPs from arbitrarily slowing down, or even blocking, internet traffic.

Our founder, Sir Tim Berners-Lee said:

"When I invented the web, I didn't have to ask anyone for permission, and neither did America's successful internet entrepreneurs when they started their businesses. To reach its full potential, the internet must remain a permissionless space for creativity, innovation and free expression. In today's world companies can't operate without internet, and access to it is controlled by just a few providers. The FCC's announcements today suggest they want to step back and allow concentrated market players to pick winners and losers online. Their talk is all about getting more people connected, but what is the point if your ISP only lets you watch the movies they choose, just like the old days of cable?"
Or throttles the small sites so the big sites get a smidgeon more speed?
Contacting the FCC
Here, in detail, is how to comment on the new FCC proposal, with the screen you will see:
Just like last time, you can comment on net neutrality using the FCC's same old archaic and weird comments system, but this time it should have the back end to support a ton of traffic. This comment process will happen in two waves. Right now, you can comment on the draft proposal, which has lots of questions about how the final proposal should be worded. The second comment cycle will be about the official proposal, will begin after May 18 and will be open for three months. You should be able to comment on both. Here's how to do it now:

Head to the listing for the "Restoring Internet Freedom" proposal (you can also search for Docket 17-108), which is perhaps the most ludicrously self-serving and false title we've seen in a while.
Most of us can just click on "+ Express" on the left sidebar. This will send you to a simplified submission form. If you want to send more info, like attachments and images, use the "+New Filing" option.
Fill out out the form and click on "Continue to review screen" when you're finished. Review your comment, then send it off. You will need to include your name, home address, and phone number. All of that will be publicly accessible. That's just part of the deal here.
It couldn't hurt if you contacted your Congress critter as well. Letters to the Editor are also very effective, so do write one to your local newspaper. And if you have other suggestions, please leave them in comments!
Conclusion
Naked Capitalism is a small blog. It's in our interest — and we like to think it's in your interest too, dear readers, and in the public interest as well — to be just as accessible to the public on the Internet as a giant site like the Washington Post or the New York Times (or Facebook). If you agree, please support Naked Capitalism and all small blogs by vociferously supporting network neutrality in every venue available to you. Help Naked Capitalism stay unthrottled!
NOTES
[1] Here let me note the disgraceful role of the NAACP, and other players in the Black Misleadership Class, in opposing net neutrality after collecting cash from ISPs. Ka-ching.
[2] Pai also gave a remarkable speech at the Newseum:
Pai said that his predecessor's net neutrality rules were "all about politics," in a speech at the Newseum in Washington on Wednesday.

"Two years ago, I warned that we were making a serious mistake," Pai said. "It's basic economics: The more heavily you regulate something, the less of it you're likely to get."
You know, like food. Or water. Or air. Shaking my head…