By Lambert Strether of Corrente
Readers, I'll have a bit more shortly. –lambert
UPDATE As of 2:46PM, lots more under Politics. –lambert
Politics
Obama Legacy
UPDATE "'I think President Obama, like many others in both parties, talks about a set of big national statistics that look shiny and great but increasingly have giant blind spots," [Elizabeth Warren] says. 'That GDP, unemployment, no longer reflect the lived experiences of most Americans. And the lived experiences of most Americans is that they are being left behind in this economy. Worse than being left behind, they're getting kicked in the teeth'" [Guardian]. And that's bad, because who has dental these days?

UPDATE "Former Obama adviser and CNN political analyst Van Jones suggested President Obama go on a 'poverty tour' as a way to mitigate some of the criticism surrounding news he'll make $400,000 for a speech at a Wall Street firm's healthcare conference. 'We need a Bobby Kennedy in this country,' Jones said in an interview on CNN's 'State of the Union' Sunday" [The Hill]. "He suggested the former president 'go to Appalachia, go to Native American reservations where they're shoving these pipelines down their throats and they don't even have clear, running water. Go to South Central, go to the Arizona border where you have a lot of poverty.'"

UPDATE "'While mainstream liberal defenders of the president have argued that the services rendered for the financial industry have nothing to do with why Barack Obama is collecting just shy of a half million dollars (almost twice as much as either Clinton) for an hour long speech at a Wall Street firm; I think that too fails to qualify as an impartial, adult argument — this is what a quid pro quo relationship looks like in real time and the fact that the 'bonus' is coming after Obama has left office simply makes it impossible to prosecute anyone for bribery; friends don't bribe friends, they merely do each other 'favors' after all'" [Nina Illingworth].

UPDATE Cheap labor coming and going:

fixed it for you <3 pic.twitter.com/DOBUDIM205

— ⚒ of the ? unite! (@andykatros_) April 30, 2017
2020
UPDATE I've lost all will to live:

It's happening pic.twitter.com/5vLhc4A5PC

— Michael Tracey (@mtracey) May 1, 2017

UPDATE Zuckerberg: "Working at Ford is a long-term thing":

Just an ordinary non-candidate for office doing ordinary non-candidate for office things pic.twitter.com/IMGLyYsfdJ

— Will Rahn (@willrahn) April 27, 2017

UPDATE "Biden returns to New Hampshire as 2020 rumors swirl" [CNN]. "Debt peons for Biden!"
2016 Post Mortem
"Emails reveal FBI, Justice probe of Burlington College" [VT Digger]. There seems to be an unusual amount of Sanders oppo floating about lately, but since this is VT Digger… Any Vermont readers care to comment?

"Hillary Clinton's Campaign Turns Over Email List To DNC" [HuffPo]. Missed this one. So get the Sanders list, do a mailmerge… What could go wrong?
2017
"New Democratic ads: Putin 'laughing' about House Republicans" [McClatchy]. Because this strategy is working so well…
Realignment and Legitimacy
UPDATE Sanders at the City Club in Cleveland today:

I hear ya @SenSanders #CityClub https://t.co/UsDvho2B9p

— Nina Turner (@ninaturner) May 1, 2017

UPDATE "Three months ago, just before Donald Trump took office, about half of Americans said it was very likely that the new President, armed with a Republican majority in both houses of Congress, would repeal and replace the law known as Obamacare" [CNN]. "Now, after multiple unsuccessful efforts to fulfill that campaign pledge, a new CNN/ORC poll finds just 20% say it's very likely the President and Republicans in Congress will fulfill that promise." That was fast. We'll see how Trump voters, particularly volatility voters, react.

"Rep. Ros-Lehtinen, first Cuban-American in Congress, to retire" [CNN]. First ripple of a 2018 wave? Probably too soon to tell.

UPDATE "What's the Matter with Wisconsin?" (PDF) [Polly Cleveland]. Review of Katherine Cramers The Politics of Resentment. I've heard Cramer on the This is Hell podcast; worth a listen.

UPDATE "Why Do So Many Americans Think Democrats Are Out of Touch?" [The Atlantic]. "'I do think that there's a lack of trust that has amplified and grown between voters in certain parts of the country and the party, but I think that's fixable,' said Adam Parkhomenko, a former Hillary Clinton aide. 'We have to have a big tent, and the national party has to support state and local parties so that we can invest in candidates who can compete everywhere in the country.'" Too funny, after the Clinton Victory Fund used the state parties to launder money for itself. As for "Big Tent," I'm tempted to modify George Carlin: "It's a Big Tent, and you ain't in it" [NSFW; not for a family blog!]
Stats Watch
Personal Income and Outlays, March 2017: "Based on the consumer and based on inflation, FOMC members won't be feeling much pressure to raise rates at least not any time soon. Consumer spending was unchanged in March, even weaker than Econoday's 0.1 percent consensus" [Econoday]. "More startling is the weakest showing in 16-1/2 years for core PCE prices which fell 0.1 percent to take down the year-on-year rate by a sizable 2 tenths to 1.6 percent. Income is also disappointing, up only 0.2 percent with the wages & salaries component posting a very weak 0.1 percent rise. Consumers nevertheless managed to move money into the bank as the savings rate rose 2 tenths to 5.9 percent (which is another factor behind the weak spending)."
Purchasing Managers' Manufacturing Index, April 2017: "Of all the advance reports, only PMI manufacturing has been signaling a loss of momentum for the factory sector" [Econoday]. "Orders are described as subdued and the sample, after building inventories for six months, is now destocking. Production slowed in the month as did purchasing activity. Costs are at a 2-1/2 year high but, in a sign of strength, the sample is successfully passing through the costs as selling prices are also at a 2-1/2 year high."
Institute For Supply Management Manufacturing Index, April 2017: "After 7 straight months of beating expectations, the ISM manufacturing index finally fell short and sharply so" [Econoday]. "But the unusual 60 run for new orders has been building up backlogs which continue to rise, at 57.0 which is very strong for this reading. Delays in delivery times eased slightly but still point to demand-related congestion in the supply chain. Inventories rose slightly which is a contrast to the PMI manufacturing report released earlier this morning and which is reporting intentional and defensive destocking."
Construction Spending, March 2017: "Data on construction spending are subject to unusual volatility, evident in today's report which came in far below expectations" [Econoday]. "March's weakness is tied to a sharp 1.3 percent decline in the private nonresidential component, where spending was especially weak for commercial units as well as office units. Public spending was also weak with educational building down for a 2nd straight month. The positives in the report are in housing with multi-family units extending their strong run."
The Bezzle: "The Bloomberg U.S. Startups Barometer rose 0.6 percent from a year earlier, marking the first year-over-year increase since the end of 2015. Bigger funding totals and more exits buoyed the index" [Bloomberg].
Retail: "The outlook for physical retailers is grim, the sector roiled by store closings, layoffs and bankruptcies. This year, Amazon will surpass Macy's, which last year announced it would shut 100 stores, to become the largest seller of apparel in America, by several analysts' estimates" [New York Times].
Retail: "What are 'clothes,' anyway?" [Quartz]. I know I'm supposed to applaud Rei Kawakubo for her integrity, but she strikes me as the Frank Gehry of clothing: Ugly products suitable for the jaded palates of bored, wealthy funders.
* * *
Rapture Index: Unchanged from last update [Rapture Ready]. Record High, October 10, 2016: 189. Current: 181.
In addition to the Rapture Index, and the Fear and Greed Index, we now have the "Five Horsemen of the Techpocalyse," as explained by the estimable Jim Haygood, who writes:
To the extent that the Greed and Fear Index has an antidote, it might be the Five Horsemen of the Techpocalyse, which collectively constitute over 10 percent of the entire US market capitalization. When they're up, Mr Market beams radiantly. When they're down, the financial world is a dark place.
With the caveat that Naked Capitalism in no way offers any sort of investment advice, here is the chart:
Today's Fear & Greed Index: 50 Neutral (previous close: 50, Neutral) [CNN]. One week ago: 39 (Fear). (0 is Extreme Fear; 100 is Extreme Greed. Last updated May 1 at 1:14pm. Gentlemen prefer bonds.
Gaia
"Next battleground: An aging Great Lakes pipeline stirs new protest" [Reuters]. Restlessness in the colonized hinterlands…
Health Care
"We the Patients is a patient-powered movement co-developed by Elisabeth Rosenthal, author of An American Sickness: How Healthcare Became Big Business and How You can Fight Back" ["We the Patients"]. Tell your outrageous billing story! I've gotta say, I don't see a policy solution, but Rosenthal's book is getting good reviews….
Our Famously Free Press
"UW professor: The information war is real, and we're losing it" [Seattle Times]. "We"?
"Social media is polarizing users faster than ever" [Quartz]. "[I]t is quaint to imagine the days when people expected the internet to discourage, rather than encourage, echo chambers." Hmm…
Class Warfare
UPDATE "Everything We Knew About Sweatshops Was Wrong" [New York Times]. A study in Ethiopia: "[M]ost people who got an industrial job soon changed their minds. A majority quit within the first months. They ended up doing what those who had not gotten the job offers did — going back to the family farm, taking a construction job or selling goods at the market. Contrary to the expert predictions (and ours), quitting was a wise decision for most. The alternatives were not so bad after all: People who worked in agriculture or market selling earned about as much money as they could have at the factory, often with fewer hours and better conditions. We were amazed: By the end of a year only a third of the people who had landed an industrial job were still employed in the industrial sector at all." That's why people have to be compelled, as in England, through the destruction of the commons…
News of the Wired
"Why most people's favorite color is blue" [Medium]. The headline is clickbait; this is an interesting article on color. "Color names point more to concepts rather than to the real thing." Nominalism alert!
"Parking garages are getting a second life as places for people" [Curbed]. I have no problem rewriting this sunny little article in dystopian terms…
"New data suggest that the reading public is ditching e-books and returning to the old fashioned printed word" [CNN]. "Sales of consumer e-books plunged 17% in the U.K. in 2016, according to the Publishers Association. Sales of physical books and journals went up by 7% over the same period, while children's books surged 16%." Good. For me, e-books have some utility, but have I ever experienced pleasure from the digital reading experience? No.
"10 steps to happiness learned during an intermittent life abroad" [Medium]. Expat readers? Economic refugees? What do you think?
* * *
Readers, feel free to contact me with (a) links, and even better (b) sources I should curate regularly, and (c) to find out how to send me images of plants. Vegetables are fine! Fungi are deemed to be honorary plants! See the previous Water Cooler (with plant) here.
And here's today's plant (Re Silc):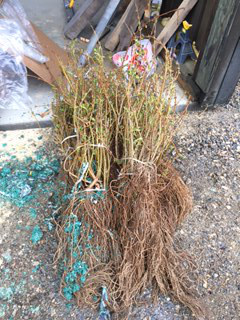 It's a good day when plants arrive. Maine's famous FedCo tree sale was last weekend, but I have no more space for new trees, unless I do a rethink.
* * *
Readers, Water Cooler is a standalone entity, not supported by the Naked Capitalism fundraisers. Please use the dropdown to choose your contribution, and then click the hat! Your tip will be welcome today, and indeed any day. Water Cooler will not exist without your continued help.