By Lambert Strether of Corrente
Trade
"An easier path for EU trade agreements" [Financial Times]. Linked to last week in the Brexit context. But this: "[The EU] should ditch the whole idea of having rules on investment, or at least rules allowing companies to sue a government directly, in FTAs. Such 'investor-state' provisions have attracted intense opposition, not just from the Walloons but also from anti-corporate campaigners. Removing these rules would ease the way for future deals. As they do not seem to encourage foreign direct investment, they are more trouble than they are worth. Freed from this unnecessary encumbrance, the EU would find it easier to sustain with its quiet run of closing bilateral trade pacts. Vietnam is the next down the track."
"When Techdirt first started writing about corporate sovereignty, four years ago, it was an obscure area of trade policy that few knew about. The insiders who were familiar with the mechanism assumed it was a fixed and indispensable part of free trade deals. Now we have one of the most influential business newspapers calling it an 'error' that should be 'ditched,' since ISDS chapters are 'more trouble than they are worth.' We've come a long way" [TechDirt].
"On May 11, 2017, the New Zealand government completed the formal process for ratifying the Trans-Pacific Partnership (TPP) Agreement, becoming the second signatory country, after Japan, to do so" [Library of Congress Global Legal Monitor]. Good review of the state of play on ratification.
"Annotated NAFTA USTR Notice Draft" (PDF) [Eyes on Trade]. Intriguing annotation at the top: "3/30/17 LEAK." Annotations are in two different inks. Linked to at a NAFTA explainer here, but no mention of the source…
"The border tax is stuck in customs. Political prospects for border adjustment, where imports would be taxed and exports exempted, are fading amid opposition from corporations, antitax conservatives and Senate Republicans" [Wall Street Journal]. "Proponents say the tax will encourage more companies to make more goods in the U.S., but the proposal could harshly penalize companies like Target Corp. that rely on cheap imports from Asia and Latin America to keep prices low. Retailers appear to be winning the political fight, with border adjustment potentially failing even to make it out of the Ways and Means Committee. The provision's fate has implications beyond the border, as revenue generated by the tax is needed to pay for proposed cuts to the corporate tax rate."
Politics
The budget
"Trump lays out $1T infrastructure vision in budget request" [The Hill]. "The rebuilding plan, according to the budget, would inject $200 billion into over 10 years, with the goal of creating $1 trillion worth of overall investment." As I've been saying: All pork be dispensed by Elaine Chao, DOT head and [kowtows] Mitch McConnell's spouse! Not that there's anything wrong with pork. One might also wonder how much of that money will go to optimizing the transportation network for Silicon Valley's robot car bezzle, ka-ching, ka-ching. And: "At best a drop in the bucket and even then unlikely to ramp up for at least a year" [Mosler Economics]. "If the outcome is anywhere near revenue neutral, seems the tax cuts have far lower multiples than the spending cuts, so it looks to be contractionary overall. Nor do I think 'mitigating risk for would-be entrepreneurs' has any chance of overcoming the fiscal drag" [Mosler Economics].

"In fact, you know this is [Freedom Caucus founder Mick Mulvaney's] budget because taken as a whole, the document is a masterwork in the medium of Obama revenge porn" [Dealbreaker]. Fun stuff. The title: "A New Foundation For American Greatness." No orb, though.

"President Donald Trump won't inherit the same windfall that the Federal Reserve handed the Obama administration each year, and his budget shows he knows it" [Bloomberg]. "The Fed is lifting interest rates and plans to start shrinking its $4.5 trillion balance sheet later this year, two policies that will be a drag on the U.S. federal budget. Higher rates mean that America has to pay more to borrow, and the combination of more elevated rates and a smaller balance sheet will leave the Fed with lower excess earnings, which it pays back to the Treasury."
2017
"Conservative Ralph Norman has beaten the more centrist, establishment candidate for the Republican nomination for an open U.S. House seat in South Carolina and now faces the task of keeping the seat in GOP hands" [AP]. "The State Election Commission certified the results of this week's runoff election after a recount Friday. Not a single vote changed from Tuesday's count. Norman finished with a 221-vote win out of more than 35,000 ballots cast."

"In upset, Democrat Pellegrino wins 9th District Assembly seat" [Newsday]. "With all precincts reporting, Pellegrino won 58 percent of the vote to Gargiulo's 42 percent, according to Suffolk and Nassau boards of election results posted Tuesday night…. She served as a Democratic National Convention delegate for U.S. Sen. Bernie Sanders (I-Vt.). President Donald Trump had won the district with 60 percent of the vote."

"NH House special elections: Democrat pulls off upset in Wolfeboro, Republican wins Hillsborough County seat" [WMUR]. "In an upset, Democrat Edith DesMarais defeated Republican Matthew Plache in Carroll County District 6, which includes the town of Wolfeboro. The vote total, confirmed by both parties, was 811-755."

"In Trump Country, Bernie Sanders Delegates Win Big" [Newsweek]. Summary of previous two stories, but note the headline (!).

MT-AL, GA-06: "DCCC sees 'tough road' in Montana, commits $2 million more to Georgia" [WaPo]. "Moments later, [DCCC Chairman Ben Ray Luján] announced that the DCCC was pouring $2 million more into Georgia's 6th Congressional District, where Democrat Jon Ossoff is narrowly leading the most expensive House race in history. That investment, partially earmarked for African American voter turnout, will put the DCCC's spending in Georgia 10 times higher than its spending in Montana… .The implication: It was not as tough in suburban Atlanta, where a poll this week showed Ossoff holding a comfortable lead for the first time since the race began. SurveyUSA, a pollster that relies on automated calls, found Ossoff up by 7 points ahead of the June 20 runoff, with a 31-point lead among self-identified independents."

MT-AL: " Republican Greg Gianforte's closing motivational speech to voters ahead of Thursday's special House election in Montana is the same thing GOP strategists are whispering in private: 'This race is closer than it should be'" [Politico].

MT-AL: "The race has certainly tightened in the final weeks, with GOP polling showing a race in the low single digits. Privately, national Democrats are a bit more skeptical of the prospect of an upset — instead looking ahead to next month's special election runoff in Georgia as their chance to send a shockwave through the political system" [NPR]. Electing a vacuous centrist who appeals to wealthy suburban Republicans will "send a shockwave through the political system." Oh.

UPDATE MT-AL: "Overall, Quist has raised more than $6 million, an astonishing amount for Montana in such a short period, but the question is whether it is too much too late. Voting has been underway since mid-April, and by Wednesday more than 250,000 ballots — which could be well over half — had already been cast" [Los Angeles Times]. Man, I hate early voting; insurgents have enough roadblocks as it is. Election day should be a national holiday.
New Cold War
"Obama intel agency secretly conducted illegal searches on Americans for years" [Circa]. (Circa is owned by Sinclair Broadcasting.) "The National Security Agency under former President Barack Obama routinely violated American privacy protections while scouring through overseas intercepts and failed to disclose the extent of the problems until the final days before Donald Trump was elected president last fall, according to once top-secret documents that chronicle some of the most serious constitutional abuses to date by the U.S. intelligence community…. Circa has reported that there was a three-fold increase in NSA data searches about Americans and a rise in the unmasking of U.S. person's identities in intelligence reports after Obama loosened the privacy rules in 2011… Officials "explained that NSA query compliance is largely maintained through a series of manual checks" and had not "included the proper limiters" to prevent unlawful searches, the NSA internal watchdog reported in a top secret report in January that was just declassified. A new system is being developed now, officials said." What seems to be new about this story is that Circa has documents…
Hall of Mirrors
This is a wonderful story:

What a story. RIP #RogerMoore pic.twitter.com/ftNrsVxEqy

— Mike (@teamfaceplant) May 23, 2017

But it has a sting in the tail. Right now in the Beltway — and maybe not just right now, but for a long time — doesn't "Any one of them could be working for Blofill" apply to just about any conversation imaginable?
Realignment and Legitimacy
I've seen a lot of post-2016 maps, but this is one of the most vivid (via Inverse Culture):
"The Future of War is in Cities – the Study of War Should Follow Suit" [Political Violence at a Glance]. "Urban warfare necessitates decentralized, fast-paced, small-unit operations. And junior commanders capable of operating independently are essential. Insofar as relaxing the rules of engagement allows junior officers to use initiative, adaptability, and judgement, entrusting them with more authority can improve military effectiveness. This, in turn, could help minimize both friendly military casualties and civilians casualties. Naturally, there are both benefits and risks involved in restricting or relaxing the rules of engagement. The point here is that assessing the advantages and limitations of each approach requires a careful analysis of the multifaceted challenges to military operations in complex urban environments." Won't drones solve this?
Stats Watch
Architecture Billings Index: "After beginning the year with a marginal decline, the Architecture Billings Index has posted three consecutive months of growth in design revenue at architecture firms. As a leading economic indicator of construction activity, the ABI reflects the approximate nine to twelve month lead time between architecture billings and construction spending" [American Institute of Architects]. "'Probably even better news for the construction outlook is that new project work coming into architecture firms has seen exceptionally strong growth so far this year,' said AIA Chief Economist, Kermit Baker, Hon. AIA, PhD. 'In fact, new project activity has pushed up project backlogs at architecture firm to their highest level since the design market began its recovery earlier this decade.'"
Existing Home Sales, April 2017: "April was not a strong month for the housing sector as a disappointing 2.3 percent decline in existing home sales follows yesterday's weakness in April new home sales and last week's weakness for housing starts" [Econoday]. "April's 5.570 million annualized rate for resales is still near recovery highs though the year-on-year rate reveals how moderate conditions are, up only 1.6 percent." Best economy EVAH! And: "[A]ll confirming the sharp deceleration in mortgage loans" [Mosler Economics]. And: "This was a bad month for home sales which offsets last month's gains. Even using the rolling averages, this was one of the worst three months in the last year. It is true that low priced inventory is almost non-existent which is the primary cause of the slowdown" [Econintersect]. And: "This was below the consensus expectations. For existing home sales, a key number is inventory – and inventory is still low" [Calculated Risk].
FHFA House Price Index, March 2017: "Home-price appreciation continues to hold near 6 percent with FHFA's house price index just off 2-year highs at a yearly 6.2 percent. The monthly gain, at 0.6 percent, is slightly higher than expected" [Econoday]. "Demand for housing, based on home prices, is steady and firm."
MBA Mortgage Applications, week of May 19, 2017: "[F]ell a seasonally adjusted 1 percent" [Econoday]. "The second weekly decline in purchase applications despite more attractive mortgage rates casts further doubts on the strength of the housing market, which opened the year strongly but may be slowing during the Spring selling season, as seen in the significant weakness shown yesterday's new home sales report for April and housing starts reported last week." And: "Not good" [Mosler Economics].
Shipping: "[T]he containerised trade [accounts for] for around 1687 million tonnes moved around the world in 177.6 million containers in 2015" [Shipping & Freight Resource]. "A lot of you might have never seen what the inside of a container looks like (whether empty or full) or the cargoes packed in it. Hence I thought it might help to show a few images of various cargoes packed in various container types." Fun gallery!
Shipping: "Little more than 2 1/2 years from now, the global fleet of merchant ships will have to reduce drastically how much sulfur their engines belch into the atmosphere. While that will do good things — like diminishing the threat of acid rain and helping asthma sufferers — there's a $60 billion sting in the tail" [Bloomberg]. "That's how much more seaborne vessels may be forced to spend each year on higher-quality fuel to comply with new emission rules that start in 2020, consultant Wood Mackenzie Ltd. estimates. For an industry that hauls everything from oil to steel to coal, higher operating costs will compound the financial strain on cash-strapped ship owners, whose vessels earn an average of 70 percent less than they did just before the 2008-09 recession."
Shipping: "Analysts foresee continued [domestic] dry barge oversupply, but liquids could grow again" [WorkBoat]. Good weather and river conditions make for larger "effective fleet size," coal is down, oil shifts to pipelines.
Shipping: "Cargo pilots who fly for Amazon Prime Air picketed the e-commerce giant's annual shareholder meeting yesterday to alert the company to a 'looming pilot shortage' as negotiations over new collective agreements continue" [Air Cargo News].
Retail: "Google Ties Online Search to Real-World Purchases" [247 Wall Street]. "Google has third-party partnerships that capture data on about 70% of all U.S. credit card transactions. Did you know that? Who are those third parties? Credit card issuers, banks, credit reporting agencies?… So Google can get data on 100 billion payment transactions every year and match those transactions to the ads it serves "in a secure and privacy-safe way, and only reported on aggregated and anonymized store sales to protect your customer data. [And] that promised anonymity is anything but… Google may intend and believe that its new ad tracking system is both anonymous and benign. That is at least an arguable position, and the argument should begin now."
Retail: "Google Following Your Offline Credit Card Spending To Tell Advertisers If Their Ads Work" [Consumerist]. "The data won't have your name attached, Google makes sure to point out. It's anonymized and then hashed over, so what advertisers see is that user 08a862b091c379fe9767615d10873 saw these ten ads in the morning, and spent $27.73 at a certain grocery store that afternoon. That said, 'anonymity' is pretty much anything but.If anyone's looking at your digital breadcrumbs, they can be reasonably sure you are you from shockingly little data. Studies have shown that it it only takes three pieces of data to identify you by credit card spending alone, or two to identify you from a social media app."
Concentration: "A proposed merger of two trading houses could place an enormous amount of the world's commodities under one roof. Glencore PLC has approached grain trader Bunge Ltd. about a takeover, in deal that would easily clear $10 billion and give the Swiss mining giant the major U.S. presence it has long sought. A tie-up would also help unlock the "frozen" grain market, where a glut of staple crops has farmers unwilling to sell at rock-bottom prices, and food processors won't buy in advance because they expect prices to stay low" [Wall Street Journal]. "Consolidation would give the remaining players in the grain market more control over supply, potentially resulting in fewer and shorter gluts, and comes as other blockbuster mergers are being pursued in other corners of the agriculture sector, including pesticides and genetically engineered seeds.
The Bezzle: "Santander Consumer USA Holdings Inc., one of the biggest subprime auto finance companies, verified income on just 8 percent of borrowers whose loans it recently bundled into $1 billion of bonds, according to Moody's Investors Service" [Bloomberg]. Wait, this seems familiar…
Today's Fear & Greed Index: 52 Neutral (previous close: 50, Neutral) [CNN]. One week ago: 45 (Neutral). (0 is Extreme Fear; 100 is Extreme Greed. Last updated May 24 at 11:41am.
Our Famously Free Press
"By now we've all agreed the term "fake news" is unhelpful, but without an alternative, we're left awkwardly using air quotes whenever we utter the phrase. … I would argue there are seven distinct types of problematic content that sit within our information ecosystem. They sit on a scale, one that loosely measures the intent to deceive" [First Draft]. Followed by a taxonomy.
Corruption
"Dutch university contracts gave Shell influence over curriculum, students" [Climate Change News]. Ugly.
Health Care
"Senate GOP focused on killing Medicaid expansion" [The Hill]. A "work in progress." Gridlock is our friend!
Class Warfare
"The Economics of Trust" [IMF (!) Blog]. "Trust in other people—the glue that holds society together—is increasingly in short supply in the United States and Europe, and inequality may be the culprit…. But does inequality reduce trust? There is evidence that it does, according to research by Eric D. Gould, a professor of economics at Hebrew University, and Alexander Hijzen, a senior economist at the Organisation for Economic Cooperation and Development. They analyzed data from the American National Election Survey from 1980 to 2010. The results show that wider income inequality explains 44 percent of the drop in trust. The authors, who reported their findings in an IMF working paper, found similar results in Europe (working papers do not represent the views of the IMF).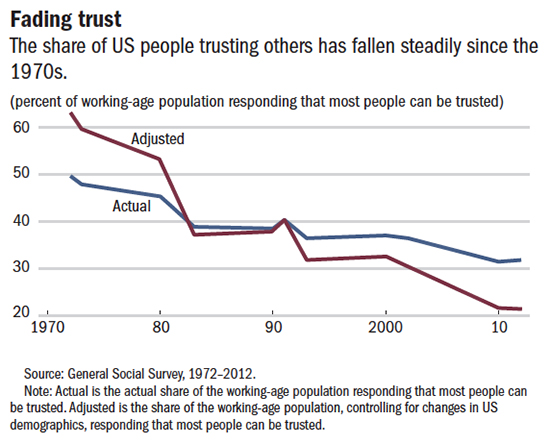 More:
Does any of this matter? A substantial body of research shows that governments may be unable to find the support needed to solve pressing problems in a society that is divided and distrustful. Distrust also prevents policies from being implemented effectively. At the same time, there is growing evidence that trust promotes economic growth because people who trust each other are more likely to collaborate in trade, innovation, and entrepreneurship. Surprisingly, inequality doesn't appear to spur greater demand for redistribution, the authors found. So policies that seek to restore trust by reducing market wage dispersion before taking into account taxes and benefits—raising the minimum wage or strengthening collective bargaining, for example—appear a more promising path.
Fun to read the above in combination with this–
"People in Western countries have been far too quick to throw centrist technocracy into the dustbin of history. Despite the deep wounds of the Great Recession and the 2008 financial crisis, developed countries have not seen their economies collapse. Employment languished for almost a decade, but it's now recovering to pre-crash levels" [Noah Smith, Bloomberg]. Well, except for the thousands of excess "deaths from despair." But it all averages out!
"Trucking And Blue-Collar Woes" [Paul Krugman, New York Times]. Put down your coffee, as Krugman evinces touching concern.
"The economy will take off for all of us, by Mr. Mulvaney's rationale, when each able-bodied American embraces the civic duty to hold down a job. He and other conservative proponents of work requirements say the expectation is a fair one. If you want government help, you have to help yourself, by getting a job. And over time, those jobs would theoretically enable the poor to move off government assistance, shrinking the programs in the process" [New York Times].
"Why have no bankers gone to jail?" [History and Policy]. From 2013, still useful.
News of the Wired
"Can Plants Hear?" [Scientific American]. "[N]ew research suggests some flora may be capable of sensing sounds, such as the gurgle of water through a pipe or the buzzing of insects…. "[L]eaves turn out to be extremely sensitive vibration detectors.'" Amazing to imagine foliage as a sensorium.
"Introducing Travel Mode: Protect your data when crossing borders" [AgileBits]. This is a straightforward product pitch, not a post. OTOH, it sounds like a neat product. What do readers think of the pitch? Could it be legit?
* * *
Readers, feel free to contact me with (a) links, and even better (b) sources I should curate regularly, and (c) to find out how to send me images of plants. Vegetables are fine! Fungi are deemed to be honorary plants! See the previous Water Cooler (with plant) here.
And here's today's plant (KH):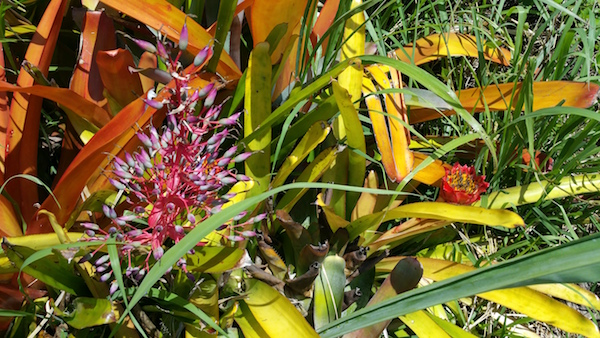 "Bromiliads gone wild."
* * *
Readers, Water Cooler is a standalone entity, not supported by the Naked Capitalism fundraisers. Please use the dropdown to choose your contribution, and then click the hat! Your tip will be welcome today, and indeed any day. Water Cooler will not exist without your continued help.