By Lambert Strether of Corrente
Trade
"Japan and other members of the Trans-Pacific Partnership agreed on Sunday to pursue their trade deal without the United States as the Trump administration's 'America First' policy created tension at a meeting of Asia-Pacific countries" [Reuters]. "Turmoil over global trade negotiations was laid bare at a meeting of the Asia-Pacific Economic Cooperation (APEC) forum, which failed to agree on its usual joint statement after U.S. opposition to wording on fighting protectionism."
"New Zealand Splits With Malaysia Over Reworking TPP Without U.S." [Bloomberg]. "Malaysia's Trade Minister Mustapa Mohamed said in an interview on Friday his country was less keen to proceed. 'One of the reasons we decided to be part of the TPP was the potential access to the American market,' he said. 'And if that does not happen one of the major motivations to be part of the TPP will be removed.'"
"Lighthizer held formal bilateral meetings [at APEC] with his counterparts from Canada, Japan, Mexico, Vietnam, China and Australia, according to USTR" [Politico].
"A talk with Mexico's NAFTA advocate" (Kenneth Smith Ramos) [DC Velocity]. "Q: There is a lot of talk about manufacturing returning from Asia to North America. Are you seeing evidence of that in Mexico? A: Yes, we are. Since China entered the World Trade Organization [in 2001] China has been strongly competing with Mexico for U.S. business and also for business within Mexico. In fact, some Mexican manufacturing moved to Asia. So we tried to incentivize advanced, higher value-added manufacturing to locate in Mexico through a network of free trade agreements and, for the domestic sector, a program of duty-free inputs for industries such as electronics, steel, and automotive. This was quite successful."
Politics
2020
"Cuomo's hiring of former Obama, Clinton staff costing NY $1.5M" [Newsday]. Ka-ching.
2017
UPDATE Chairman Democrat Party Deck Chair John Burton to single payer protestors: "Hey, shut the f*ck up or go outside" [Los Angeles Times]. "He told protesters that the Democratic Party had been fighting for single-payer healthcare 'since before you were born.'" Ah. "Fighting for."

UPDATE "The DNC chair's opening remarks were drowned out by boos and screams of 'Liar!' and 'Hot air!' Burton stood to the side of the stage, clearly distressed by the upheaval" [In These Times]. Perez: "I need you all to help us play defense." The best defense is a good offense, no? We need a Grant, and all the Democrat Establishment can give us is one McClellan after another.

""Berniecrats" and like-minded Democrats looking to shake up their party leadership refused Sunday to accept the election of longtime party insider [and pharmaceutical lobbyist] Eric Bauman and demanded validation in the race for [California Democrat] party chairman" [Associated Press]. "Bauman defeated Ellis by 62 votes out of nearly 3,000 cast — a razor-thin margin for a candidate who lined up support from most of the state's elected Democrats and, until recently, was widely expected to win with minimal opposition. He had a natural advantage in an election where many delegates were selected by party insiders and elected officials."

"Democratic organizer Kimberly Ellis, who lost her bid to lead the California Democratic by a razor-thin margin, on Sunday questioned the validity of the election and called for an audit of the vote" [Los Angeles Times]. "'I will not concede this race until we have validated the results,' Ellis said….. Ellis said she met with California Democratic Party staff and executives and "shared with them some concerns" with some of the voters that were cast. Ellis supporters are questioning whether all the votes came from credentialed party delegates."

"DNC Chair Tom Perez says Trump, Putin in 'bromance'" [Sacramento Bee]. The way liberals frame whatever assocation Trump and Putin have as "so gay" is bizarre. One might almost consider it homophobic, except, of course, these are liberals, who would never, ever use a serious issue like racism, sexism, or any form of prejudice in "any stick to beat a dog" fashion.

"In an interview with this newspaper earlier on Saturday, Bauman said, 'Every time we've had a movement election, there's an influx of new people in the party, and they feel they're on the outside,' he said. 'If we're smart, we bring them in, and they infuse the party with new ideas and new strength. I welcome that, because I want people to come in with new ideas'" [Monterey Herald]. Single payer is an old idea. Perhaps that's Bauman's problem with it?
Imperial Collapse Watch
Not sure who did the advance on this, or whether they still have work:

Sisi, Saudi King and Trump put their hands on a glowing orb pic.twitter.com/9aKXl2prjW

— Sylvia Westall (@s_westall) May 21, 2017

And the idea of a Saudi anti-terrorism center seems crazy pants:

At Global Center for Combatting Extremist Ideology. In a few minutes @POTUS and Saudi King to touch a globe to switch it on. pic.twitter.com/8oT21fsYt1

— Steve Herman (@W7VOA) May 21, 2017
Realignment and Legitimacy
"Residents of most U.S. states that voted for President Donald Trump last November had an average credit score nearly 20 points lower than people in states that voted for his Democratic rival Hillary Clinton, according to this analysis of Experian's "Premier Aggregated Credit Statistics" using the VantageScore 3.0 credit score model for each zip code in each state. While credit scores don't necessarily reflect people's income or debt levels, they do give a bird's-eye view into people's ability to repay personal loans, manage their finances and pay off credit cards on time" [MarketWatch]. "Except for Wisconsin, swing states that voted for Barack Obama in the 2012 election and Trump in 2016 had a decline in their average credit score. The swing states of Michigan, Ohio and Pennsylvania all saw a decline in average credit score from 2012 to 2016. In Florida, the average credit score dropped to 672 in 2016 over that period. In Michigan, it fell to 683 from 690 and fell to 694 from 700 in Pennsylvania…. Other research appears to support this theory. Southern states — Mississippi, Arkansas, Louisiana and Louisiana, which all voted for Trump in 2016 — typically have lower credit scores than the rest of the U.S., personal-finance site ValuePenguin reported." Thomas Fergusons's analysis of the Massachusetts in 2010 and foreclosures, writ large?

"Paging Rahm: House Dems revive 2006 playbook for 2018" [Politico]. Yes. And I remember very well the way that Howard Dean, whose 50-state strategy won that election, was immediately defenestrated. I also remember how Pelosi immediately took impeachment off the table (and Bush should have been impeached for his warrantless surveillance program, which involved multiple felonies, as well as executive over-reach generally. Of course, Obama voted to retroactively legalize the former, and rationalized and consolidated the latter And so it goes). This is exactly what the left can expect the same plauers to try ten years later. That's the signal installing Perez sent. (What, you thought kicking the left and hippie punching wasn't part of the playbook?)
Stats Watch
Chicago Fed National Activity Index, April 2017: "The big jump in industrial production, which included a 1.0 percent surge in the report's manufacturing component, gave a strong lift to the national activity index" [Econoday]. "March. Employment was also a positive in April offsetting a decline in personal consumption & housing that reflected flat readings for spending and weakness in housing starts and permits. April was a good month for the economy though the strength did not extend to the all important category of consumer spending." And but: "The production increase primarily reflects a correction from previous weakness, but will underpin confidence" [Economic Calendar]. And: "The Chicago Fed report is seen adding to prevailing sentiment in financial markets and among economists that the Federal Reserve will raise interest rates again at its policy meeting next month"' [MarketWatch].
Credit: "Going from bad to worse, so the way things are going seems the contribution to year over year GDP growth in q2 from credit expansion will be less than it was in q1" [Mosler Economics].
Debt: "Many Americans who are in trouble because of debt owe money for things other than student loans and credit-card bills" [MarketWatch]. "Credit Sesame, a site consumers can use to check a version of their credit score, analyzed more than 5,000 accounts of users who opened their accounts in the last 30 days and found they had significant amounts of debt from medical expenses and bills for cellphone service and utilities…. Customers whose medical debt had gone into collections had an average of three accounts, amounting to a combined total of $3,670 in collections. … The average balance for customers who had cellular phone accounts in collections was $887 per account. Cellular phone companies don't typically report bill payment history to credit bureaus, the study said, until they go into collections…. And customers whose utility bills fell into collections owe $368 on average per account, the study concluded."
Retail: "Infographic: The Accelerating Pace of Apparel Retail Bankruptcies" [Sourcing Journal].
Shipping: "'For nearly two decades, global trade has grown at about twice the speed of GDP,' [Frederic Neumann, HSBC economist] said. 'Now, exports are expanding at roughly the same pace as economic growth, and last year even more slowly. That suggests Asia's recent trade rebound is more an aberration than a return to the days of vibrant exports.'" A minority view, but: "[He] said that while exports this year had been better than expected, there were now signs that exports are decelerating as shipments are 'rolling over' to a later shipment date – because the cargo isn't needed immediately as stocks are adequate. 'New export orders, a useful leading indicator, are also softening,' he added. 'Partly, that's because a big inventory re-build is fading; partly, it's because Chinese demand is cooling; and partly, it's because, perky sentiment indicators notwithstanding, activity in the West hasn't lifted meaningfully yet.'"
Shipping: "UPS Inc. and FedEx Corp. are offering a new type of pricing for deliveries within a 50-mile radius, according to a person familiar with the companies' strategy, in a move designed to divert local 'last mile' business-to-consumer traffic normally moving with the U.S. Postal Service (USPS)" [DC Velocity].
Shipping: "San Francisco is considering legislation that would ban sidewalk delivery robots" [ReCode]. "The new robot ban proposal in San Francisco comes as two states, Virginia and Idaho, recently passed laws to broadly permit the use of driverless delivery rovers. Other states, like Wisconsin and Florida, are currently considering near identical legislation, which allows sidewalk delivery robots to use crosswalks and sidewalks statewide without a person walking alongside them. Still, the laws all still require a person to be somewhere in the loop remotely in case something goes awry. The Idaho and Virginia legislation that has passed also permits municipalities to craft their own version of the law, like how fast the robots are allowed to go, or to ban them entirely, like what Supervisor Yee in San Francisco is proposing. The wave of state legislation condoning the use of ground robots is being championed by Starship Technologies, an Estonian company that was started by two Skype co-founders… "
Supply Chain: "Most drones deliveries are for small items like medicine and electronics, but JD.com Inc. wants to change that. China's No. 2 online retailer plans to launch drones capable of transporting at least one ton of goods in the central province of Shaanxi, the WSJ Logistics Report writes. JD is bucking the trend set by e-commerce and logistics companies like Amazon.com Inc. and United Parcel Service Inc., which are experimenting with drone-delivery of small items. JD thinks its heavy-duty aircraft can transport produce to far-off urban markets and bring bigger volumes of high-quality goods to rural villages. Both approaches are attempting to solve the same question: how to extend the reach of e-commerce into the hinterlands" [Wall Street Journal]. A ton? Holey moley! Oh, and thank you, WSJ writers and editors, for "hinterlands." Nice to be written off explicitly.
Infrastructure: " But some states and cities are already working to improve local roads and bridges, even as President Donald Trump's $1 trillion infrastructure plan remains more of an idea than a legislative reality. About 9% of U.S. bridges are structurally deficient, down from 15% in 2000″ [Wall Street Journal]. "That's due to a surge in spending at the state and local levels, which has moved critical projects forward even as new funds have been tied up in budget battles at the federal level…. That's not to say problems don't exist: the backlog for bridge repairs and replacement is growing, and while highways are generally in good shape, conditions on smaller local roads are getting worse." On the smaller roads: In my small town, the main streets are well paved. There are some side streets — and these are on a small, local bus route! — that it might be best just to let go to gravel if we're not going to repair them. I'd be very surprised if the state and local spending wasn't reinforcing The Big Sort.
Five Horsemen: "Google in, Google out" [TechCrunch]. "Call it the Triumph of the Stacks […] Google, Apple, Facebook, Amazon and Microsoft. These big five American vertically organized silos are re-making the world in their image…. The most "living in the future" project I saw at I/O was, to my surprise, Project Tango, Google's augmented-reality initiative, about which I had been skeptical. The image above, of yours truly cavorting with a Tango creation, may make it look like a Pokémon-esque toy … but don't be fooled. Tango can do a whole host of eye-opening things, like 3D-scanning and rendering your surroundings — on your phone, in real time — or superimposing dynamic virtual objects, like whole wardrobes of clothes, onto fixed ones, like mannequins, again in real time. It's early days yet, but the possibilities are clearly extraordinary." We have different definitions of "clearly extraordinary," don't we? To me, it would be "extraordinary" if every American citizen had dental. It takes all kinds to make a world, doesn't it?
The Bezzle: "Nine months later, Pittsburgh residents and officials say Uber has not lived up to its end of the bargain. Among Uber's perceived transgressions: The company began charging for driverless rides that were initially pitched as free. It also withdrew support from Pittsburgh's application for a $50 million federal grant to revamp transportation. And it has not created the jobs it proposed in a struggling neighborhood that houses its autonomous car testing track" [New York Times]. Nobody could have predicted…
Honey for the Bears: "Elliott makes distressed debt hires in expectation of downturn" [Financial Times]. "Elliott Management, the activist hedge fund that spent 15 years battling Argentina over its defaulted debt, has hired new distressed credit specialists to position itself for a market downturn and a possible wave of restructurings."
Honey for the Bears: "Tracking submarket revenue per available room during past declines gives some insight into what point in the cycle U.S. RevPAR begins to follow that downward trend" [Hotel News Notes]. The bottom line: "So where do we stand today? In February of this year, 44% of all submarkets showed RevPAR declines and RevPAR in the U.S. still grew 1.2%. March data was obviously more positive because of the Easter shift (only 10% of submarkets showed RevPAR declines). And in April, RevPAR growth continued to be slightly positive (+1.7%), but the number of submarkets with negative RevPAR was 49.3%. If the trend continues and if prior cycles are an indicator of future performance, we are in for a rocky ride."
The Fed: "Washington 'dysfunction' won't stop Fed from hiking interest rates in June" [MarketWatch]. "Analysts said they were not swayed by the fall in Wall Street expectations for a rate hike on Wednesday. Fed funds futures fell along with U.S. stocks on concerns that President Donald Trump's pro-growth legislative agenda was in jeopardy. 'I'm pretty sure the decline in federal-funds futures is in response to things the Fed doesn't care about,' said Thomas Simons, an economist at Jefferies. 'I don't think they are concerned with a general dysfunction in Washington,' he said."
Rapture Index: Closes up 1 on volcanoes. "A increase in volcanic activity has upgraded this category" [Rapture Ready]. Record High, October 10, 2016: 189. Current: 182.
Today's Fear & Greed Index: 48 Neutral (previous close: 49, Neutral) [CNN]. One week ago: 64 (Greed). (0 is Extreme Fear; 100 is Extreme Greed. Last updated May 22 at 12:01pm.
Dear Old Blighty
I'd be interested to hear the views of our UK readers on the latest news of the general election.
"Jeremy Corbyn got on stage at a Libertines gig and nobody could quite believe it" [Metro UK]. Watch the video. It's quite extraordinary, both for the platform Corbyn proposes, the confidence of his presentation and demeanor, and for the crowd reaction. And I'm getting the feeling that if a Libertines crowd wasn't into what Corbyn was saying, they would have been happy to share their feelings.
"Grime for Corbyn" [Jacobin]. "A wave of endorsements have brought Britain's most vibrant music scene together with its most left-wing political leader."
"Jeremy Corbyn has defied his critics to become Labour's best hope of survival" [Guardian]. Why they hate him!
"Theresa May backs down on 'dementia tax' social care plans" [Financial Times]. Whoops.
"Labour is surging in the polls – and it's all because the media is finally giving Jeremy Corbyn impartial coverage" [Independent]. "Labour's poll bounce coincides with general election broadcast rules kicking in. The public are finally seeing that Jeremy Corbyn is not the person he has been portrayed as in sections of the right wing press, although some broadcasters still insist on using the pejorative term "hard left", which is somewhat at odds with polling that indicates the public supports the policies in the Labour manifesto." Given that, IMNSHO, May called the election to try to eliminate Labour as a political force, Corbyn simply coming out no worse off than before is a tremendous win for him. Granted, a "moral victory"…
Our Famously Free Press
"Revealed: Facebook's internal rulebook on sex, terrorism and violence" [Guardian] (the Facebook files). "Sarah T Roberts, an expert on content moderation, said: 'It's one thing when you're a small online community with a group of people who share principles and values, but when you have a large percentage of the world's population and say 'share yourself', you are going to be in quite a muddle. Then when you monetise that practice you are entering a disaster situation.'" And then when a ginormous oligopoly goes it…
"Welcome to the next phase of Facebook privacy backlash, where the big fear isn't just what Facebook knows about its users but whether that knowledge can be weaponized in ways those users cannot see, and would never knowingly allow" [Wired]. More on Facebook's mass experiment in emotional manipulation.
Health Care
Class Warfare
"Fully 87% of seniors living in households earning $75,000 or more a year say they have home broadband, compared with just 27% of seniors whose annual household income is below $30,000. Educational differences follow a similar pattern, with college graduates adopting technology at much higher rates than seniors with lower levels of formal education" [Pew Research].
"Mediated Reality is No Match for Personal Experience" [JSTOR Daily]. "[Sociologist and media theorist George] Gerbner's theory, called 'cultivation theory.' claims that the way that the world is represented in the media greatly influences our understanding and beliefs about reality. Though we are all affected by these representations, those who consume the most media are most affected. … But the impact of that mediated reality is not absolute. One powerful criticism of cultivation theory put forward by Daniel Chandler argues that the media's ability to impact our sense of reality is heavily tempered by our lived experience. Basically, if you have personal experience with an issue or group of people, you won't be as swayed by the media's representation; your own experience will supersede even a pervasive and virtually inescapable mediated reality."
News of the Wired
"IN THE MATTER OF THE SEARCH OF CONTENT THAT IS STORED AT PREMISES CONTROLLED BY GOOGLE" (PDF) [UNITED STATES DISTRICT COURT NORTHERN DISTRICT OF CALIFORNIA]. "Google has a distributed system where algorithms determine how it sends and stores data — in packets or component parts — in aid of overall network efficiency. In this case, the result is that Google has content that is responsive to the search warrant and is stored wholly outside of the United States…. The [Stored Communications Act (SCA)] regulates disclosure of data in a service provider's possession. The service provider — Google — is in the district and is subject to the court's jurisdiction; the warrant is directed to it in the only place where it can access and deliver the information that the government seeks. This disclosure is a domestic application of the SCA. The court thus orders Google to produce all content responsive to the search warrant that is retrievable from the United States, regardless of the data's actual location." Hmm.
Today: "Twitter shareholders set to vote on whether to convert company into co-op" [Salon (DB)]. "Though the proposal is unlikely to pass, the fact that such a radical idea made it to a shareholder vote is significant. Many commentators and intellectuals believe that social media companies are more akin to public utilities, and should exist as such. It makes sense: For many, having a Twitter account or a Facebook page has become as indispensable as owning a phone or having electricity."
* * *
Readers, feel free to contact me with (a) links, and even better (b) sources I should curate regularly, and (c) to find out how to send me images of plants. Vegetables are fine! Fungi are deemed to be honorary plants! See the previous Water Cooler (with plant) here.
And here's today's plant (Re Silc):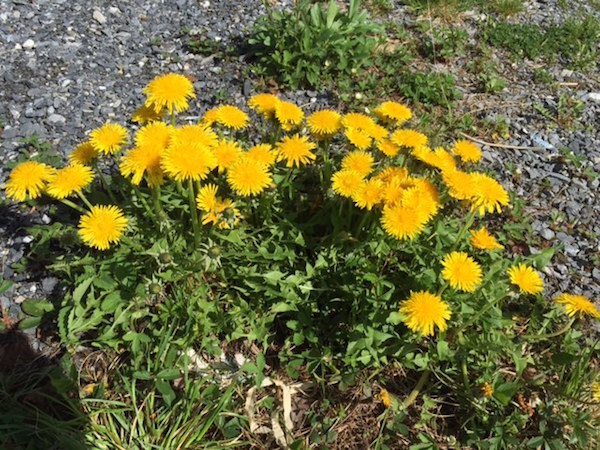 * * *
Re Silc: "I can grow weeds." Gravel, too!
Readers, Water Cooler is a standalone entity, not supported by the Naked Capitalism fundraisers. Please use the dropdown to choose your contribution, and then click the hat! Your tip will be welcome today, and indeed any day. Water Cooler will not exist without your continued help.