By Lambert Strether of Corrente
Politics
Policy
"Republican lawmakers are lining up in opposition to big portions of President Donald Trump's fiscal year 2018 budget, which was unveiled this week. Some Republicans in the House and Senate say cuts to certain programs go too far. Even increased spending to typical Republican priorities like defense drew criticism for falling short" [Blooomberg].
2017
MT-AL: "Montana's wild special election: 6 things to watch" [Politico]. "No one here has any idea what the turnout will be because of the timing of the election: a Thursday before a long weekend in May."

MT-AL: "Greg Gianforte allegedly assaulted a reporter. Wait. Greg Gianforte, the RightNow Technologies guy?" [Pando]. "Wait, seriously, the RightNow Technologies guy? Can't be that guy. That guy was smart. He'd built a huge technology company. He seemed like a nice, empathetic leader… [Gianforte] was the cookie-cutter, tall, devoted husband white guy who was really passionate about call center efficiencies and wanted everyone to come visit Bozeman, Montana. At no point during the course of our interviews did he punch me or anyone else…. While I didn't see it in my limited time talking to Gianforte about software, newspapers covering him more closely as a politician had seen hints of this. Other reporters were not shocked…. This is not to say all billionaires are bad or the same traits that make you able to build a multi-billion dollar company also make you a sociopath. I still think there are– on balance– more good people than evil people in Silicon Valley. I wouldn't have spent my career here otherwise. But we also need to stop this trend of assuming because someone built a multi-billion dollar company, they are qualified – or have the temperament and character – to run for political office. To run a city, a state or an entire country."

MT-AL: "Will Democrats regret ignoring Rob Quist in Montana?" [The Week]. "The Democrats did put out an eleventh-hour ad Thursday featuring audio of Gianforte's alleged assault. But it could still be too little, too late." Which Democrats? (Canvassers going door to door are playing the audio. Why no robocall?)

MT-AL: "A complaint filed with the Federal Election Commission against Montana House Democratic candidate Rob Quist says he illegally coordinated with an unregistered political committee that distributed newspaper inserts aimed at reaching undecided voters" [Washington Free Beacon]. "Joe Dooling, chairman of the Lewis & Clark County Republican Central Committee, filed the complaint with the FEC, stating that Quist's campaign illegally coordinated with the group and that the group failed to register its $10,000 worth of fundraising that was used to benefit Quist."

GA-06: "Ossoff's race with Handel is the most expensive House battle in history, with outside groups having poured more than $18 million into the race so far" [The Hill].

GA-06: "There has been very limited public polling since the primary, but a new Survey USA poll shows Ossoff up 51-44 among likely voters. When in-person early voting begins on May 30, we'll get a better idea of how well the two campaigns are doing in terms of mobilizing their voters. But no matter what happens, it seems the widespread early predictions — including my own — that the GOP would likely win the special election because voters favoring a Democratic candidate simply would not show up did not take into account the "special" nature of this Trump-dominated off-year election cycle" [New York Magazine]. "The contest will almost certainly be close, but at the moment it looks like it may be Jon Ossoff's to lose."

CA: Eric Bauman's new Communications Director for the California Democratic Party, Steve Maviglio: "Democratic political strategist and party consultant Steve Maviglio has some concerns about the new wing of the party. 'I'm trying to think of a very polite way to say this. The thing that concerns me is that when they don't get their way, so to speak, they act like petulant children and walk out of the room or kick sand in the sandbox. I think that's very dangerous for the party." [Capital Public Radio]. Unity!

"A Smarter Way to Interpret 2017's Special Elections" [Cook Political Report]. Interesting read that I have to return to on June 21. "There's no such thing as a 'make or break' special election. In June 2006, Democrats fell four points short in a nationally hyped San Diego special election. In May 2010, Republicans fell eight points short in a Western Pennsylvania special. In both cases, the losing side wrested control of the House just a few months later."
New Cold War
"West Wing officials are prepping for a years-long war with investigators and the bureaucracy, with plans to beef up legal, surrogate, communications and rapid-response teams as part of a 'new normal' for President Trump — besieged" [Axios]. "Trump aides recognize that besides being in the crosshairs of investigators on Russia, they will be the continuing target of leaks from the bureaucracy. The Trump ally referred to this second enemy as 'nameless, faceless, deep-state types' who have been inflamed and are punching back through the media…. Aides recognize they should have built more push-back capacity from the beginning. But the weakness reflects the minimalist transition planning and thin staffing that have beset the whole Trump machine…. [T]he success of that plan depends partly on President Trump's willingness to compartmentalize. Close aides have trouble imagining that."
Realignment and Legitimacy
"New York's 9th Assembly District [which Sanders delegate Christine Pellegrino just flipped from the Republicans] is one of 710 state legislative districts nationwide that have been identified by the Ballotpedia website as including all or part of so-called 'Pivot Counties,' which 'voted for Democrat Barack Obama in 2008 and 2012 and then voted for Republican Donald Trump in 2016.' As of April 2017, the website explains, '477 state house districts and 233 state senate districts intersected with these Pivot Counties. This includes districts that intersected with only small portions of a county as well as districts that overlapped with multiple counties. These 710 state legislative districts account for approximately 10 percent of all state legislative districts in the country. These are places that Democrats must win to begin reversing the setbacks of 2016" [The Nation].

"How Trump's Rust Belt Voters Have Changed Since the Election" [Bloomberg]. "In the aftermath of November's election, there was the sense in many East Coast circles that it wouldn't take long for the voters of Middle America to regret their decision to put Donald Trump in the White House. Seven months later, we've found few signs of such remorse."

"Martin Luther Was the Donald Trump of 1517" [Foreign Policy]. From the heart of The Blob (?). "For all his cheerful boorishness, Luther was also given to agonies of conscience, extended bouts of self-doubt and despair. He was genuinely, almost pathologically, convinced of his own utter sinfulness and worthlessness. And he was a man driven by certain core convictions that never wavered over his adult life, a set of ideas that became the foundation of a whole system of thought and for which he was plainly ready to lay down his life. These things do not appear to be true of President Trump. And yet, if Luther's and Trump's respective dramas are strikingly familiar, it is because they are both about how long-standing political establishments fail to cope with disruptive outsiders, often hastening their own moments of reckoning.

"From Extreme to Mainstream: How Social Norms Unravel" [Leonardo Bursztyn, Georgy Egorov, and Stefano Fiorin, NBER]. "Social norms are typically thought to be persistent and long-lasting, sometimes surviving through growth, recessions, and regime changes. In some cases, however, they can quickly change. This paper examines the unraveling of social norms in communication when new information becomes available, e.g., aggregated through elections."

"Episode 108 – Night On Bald Mountain feat. Matt Bruenig" (podcast) [Chapo Trap House]. Bruenig's think tank venture.
Stats Watch
Kansas City Fed Manufacturing Index, May 2017: "Growth remains solid this month in the Kansas City manufacturing region" [Econoday]. "Backlog orders, at 12, are a special positive and point to the need for hiring which, at 11, is already very strong. Delivery times are slowing sharply which points to congestion in the supply chain in another indication of general strength. Inventories are steady as are price indications that include improving traction for selling prices. Regional factory reports have been positive all year with government data lagging somewhat but also positive." And but: "The data will maintain expectations of an underlying slowdown in the manufacturing sector as seen in most recent regional surveys, although overall confidence also remains strong. The data would not discourage the Fed from continuing the process of policy normalisation" [Economic Calendar].
Philly Fed Coincident Index, April 2017: "The reality is that most of the economic indicators have moderate to significant backward revision – but this month it seems the majority rear view mirror says the USA economy is slowing, flat or improving" Um…. [Econintersect]. "Out of this group of coincident indicators discussed in this post, only ECRI and the Aruoba-Diebold-Scotti business conditions index have no backward revision – and both have a good track record of seeing the economy accurately in almost real time. For April, it show that the economy is on an improving trend line."
Retail Inventories [Advance], April 2017: "Retail inventories fell 0.3 percent in April with motor vehicles down 0.5 percent. Excluding vehicles, inventories fell 0.2 percent" [Econoday].
Wholesale Inventories [Advance], April 2017: "Wholesale inventories fell 0.3 percent in April split between a 0.2 percent decline for durable goods and a 0.6 percent decline for nondurables" [Econoday].
Jobless Claims, week of May 201, 2017: "Jobless claims continue to hold near record lows and continue to point to solid strength in the labor market" [Econoday].
Bloomberg Consumer Comfort Index, week of May 21, 2017: "Once again at expansion highs" [Econoday]. "Strong readings for confidence reflect strong optimism for employment."
International Trade in Goods, April 2017: A key early indication on the strength of second-quarter GDP is not favorable as the nation's goods deficit widened $2.5 billion in April to $67.6 billion" [Econoday]. Exports of goods continue to show weakness, down 0.9 percent in the month to $125.9 billion that show sharp declines for vehicles and consumer goods."
Shipping: "The American Trucking Associations said today that its monthly seasonally adjusted truck tonnage index fell sequentially in April by 2.5 percent, to 134 from 137.6, a decline whose magnitude was surprising, given relatively upbeat comments from truckers about the levels of freight activity" [DC Velocity]. "Bob Costello, ATA's chief economist, said in a statement that he was less surprised by the April decline than he was by the size of the drop. Costello said a substantial fall-off in housing starts last month could have affected tonnage levels, since residential construction activity generates more heavy freight."
Infrastructure: 'Infrastructure is one of Wall Street's hottest new investments. Blackstone Group's new $100 billion fund to invest in roads, bridges, airports and other projects will compete for investors' attention with some 100 other infrastructure fund" [Wall Street Journal]. But $100 billion is not that much, and Blackstone is hardly the firm to be allocating public goods. "Sean Klimczak, who manages the Blackstone fund, says his firm has an edge because it has no obligation to cash out, allowing it to sink its proboscis deep into the body politic partner with government agencies for decades."
The Bezzle: "As down-payment needs swell, these companies step in to help — in exchange for a small stake" [MarketWatch]. "Here's how Unison's model works: The company contributes up to 50% of the down payment, or 10% of the total cost of the home, and, then, when the owner sells, Unison takes a share of the profit, usually 35% — or a share of the loss, also usually 35%…. Because the companies make money only when a home is sold, assumptions about lofty price gains must be met. (It's also possible to buy out the equity stake before selling, according to the terms of the agreement between the company and the borrower.) Unison notes that 'special provisions' will apply if homeowners sell in less than three years because 'in order for home prices to change, time must pass.'… It's also difficult to know how the shared equity relationship will withstand the normal milestones that make homeownership challenging enough with just one owner. Unison notes that if a property has not been 'properly maintained' at the time of sale, it may use a third-party appraiser or inspector to assess how much of the lost value is due to improper upkeep in order to allocate that lost appreciation to the homeowner, not the company."
Political Risk: "In a panel discussion on Thursday, Fed Governor Brainard stated that the global economic outlook is brighter than it has been for the past few years. According to Brainard, the Euro area economy is growing more solidly while emerging markets have broadly been doing better as well" [Economic Calendar].
Five Horsemen: "Today GOOGL and AMZN are locked in a greyhound-race photo finish to reach the 'round 1,000′ mark first" [Hat Tip Jim Haygood].
Today's Fear & Greed Index: 57 Neutral (previous close: 54, Neutral) [CNN]. One week ago: 43 (Neutral). (0 is Extreme Fear; 100 is Extreme Greed. Last updated May 25 at 11:49am.
Big Brother is Watching You Watch
"The Secret History of American Surveillance" [Reveal]. Surprisingly advanced techniques in our first imperial war, suppressing the Philippine's war for independence.
The 420
"Vermont governor vetoes marijuana legalization" [The Hill]. "Scott said he wanted to see tougher penalties for illegal sales of marijuana to minors. He also wants to give regulators more time to study what has worked and what hasn't in other states where marijuana has been legalized."
Health Care
"CBO and JCT expect that, as a consequence, the waivers in those states would have another effect: Community-rated premiums would rise over time, and people who are less healthy (including those with preexisting or newly acquired medical conditions) would ultimately be unable to purchase comprehensive nongroup health insurance at premiums comparable to those under current law, if they could purchase it at all — despite the additional funding that would be available under HR 1628 to help reduce premiums" [CBO]. And: "Over time, it would become more difficult for less healthy people (including people with preexisting medical conditions) in those states to purchase insurance because their premiums would continue to increase rapidly. As a result of the narrower scope of covered benefits and the difficulty less healthy people would face purchasing insurance, average premiums for people who did purchase insurance would generally be lower than in other states—but the variation around that average would be very large. CBO and JCT do not have an estimate of how much lower those premiums would be." Some people go to HappyVille, and some (more than now) go to Pain City. The way out isn't tinkering with another Republican plan, ObamaCare being a Republican plan, but making health care a universal and direct benefit.
"Gov. Dannel P. Malloy delivered a public rebuke Wednesday evening to the Democratic and Republican leaders of the Senate, accusing them of misrepresenting his insurance commissioner's position on a consumer-protection bill and taking an "unnecessarily antagonistic approach toward Connecticut's insurance industry" [The Connecticut Mirror]. ". The provisions keep pharmacists from telling customers when they could save money by paying cash for a generic instead of a $20 co-pay." Dear Lord.
"More than one-fourth of all Medicare beneficiaries—15 million people—spend 20 percent or more of their incomes on premiums plus medical care, including cost-sharing and uncovered services. Beneficiaries with incomes below 200 percent of the poverty level (just under $24,000 for a single person) and those with multiple chronic conditions or functional limitations are at significant financial risk. Overall, beneficiaries spent an average of $3,024 per year on out-of-pocket costs. Financial burdens and access gaps highlight the need to approach reform with caution. Already-high burdens suggest restructuring cost-sharing to ensure affordability and to provide relief for low-income beneficiaries" [Commonwealth Fund]. Medicare has a neoliberal infestation and needs to be fixed too.
"Electronic health records are viewed by many as the holy grail of modern health care – a centralized record of a persons medical history, medications, procedures, and other clinical data. If patients have multiple doctors and specialists, or complex conditions, an E-Health record can ensure continuity of care, appropriate prescribing and fewer errors of care. In a medical emergency, relevant health information can be accessed quickly" [UNSW School of Public Health and Community Medicine]. "[The risk of hacking] has been recognized in the area of connected digital technologies such as pacemakers and insulin pumps. Former US Vice President Dick Cheney had his pacemaker wireless function disabled to mitigate the risk of hacking. Hacking of health records opens up other potential harms to individuals such as medication security, hospital and health system security and enabling of targeted medical murder. This is a concept that is not within our discourse or awareness, but is certainly technologically possible."
Guillotine Watch
"How Much Does it Cost to Climb Mount Everest? – 2017 Edition" [The Blog on alanarnette.com]. "The short answer is a car or at least $30,000 but most people pay about $45,000."
Class Warfare
"Kleptocrats should face the International Criminal Court " [The FCPA Blog]. "The arguments for prosecuting grand corruption at the International Criminal Court as a crime against humanity are persuasive…. Perhaps one of the most important advantages is the principle of complementarity, where the International Criminal Court or ICC can accept jurisdiction if a State is unwilling or unable to investigate or prosecute a case, or if cases are not being conducted "genuinely," thus ensuring impunity does not prevail, a consistent theme in cases of grand corruption… In my view, grand corruption is a crime that is of the most serious concern to the international community. When State funds are diverted into the pockets of kleptocrats, the result is often disruptions to schools, hospitals, housing, water and food supplies, and other civil services. Those disruptions are therefore a direct cause of violations of liberty, dignity, civil and political rights, the right to family life, education, health care, and so on."
The Moustache of Understanding takes on the Rust Belt: "It turns out that it's not that hard to train someone, even with just a high school or community college degree, to operate an advanced machine tool or basic computer. 'Factory managers would say, 'I will train them and put them to work tomorrow in good jobs' requiring hard skills,' said [Ron Woody, county executive for Roane County, Tennessee]. 'The problem they have is finding people with the right soft skills.' … What are those soft skills? I asked. 'Employers just want someone who will ,' Woody responded without hesitation. And there are fewer workers with those soft skills than you might think, he added…. Soft skills also include the willingness to be a lifelong learner, because jobs are changing so quickly." And: "It's actually Bill Clinton's America."
"$70/Week and Free Cookies! Why Selling Plasma is the Perfect Side Gig" [The Penny Hoarder]. "With all the ways to make money while in college, why not try one that lets you study at the same time? Selling your blood plasma is a simple way to earn cash while catching up on your reading or reviewing class notes. When I was in college, I had no idea about earning opportunities like being a content writer or playing textbook arbitrage."
"Baby Boomers Look to Senior Concierge Services to Raise Income" [New York Times]. "Elder concierge, as the industry is known, is a way for the semi- and fully retired to continue to work, and, from a business standpoint, the opportunities look as if they will keep growing…. 'It's very satisfying,' she said of the work, which supplements her photography income. Like others in search of additional money, she could have become an Uber driver but said this offered her a chance to do something 'more meaningful.'"
"Anarchists Fill Services Void Left by Faltering Greek Governance" [New York Times]. "Tasos Sagris, a 45-year-old member of the Greek anarchist group Void Network and of the 'self-organized' Embros theater group, has been at the forefront of a resurgence of social activism that is effectively filling a void in governance. 'People trust us because we don't use the people as customers or voters,' Mr. Sagris said. 'Every failure of the system proves the idea of the anarchists to be true.' … Whatever the means, since 2008 scores of "self-managing social centers" have mushroomed across Greece, financed by private donations and the proceeds from regularly scheduled concerts, exhibitions and on-site bars, most of which are open to the public. There are now around 250 nationwide."
News of the Wired
"How one man wreaked ingenious revenge on rude customers in a coffee shop" [Telegraph]. What's the world coming to…
"There was method to the madness of Heath Robinson's extraordinary illustrations" [The Spectator]. Looks like Rube Goldberg. Test of independent invention? Maybe not:
The expression 'Heath Robinson' has entered the dictionary to mean 'an over-ingenious, ridiculously complicated or elaborate mechanical contrivance'. But early domestic gadgets were often ridiculously complicated. Hubert Cecil Booth's original vacuum cleaner of 1901 was a steam-powered machine the size of a large cart, and pulled by horses. When you summoned it, the monster was brought to the road outside your house, and pipes led in through the windows. This was an important social event — ladies would invite their friends to come and take tea and observe the wonderful machine in action.
And this was before the Internet of Things!
"The GOP's leading campaign and fundraising arm, the Republican National Committee, has thrown its support behind an initiative that could allow marketing firms and robocallers to spam your voicemail inbox — without your phone ever ringing" [TechDirt]. "Whether you want to have a voicemail inbox magically filled with political missives, ads for mattresses and assorted other sales pitches apparently doesn't even enter into the equation. If you'd like to share your thoughts with the FCC on this subject, you can find and comment on the particular proceeding in question, here."
* * *
Readers, feel free to contact me with (a) links, and even better (b) sources I should curate regularly, and (c) to find out how to send me images of plants. Vegetables are fine! Fungi are deemed to be honorary plants! See the previous Water Cooler (with plant) here.
And here's today's plant (AM):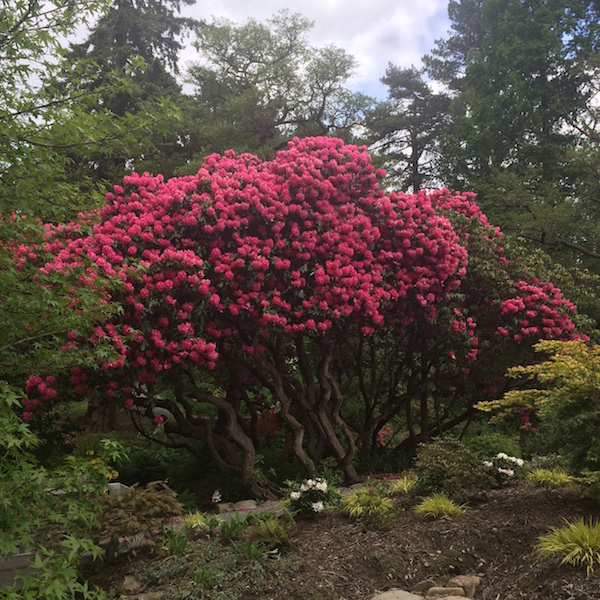 AM writes from Wales: "Ridiculous rhododendron at Bodnant Garden. It was peak season for them."
* * *
Readers, Water Cooler is a standalone entity, not supported by the Naked Capitalism fundraisers. Please use the dropdown to choose your contribution, and then click the hat! Your tip will be welcome today, and indeed any day. Water Cooler will not exist without your continued help.