By Lambert Strether of Corrente
Trade
'The G-7 summit kicks off today in the Sicilian resort town of Taormina, and all eyes are on what President Donald Trump will do. The Trump administration has been largely circumspect on the policy goals it will support in a final communiqué, especially when it comes to trade and climate change. U.S. officials have so far submitted only broad talking points for the leader meeting, according to European and U.S. diplomats' [Politico].
TTIP: 'Trump and EU leaders on Thursday agreed to start work on a 'joint action plan on trade'… It's still too early to tell if the new action plan will be a way to thaw the now frozen Transatlantic Trade and Investment Partnership negotiations. 'As far as the Commission is concerned, President [Jean-Claude] Juncker insisted on intensifying trade cooperation, which is a win-win situation for both sides,' said a European Commission spokesman. Trump held a 45-minute meeting with both Juncker and European Council President Donald Tusk on Thursday. He also met for 25 minutes with representatives from EU member state delegations in Brussels, the spokesman said. 'Overall, it was a constructive discussion — the first of more to follow,' he added.' [Politico]. A 'constructive discussion' as opposed to a 'full and frank exchange of views,' I suppose.
TPP: 'Commerce Secretary Wilbur Ross on Thursday night acknowledged the business community's disappointment over Trump's decision to walk away from the Trans-Pacific Partnership, but he insisted the pact was doomed anyway. 'Most of you have expressed reservation about our withdrawal from the proposed Trans-Pacific Partnership,' Ross said in a keynote speech at the U.S.-ASEAN Business Council's annual gala dinner at the Four Seasons Hotel. 'But the fact is no matter who won the last election, there was simply not the political will on either side of the aisle for ratification" [Politico].
Politics
2020
'Mark Zuckerberg joins Silicon Valley bigwigs in calling for government to give everybody free money' at Harvard commencement speech [CNBC]. Rather like keeping circulation going by inserting one's catheter directly into a vein. Here's the full transcript.

'Mark Zuckerberg's Great American Road Trip' [New York Times]. "[Zuckerberg] has all of the mechanics needed for a massive, well-staged media operation,' said Angelo Carusone, president of Media Matters for America, a nonprofit media watchdog group. 'Photographers, handlers, its size, scope and scale — all the ingredients are there. And he's appearing in an environment where there's no sole Democratic leader or counterbalance to Trump, who's consuming all the oxygen in media." Media Matters isn't a 'nonprofit media watchdog group.' It's David Brock's beard. And it's deeply ironic that Media Matters is whinging about Trump sucking up all the oxygen as Democrats simultaneously stoke the fire with Putin Derangement Syndrome, all because they (a) can't produce a coherent explanation of their 2016 debacle, (b) can't produce a coherent message other than the oxygen-sucking 'We're not Trump,' and (c) are doing their best to strangle the most popular (working) politician in America today, as well as (d) drive his supporters from the party. No doubt what they really want to do is put Zuckerberg at the top of the ticket. That didn't work for Eisenhower, and is unlikely to work with Zuckerberg, who has the bucks to build a new party from scratch. I mean, why would anybody work with those clowns?

'After watching the address, I was reminded of something Ellen Pao told me earlier this year, during an interview about Zuckerberg's carefully orchestrated political makeover. Pao, who has become a prominent advocate for diversity and inclusion since losing a gender discrimination lawsuit against the venture capital firm Kleiner Perkins, argued that Zuckerberg's new do-gooder crusade has skipped over the simplest solution. In order to change the entire tech industry, 'He doesn't even have to do anything outside of making Facebook inclusive,' Pao said. 'They admire him, they will copy him, they will change because of him.; She's right. In speeches like the one today on campus, or the copy of the speech posted immediately after on his Facebook page, Zuckerberg is able to set the agenda for the industry over which he reigns' [Wired].

"Tulsi Gabbard Is Not Your Friend" [Jacobin]. "Gabbard has been one of Modi's most prominent boosters in the US. 'He is a leader whose example and dedication to the people he serves should be an inspiration to elected officials everywhere,' she said of Modi in 2014." I'm sort of stepping into a minefield here, because I have little knowledge of Modi, except for his noxious abolition of cash, which screws the poor, the working class, and small traders. I'd be interested to hear what Gabbard fans/supporters think of this article. (I read Gabbard as being a foreign policy realist, which isn't the greatest, but is way better than being a crazypants interventionist, especially the responsibility-to-protect type. And I don't care all that much about her family background. Roosevelt was a patrician, after all).

UPDATE Yes, there is a shame gland, and yes, it can be surgically removed:

There's clear frustration among some close to HRC that she's not seen as a central resistance figure—wouldn't be shocked to see more of her.

— Gabriel Debenedetti (@gdebenedetti) May 26, 2017

UPDATE "Hillary Clinton's remarkably aggressive anti-Trump speech, annotated" [WaPo]. No time to put on my waders. Readers?
Obama Legacy
'Is Obama's $500 Million Library Excessive?' [247 Wall Street]. Of course not. Why, that's less than half what Clinton's Presidential campaign cost!
2017
MT-AL: 'This was a dirty, hard-fought, expensive race between two unconventional candidates. Quist attacked Gianforte, who has lived in Montana for more than 20 years, as a 'millionaire from New Jersey' who wanted to sell off the state's public lands to developers. Gianforte called Quist 'Nancy Pelosi in a cowboy hat.' But his surrogates, and the right-wing blogosphere, used Quist's medical records to depict the Democrat as a degenerate with a history of 'genital herpes' and a troubled marriage. Gianforte's body slam of Guardian reporter Ben Jacobs was just the last low blow. And since Montana's early voting meant that a majority of voters had already returned their ballots, the incident probably had limited impact on the final result' [The Nation]. 'But it's also true that Quist, a commanding figure on stage so long as he has a banjo or a guitar, never became either an impressive debater or a fluent stump speaker. His tendency to revert to clichés about 'standing up for Montana' was remarked on even by friendly reporters, with Jacobs noting that Quist was 'clearly uncomfortable discussing policy outside of broad outlines.' Though Our Revolution endorsed him, and Sanders spent the weekend before the vote campaigning for him across Montana, Rob Quist is no Bernie Sanders.' And:

[T]he Sanders wing of the Democratic Party needs to show that it can do more than just draw crowds and raise money—though both are of crucial importance. And the Clinton wing needs to show—by action, as well as rhetoric—that it doesn't put holding on to power ahead of either opposing the Republican agenda or actually winning elections.

Well, er, actually, the Sanders wing does do "more than" that: It's got the goods on policy, where Clintonites are vacuous excrementalists. But they need to put up a win, not just points on the board. (In that connection, I don't think much of Indivisible — to me, they have the smell of Democrat astroturf, all #SaveTheACA and no #MedicareForAll, though I'd welcome disconfirmation — but at least on the Twitter, they are doing some things very well: They consistently highlight issues, they connect issues to the political calendar, they give their subscribers issue-oriented tasks, and when there's a win — as with the AHCA going down, though not for the count — they tell their subscribers that pressure works, closing the loop. Our Revolution should consider doing that, in addition to supporting siloed races.)

MT-AL: 'Montana is considerably redder than the average congressional district. According to Wasserman's calculations, in an election where Democrats got 50 percent of the two-party vote nationwide, you'd expect them to get just 39 percent in Montana. Quist scored 44 percent, and with the Libertarian pulling in 6 percent, his share of the two-party vote is more like 46' [Vox]. 'Things aren't as simple as saying that Rob Quist outperformed the 39 percent benchmark and therefore Democrats are on track to win — geography means Republicans can hold their majority with less than 50 percent of the vote. But the GOP underperformed badly in Montana, after a similar underperformance in the special election for Kansas's Fourth Congressional District. To win by only 7 in Montana, a state that Trump won by 20 points, is a clear sign that seats Trump won by 4 or 5 points or more aren't truly safe.' The alternative explantion, though, would be that Trump's voters aren't there for the taking by generic Republicans, any more than Obama's voters were there for the taking by Clinton. Suppose Trump were on the trail, as he most certainly will be in 2018. Will that affect the outcome? If — and this is a very big if — he delivers for the voters who gave him his margin of victory in 2016 — not the same as 'the base' — I would guess yes.

MT-AL: 'It's hard to say how good a result this is for Democrats. It's tempting to look at Donald Trump's 20-point win in the state, observe Gianforte's six-point victory, and conclude this is a positive for Democrats. But the reality is more complicated. Montana is a quirky state that is significantly more Democratic at the congressional and state levels than at the federal level' [RealClearPolitics].

MT-AL: "In his victory speech, Gianforte acknowledged he made a 'mistake' and apologized, confirming that he and his staff lied in their statement blaming Jacobs for the incident. The crowded responded by shouting, 'You're forgiven!'" [The Week].

MT-AL: And then there's the Democrat Establishment, who are breathing a sigh of relief as they prepare for an enormous gush of triumphalism at the post-2016 Victory for Clintonism in GA-06:

When Quist loses in a close race, don't tell me Dems didn't fund a progressive. Once they were shamed, they did the minimum. #OwnedTogether

— Peter Douche (@AngryBerner) May 26, 2017

UPDATE MT-AL Right on cue:

DCCC after-action memo notes their polling got it right and says they "Refused to Waste Money on Hype."

— Alex Seitz-Wald (@aseitzwald) May 26, 2017
2018
'Budget wrangling is the kind of prob­lem law­makers signed up for when they ran for House or Sen­ate. Try­ing to fig­ure out wheth­er Trump is King Lear or an im­puls­ive real-es­tate mag­nate is bey­ond their ken and best left to the law­yers' [Charles Cook, Cook Political Report]. 'There is noth­ing that con­gres­sion­al Re­pub­lic­ans can do about Trump's tweets, off-the-cuff com­ments, and be­ha­vi­or seen as exot­ic for a pres­id­ent. The only some­what con­trol­lable vari­able is wheth­er they can get enough done le­gis­lat­ively that will al­low them to hold their base and a reas­on­able num­ber of in­de­pend­ents. In most con­gres­sion­al dis­tricts and states where in­cum­bent Re­pub­lic­an sen­at­ors are up for reelec­tion, that will be suf­fi­cient, with the not­able ex­cep­tion of the swing state Nevada, where Sen. Dean Heller is up for reelec­tion and will need plenty of in­de­pend­ent votes, and, to a less­er ex­tent, Re­pub­lic­an-lean­ing Ari­zona, where Sen. Jeff Flake will be on the bal­lot.' And how that's possible at the same time for Freedom Caucus incumbents, and non-Freedom Caucus incumbents.
Realignment and Legitimacy
'So many of the people who voted for Donald Trump were the victims of an epic scam by a man who has built his life around scamming' [Paul Krugman, New York Times]. 'Will they ever realize this, and admit it to themselves? More important, will they be prepared to punish him the only way they can — by voting for Democrats?' One would have expected even a quasi-Nobelist to have heard of inequity aversion. Apparently not. To be fair, I do see that 'You're deplorable, I own your vote' has enduring appeal for liberal Democrats, but isn't it time we looked at the win-loss chart?

I had no idea change.org was for-profit [Fortune].
Stats Watch
Corporate Profits, Q1 2017 (Preliminary): 'Corporate profits rose 12.0 percent year-on-year' [Econoday].
GDP, Q1 2017 (Preliminary): 'First-quarter GDP gets a small but much needed upgrade, now at a 1.2 percent rate of annualized growth which is nearly double the advance estimate. The gain is centered where it is best, in consumer spending where the rate did double to 0.6 percent. This is still slow but is an improvement with durable goods, at minus 1.4 percent, showing less contraction and services showing greater growth, at 0.8 percent' [Econoday]. 'But the second-quarter outlook, which was once very positive, is mostly in question following a run of weak data for April including this morning's durable goods report. And the first-quarter is a little less of an easy comparison now for the second quarter where early estimates, once as high as 3 and 4 percent, have been coming down to the 2 percent area.' Obviously, we need tax cuts. And: 'this was still the weakest gain for over 3 years as durable goods spending declined' [Economic Calendar]. And: 'This was above the consensus forecast' [Calculated Risk]. And but: 'Relatively, the consumer remained limp, and GDP is gamed with inventory hocus-pocus and export-import adjustments. I am not a fan of quarter-over-quarter method of measuring GDP (as it exaggerates error) – and my year-over-year preferred method shows no change in the rate of growth from last quarter' [Econintersect].
Durable Goods Orders, April 2017: 'Yet another piece of the second-quarter puzzle is not favorable. Durable goods orders, down 0.7 percent in April, do not confirm the month's big jump in industrial production nor all the strength in the regional factory reports' [Econoday]. 'Aircraft is not a factor in today's report as the ex-transportation reading is also negative, at minus 0.4 percent which is well below Econoday's low estimate. Also below the estimate are orders for core capital goods (nondefense ex-aircraft) which came in unchanged following a downward revised unchanged reading in March.'
Consumer Sentiment, May 2017 (Final): 'Consumer sentiment is holding steady at optimistic levels' [Econoday]. 'This report continues to cite strong political polarization in its sample: Republicans and Independents optimistic and Democrats pessimistic. The report suggests that this divide reflects economic preferences and will likely stay in place at least until economic policies under the Trump administration begin to unfold. .'
Commodities: 'Canadian mining maverick [Frank Giustra]'s latest target is a subterranean patch of red earth in southwestern Mexico. In January his new undertaking, Leagold Mining Corp., bought the Los Filos mine from Goldcorp Inc. for $350 million. It wasn't the open pits churning out 200,000-plus ounces of the precious metal that caught this attention — it was the untapped deposit stretching for roughly 600 meters below' [Mining.com]. 'Giustra now spends about 20 percent of his time trying to grow his wealth across a slew of interests ranging from an Italian olive estate whose oils have been voted among the planet's best, to Thunderbird, the film production company behind the upcoming Blade Runner sequel. The bulk of Giustra's time is spent trying to give money away in partnership with Bill Clinton, a close pal, and George Soros.'
Commodities: 'Shares in Mexico-focused First Majestic Silver Corp. were slightly down Wednesday morning after the company revealed a group of unionized workers halted activities and blocked accesses at La Encantada silver mine' [Mining.com]. 'The Canadian miner said the illegal labour action was in response to the company's recently announced bonus offer in lieu of profit sharing, which is backed by the country's national union of miners, metallurgists and steelworkers.'
Retail: 'Best Buy is beefing up its e-commerce offerings and tapping into other trends, like renting out floor space to brands and offering in-home consultations. But it's also luring shoppers with age-old retail tactics, like matching online prices in stores, and offering hot items like the Nintendo Switch, which can be tough to track down online. Selling expensive, hard-to-ship items like appliances also helps. Analysts say Best Buy is succeeding because it took painful steps like lowering prices years ago, before online competitors could steal too many of their customers. That puts the retailer in a better position than most brick-and-mortar counterparts, though these strategies will be tested as Amazon.com Inc. makes a push into appliances' [Wall Street Journal]. So far, in Bangor, Macy's is dead, but Best Buy survives….
Retail: 'There Aren't Enough Slaughterhouses to Support the Farm-to-Table Economy' [Bloomberg]. 'Despite ever-increasing customer demand for noncommodity meat, there aren't enough slaughterhouses to keep up. It's a major hitch in the supply chain—keeping supplies down, prices up, and making the already grueling job of farming even harder.' If we could get robots doing this, they could be doing surgery in a decade or so. I smell business model!
Shipping: 'Calais reports record cross-Channel freight' [Lloyd's Loading]. 'The Port of Calais has posted its best-ever quarter for cross-Channel freight with a total of 507,850 HGVs transiting the French port during the first three months of the year, an increase of 11.2% on the same period in 2016. In March, a new record was also set for monthly truck throughput… The upturn in Calais' freight traffic dates back to autumn 2016 and followed the dismantling of the 'Jungle' migrant camp….' Gather ye rosebuds while ye may….
Shipping: 'Abe Lincoln: Riverboat builder?' [WorkBoat]. This is interesting, and an unexpected find in a trade journal for commercial marine professionals, especially those involved in inland waterways. Rather cheering, and worth a read.
Shipping: 'The strong lift in freight rates in the first quarter of 2017 may have delivered on the promises a bit early, as the Baltic Dry Index (BDI) now finds itself below the 1,000 mark again. Despite better market conditions in 2017, compared to same period last year, we at BIMCO emphasise the need for continuous handling of the supply side in the dry bulk shipping industry. To keep further fleet growth at bay, the demolition activity must return to levels seen in the first half of 2016, together with an increasing focus on keeping slow steaming around' [Splash 247]. Shipbreaking and slow steaming are a winning combination!
Supply Chain: 'Talking about the Silk Road gives Chinese the opportunity to hear and to tell positive stories about their nation's history and character. It gives them a "usable past," offering an enlightened, progressive heritage to counter the colonial vision of China as backward and the Maoist repudiation of the imperial past. It reminds the world of China's technological dominance before the Industrial Revolution and frames that history not as one of relative decline — why the West grew rich and China didn't—but as evidence of persisting national strengths' [Bloomberg].
The Bezzle: 'Uber's biggest employee problems are pay and pride, not sexism, says HR boss' [CNBC]. So that's alright then.
Political Risk: 'Markets Today Are Radically Different Than What We Believe – We Have the Façade of Competition' [Pro-Market]. "The invisible hand of competition,' [Harvard's Ariel] Ezrachi argued, has been replaced by a 'digitized hand,' controlled and 'easily manipulated' by corporations. 'It looks very much like what you will see when you go to a market, and yet it can be changed by a few clicks. It can be manipulated. In essence, it brings us to the Truman Show: a reality where everything looks wonderful, [where] you will have the opportunity to live a quite comfortable life, but the one that actually generates the value, the one that benefits from it, is whomever controls the little bubble that was created for you."
Five Horsemen: 'Alphabet is up 11.58% in the last 30 days' [Hat Tip Jim Haygood].
Today's Fear & Greed Index: 57 Greed (previous close: 57, Greed) [CNN]. One week ago: 49 (Neutral). (0 is Extreme Fear; 100 is Extreme Greed. Last updated May 26 at 11:28am
Seven. Mr. Market happy with Trump's foreign adventures?
Big Brother is Watching You Watch
'[Matthew Crawford] was prompted to write [The World Beyond Your Head] by a profound sense of unease over how the 'attentional commons' was being hijacked by advertising and digital media. One day, he was paying for groceries using a credit card. He swiped the card on the machine and waited for a prompt to enter his details to appear on the screen. He was surprised to find that he was shown advertisements while he waited for the prompt. Somebody had decided that this moment — the moment between swiping your card and inputting your details — was a moment when they had a captive audience and that they could capitalise on it. Crawford noticed that these intrusions into our attentional commons were everywhere. We live, after all, in an attentional economy, where grabbing and holding someone's attention is highly prized' [Philosophical Disquisitions].
Our Famously Free Press
'Nearly half (40%) of millennials use the news feed at Facebook Inc.'s social media site as their source for news. That's far higher than the percentage that uses Twitter (16%) or Instagram (4%). All other news sites garnered the remaining 40%' [247 Wall Street]. That is, 40% of millenials filter have their news filtered for them by a ginormous, global oligopoly whose CEO is making moves like he's running for President. What could go wrong?
Health Care
'Almost across the board, government solutions are cheaper' [Matthew Yglesias, Vox]. Hoo boy.
Dear Old Blighty
"Corbyn: We have to admit 'war on terror' is not working" [Al Jazeera]. "I had transgressed the unwritten law."
News of the Wired
'Slave, scholar, stoic' [Medieval manuscripts blog]. 'The early Christian theologian Origen (d. 253/4) claimed that Epictetus's owner broke his leg, a situation Epictetus reportedly handled with logic and wit: [W]hen [Epictetus's] master was twisting his leg, Epictetus said, smiling and unmoved, 'You will break my leg.' When it was broken, he added, 'I told you so."
"From Digital Ink to Paper Print: the making of a travel guidebook" [The Longest Way Home]. Super interesting and inspiring, especially for friends of Nepal.
'#BuyTwitter shareholder push fails, but supporters hold out hope' [San Francisco Chronicle (DB)]. 'Supporters had expected that result. They had been less sure about whether the proposal would hit the 3 percent threshold. If it did, the measure would be allowed to be resubmitted next year. In fact, the aptly hashtagged #BuyTwitter initiative got 4 percent of shareholder votes, according to Jim McRitchie, the shareholder advocate who got the measure on the ballot.'
* * *
Readers, feel free to contact me with (a) links, and even better (b) sources I should curate regularly, and (c) to find out how to send me images of plants. Vegetables are fine! Fungi are deemed to be honorary plants! See the previous Water Cooler (with plant) here.
And here's today's plant (AM):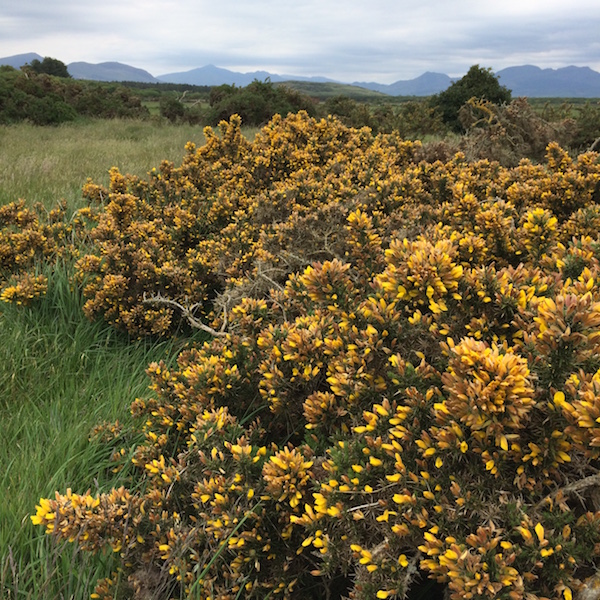 AM writes from Wales: "The gorse (?) at Royal St. David's Golf Course in Harlech, Wales. The Snowdonian National Park mountains are in the background. Can't keep nature too far away from this old course, developed in the 1880's." If that's the rough, it's actually rough, unlike manicured American so-called golf courses.
* * *
Readers, Water Cooler is a standalone entity, not supported by the Naked Capitalism fundraisers. Please use the dropdown to choose your contribution, and then click the hat! Your tip will be welcome today, and indeed any day. Water Cooler will not exist without your continued help.