By Lambert Strether of Corrente
Trade
"Economists have already started modeling the potential impact of a TPP deal without the U.S., and the results show modest gains for the 11 other countries. But the potential benefits laid out in an upcoming study could be enough to deepen resolve to get a deal done. Morning Trade got its hands on some of the top-line results of a study coming out next month that was commissioned by the CanadaWest Foundation, a free-trade oriented think tank in Calgary, … by Dan Ciuriak, a former deputy chief economist for Canada's department of foreign affairs and international trade" [Politico].
Politics
Hot Takes on the French Election
Shot:
We need a global conversation on how to develop a "compassionate capitalism" that answers economic displacement w/ alternatives to fascism.

— Joy Reid (@JoyAnnReid) May 7, 2017
A "global conversation" instead of a "national conversation." (I'm starting to see the word "global" in liberal catchphrases in places I'm not used to seeing it.)
Chaser:
Victory for Macron, for France, the EU, & the world.

Defeat to those interfering w/democracy. (But the media says I can't talk about that)

— Hillary Clinton (@HillaryClinton) May 7, 2017
"But" — [reading a second time] — "the media says I can't talk about that." ZOMG!!! My eyes!!!!!!!
2016 Post Mortem
Here is a slide from Day One of the Democrat Unity Commission (via):

Notice that this contradicts DNC lawyer Spiva's theory of the case in "Wilding et al. v. DNC Services Corporation, D/B/A Democratic National Committee and Deborah "Debbie" Wasserman Schultz." In essence, Spiva only talks about the first bullet. He doesn't talk about the second. More on that case–

"To sum up, in the space of the hearing, the DNC claimed that: The words "evenhandedness and impartiality" are subjective and hard to define; commitment to these principles is something the DNC is simply volunteering to do; the DNC has every right to tip the scales for a candidate or simply choose them in a smoke-filled room; and that any failure to abide by its own charter is no different from a politician breaking a major campaign promise" [In These Times (altandmain)]. "These exchanges showcase the problem facing the DNC. To succeed in winning the case, or even have it dismissed, it also has to publicly make arguments that reflect incredibly poorly on it. Every effective legal defense that Spiva puts forward produces quotes that disgruntled Democratic voters will be throwing back at the party for years to come."
2020
"There are at least 22 Democrats thinking about running for president in 2020" [CNN].

"The 43 people who might run against Trump in 2020" [The Hill].
2018
"The Democratic opposition research group American Bridge, for instance, has spent more than $300,000 on digital and radio ads on the issue so far this year, according to the group's vice president, Shripal Shah. American Bridge has also commissioned polls showing swing voters in key states are concerned about the controversy and want an independent probe" [Politico]. American Bridge is Brock's vehicle.
Realignment and Legitimacy
"The Rock-Star Appeal of Modern Monetary Theory" [The Nation]. (I live-blogged Bill Mitchell, Stephanie Kelton, Warren Mosler, Marshall Auerbach, Randall Wray, and Pavlina Tcherneva at 2010's Fiscal Sustainability Counter-Conference, and commented at the time: "It's like watching the best band in the world trading riffs." I've never seen anything like it, before or since.) "MMT is less prescriptive: It describes the way that money works in a way that an 8-year-old can grasp more readily than a PhD, which in itself is unnerving. 'The contribution of MMT is not the discovery of new facts,' Galbraith says. 'It's a teaching core of things which are factually uncontroversial.; But its implications can be radically humane. What's threatening to the establishment, Galbraith adds, 'is that the narrative is very compelling.'" And with a shout-out to Naked Capitalism! Oh, and Stephanie Kelton is "impeccably coiffed"!

"Before Occupy: How AIDS Activists Seized Control of the FDA in 1988" [The Atlantic]. Important history, long forgotten (or erased).

"Integrity: The Real Source Of Division In America's Political Left" [Medium]. "Yesterday I conversed with a man who told me, in response to my criticism of the Democratic party's idiotic Russia conspiracy theories, that it didn't matter whether the accusations are true or not, because Trump needs to be stopped regardless." Yes, that's where we are.
Stats Watch
Labor Market Conditions Index, April 2017: "Upward revisions are the surprise for the labor market conditions index where prior readings this year have been revised 2 points and higher" [Econoday]. "This year's run, though still moderate, is now the best in 2 years. This index tracks a wide range of employment statistics including wages which have been soft compared to labor growth." And: "After incorporating revisions, the index has increased for the last 11 months in succession. These were also the two strongest readings since the second quarter of 2015 which indicates consistent strength in the labour market" [Economic Calendar].
Retail: "Logistics companies are betting any rebound in U.S. consumer spending comes over the web. Businesses tied to e-commerce fulfillment resumed hiring at a rapid pace in April" [Wall Street Journal].
Shipping: "The long-discussed efforts of China's government to rebalance the nation towards a more consumer-driven import economy until very recently haven't borne much fruit when examining container flows with some of its biggest trading partners" [Lloyd's Loading]. "However, we are finally starting to see a shift as for the first time in our data series imports to Greater China outpaced exports in 2016; the inbound trade from our sample of trades growing by 2.3% year-on-year versus 0.5% for the outbound market, in the process lowering the export-to-import ratio. Closer inspection of the numbers shows that the transition really gathered pace in the second half of last year. As of February, Greater China's 12-month moving average for imports has gained around five index points since August, more than twice as fast as seen into either North Asia or Southeast Asia. Greater China exports over the same period increased by around two index points."
Shipping: "Another ore carrier belonging to under pressure Polaris Shipping from South Korea has a couple of cracks on its deck" [DC Velocity]. Not a good look. "The news will likely prove a hammer blow to Polaris's plans to list this summer. Polaris is the world's largest owner of very large ore carriers. However, its reputation has been hit hard following the sinking with the likely loss of 22 lives of the Stellar Daisy, another elderly converted ore carrier, on March 30 followed by cracks being found in another vintage ore carrier and machinery errors on another ship."
The Bezzle: "Tech bubble is quietly bursting with overvalued 'unicorn' startups" [Seattle Times]. "It has become fairly common in the last couple of years for tech companies to go public at valuations below where they stood as private companies. (One of Cloudera's competitors, Hortonworks, also took a valuation haircut at its IPO.) But the scale of the comedown for Cloudera was something new. It will be a long slog for Cloudera to dig out of its valuation hole. Failure is common — even celebrated — in technology. But there's a category of Cloudera-type companies no one wants to talk about that are neither crazy successes nor obvious flops. They were simply wildly overvalued in the startup-funding hot zone of 2014 to 2015, and they likely can't sell or go public at anything close to earlier valuations…. There are more moments of reckoning to come from the startup funding bubble of 2014 and 2015. This is a new kind of failure, and Silicon Valley hasn't come to grips with it yet."
The Bezzle: "How digital supply chain management—the broad concept that Cloud-based systems, analytics and monitoring of goods, vehicles and other assets via the Internet of Things (IoT)—will improve the way supply chains run, is top of mind for many in logistics today" [Logistic Management]. Swell. The Internet of Things.
The Bezzle: "Wal-Mart Stores Inc. doesn't want to just wait around for consumers to order household goods online. The retailing giant is seeking a patent for the use of sensors that would be attached to goods in homes and track their use and, perhaps more significantly, trigger automatic delivery of replacements" [Wall Street Journal]. ", but the reach of the technology under research suggests the fierce competition that's underway for e-commerce innovations." Ah, "innovation."
Robots: "The North American robotics market jumped 32 percent in order volume for the first quarter, as industrial and retail giants such as General Motors Co. and Amazon.com Inc. increase their investment in automation, according to the industry's trade group" [DC Velocity]. "The driving force behind the fast growth came largely from the automotive sector, where robots ordered by automotive component suppliers were up 53 percent, while orders by automotive original equipment manufacturers (OEMs) increased 32 percent, RIA said. Orders also came from a diversity of other sectors, including non-automotive industries like metals (54 percent), semiconductors/electronics (22 percent), and food and consumer goods (15 percent), according to RIA."
Rapture Index: Closes up 1 on Crime Rate. "The crime rate drops in many cities" [Rapture Ready]. Record high, October 10, 2016: 189. Current: 182.
Today's Fear & Greed Index: 47 Neutral (previous close: 47, Neutral) [CNN]. One week ago: 49 (Neutral). (0 is Extreme Fear; 100 is Extreme Greed). Last updated May 8 at 12:10pm. Dullsville.
Health Care
"All the horrific details of the GOP's new Obamacare repeal bill: A handy guide" [Michael Hiltzik, Los Angeles Times]. This one's for all the marbles:
Under the GOP plan, Medicaid expansion, which currently provides coverage to some 10 million low-income Americans, would be killed as of 2020. It also converts Medicaid into a block-granted program, stripping more than $800 billion from the program over 10 years. Because block-granted program can't keep up with the needs of beneficiaries, this means that states would have to respond to fiscal stringencies by cutting benefits or throwing enrollees out.
Medicaid expansion is the one part of the ACA that can be said unequivocally to work, unsurprisingly: It's a single payer program funded by the currency issuer (though not a very good one, since it's for poor people). So it's bitterly ironic that the Republican reaction to the half-assed, pissant ObamaCare is to assault and roll back an existing Federal program, and one from LBJ days at that. Of course, kicking the poors is can always be made popular, and remember that if you're near the poverty line, but not below it, you could be forced into the Exchanges, and pay more money for worse care than somebody who makes less than you and may not even be working. So, to a certain sort of crabs-in-a-bucket mentality, making Medicaid worse restorse the natural order of things. (A genie appears to a peasant and grants them one wish. The peasant thinks for a moment, and says: "I wish for my neighbor's cow to die.")
"As they take their victory lap for passing a bill that would repeal and replace much of the Affordable Care Act, President Trump and congressional Republicans have been largely silent about one of the most remarkable aspects of what their legislation would do: take a step toward dismantling a vast government entitlement program, something that has never been accomplished in the modern era" [New York Times].
"Even if a watered-down version of House Republicans' health-care legislation becomes law, states are probably going to be on the hook for billions of dollars of health-care costs, especially for the poor and sick. And that means they're going to have to make some hard choices: Do you find a way to raise taxes/cut other services to keep your most vulnerable population insured? Or do you just stop insuring them?" [Washington Post]. "That's the heart of the question facing all 50 states as Republicans in Washington unwind the federal government's involvement in health care. Legislatures trying to answer it could get ugly." Even if California does pass single payer — and with an economy the size of France, they have the scale Vermont didn't — what happens in a downtown? California is not a currency issuer…
"Cutting nearly $1 trillion from Medicaid will give states the freedom to tailor the program to suit their needs, Health and Human Services Secretary Tom Price said Sunday, as he defended a narrowly passed House bill that aims to undo parts of the health care law enacted by the previous administration" [Yahoo News]. And from the same story: "[Maine Senator Susan] Collins said she expected the Senate would come up with a 'whole new fresh approach' to replacing the Affordable Care Act, enacted under President Barack Obama. 'The House bill is not going to come before us,' she said. 'The Senate is starting from scratch. We're going to draft our bill, and I'm convinced we will take the time to do it right.'
"When Representative Mo Brooks said it was unfair that healthy "people who lead good lives" should have to subsidize the insurance of unhealthier ones who presumably don't, he bluntly raised an often unspoken question that runs through policy debates in Washington: Who deserves government aid and who does not?" [New York Times]. To which conservatives answer: "The good people," and the liberals answer: "The people approved by our nomenklatura of credentialed gatekeepers."
"At a stop in Beverly Hills, Bernie Sanders vows Obamacare repeal bill 'is never going to pass' in Senate" [Los Angeles Times]. "[H]ealthcare dominated much of the talk, with Sanders adding that it's important to acknowledge the 'many, many problems' with Obamacare. Some of the most raucous applause from the audience came after Sanders mentioned his so-called [(!!!) –lambert] 'Medicare for All' single-payer healthcare proposal. ..'Let me tell you,' he said as the theater erupted in applause. 'That legislation is never going to pass the United States Senate.'" I hope Sanders is correct.
"High-Price And Low-Price Physician Practices Do Not Differ Significantly On Care Quality Or Efficiency" [Health Affairs]. From the abstract: "Compared with low-price practices, high-price practices were much larger and received 36 percent higher prices. Patients of high-price practices reported significantly higher scores on some measures of care coordination and management but did not differ meaningfully in their overall care ratings, other domains of patient experiences (including physician ratings and access to care), receipt of preventive services, acute care use, or total Medicare spending. This suggests an overall weak relationship between practice prices and the quality and efficiency of care and calls into question claims that high-price providers deliver substantially higher-value care."
Black Injustice Tipping Point
"Throughout its history, the region has incubated bold American solutions to hunger and food access. Radical Southerners, especially black women, who long provided the expertise and labor on farms and in kitchens, have challenged American agricultural practices and driven our changing relationship to food" [New York Times]. "In the late 1960s, as the civil rights movement shifted to address economic injustice, Ms. [Fannie Lou] Hamer conceived agricultural solutions to the plight of her fellow Americans, including a communal farm and livestock share program in Sunflower County in the Mississippi Delta. That work set the stage for the progressive agricultural policies and practices of today, with their focus on food sovereignty and their reliance on community farms." And:
With the help of Dorothy Height, the president of the National Council of Negro Women, she developed a Pig Bank in Sunflower County in 1969. Conceived as a complement to Freedom Farm, the idea was innovative and, for the moment and place, odd. Beginning with 35 gilts and five boars, she gave pregnant pigs to Delta families who agreed to care for them, return the mother pig to the bank and keep the remaining piglets as dividends. Poor families butchered those dividends once they reached an acceptable weight.

Instead of buying ham and lard from a plantation commissary, Ms. Height bragged, Delta women went a year without store-bought pork. The Pig Bank built pride.
"The Pig Bank" does have a certain resonance…
"[Ben Handy, founder and president of the Ridgeland Block Club Association], has also used the Taste of African Heritage course as a way to introduce his students to another food access nonprofit: Top Box Foods, a local organization started by Chris and Sheila Kennedy that seeks to mitigate food deserts in the Chicagoland area by delivering fresh produce to designated drop-off sites. By buying from the same suppliers as a chain store like Mariano's but forgoing fancy packaging, Top Box passes on a discount of up to forty percent to the consumer."
Gaia
"David Fairchild introduced a mind-bogglingly large number of plants to the U.S., changing the country's farms and botanical gardens forever" [Smithsonian]. "By the end of Fairchild's career, according to Lambert, his office had introduced 111,857 new species to the U.S. It was a grand testament to the United States' richness and new twentieth-century openness to the world. And the introduction of such diversity reassured those concerned that the domestic food supply could be easily wiped out by one disease, drought or insect. His private collection was vast, and the botanical garden that bears his name has a rich collection of plants from around the world."
Guillotine Watch
"Forty-Nine Straight Hours Inside Trump's Washington Hotel" [Bloomberg]. Execrable taste. The Medicis, America's squillionaires are not: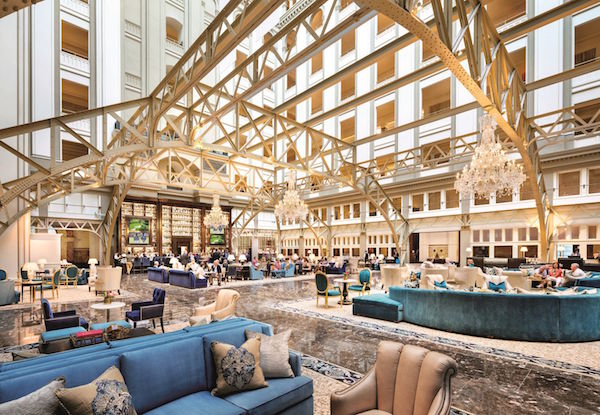 Key fact buried in the story: The building was once a United States Post Office, so this is not only a uglification story, it's a privatization story. That is, a neoliberalism story. (Democrat Diane Feinstein's squillionaire husband, Richard Bloom, is in the same racket.)
Class Warfare
"But the race, and the work of the wider industry, rest largely on the backs of an immigrant workforce making on average $400-$600 a week as well as free lodging in a huge dormitory inside the Churchill Downs complex. The skilled work typically requires a regular crew of guest workers, who live in Mexico in the offseason. However, as a result of Trump's immigration crackdown, many horse workers were unable to make the trek to Churchill Downs this year" [Guardian]. So, and again, open borders, sanctuary cities, etc., are about cheap labor.
"The terrifying downside to a start-up: Being too broke to feed your family" [WaPo]. Try working at Walmart…
News of the Wired
"I Finally Understand Online Mom Drama" [New York Magazine].
* * *
Readers, feel free to contact me with (a) links, and even better (b) sources I should curate regularly, and (c) to find out how to send me images of plants. Vegetables are fine! Fungi are deemed to be honorary plants! See the previous Water Cooler (with plant) here.
And here's today's plant (via):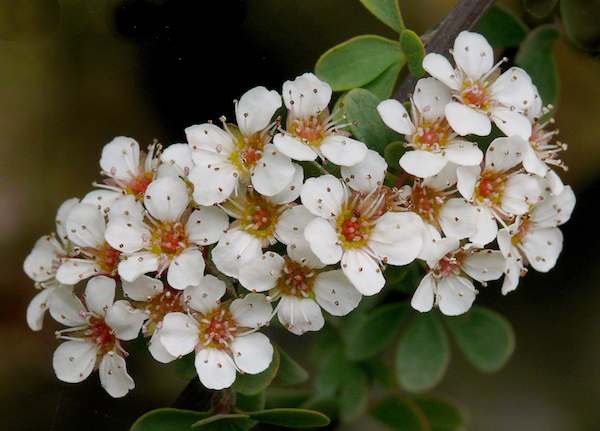 * * *
Readers, Water Cooler is a standalone entity, not supported by the Naked Capitalism fundraisers. Please use the dropdown to choose your contribution, and then click the hat! Your tip will be welcome today, and indeed any day. Water Cooler will not exist without your continued help.