By Lambert Strether of Corrente
Trade
"The European Union is abandoning its love of trade agreement acronyms like TTIP and CETA as it tries to avoid a future where such terms are held hostage by opposition groups" [Politico]. "European Commission President Jean-Claude Juncker's top aide, Martin Selmayr, this week acknowledged these abbreviations have no future. "President Juncker is an opponent of abbreviations, me personally too, and if you start a debate with such an abbreviation you have probably already lost," he [said]. European Trade Commissioner Cecilia Malmström made a similar reflection during last year's crisis in which the EU nearly failed to ratify the EU-Canada agreement. 'We should have never called it CETA. Just EU-Canada trade agreement, nothing else,' Malmström said. Acronyms have become 'quite toxic' since trade-skeptic NGOs and campaigners seized on them to spur fears about trade deals, the commissioner said."
"Imports from Korea in March 2017 were higher than any month but one in the five years the U.S.-Korea Free Trade Agreement (FTA) has been in effect. Today's release of new U.S. Census trade data for the first full five years of the Korea FTA spotlight statements from both President Donald Trump and Vice President Mike Pence in the past month that the pact's outcomes are unacceptable. While the statements were notable for coming despite escalating military tensions on the Korean Peninsula, what the administration will do about the pact and when remains a mystery" [Public Citizen].
Politics
2016 Post Mortem
"A select group of top Democratic Party strategists have used new data about last year's presidential election to reach a startling conclusion about why Hillary Clinton lost. Now they just need to persuade the rest of the party they're right." [McClatchy]. "But new information shows that Clinton had a much bigger problem with voters who had supported President Barack Obama in 2012 but backed Trump four years later. , according to Matt Canter, a senior vice president of the Democratic political firm Global Strategy Group. In his group's analysis, about 70 percent of Clinton's failure to reach Obama's vote total in 2012 was because she lost these voters…. His firm's conclusion is shared broadly by other Democrats who have examined the data, including senior members of Clinton's campaign and officials at the Democratic data and analytics firm Catalist." In other words, Global Strategy Group agrees with the thesis of this post: "Political Misfortune: Anatomy of Democratic Party Failure in Clinton's Campaign 2016 (Part II)" (March 7, 2017). Cue happy dance, because you read it here first….

UPDATE: "DNC LAWSUIT: DNC WON'T ANSWER COURT'S BASIC QUESTION ABOUT STATE PRIMARY DEALS — PART 2 OF 3" [The Florida Squeeze]. Excellent that the small blogs, if not the mainstream press, are following this story, and reading that amazing transcript. This is an important post, which I urge you to read in full. Let me try to pull out the salient points.

First, the DNC lawyers, Perkins Coie, also represent the Hillary Victory Fund (HVF). (Remember the story Politico broke? How the Clinton campaign raised money, supposedly for state parties, but in reality laundered it through the state party bank accounts and right back to the Clinton campaign? The polite word, however, is not "money laundering" but "joint fundraising.") Florida Squeeze notices these exchanges:

There's a curious exchange in the DNC fraud lawsuit transcript of motion to dismiss. It's between counsel for defense Bruce Spiva and Judge William Zloch. After opening statements, the judge asks DNC counsel an ostensibly simple question that can be summed up as, "Explain the DNC relationship with primaries at the state level." I thought, 'well this is going to be boilerplate,' and started to skim ahead. But then I noticed the DNC's attorney stumbles through nine re-phrasings of the original question without offering a straight answer.

This should have been the easiest question of the day: "How does your client do its job?" Ten times the judge asked Spiva to explain the working relationship with the DNC and the primary process in the states. Ten times Spiva gave vague and confusing answers.

So, why is Spiva (DNC/HVF's lawyer from Perkins Coie) dancing around?

Counsel for the DNC tap-danced around the judge's initial line of questioning before finally answering that primary elections are "generally state funded." But he left out how the Clinton campaign's "takeover of national party structure" completely changes the context for "state funded." Sure, there's accounts with the state's name on them, but the money was supplied by the Clinton campaign. At the very least, counsel for the DNC is being disingenuous when he says the DNC doesn't fund state elections. In 2016 alone, FEC filings show that Florida received almost $22 million from DNC Services corp. How does that not constitute DNC funding?

It's misleading that Hillary Victory Fund raised most of that money, but when it's reported by the states, it comes from DNC. Checks with lots of zeros buy favoritism, full stop. The mechanism for fixing elections is with "funding support, and the like." That's precisely what this lawsuit is about.

Sanders supporters raised record amounts of small dollar donations believing the primary process would be fair and evenhanded. Donations came from people who never contributed to a candidate, and who could barely afford the expense. They believed the sacrifice was worth it to help repair democracy.

You can tell what really terrifies the Democrat Establishment about the Sanders campaign: Small donors. How do you know that? They never mention it.
2020
"72,000 Iowans could be first to lose coverage as insurance market collapses" [Des Moines Register]. Should play well in the caucuses…
2018
"House 2018: Rating Changes in 20 Districts" [Cook Political Report]. AHCA-related. The salient point: "There are still 18 months before the 2018 election, whereas House Democrats eked out final passage of the ACA less than eight months before the 2010 midterms. These Republicans can't afford a year-long Senate slog."
2017
GA-06: "11Alive adds temporary 7 p.m. newscast on WATL-TV to accommodate Ossoff/Handel political ads" [Atlanta Journal-Constitution]. "The current newscast commercial inventory is otherwise too tight at the NBC affiliate, the sources said. In other words, the bonus newscast is more a place to air these ads for a few weeks rather than an actual consumer service." And here's what the Democrats are buying with their ad money–

UPDATE GA-06: Democrats try to catch a wave election by morphing the highly malleable Ossoff into a Republican:

Jon Ossoff has come a long way from "Make Trump Furious." New ad focuses on gov't waste+deficit. Needs I+Rs now. https://t.co/DA8MOkQBmi

— Alex Seitz-Wald (@aseitzwald) May 4, 2017

Ossoff is, in other words, propounding the falsehood that Federal spending depends on the Federal government's ability to tax and borrow (see Joe Firestone here).

MT: "National Democrats are making a late bid to help their party's candidate [Rob Quist] in Montana's May 25 special congressional election. But the party's $600,000 investment is paltry compared with the more than $2 million that a Republican group is spending to protect a seat the GOP has held for two decades" [US News]. "Much of that money is being spent on television spots. In the final month of the campaign, campaign groups supporting Republican Greg Gianforte are spending $2.6 million for airtime, while groups loyal to Democrat Rob Quist are spending about a fifth of that amount on TV ads."

MT: "The new donation brings the DCCC's total investment in Quist to $600,000. On April 20, the DCCC invested $200,000 in the folk singer, which was used to buy political ads for Quist's campaign. According to [DCCC spokeswoman Meredith Kelly], the additional money will be invested in a program aimed at getting likely independent and Democratic voters to vote by mail, which accounts for approximately 60 percent of Montana's voters, as well as to buy more TV ads" [HuffPo]. "Quist recently declined an offer for Democratic National Committee chair Tom Perez to visit the candidate in Montana. Some Democratic operatives say a visit from Perez could prove unhelpful in Republican-leaning districts." That last sentence sounds to me like Democrat excuse-making for not funding Thompson in KS-04, repeated.

MT: "But Quist is a compelling character running on a message of authenticity against a candidate who's already lost statewide once. And given how few people tend to turn out for special elections, it's impossible to know who will wind up winning this one, especially if national Democrats start throwing more money at the race" [CBS News].
Realignment and Legitimacy
New York protesters greet Trump on first visit home Reuters. That should do it. Where are the #MedicareForAll signs?

"Ba­sic­ally, Demo­crats and Re­pub­lic­ans tend not only to have a very dif­fer­ent view of the role of gov­ern­ment, but also a dif­fer­ent value struc­ture: Demo­crats are ob­sessed with justice, and Re­pub­lic­ans are equally ob­sessed with liberty" [Charles Cook, Cook Political Report]. When you look at actions, neither parties nor partisans seem to be doing very well along either axis.
Stats Watch
Employment Situation, April 17: "The labor train is back on the tracks as nonfarm payrolls reversed the prior month's weakness and came in on the high side of expectations" [Econoday]. "Strength in the labor market continues to pull down the unemployment rate which fell 1 tenth to 4.4 percent for the lowest reading since May 2001. This rate is derived from a separate set of data where the number for unemployed fell by 146,000. There were very few new entrants into the labor market during the month, squeezing what are already tight conditions and pulling down the pool of available workers to 12.8 million from 13.0 million. And the labor participation rate, despite gains in employment, is down 1 tenth to 62.9 percent. which did rise a respectable 0.3 percent in the month though the year-on-year rate fell 1 tenth to a very soft 2.5 percent. How long wages can stay quiet given the lack of available labor is an open question. The first quarter was unusually weak for the economy and today's report marks an important start for what will hopefully be a much stronger second quarter. But very sizable payroll growth in January and February (at 216,000 and 232,000) failed to give any lift to the consumer who, when it came to spending, retrenched in the first quarter. Still, this report is an unquestionable plus that suggests prior weakness may very well have been, as the FOMC argued in Wednesday's statement, no more than 'transitory.'" And: "Although U-6,the number of persons employed part time for economic reasons, and the number of long term unemployed are still a little elevated, it appears the economy is nearing full employment. Overall this was a solid report" [Calculated Risk]. And but: "The household and establishment surveys were in sync this month. The unemployment rate drop was caused by a insignificant number of people added to the workforce. I consider this report good, but one has mixed feeling while diving into the data – is the glass half full or empty?" [Econintersect]. And: "Among other important data released in the report are jobs added and lost in major industries. Jobs were added in leisure and hospitality (55,000), health care and social assistance (37,000), financial activities (19,000), and mining (9,000) industries. Jobs were also added in the retail (6,300), construction (5,000), and government (17,000) sectors. The education sub-industry, which is part of the health care and social assistance sector added 4,000 jobs in April" [247 Wall Street].
Shipping: "Ocean freight capacity shortages on the Europe to Asia trade suffered by forwarders and shippers in March and April have finally begun to ease after two months of supply chain disruption" [Llloyd's Loading].
Housing: " A recent report shows that condo prices in Orange County have now reached a record level. This makes sense given the blistering horny buyers that can't get enough of the tiny amount of inventory out in the market. The same shtick is being pumped out there from last time including "condos are a great way to build equity so then you can buy a home." How convenient! Of course people got massively burned by condos in the last bust because condos in many cases are apartments with 30 year mortgages" [Dr. Housing Bubble].
Apparel: "This is clothing made from specially woven fabric with touch-screen control capabilities that can be designed in such a way to visually stand out or go unnoticed depending on designers' wishes" [France24]. "French-based fashion company Spinal Design, for example, has created jeans that can give wearers with directions without having to whip out the mobile at every single intersection. Through blue tooth sensors stitched into the jeans' waistband, the smart phone stays out of sight." This sounds stupid to me. But am I showing my age?
Commodities: "The softer metals demand is being felt around the world, as waning exports from key producing countries start to eat into earnings at big bulk shipping companies. A big concern is that expected demand for infrastructure and construction projects in China—long a pillar of global commodities prices—may not materialize as the government tries to rein back debt created by the big projects. Prices for foundation commodities including iron ore and steel rebar have been falling from four-year highs in March" [Wall Street Journal].
Supply Chain: "Xi Jinping's "Belt and Road Initiative", a central feature of the Chinese president's foreign policy, is establishing what generals like to call facts on the ground. By financing around $150bn of infrastructure spending a year in countries to China's south and west (along the old Silk Road), Mr Xi hopes to create new markets for Chinese firms and new spheres of influence for his government" [The Economist]. But: "The problem is partly one of scale: China is so vast that belt-and-road countries fear being overwhelmed by it. Loans from one bank, China Eximbank, for example, account for a third of Kyrgyzstan's foreign debt. Yunnan is one of China's poorer provinces. Yet its economy is still four times bigger than that of its more populous neighbour, Myanmar. Countries both long for and dread Chinese investment."
Today's Fear & Greed Index: 45 Neutral (previous close: 45, Neutral) [CNN]. One week ago: 50 (Fear). (0 is Extreme Fear; 100 is Extreme Greed). Last updated May 5 at 12:22pm.
Health Care
"Political Theater: How A Bill That Nearly All Opposed Managed To Pass The House" [Kaiser Health News]. "Peter Kongstvedt, a Virginia health industry consultant, said some House Republicans are likely betting the Senate blocks their legislation from going forward. "Nobody wins with this vote — that's the damnedest part," he said. 'It's a shallow political statement.'… The GOP's focus was not so much on what can lower prices and increase health coverage but how to persuade the right-wing Freedom Caucus to back the legislation."
"20 Republicans voted against the health care bill. Here's why" [CNN]. "So, who are these 20 GOPers — and, more importantly, why did they vote against the much-touted GOP effort to repeal and replace Obamacare? They tend to be moderates from the Northeast and Midwest — 11 of the 20 are from Pennsylvania (four), New Jersey (three), New York (two) and Ohio (two) — who sit in very competitive districts. There are also a handful of outliers who opposed the bill for their own unique reasons."
"How Trump won another unlikely victory" [CNN]. "House GOP members finally steeled themselves to overcome the infighting and inaction that tarnished Trump's First 100 Days.
It is also the story of how the GOP decided that the price of inaction now was greater than the risk of passing a bill that even many Senate Republicans believe is deeply flawed."
"How one U.S. state is leading the charge to dismantle Obamacare" [Reuters]. That would be Mitch McConnell's home state, Kentucky. "Kentucky has proposed to lessen its financial burden before it grows by reducing the number of residents on Medicaid by nearly 86,000 within five years, saving more than $330 million in the process. Kentucky's plan also calls for new work requirements for able-bodied adults to get insurance. Plus, it would establish new fees for all members based on income and lock out some people who miss a payment or fail to re-enroll. By following these proposed rules, Kentucky believes Medicaid enrollees will over time graduate from Medicaid to private and employer insurance plans." Graduate?! More:
Last year, [Kentucky Governor Matt] Bevin submitted the waiver to restrict Medicaid eligibility by requiring enrollees to work or volunteer at least 20 hours per week and to pay monthly premiums based on income. He's still awaiting approval.

Bevin said he has spoken with several governors about the waiver and has had extensive conversations with Health and Human Services Secretary Tom Price about fast-tracking the approval process in order for other states to quickly adopt similar programs. Such conversations are occurring across the country in response to encouragement from the new administration to reform state Medicaid programs, said Alleigh Marre, a Health and Human Services spokeswoman.
"AHCA is a betrayal of all the GOP's promises on health care" [Vox]. "The reality of AHCA is close to the reverse of what Trump promised… The bill his party is now pushing will cover fewer people, charge higher premiums, raise copayments, and raise deductibles. The reason is that the AHCA takes a ton of money out of the health care system in order to provide a $600 billion tax cut, overwhelmingly for the richest households.
While running for president, for example, Barack Obama promised that his health plan would lead to lower premiums for average families. When pressed, his policy team would gladly clarify that what he meant was premiums would increase at a lower-than-expected rate. That was a reasonable promise, but not nearly so politically appealing as the much grander promise the candidate made in his speeches. And the policy of misleading people worked well enough until he was actually in office, signed a major health care bill, and then people discovered that their premiums were not, in fact, going down.

AHCA, if it becomes law, will put that dynamic on steroids. There's going to be no way to trick people into believing their insurance plans are getting cheaper and better if they are in fact getting worse, or to dupe people who've just lost coverage into believing they haven't. Patients with preexisting conditions will see with their own eyes that no commitments have been strengthened.
AHCA won't become law, because the Senate will write its own bill (which doesn't mean the Senate won't write a bad bill; see on Kentucky above). It doesn't seem likely to me that voters who fell for the Trump version of "hope and change" will stick with him (especially volatility voters), but where will they go? And noxious as the AHCA's tax cuts are, if they help the Republicans in those wealthy suburbs where the Democrats want to challenge them, don't you think those tax cuts will go through?
"The Senate's Key Health Care Players" [Roll Call]. "The legislation being considered in the House is widely expected to change significantly in the Senate, and coordination between [Orrin] Hatch and [Lamar] Alexander will be critical. The two wield enormous influence over any health care legislation — Hatch as chairman of the Senate Finance Committee and Alexander as leader of the Health, Education, Labor and Pensions panel…. Among a number of actions he has taken since the start of the year, aides say McConnell has organized a working group of roughly a dozen GOP senators to discuss issues related to the repeal of the health care law. Members of the group include Hatch, Alexander, Cruz and Lee, as well as Colorado's Cory Gardner, Arkansas' Tom Cotton and Pennsylvania's Patrick J. Toomey [, and] Senate Republican Policy Chairman John Barrasso of Wyoming and Senate Budget Chairman Michael B. Enzi of Wyoming. But the input of Hatch and Alexander will likely be the most crucial." And It remains to be seen whether the amendment by the the House Freedom Caucus "allowing states to waive several of the law's requirements related to what insurers must cover… can even meet the Senate rules governing reconciliation. Democrats say it won't."
Shot:
Democrats sing "Na, na, na, na, hey, hey, goodbye" after the House vote on healthcare https://t.co/CNr35nFXk1 pic.twitter.com/XkNxhR65JQ

— Los Angeles Times (@latimes) May 5, 2017
What is this, junior high school? What an idiotic message. Putting the focus on the party, instead of the people hurt by the bill? Virtue signaling on people who'll lose their coverage when ObamaCare doesn't cover 25 million? Yammering about pre-existing conditions when people pay premiums for insurance they may never be able to use because of narrow networks and high deductibles? The Democrat Establishment might as well set the Iron Law of Institutions to music and sing that.
Chaser:
.@EvanMcS asks @NancyPelosi if single payer should be a Democratic Party platform in 2018.

"No," she says, without missing a beat

— sick transit, gloria (@samknight1) May 4, 2017
Imperial Collapse Watch
"In 1943, 38% of America's nonfarm labor force was in manufacturing, owing to high demand for bombs and tanks at the time. After the war, the normal share of nonfarm workers in manufacturing was around 30%. Had the US been a normal post-war industrial powerhouse like Germany or Japan, technological innovation would have brought that share down from 30% to around 12%. Instead, it has declined to 8.6%. Much of the decline, to 9.2%, is attributable to dysfunctional macroeconomic policies, which, since Ronald Reagan's presidency, have turned the US into a savings-deficit country, rather than a savings-surplus country" [Brad DeLong, Project Syndicate]. "As a rich country, the US should be financing industrialization and development around the world, so that emerging countries can purchase US manufacturing exports. Instead, the US has assumed various unproductive roles, becoming the world's money launderer, political-risk insurer, and money-holder of last resort…."
Gaia
"Life on the Keystone XL route: where opponents fear the 'black snake'" [Guardian]. "'Our people call it the black snake because it is evil,' says Tressa Welch, as thunder clouds steamroll the blue sky over the plains of Wolf Point. 'And like snakes they come out of nowhere; they slither and strike unknown.'" Well, she's right.
Class Warfare
"Of the nation's estimated 11 million undocumented immigrants, over 2.6 million live in this state – almost one in every 10 California workers is undocumented. They make up almost half of its farm workers, and over 20 percent of its construction workers. The National Restaurant Association says that of the country's 12 million restaurant employees, nine percent are undocumented, while the Restaurant Opportunities Center estimates that in large cities they make up almost half of that industry's workforce" [Capital and Main]. "'The legislative response in California came from United Service Workers West, the union for janitors, security guards and airport workers affiliated with the Service Employees International Union. 'We want to lead the nation with the strongest resistance efforts to protect workers, not just in the community, but in the workplace,' explained David Huerta, USWW's president."
News of the Wired
"Why can't Des Moines do something about all those abandoned homes?" [Des Moines Register].
"Guy makes good money farming in other people's yards" [Boing Boing]. ZOMG!!!! He's wearing a Common Ground Fair T-shirt! "This nomadic gardener travels between Maine to Florida gardening leased front yards. With a frugal lifestyle and revenues as high as $1.5K a week, he's living the dream."
* * *
Readers, feel free to contact me with (a) links, and even better (b) sources I should curate regularly, and (c) to find out how to send me images of plants. Vegetables are fine! Fungi are deemed to be honorary plants! See the previous Water Cooler (with plant) here.
And here's today's plant (Lee):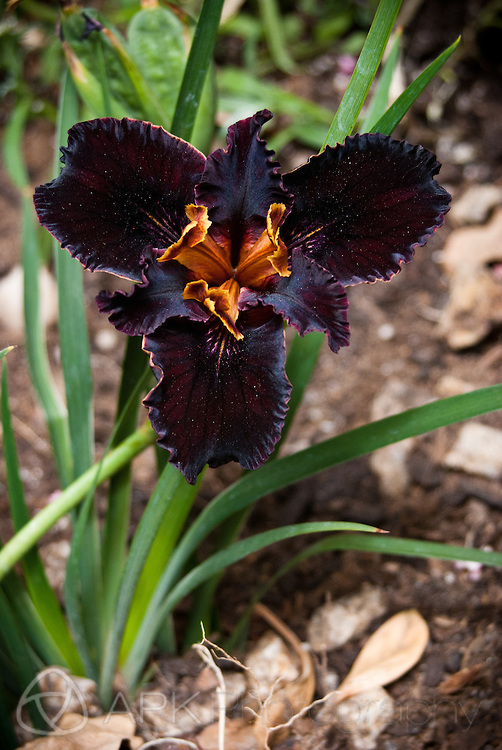 Lee writes: "See your iris and raise you one."
* * *
Readers, Water Cooler is a standalone entity, not supported by the Naked Capitalism fundraisers. Please use the dropdown to choose your contribution, and then click the hat! Your tip will be welcome today, and indeed any day. Water Cooler will not exist without your continued help.