Dear patient readers,
Your humble blogger is not feeling so hot, so I am giving you an extra cross post in lieu of an original post so I can turn in early.
Concrete, or beaches? World's sand running out as global construction booms The Ecologist (micael)
Trump should stay in the Paris Agreement – but not at any cost The Ecologist (micael)
U.S. likely to expand airline laptop ban to Europe: government officials Reuters
Researchers Find Gut Bacteria Can Trigger Brain Lesions That Lead to Strokes ScienceAlert
South Korea Election
Democrat Moon Jae-in wins South Korean presidential election WSWS (micael)

South Korea's new president has a juggling act far beyond the norm Asia Times

Bajo la lupa Malas noticias para Trump: el nuevo presidente sudcoreano puede hacer la paz con Norcorea La Journada (micael)
Australian Bank Tax
Federal budget 2017: Who will bear the cost of the bank tax? ABC [Australia] (MoiAussie)

Here's how the new $6 billion tax on the banks will work Business Insider (MoiAussie)
Russia sanctions to be extended, say EU diplomats Politico
Brussels rejects Trump's criticism over EU trade surplus Politco
French Election
The New President Of France … Moon of Alabama (Darius). From earlier in the week, still germane.
Brexit
Taking back control? Not unless you eat more fish Politico

European residence ruling runs against UK policy Financial Times
Cracks widen between chancellor and No 10 The Times
Don't Go to the Doctor London Review of Books. Chris G: "UK 'Prevent' strategy – how to alienate whole communities and turn public professionals into snitches."
Syraqistan
No, the "New" CNN Video of the Chemical Incident Does NOT Prove that the Syrian Government Did It George Washington

Washington prepares to send up to 5,000 more troops into Afghanistan WSWS (martha r)
Big Brother is Watching You Watch
Intelligence leaker Chelsea Manning speaks out ahead of prison release Reuters
Comey Defenestration
READ: James Comey's farewell letter to friends and agents CNN (martha r)

Republicans Close Ranks Behind Trump Bloomberg

Republicans rebuff call for new Trump-Russia probe Financial Times

Comey's Firing Came as Investigators Stepped Up Russia Probe Wall Street Journal

Comey's firing: Trump frustration finally boiled into action Associated Press (furzy). As we discussed yesterday, notice the role played by Sessions and Rosenstein.

Inside Trump's anger and impatience — and his sudden decision to fire Comey Washington Post (furzy)

By firing Comey, Trump may have fanned the flames he hoped to control Los Angeles Times. While this is true, the problem is that you can't prove a negative. Even if an investigation were to pronounce Trump clean (likely by virtue of having at most inconsequential relationships with Russians, and none with Putin or his inner circle), the Dems would be unsatisfied and would insist the probe was not thorough enough and/or interfered with.

FBI firing leaves Russia probe in uncertainty The Hill (furzy)

Democrats' nuclear option over Comey's firing: shut down the Senate Vox. Darius: "I'd follow Tom Perez nowhere."

Lavrov trolls NBC before Trump meeting as US media, Democrats lose it over Russia RT (Lt. Columbo)

Comey Sought More Funding for FBI's Russia Probe Before Being Fired Wall Street Journal
Trump Transition
The Conviction of an Activist for Laughing Portends Repression of Protest Under Trump Truthout (RR)

Trump's threat to the 2020 Census Politico (Dan K)
Obamacare
Aetna Is Latest Health Insurer to Quit Obamacare Markets Bloomberg
Senate unexpectedly rejects bid to repeal a key Obama-era environmental regulation Washington Post (martha r)
Nestlé Still Extracts Water From Public Land for a Pittance Truthout (Judy B)
Hanaford Tunnel Collapse
Roof failure was at a one-of-a-kind Hanford tunnel system Yakima Herald (martha r). Handy diagrams!

An atomic town revels in its plutonium past as tunnel collapse raises contamination concerns Washington Post (martha r)

Emergency alert at Hanford a call for cleanup Union Bulletin (martha r)
Dakota Access pipeline has first leak before pipeline is fully operational Guardian (martha r). Recall the pipeline will go under the Missouri River, which is the sole source of drinking water for communities with millions of people in them.
Public Corruption in the U.S. States and Its Impact on Public Debt Pricing Wiley (Dr. Kevin)
West Virginia Police Officer Sues After Being Fired for Not Shooting Black Man Guardian (Judy B)
David Sirota is creating Podcast Paetron. Sirota is starting a new show!
IEA Sees Oil Market Supply Deficit Deepen Significantly This Year OilPrice. Note that IEA forecasts have long had a bullish bias.
Zillow faces lawsuit over 'Zestimate' tool that calculates a house's worth Washington Post
Whole Foods, Facing Pressure From Activist Investor, Shakes Up Board New York Times
"The Great Narrowing" of the S&P 500 Wolf Richter
Class Warfare
More than half of young people in Europe would join a "large-scale uprising" WSWS (micael)

Strippers sue Colorado nightclub in labor dispute Reuters. EM: "Talk about naked capitalism!"

A Middle Class Which Aligns with the Rich Cuts Its Own Throat Ian Welsh (martha r)

The Economics of Trust IMF. I'd normally write this up, but the underlying paper is from August. The thesis:

In surveys over the past 40 years, the share of Americans who say that most people can be trusted has fallen to 33 percent from about 50 percent. The erosion of trust coincides with widening disparities in incomes.

But does inequality reduce trust? There is evidence that it does…

Amazon creating a place for hundreds of homeless on its shiny new Seattle campus Seattle Times (martha r)

Children of the Great Recession: Are Millennials Ready to Start the Class Struggle America Needs? John Laurtis (martha r)

What is human capital? aeon (Micael)
Antidote du jour. Mirko from Toronto sends this picture of his cat: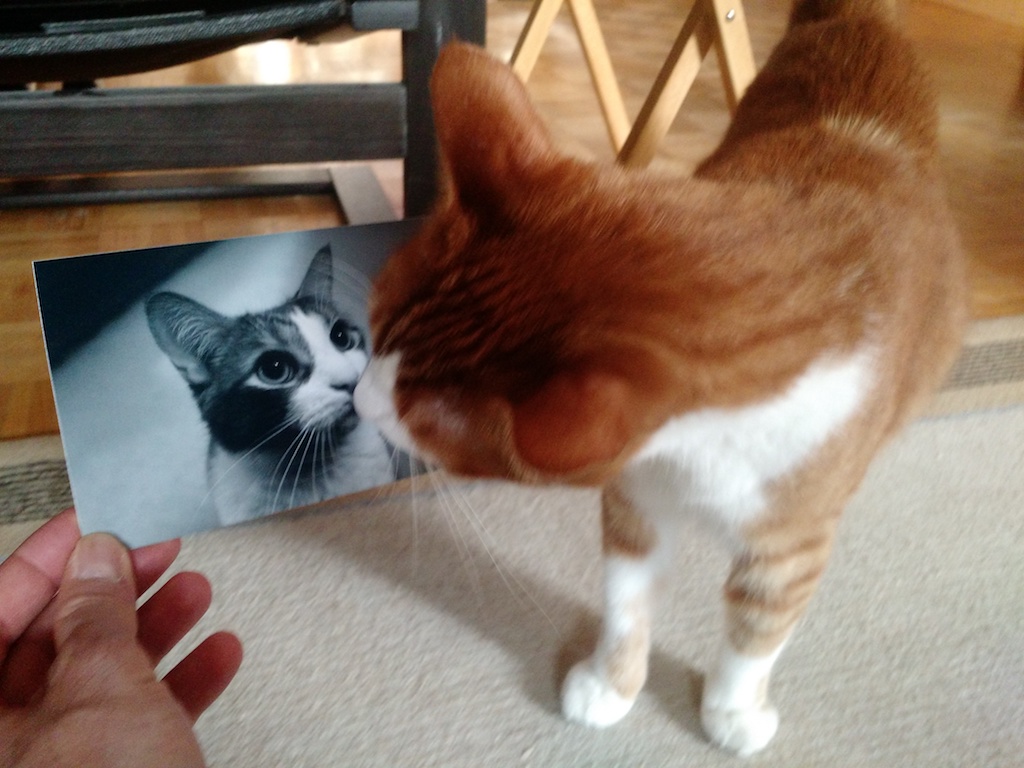 And a bonus video (Timotheus): From the Bored Panda write-up:
A video showing desert critters secretly filmed approaching a water bucket to quench their thirst is going viral. We see different creatures, from bees, to chickens, to a donkey and a rabbit. The video was uploaded by John Wells from The Field Lab, a Southwest Texas alternative energy and sustainable living field laboratory.

"I was pleasantly surprised during the edit to see that George [the rabbit] made an appearance. I know him from all the other rabbits because of the tiny notch in his ear." The guy was quick to add: "Note: The swimming bees were rescued."

John Wells, who moved from New York to almost 'the middle of nowhere' to purchase an off-grid lifestyle, is already known in certain ecology-conscious circles for managing to build a modern house with solar energy and composting for just $1600.
See yesterday's Links and Antidote du Jour here.