Readers, I apologize for the excessive number of links. Grab a cup of coffee. –lambert
Brood Awakening: 17-Year Cicadas Emerge 4 Years Early Scientific American
Cowbirds' Secret Identity Is Unlocked By A Vocal Password Science (RS).
Catnip Repels Mosquitoes More Effectively Than DEET Science Daily (EM).
British Airways cancels all flights from London after computer outage Los Angeles Times
Chipotle says 'most' of its restaurants were infected with credit card stealing malware The Verge (Re Silc).
The last stage of the Brazilian coup the unbalanced evolution of homo sapiens
India
Down The Drain The Caravan

Sacked IT employees approaching unions for support Economic Times
Greece
Eurogroup Transcripts Reveal IMF Still Not Convinced of Greek Debt Sustainability Greek Reporter
UN Cyprus envoy to end shuttle diplomacy as sides fail to agree conditions Reuters
Syraqistan
Stratfor looks at Afghanistan and sees a Conflict With No Time Limit Fabius Maximus
Manchester
'Sorted' by MI5: How UK government sent British-Libyans to fight Gaddafi Middle East Eye

Terrorism: Libya's civil war comes home to Manchester FT

The Manchester Bombing is Blowback from the West's Disastrous Interventions and Covert Proxy Wars Alternet
Brexit
New Cold War
Security Breach Harpers. Must-read on "Trump's tussle with the bureaucratic state." Here's the This is Hell podcast's interview with the author, Michael J. Glennon (not up at the regular site as of this writing). And:

[C]onsider the price of victory if the security directorate were somehow to establish itself as a check on those presidential policies — or officials — that it happened to dislike. To formally charge the bureaucracy with providing a check on the president, Congress, or the courts would represent an entirely new form of government, a system in which institutionalized bureaucratic autocracy displaces democratic accountability. … As a creature of the people's elected institutions, the bureaucracy was never intended to be a coequal of Congress, the courts, and the president. Bureaucracy doesn't even appear in the constitutional design that emerged from Philadelphia in 1787.

Or not! If liberal Democrats believe that the danger from Trump is so overwhelming that a change in the Constitutional order is necessary to depose him, then so be it. But let them at least be honest about the Rubicon they seek to cross.

The Beltway Foreign-Policy 'Blob' Strikes Back The American Conservative. A bit stale, but worth a read.

The Liberal Order Is Rigged Foreign Affairs. From the heart of The Blob…

The Real Foreign Policy Scandal Is Its Sabotage By Trump Enemies Moon of Alabama

The blend of history Reuters. "What's clear is that Western capitalism needs better cheerleaders." Barack, Barack, he's our man! If he can't do it, no one can!

How Can NATO Best Address the Russian Threat? Der Spiegel

Trump's Plan for Middle East Peace Could Actually Work Foreign Policy. Also from the heart of The Blob…

Zbigniew Brzezinski, 'Limited' Nuclear Warrior War is Boring

A fire broke out in the lab where the plutonium cores of the US's nuclear weapons are built AP. Oopsie.

* * *

In shakeup, Trump to set up 'war room' to repel attacks over Russia probe Reuters

The dueling scoops about Jared Kushner's plan for secret communications with Russia, explained Matt Yglesias, Vox. "Actual policy is the elephant in the room."

Trump aide brushes off Russia back-channel fears FT

How Robert Mueller's Trump-Russia Probe Could Spiral Into Disaster Matthew Cooper, Newsweek

Sources: 3rd US Naval Strike Force Deployed to Deter North Korea VOA (detail).
The Rise of the Liberal Conspiracy Theorist Slate. And speaking of Louise Mensch, once more for posterity: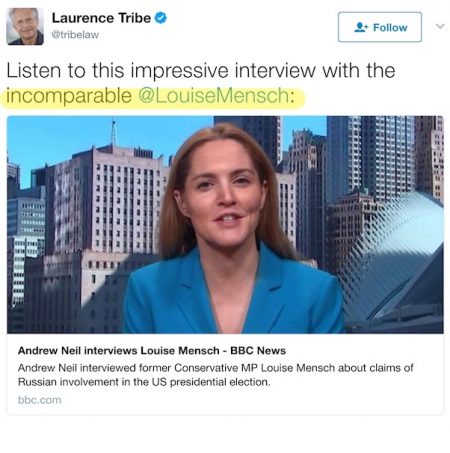 To be fair to Obama's old law professor, it's not clear what Mensch is "incomparable" at. So there's that.
Trump Transition
Democrats: Stop. Listening. To. Rahm. Emanuel. The Week. Rahm's torture mill at Homan Square should be enough, never mind the rest of his track record.
No Clear Signals From Greg Gianforte's Montana Win WSJ. To me the signal is crystal clear: Sanders had Quist's back; the Democrat establishment didn't.
New York's Renegade Democrats Face Growing Calls To Rejoin Party Fold HuffPo. "Fold" is, I think, an unfortunate choice of words re: Democrats. That said, here's a "pledge letter" from the "renegades" to the rest of the Democrats (more). What kind of Democrat wouldn't pledge to support single payer? How hard can that be? Caveat that I know very little of New York state politics except that it's utterly Byzantine, and that one is never cynical enough. For example, the pledge could be an apple of discord rather than a list of genuine policy commitments. So I'd welcome any knowledgeable New York readers who want to unpack the complexities.
Proliferation of hate and intolerance Understanding Society
Two men stabbed to death on Oregon train trying to stop anti-Muslim rant Reuters and Suspect in Portland Hate Crime Murders is a Known White Supremacist Portland Mercury
DAPL
Leaked Documents Reveal Counterterrorism Tactics Used at Standing Rock to "Defeat Pipeline Insurgencies" The Intercept (funemployed). Why, it's almost like the flyover states are colonies…
Health Care
The Surprising Cross-Partisan Appeal of Single-Payer Healthcare In These Times.
Here's who gets the blame if Obamacare fails (Hint: It's not Obama) Bob Laszewski, CNBC
Big Brother Is Watching You Watch
Secret court rebukes NSA for 5-year illegal surveillance of U.S. citizens McClatchy. It's so very odd that Sinclair-owned Circa originally published the top-secret ruling, when there are so very, very many journalists at WaPo and the NYT working the intelligence community beat so assiduously.
Class Warfare
The Lost History of Antifa Jacobin. Interesting, but a close reading shows three completely separate movements, each with a different social basis, sharing the brand ("antifa") and some ideology. So the deck — "72 years after the triumph over Nazism, we look back to postwar Germany, when socialists to Antifa" — is deceptive.
Low Interest Rates and Risk Taking: Evidence from Individual Investment Decisions (PDF) Chen Lian, Yueran Ma, and Carmen Wang. I can't vouch for the scholarship, but anecdote would seem to support the thesis (from January).
Antidote du jour: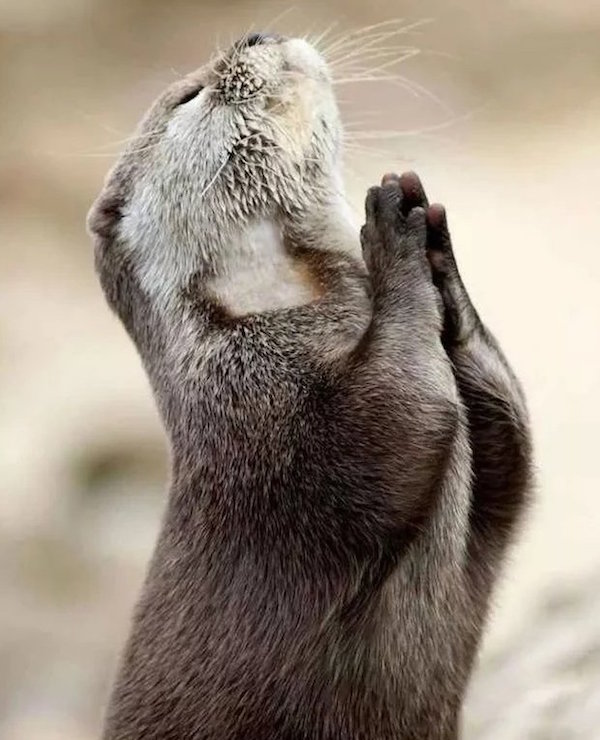 See yesterday's Links and Antidote du Jour here.