New Museum of Failure Credit Slips
PIOMAS May 2017 Arctic Sea Ice Blog (Chuck L)
UAE to DRAG ICEBERG from Antarctica to solve water shortage set to last 25 years Daily Express
Climate of Complete Incomprehension Peter Dorman, Econospeak
There's a 25 percent chance your water system violated the Safe Drinking Water Act. Grist
What happens when you bring meditation to public schools YouTube (furzy)
The work of monitoring violence online can cause real trauma. And Facebook is hiring. Washington Post (furzy)
Aspirin May Prevent Cancer from Spreading, New Research Shows Scientific American
China?
The dog didn't bark: What pressure from China on Pyongyang? Asia Times
Europeans rediscover enthusiasm for globalisation Bruegel
French Election
Macron condemns 'massive' hacking attack as documents leaked BBC. My guess is a data dump this close to the election won't have much impact, even if the information is very salacious. Too late for it to be analyzed and propagate all that well.

Macron's campaign says it has been hit by 'massive' hack of emails and documents Washington Post (furzy)

Macron came to Greece's aid during our crisis. The French left should back him Yanis Varoufakis, Guardian (Sid S)
Brexit
Jean-Claude Juncker: 'English is losing importance' Politico (Dan K). Juncker twits the Brits.
UK Elections
Syraqistan
RUSSIA-BACKED SYRIAN SAFE ZONES PLAN GOES INTO EFFECT Associated Press (furzy). Note NATO member Turkey is working with Russia and Iran.

US-led coalition warplanes banned from Syria safe zones – Russian envoy RT (furzy)
New Cold War
US-Russia: Military tensions Defend Democracy
Trudeau Mulls Coal Ban in Retaliation for U.S. Lumber Tariffs Bloomberg
Big Brother is Watching You Watch
A guide to escaping Facebook's evil clutches without, erm, actually deleting it New Statesman. For the life of me, I do not understand why anyone needs to use FB or specifically "needs" to share photos. Even though Facebook allows users to delete accounts, as opposed to merely deactivating it, one NC reader complained that FB restored it years later over his objections. Have you heard of any similar experiences? It is possible this individual deactivated it rather than deleting it, but even so, having FB put it back up and resist efforts to take it back down sounds ugly.

Walmart wants to put sensors on everything so it can automatically order you stuff The Verge (Chuck L). Another reason not to shop at Walmart. My understanding is a good strong magnet will fry most chips, but obviously don't try this with anything electronic. Fans of Cryptonomicon may remember the scene when the cops show up to collect the computer gear of someone who has become an object of their interest. His door is armed to create a magnetic field (I forget if it its default was to be on or not), plus his buddies showed up with a truck with what amounted to a magnetic bomb, which emitted a large pulse and fried all the computers in range. The book was written before the days of smartphones and cars chock full of telematics, so a truck bomb now would clearly be deemed as vandalism or worse. But I like the idea of having an armed doorway and being able to disable consumer goods designed to spy on you. For those of us who don't have smartphones, this would be a lot easier to manage (as to when to have it on v. off) than for the rest of the public.

Leaked document reveals UK plans for wider internet surveillance ZDNet (Chuck L)

FBI says email scammers stung businesses for $5bn over 4 years The Register (Dan K). I get fake invoices regularly, and they are at the level of sophistication the many variations of the Nigerian e-mail scam (the ones that amuse me the most are the ones that say Janet Yellen or Steve Mnuchin wants to send me money). I can't believe anyone falls for this stuff but obviously they do. Perhaps a tiny subset is more credible (as in they find actual approved vendors of Big Cos). And to put this in perspective, one of Richard Smith's bigger international scams was 3 billion pounds back in the day when that would be more like $4.5 billion…

Regulating the internet giants: The world's most valuable resource is no longer oil, but data Economist (furzy)
Trump Transition
Obamacare
Court Rules Trump State Dept Must Release Clinton Emails of Obama Response to Benghazi CNS News. Furzy note all conservative sites are running this story but wonders if it is really favorable for Trump.
Police State Watch
Watch a cop's staged body cam footage made "to look like it was done in real-time" ars technica. Yuk.
Black Injustice Tipping Point
This Problem Isn't Going Away: Heartless Police Shootings of Unarmed Black Americans Continue Into the Trump Era Alternet. The Dems domesticating Black Lives Matter was no accident.
To be resolved: Puerto Rico declares bankruptcy at last Economist (furzy)
Puerto Rico to close 179 public schools amid crisis ABC (furzy)
Suddenly, Oil Below $40 a Barrel Doesn't Seem So Far-Fetched Bloomberg
Gender inequality is holding back US economy, Yellen warns Financial Times
U.S. Economy Poised for Spring Rebound as Jobless Rate Falls Wall Street Journal. Cheerleading is premature with weak wage growth.
April Payrolls Bounce, Revisions Take March Lower: Hiring Increasingly Volatile Michael Shedlock
Wells Fargo warns legal bill could swell by $200m Financial Times
Guillotine Watch
At $495, Lonzo Ball's ZO2 Sneakers Have Tastemakers Saying No Thanks New York Times. EM: "All before the fellow has played a single NBA game. I'm having a hard time deciding which is mire guillotine-watch-worthy, the brazen money-grabbing of Ball or the corporate analog of same epitomized by Nike. The author seems similarly conflicted."

More than 60 Fall CS50 Enrollees Faced Academic Dishonesty Charges Harvard Crimson. This is 10% of the people taking the course, intro computer science.
Class Warfare
Antidote du jour. Timotheus:
This is the new brood of cygnets from Story Lake, Indiana. It is the same adult pair that has lived on the lake for 20 years (and that you have featured twice before). Once they are grown, the adults chase off the new generation so they go find their own habitat.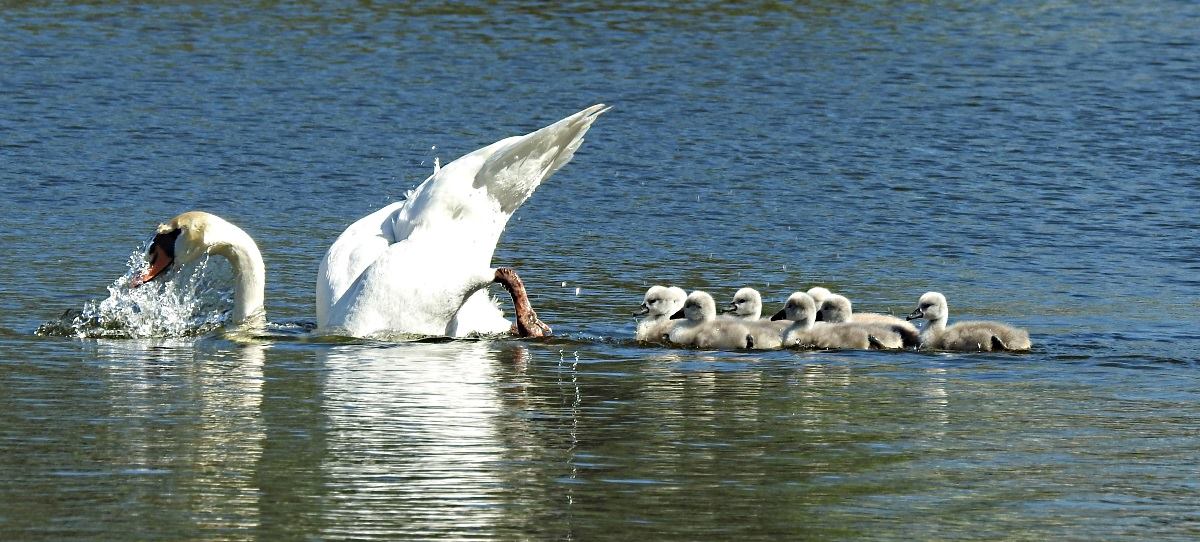 And a bonus antidote from furzy:
It's fall in Japan. And like every fall, rice is harvested, leaving behind straw to be hung and dried. In some rural areas, though, the rice straw has a special use: Making giant beasts.

Kagawa Prefecture and Niigata Prefecture have the most famous "straw art festivals," which are large straw sculpture displays. Traditionally, straw was used to thatch roofs. In much the same manner, these straw sculptures are thatched around wooden frames. But instead of roofs, enormous dinosaurs, bugs, and much, much more are created.
See yesterday's Links and Antidote du Jour here.