By Lambert Strether of Corrente
Still in London. Labor power is expensive here by world standards: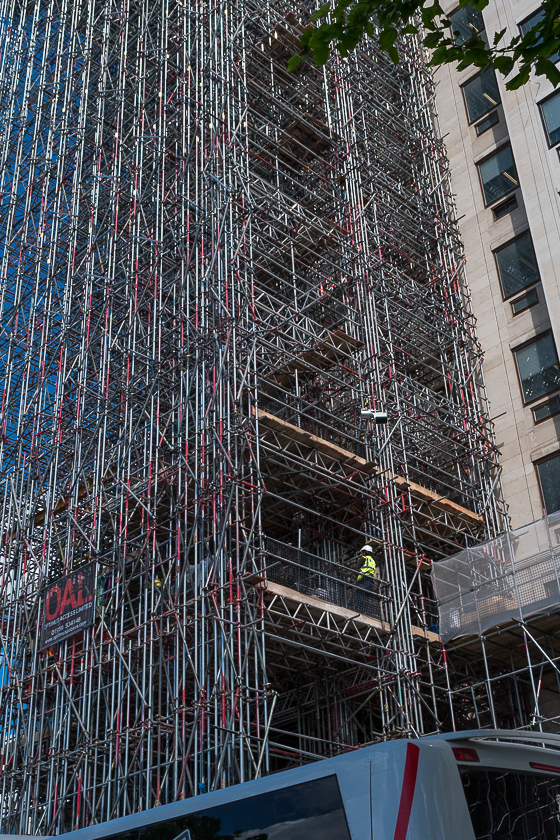 Here, there's one guy and a lot of heavy-duty scaffolding. In Southeast Asia, there'd be twenty migrant laborers in shorts, flip-flops, and brightly colored contractor T-shirts, and the scaffolding would be airy and thin, maybe even bamboo.
Trade
Massive release of position papers on NAFTA [Public Citizen].
"As part of Dodd-Frank, rules were put in place to address potential conflict minerals (coltan, tantalum, tin, tungsten, gold) and whether they were coming from or near the Democratic Republic of the Congo and benefitting armed groups there. The rules required retailers to disclose any potential conflict minerals in their products. Last week, however, the current administration passed the Financial CHOICE Act, which would repeal Dodd-Frank, taking conflict minerals regulation with it" [Sourcing Journal].
"White House officials on Thursday said [the Administration's] new [Cuba] policy will prohibit U.S. companies from direct financial transactions with companies controlled by Cuban military and intelligence services. The policy will also tighten travel to the island by eliminating self-initiated tours that all but opened up Cuba to American tourists. Tourism is banned by federal law, but the Obama administration had allowed individuals to plan their own trips, as opposed to group excursions, to Cuba as long as they planned a full itinerary of educational exchange activities, though there has been little to no enforcement of these requirements" [Politico].
"'You have promised the American people a 'Buy American' trade policy and we would urge you to follow through on this commitment and close this loophole by removing the government procurement chapter from NAFTA in order to restore American manufacturing and ensure that taxpayer dollars are used to create jobs in the United States,' [ Sens. Tammy Baldwin and Jeff Merkley] wrote" [Politico].
Politics
2020
"Bernie Sanders, 2020 frontrunner" [McClatchy]. "But a weekend gathering of several thousand liberal activists served as a reminder that if the independent senator from Vermont runs, he'll be a formidable contender — one powered by the party's ascendant progressive class, which thinks a demoralized Democratic Party has nowhere else to turn after choosing and losing with the more centrist Hillary Clinton." I'm not so sure. Moses didn't cross over into the promised land, after all.

"Jeff Merkley isn't on the 2020 radar — and that might be part of the plan" [CNN]. "Jeff Merkley, the soft-spoken Democrat, has a way of sneaking up on people, both in casual settings and more formally in his political career. He may not be the most bombastic personality in the room, but he's managed to maneuver his way from a blue-collar neighborhood in Portland — where he still lives — to the Oregon House to the US Senate, without losing a race. And as 2020 approaches, he might be quietly mounting a bid to run for president in what will likely be a crowded Democratic primary. 'If Jeff doesn't feel that there is a strong progressive voice in the race, it would motivate him to get in,' said a source close to the senator. 'He's committed to making sure Democrats have a progressive choice.'" Sounds good, but Merkely doesn't support #MedicareForAll, so how is he a progressive?

"McAuliffe looks past the Clintons, toward 2020" [Politico]. "McAuliffe still talks to Bill Clinton every day, sometimes several times a day. They've talked in passing about a White House run. … McAuliffe has his own PAC, and his own plans: throwing himself behind the winner of Tuesday's Democratic primary for the job he can't run for again (which would be an important way of protecting a record he'd want to run on), spending all of next year campaigning for Democratic gubernatorial candidates around the country (which just might give him important beachheads ahead of 2020), urging his party away from the purity-test purge that's all the rage these days (which would help protect him from the inevitable attacks that he's not a true progressive, in touch with the presidential base)" [Politico]. Maybe we should add losing the House, the Senate, the Presidency, the Supreme Court, most governorships, and most state legislatures to the purity test list? It would certainly filter out a lot of the riff-raff….
2018
"The oth­er thing to watch on a daily basis is wheth­er con­gres­sion­al Re­pub­lic­ans are build­ing a port­fo­lio of ac­com­plish­ments that they can sell back home, par­tic­u­larly if they come up short on most of the big-tick­et prom­ises that they had touted so loudly: re­peal­ing and re­pla­cing Obama­care, tax re­form, ma­jor in­fra­struc­ture spend­ing, and the bor­der wall. If Trump's ap­prov­al rat­ings are as low in 16 months as they are now, their lists of ac­com­plish­ments will need to be pretty im­press­ive" [Charles Cook, Cook Political Report]. You'd think that after eight years out of power, policy wonk Paul Ryan would have had an entire legislative agenda road-tested and ready to go. No such luck (fortunately for us). To be fair, nuking a lot of state power through failure to fill slots, executive orders, and the rollback of rules and regulations — where the Trump administration seems to be accomplishing a lot, if accomplishing is the word I want — appeals to hates of big gummit, like the Freedom Caucus. But that's only part of Trump's base, and at the margin, Trump's voters wanted him to deliver, which so far he has not done.

The same point in different words: "So much is happening in Washington and yet nothing is happening at all. The investigation into Russian meddling into the 2016 campaign continues to get lots of attention (and produce a lot of leaks), but it's not likely to come to a conclusion anytime soon. Republicans fret privately about the president and publicly lament his lack of Twitter discipline, yet they show no signs of abandoning him. The imminent White House shake-up (Reince is out! Bannon is out!) has yet to materialize. And, the GOP-led government has yet to produce any significant legislative accomplishments. Meanwhile, President Trump's lack of message discipline continues to undercut his agenda and his own political standing" [Amy Walter, Cook Poltiical Report]. "There's no border wall. No tax reform. No health care reform. No infrastructure bill. No budget. The House-passed health care bill is wildly unpopular. The travel ban is still stuck in the courts." So much winning!
2017
GA-06: "Though single-payer health care has become a new rallying point within [some factions of the Democrat –lambert] the party, Ossoff said in an interview that he doesn't support 'any move toward single-payer when we need to be focused on what's achievable' on health care policy" [Poltico]. Shorter Ossoff: "Never, ever." And: "'Sadly, thousands of progressives have given lots of money to someone who opposes a popular program central to progressives,' said Michael Lighty, the policy director of National Nurses United, on Ossoff's rejection of a single-payer plan, calling it 'another example of how corporate Democrats misread voters and align with the health care industry over patients." Well played, progressives!

GA-06: "As grim confidential polling data circulates among GOP strategists, interviews with nearly two dozen Republican operatives and officials reveal that they are preparing for the possibility of an unnerving defeat that could spur lawmakers to distance themselves from Trump and his already-troubled legislative agenda, and potentially encourage a wave of retirements" [Politico].

VA: "The Northam v. Perriello primary became a contest between the Democratic establishment and progressives (the Sanders/Warren wing). At least that's how progressives and many in the media portrayed it. There has been much speculation about what Northam's solid victory means for progressives. The answer is nothing. Yes, Perriello was the more progressive candidate, but his loss had much more to do with campaign fundamentals than it did with ideology" [Cook Political Report]. "Northam, 57 and a pediatric neurosurgeon who served in the state Senate before being elected Lieutenant Governor, essentially announced his candidacy early in 2015 and spent the next two years raising money, putting together an organization and securing just about every meaningful endorsement, including outgoing Gov. Terry McAuliffe and U.S. Sens. Tim Kaine and Mark Warner. By contrast, Perriello announced his candidacy in January of this year and started from scratch in terms of fundraising and organization. By the time he got in, the path to the nomination had become extremely narrow. There is little doubt that Perriello wanted to focus on progressive issues, but he drew few real contrasts with Northam."
Realignment and Legitimacy
"Rage Is All the Rage, and It's Dangerous" [Peggy Noonan, Wall Street Journal (via)]. "What we are living through in America is not only a division but a great estrangement. It is between those who support Donald Trump and those who despise him, between left and right, between the two parties, and even to some degree between the bases of those parties and their leaders in Washington." (I disgree with Noonan's binary thinking. She conflates liberals with the left.) And:

[T]he problem is that, for a confluence of reasons, our country is increasingly populated by the not fully stable. They aren't excited by wit, they're excited by violence—especially unstable young men. They don't have the built-in barriers and prohibitions that those more firmly planted in the world do. That's what makes violent images dangerous and destructive. Art is art and censorship is an admission of defeat. Good judgment and a sense of responsibility are the answer.

That's what we're doing now, exciting the unstable—not only with images but with words, and on every platform. It's all too hot and revved up. This week we had a tragedy. If we don't cool things down, we'll have more.

And:

And was anyone surprised? Tuesday I talked with an old friend, a figure in journalism who's a pretty cool character, about the political anger all around us. He spoke of 'horrible polarization.' He said there's 'too much hate in D.C.' He mentioned 'the beheading, the play in the park' and described them as 'dog whistles to any nut who wants to take action.'

'Someone is going to get killed,' he said.

That was 20 hours before the shootings in Alexandria, Va.

Of course, Noonan's expressions of concern are richly ironic (which does not mean that her concerns are unrealistic). They are also incomplete. "Hate" is only appropriate word for what the Republicans engineered for the Clintons in the impeachment saga of the 90s. (And showing that hate, once created, is not destroyed, but is rather an asset to be seized, Democrat strategists in Obama's faction redeployed the hateful tropes Republicans developed to attack the Clintons in election 2008.) Hate is good for clicks. Hate is good for fund-raising. Hate solidifies the base. Hate demands consultants and mercenaries. Strategic hate management is a self-licking ice cream cone! After all, look at the Balkans! Or Syria. Or Iraq. Perhaps the Democrat Establishment is merely emulating the Republican success, and both have adopted the imperial tactics of The Blob, and brought the war home. After all, why not?
Stats Watch
Housing Starts, May 2017: "The bad economic news keeps building, this time in the housing sector. Housing starts fell an unexpected 5.5 percent in May to a far lower-than-expected annualized rate of 1.092 million with permits likewise very weak, down 4.9 percent to a 1.168 million rate" [Econoday]. "All components show declines." And: "There has been further evidence that shortages of labour and a limited number of available building plots has curbed construction activity as overall confidence amongst home-builders has remained at historically high levels. If supply issues dominate, then further declines in activity should be limited with upward pressure on costs" [Economic Calendar]. And: "This is a weak report" [Calculated Risk]. But: "The nature of this industry normally has large variations from month to month (mostly due to weather) so the rolling averages are the best way to view this series – and it shows permits growing, and completions also growing" [Econintersect]. "Looking at residential construction employment, the year-over-year growth of employment is almost correlating with housing starts."
Consumer Sentiment, June 2017 (preliminary): "In the least optimistic reading since the November election, the preliminary June consumer sentiment index fell to a much lower-than-expected 94.5" [Econoday]. "The report notes that this month's decline reflects easing confidence among both Republicans and Democrats." And: "There was a significant drop in confidence late in the survey period and overall optimism has faded despite a strong labour market" [Economic Calendar]. "Partisan differences persisted with Democrats generally still uneasy surrounding proposed economic policies while Republicans were concerned over that the chances of tax reforms being passed appeared to have declined."
Atlanta Fed Business Inflation Expectations, June 2017: "Inflation expectations among businesses are unchanged this month at a modest year-on-year rate of 2.0 percent" [Econoday]. "Price expectations, both in this report and on the consumer side, have been muted which may limit the Federal Reserve's ability to reinflate the economy."
Retail: "Amazon to buy Whole Foods Market in deal valued at $13.7 billion" [WaPo]. ""Whole Foods Market has been satisfying, delighting and nourishing customers for nearly four decades – they're doing an amazing job and we want that to continue," .)" So is there a reason we can't get a qualifier like "The Central Intelligence agency has been satisfying, delighting, and nourishing American customers since 1947" under every single WaPo story where access journalists quote anonymous intelligence officials as their sources, given that Amazon, of which Jeffrey P. Bezos is the founder and CEO, has a $700 million contract to deliver cloud services to those famous 17 intelligence agencies through the CIA?
Retail: "How Amazon Buyout of Whole Foods Challenges Wal-Mart" [247 Wall Street]. "Whole Foods Market Inc. shares were halted in early trading Friday after some earth-shattering news hit the market. Amazon.com Inc. is making an incredibly ambitious purchase and buying out the organic grocer. While this is shocking, it is no doubt Amazon's brick-and-mortar challenge against the likes of Wal-Mart Stores Inc. and Kroger Co…. On Thursday, Kroger reported its most recent quarterly results, which met expectations but guidance prompted an industrywide sell-off. The future of the industry already has been called in to question, namely if there are too many stores out there or if trends with millennials are leading away from buying groceries in stores. Amazon seems to be solving both these problems by helping to consolidate the industry, and with its current model it could potentially ship groceries or even integrate with its Prime service. Either way, this is a huge shock to Wal-Mart, Kroger and other grocers in the space." I dunno. I don't see how Whole Paycheck challenges Wal-Mart. Makes me wonder if the real point is Whole Foods real estate, as opposed to their brand?
Retail: "'Consumer Reports' Rates Samsung Galaxy S8 as Top Smartphone" [Teen Vogue]. "The Samsung S8 Plus received accolades for its lens that competes with that of a professional camera since it enhances low light. Its thin body (not to body shame the iPhone or anything) means one-hand multitasking with ease. Its extended battery life that has lasted up to 26 hours is a no-brainer necessity during long days out in summer festival season. Going to end up running through sprinklers, too? It's water-resistant for that." Wake up, Tim!
Shipping: "The US Coast Guard says there is no longer any threat posed to the port of Charleston by suspect containers on board a Maersk boxship" [Lloyd's Loading List]. "A one nautical mile safety zone was put in place to cordon off the vessel while law enforcement authorities carried out checks, according to South Carolina Ports Authority, which operates the facilities at Charleston." Only a mile? That's a relief. Not that I'm foily.
Shipping: "Mega container ships may not be translating into far bigger volume for U.S. West Coast ports. The growth in container throughput at California's neighboring ports of Los Angeles and Long Beach slowed sharply in May… even as imports at Georgia and Virginia jumped at a rapid rate. The gap opened as the number of megaship arrivals at the West Coast ports has doubled since the beginning of the year" [Wall Street Journal]. The apparent shift in Asia-US supply chain routes comes after two new global shipping alliances launched in April, reducing the number of major alliances from four to three, which are deploying more megaships on major routes. The Georgia and Virginia port authorities hosted their first megaship in May–a 13,000-TEU COSCO vessel that was the largest container ship to transit the Panama Canal since its expansion. The arrival of bigger ships on the East Coast together with the shake-up in the shipping industry may be triggering a new structure in volume flows for the ocean lines and their customers' supply chains.
Airlines: "The number of complaints filed against airlines rose 70% in April, compared with the same month of last year. This may be due to passenger injuries, a passenger being dragged off a United Continental Holdings Inc., and other very visible incidents that make the industry look cruel and calculating. However, none of this has hurt airline stock prices in the past year. The stocks of large carriers are up 50% to 80%. Why? Mostly low fuel costs and rising seat demand. Investors view bad PR as a small blip on the radar" [247 Wall Street]. And/or investors believe that being "cruel and calculating" is a positive good.
The Bezzle: "But what may hurt most of all is that Uber has lost the sense of inevitability that was its most sustainable competitive advantage" [MarketWatch]. "And that means the people who established Uber's real edge won't be there when Apple, Tesla, General Motors GM-Lyft and others are redefining the business to accommodate driverless cars… What Uber is trying is easy to say and hard to do, as the company has proven already…. Director David Bonderman resigned after making a dumb, sexist joke at Tuesday's event to roll out Uber's more-civilized workplace. And Bonderman, like every other director, voted for Holder's recommendations. He just demonstrated how much work remains between talking the talk and walking the walk. That it's hard won't be lost on investors called upon to fund the next round of Uber's losses. That's particularly so as Uber's hard-charging ways are reined in and its aura of inevitability shattered, leaving just numbers that point to a company that is fast-rising, but nowhere near fully baked." Could it be that VCs love founder bros, but founder bros are often bad bets? Never send a butcher to do a baker's job….
The Bezzle: "A former managing director of Julius Baer pleaded guilty Thursday to a money laundering conspiracy in the DOJ's prosecution of corruption in soccer's international governing body" [FPCA Blog].
The Bezzle: "London Finance Workers Describe A Local Culture That Sounds Like A Mashup Between 1980s Wall Street And Dante's Inferno" [DealBreaker]. " If the HR manager thinks that The City is a black hellscape, imagine how the traders feel. Or the people trapped inisde the labyrinthine netherworld of eternal torment that is London's UBS HQ."
Political Risk: "Qatar crisis a stress-test of the new world order" [Lloyd's List]. "THE Qatar crisis has confirmed many apprehensions the shipping industry had at the start of this year. That old pillars of geopolitical stability can no longer be counted upon, old alliances that kept the peace are losing relevance, and Washington can no longer be trusted to intervene actively to resolve a global crisis, irrespective of whether it has a 10,000-strong military base in the country or not."
Fodder for the Bulls: "Don't Underestimate This U.S. Expansion: It's Headed to a Record" [Bloomberg]. "Widely disdained for its relatively weak growth and pay gains, the expansion is about to complete its eighth year — and it's headed to become the longest on record, according to a Bloomberg survey of economists. Respondents put a 60 percent probability, based on the median estimate, on the growth streak running through at least July 2019 and thereby reaching 121 months, topping the 10 years of gains during the 1990s."
Fodder for the Bulls: "Members of the Lodging Industry Investment Council said there are still reasons for hope around the lodging industry even during what's presumed to be the late point of the cycle" [Hotel News Notes]. "'Looking at the big picture, we actually feel pretty good about the way the industry continues to react to overhanging supply issues and economic issues,' said Robert Leven, chief investment officer for TPG Hospitality. 'We continue to be reasonably surprised at the strength of the economy and the continued strength of demand.'"
Honey for the Bears: "May 2017 Import and Export Sea Containers Show Slowing Economy" [Econintersect]. "January was great. February was bad. March was good. April is ok. May is a mixed bag. Simply looking at this month versus last month – the growth rates slowed for both exports and imports. Imports did grow year-over-year but exports contracted. Looking at the three month rolling averages this month may be misleading as Febuary and March data were screwed up – and one really needs to average these two months [February was terrible for imports and fantastic for exports – March was the opposite]. The data is too noisy to only look at one month – maybe the year-to-date is the best metric this month [and it shows moderate deceleration in imports and a SIGNIFICANT deceleration in exports]. In general, there is bad news that both imports and exports are slowing – but as exports are slowing much faster than imports, the trade balance will worsen." We also have the shipping lines consolidation to consider…
Honey for the Bears: "U.S. consumers may be taking a break from propping up the U.S. economy. Retail sales fell 0.3% in May, the biggest decline since January 2016… defying trends including low unemployment, a surging stock market and healthy late-spring imports by retailers. Although some of the decline reflected lower gasoline prices, sales suffered at big-box stores, car dealerships and electronics retailers" [Wall Street Journal]. Weird, considering the greatness of the economy. Could "consumers" be paying down debt?
Honey for the Bears: "The U.S. auto industry is bracing for a long, slow summer. General Motors Co. will extend its traditional seasonal shutdown at certain U.S. factories to deal with slumping sales and bloated inventory…, the latest sign that the industry is shifting into a lower production gear. That's tough news from a field that's provided the U.S. industrial sector much of its engine power in recent years but now is clearly pulling back" [Wall Street Journal]. "U.S. car sales, after hitting a record in 2016, have fallen nearly 2% over the past three months and automobiles are piling up at dealer lots. GM, with its inventory almost 44% higher from a year ago, will idle a factory near Kansas City, Kan., for five weeks starting this month, and may face more job cuts. Auto-related shipments at U.S. railroads are down nearly 5% this year through May and the downshifting at factories suggest the traffic won't pick up anytime soon."
The Fed: "Five reasons to doubt Yellen and the Fed's wisdom" [Larry Summers, Financial Times]. "The Fed is not credible with the markets at this point. Its dots plots predict four rate increases over the next 18 months compared with the markets' expectation of less than two…. The truth is that markets do not share the Fed's view that inflation acceleration is a major risk. Indeed, they do not believe the Fed will attain its 2 percent inflation target for a long time to come."
The Fed: "Lousy Pay Raise? That May Be as Good as It Gets" [Wall Street Journal]. "Minimal corporate pricing power, lackluster productivity growth and an aging workforce , complicating the Fed's plans." Employers to workers: "If only we could raise wages!" Really?
Five Horsemen: " Amazon pips the pack with its Whole Fools Foods buyout" [Hat tip, Jim Haygood].
Today's Fear & Greed Index: 49 Neutral (previous close: 52, Neutral) [CNN]. One week ago: 54 (Neutral). (0 is Extreme Fear; 100 is Extreme Greed. Last updated Jun 16 at 10:46am.
Health Care
"$12 billion HHS budget cut will lead to better care, Price says" [Modern Health Care]. "To emphsize his point, Price highlighted the Medicaid program, which he called an outdated, one-size fits-all program. Converting the program to a per capita cap system as outlined under the American Health Care Act would give state the flexibility to create the coverage program they wish…. Price continued to evade questions on whether the Trump administration would continue to pay billions in cost sharing reductions to help people pay for coverage on the marketplaces. He has refused to answer similar questions from lawmakers during previous congressional hearings."
"Follow The Money: The Flow Of Funds In The Pharmaceutical Distribution System" [Health Affairs].
Based on the results of our study, we explore a hypothetical scenario in which $100 is spent on prescription drugs acquired at a retail pharmacy using commercial insurance, using estimates of gross and net margins as a fraction of net revenues from companies' 2015 SEC filings. Of a $100 expenditure on pharmaceuticals by consumers, roughly $58 goes to the manufacturer and $41 is captured by intermediaries. (Numbers do not sum to 100 due to rounding.) Of the $58 received by the manufacturer, $17 is spent on drug production and the remaining $41 is spent on other expenditures (such as marketing and R&D) or kept as net profit. Total net profit on a $100 expenditure is $23, of which $15 goes to manufacturers and the remaining $8 goes to intermediaries including $3 to insurers, $3 to pharmacies, and $2 to PBMs.
Class Warfare
"The Housing Recovery Is Leaving Out Most of America" [Bloomberg]. "For further evidence of the uneven recovery among U.S. housing markets, how's this: In the 10 most expensive U.S. metropolitan areas, median home values have increased by 63 percent since 2000, after adjusting for inflation. In the 10 cheapest metros, median values rose by just 3.6 percent."
News of the Wired
Thread (DK):
What can't deep learning do? Worth putting together a list of known failures to guide algorithmic development

— Bharath Ramsundar (@rbhar90) June 15, 2017
* * *
Readers, feel free to contact me with (a) links, and even better (b) sources I should curate regularly, and (c) to find out how to send me images of plants. Vegetables are fine! Fungi are deemed to be honorary plants! See the previous Water Cooler (with plant) here.
And here's today's plant (TF):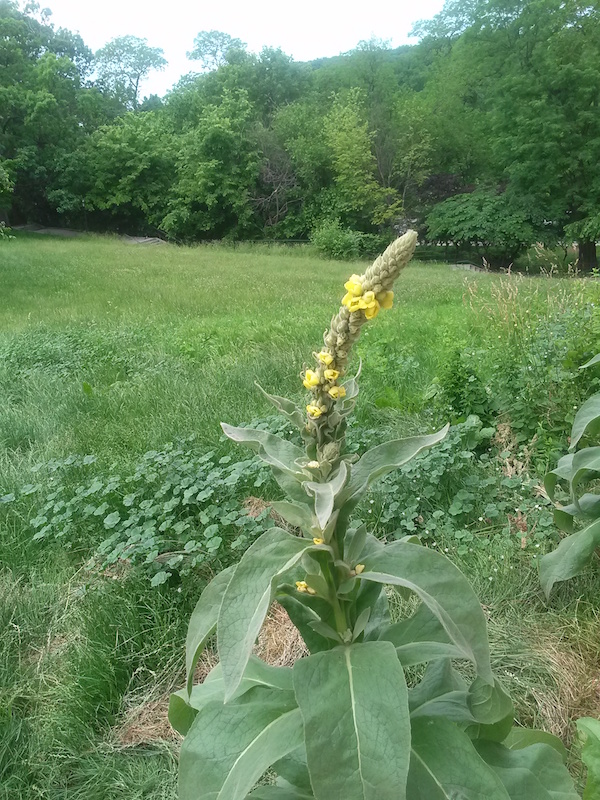 TF writes:
This is a plant shot in Isham Park on the northern tip of Manhattan (next to my building). The hills in the distance are Inwood Hill Park, beyond which is the Hudson River.

Isham Park was the site of a private residence 100+ years ago with two mansions (since demolished). The descendants of the Isham family ceded the property to the city of NY on condition it remain a park in perpetuity.

Not sure what the plant is. There were sunflowers on that spot last year, but that is not like any sunflower I've ever seen.
My sunflowers self-seeded brilliantly this year. The rest, not so much.
* * *
Readers, Water Cooler is a standalone entity, not supported by the Naked Capitalism fundraisers. Please use the dropdown to choose your contribution, and then click the hat! Your tip will be welcome today, and indeed any day. Water Cooler will not exist without your continued help.