By Lambert Strether of Corrente
Trade
"America's decision to abandon the TPP will be Canada's gain. And Mexico's. And Australia's. And Peru's. And Singapore's. In fact, the U.S. stands to be the biggest loser if the 11 other countries that negotiated the deal move on without Washington, according to a new study released today by the Canada West Foundation, a Calgary-based think tank" [Politico]. "The study provides some of the first data giving countries a compelling reason to go ahead without the U.S. But it also acknowledges that a TPP 11 deal would not carry the same value without America's economic weight behind it. A TPP 11 deal would increase exports 2.43 percent among participants, which is only 40 percent of the export increase that would have occurred with all 12 countries participating."
"On the issue of trade, Chancellor Angela Merkel is not ready to give up on the Trump administration. During a meeting of business leaders on Tuesday, Ms. Merkel said Germany remains open to resuming negotiations with Washington on the Transatlantic Trade and Investment Partnership, or TTIP for short" [Handelsblatt].
Politics
2020
"The sheer size and un­cer­tainty of this field un­der­scores just how wide open the Demo­crat­ic nom­in­a­tion is and how many dif­fer­ent dir­ec­tions the party could choose to go" [Charles Cook, Cook Poltical Report]. Worth reading for the conventional wisdom.

"Is Bernie Sanders, 75, Too Old for 2020? His Fiercest Fans Say No" [Yamiche Alcindor, New York Times]. "Persistence is extremely important," Mr. Sanders said. "Yeah, you run and you lose. So what?"
2017
GA-06: "Ossoff, a Democrat, and Handel, a Republican, are tied at 47%, with 6% of voters undecided, in metro Atlanta's 6th congressional district race, a contest that has become a virtual must-win for both parties on June 20." [11Alive].
Heatlh Care
"Republican leaders seem to think they will gain a tactical legislative advantage if they can negotiate a deal behind the scenes and then suddenly spring it on the full Senate. Those gains will quickly evaporate when voters learn what they have done" [Editorial Board, New York Times].

"The Senate's three tools on health care: Sabotage, speed and secrecy" [Washington Post]. "Of course there's a better way. Not long ago, Republican Sens. Bill Cassidy (La.), Susan Collins (Maine) and Capito talked about finding solutions that would lead to more people covered, not fewer. That's an approach that could bring many Democrats to the table. Given the Senate's narrow margins, by voting no, the three of them or others have the power to change the course we're on and put health-care reform on a path to long-term political stability. And McConnell himself might not even mind. Something short of 50 votes will preserve the Senate's role as our deliberative body with the good judgment not to bow to the political winds, particularly when the country needs its checks and balances to work like never before."

"John Kasich Backs Slow Medicaid Rollback, but With More Money" [John Kasich, New York Times]. "Ohio's influential Republican governor, John R. Kasich, said on Monday that he could accept a gradual phaseout of the expansion of Medicaid under the Affordable Care Act, but only if Congress provides states with more money than the House health care bill included and more flexibility to manage the health program for the poor. 'I don't have a problem with phasing down the enhanced federal payments,' said Mr. Kasich, who is working with several other Republican governors from states that have expanded Medicaid. 'But it can't be done overnight, and it has to be done with the resources and the flexibility that are needed so people don't get left behind. .'" Sure you can! That's what happened with de-institutionalization, didn't it?
New Cold War
"Comey's memos were not contemporaneous notes done in the ordinary course of business. These were exceptions to his standard operating procedure being created as part of a deliberate plan to generate self-serving material for him to use against the president. Their "revelations" should be accorded extreme skepticism rather than evidentiary weight. He did not inform his superiors after any of the meetings or memos, because, contrary to his testimony, he knew they would have immediately created more distance between him and the president, and that would have ended the game he was playing" [Mark Penn, The Hill]. One of the more entertaining features of the current zeitgeist is that people I heartily dislike keep coming up with perceptive, well-reasoned arguments.

"Amid Comey chaos, lessons from the history of America's secret police" [DigiBoston]. Worth noting that the FBI wasn't always iconic for liberals.

"Why Chris Ruddy floated the idea of firing Bob Mueller" [Chris Cillizza, CNN]. "My (educated) guess is that during his visit to the White House on Monday, Ruddy heard that Trump was considering firing Mueller. Ruddy thought, rightly, that doing so would be an absolutely terrible political move. Rather than calling the President to tell him that, Ruddy took to a medium where he knew Trump would listen: TV. We know from the 2016 campaign that Trump's advisers and friends would use cable television appearances to send messages to Trump that he was simply not hearing in private conversations."

"Russian Cyber Hacks on U.S. Electoral System Far Wider Than Previously Known" [Bloomberg].

"Special counsel team members donated to Dems, FEC records show" [CNN] .
Realignment and Legitimacy
"Opinion: 5 alternative plutocrats to run America better than Trump" [MarketWatch]. Gates, Buffet, Zuckerberg, Bezos, Diane Hendricks. Well….

"The 9th Circuit's travel ban ruling declares the president's Twitter feed is a legally binding stream of consciousness" [Slate]. But what if it's self-contradictory, as bullshit often is?

"In recent months, leading Democrats from national chairman Tom Perez on down have been unleashing f-bombs, s-bombs and everything in between as they try to rally their party to 'resist.' And New York's junior senator seems to be leading the charge" [New York Post]. This descent to the vernacular kinda, sorta worked in 2003-2006 for "foul-mouthed bloggers of the left," as David Broder called them; profanity was a proof of authenticity, of boldness. I doubt that will work for Democrats today.

"Trump voters are more informed about the elites than are the elites about them. Trump voters see the elites on network and cable news and late-night talk shows. They encounter them in the dominant print media. And they take in the elite sensibility through feature films, and television sitcoms and dramas. In contrast, members of the so-called knowledge class seldom acquire more than a passing acquaintance with those in "flyover country," their dismissive term for the approximately 2,600 of 3,100 counties—or 84 percent of the geographic United States— where Donald Trump bested Hillary Clinton. Knowledge of how the other half lives and thinks is one glaring hole of elite education" [RealClearPolitics]. "Defective political judgment, the [Brookings] authors recognize, also afflicts elites: 'If anything, wealthier and better-educated voters are often more, rather than less, subject to partisanship, systematic bias, rationalization, and overconfidence in inaccurate beliefs,' they write. The Brookings fellows nevertheless insist that career politicians, party officials, policy experts, and lawyers bring knowledge of institutional arrangements, complex trade-offs, and technical detail that are essential to good government." The report: "More professionalism, less populism: How voting makes us stupid, and what to do about it" (PDF) [Brookings Institute].

UPDATE "Welcome to the era of the 'bot' as political boogeyman" [Philip Bump, WaPo]. "These stories, though, including the Daily News's, tend to be embraced for the same reason that Superman's monsters were so chilling: The threat is novel and not well understood. There's another level here, too. Assuming that vocal Trump supporters on social media are not real people reinforces an important political effect as well."
Stats Watch
NFIB Small Business Optimism Index, May 2017: "The small business optimism index remained unchanged in May at 104.5, reflecting the continuation of the very high level of optimism reached in the post-election months that pushed the index to the highest level in 12 years on expectations of tax cuts, health care reform and deregulation" [Econoday]. "NFIB reiterated that the surge in optimism by small business owners since the election is based on expectations of policy changes, especially tax reform involving tax cuts and simplification of the tax code, and that while they have welcomed proposals in this direction by the President and Congress, they impatiently await the passage of bills that would deliver these changes." BWA-HA-HA-HA-HA!!! The revolution's gonna eat its own…
Producer Price Index (Final Demand), May 2017: "Producer prices are mixed showing no pressure overall, unchanged in May, but tangible pressure when excluding food and energy at a higher-than-expected increase of 0.3 percent" [Econoday]. "This report proved unusually strong in April but was followed by weak inflation readings at the consumer level. The methodology of this report, which measures margins, often makes it difficult to read, yet the service readings in this report do offer cover for Federal Reserve policy makers who appear set to hike their target rate this week." And: "Mostly the data shows Producer Price data was treading water. In general, Goods inflation surge trend has moderated whilst services inflation is now on the high end of readings seen over the last year. This month's inflation data was around expectations" [Econintersect]. And: "The data overall suggests companies are attempting to rebuild margins by not passing on any decreases in energy costs, but there is little overall evidence of a sustained increase in inflationary pressure at the wholesale level" [Economic Calendar].
Brexit: "The U.K. is emerging as a test case for whether globalized supply chains may be undercutting long-held assumptions about the impact of exchange rates on trade. Conventional wisdom holds that suddenly weaker currencies spur growth by making a country's exports more competitive on the global stage. But nearly a year after the Brexit vote sent the British pound into free fall, U.K. businesses are finding that higher costs for overseas components and materials have erased much of that advantage" [Wall Street Journal]. NC readers will not be surprised; see this from 2016.
The Bezzle: "Your money can be stolen from your Uber account, and they're refusing to return the full amount" [unlike kinds].
The Bezzle: "How Uber's Chief Is Gaining Even More Clout in the Company" [New York Times]. Lots of delicious detail, including: "Mr. Kalanick is quietly amassing even more control than entrepreneurs typically enjoy at their start-ups. That is because Mr. Kalanick has been gaining voting rights power at Uber, a privately held ride-hailing company, through employee share sales. Uber staffers who sell even part of their stock back to the company under a repurchase program must give the voting rights associated with all of their shares to Mr. Kalanick, according to a copy of the buyback agreement obtained by The New York Times…. [E]ven if Mr. Kalanick were to take time off, his ability to influence Uber's direction would appear to be secure. He and his allies hold a hefty number of what are known as 'super-voting shares' that give them 10 votes a share, or an outsize vote. The employee buyback agreement cements Mr. Kalanick's control, giving him more sway on any matter put before all shareholders. Employees must according to the buyback agreement, 'with respect to any and all matters' that are submitted to a shareholder vote."
UPDATE "Uber CEO to Take Leave, Diminished Role After Workplace Scandals" [Bloomberg]. But see above.
The Bezzle: "Tim Cook Says Apple Is Focusing on an Autonomous Car System" [Bloomberg].
The Fed: "Beneath the Uneasy Peace Between Donald Trump and Janet Yellen" [Wall Street Journal]. "Ms. Yellen's reappointment isn't an outcome many observers expect." OTOH: "Since taking office, the president and his advisers haven't publicly questioned the Fed's actions—including its decision to raise short-term interest rates in March and signals it is likely to do so again at its meeting this week. This contrasts with the administration's approach to other nonpartisan institutions such as the Federal Bureau of Investigation, Congressional Budget Office and the courts."
Five Horsemen: "Alphabet and Amazon held up best in the Tech Wreck, while Apple and Facebook have underperformed SPY (the S&P 500 ETF) since Apr 26th" [Hat Tip, Jim Haygood].
Today's Fear & Greed Index: 54 Neutral (previous close: 55, Neutral) [CNN]. One week ago: 55 (Neutral). (0 is Extreme Fear; 100 is Extreme Greed. Last updated Jun 13 at 12:23pm. A hot summer like this should be greedier.
Dear Old Blighty
Fun stuff, but NSFW language:
everyone needs to watch this ? he explains the election results so perfectly LMAOO pic.twitter.com/yDtm6Mi57v

— asʜ (@AshKaneSkittles) June 9, 2017
Imperial Collapse Watch
"F-35 jets grounded at US Air Force base because of problems with pilots' oxygen supplies" [Reuters]. "Lockheed Martin said it still planned to demonstrate the advanced jet at the Paris Air Show this month. Air Force officials said F-35 air operations continued at other bases."
Big Brother Is Watching You Watch
'Untangling the other dark web – of pervasive, inescapable, corporate surveillance" [Privacy News Online] (original report; PDF). "Moreover, it's not just obvious things like which sites we visit that are captured. Other aspects include the timing and frequency of phone calls, GPS location, Web searches, how you fill in online forms, grammar, punctuation, and even whether you allow your phone battery to run down frequently. Since database storage capacities today are effectively infinite, everything we do can be stored in the hope that hidden among the apparently trivial details there are key signals about our views, wealth and buying intentions."
Water
UPDATE "A chemical replacement for a key ingredient in Teflon linked to cancer and other ailments has been found in the Cape Fear River and Cape Fear Public Utility Authority (CFPUA) public water supply, which cannot filter it" [Star News]. "Larry Cahoon, a professor of biology at the University of North Carolina Wilmington, said the EPA considers GenX an 'emerging contaminant,' meaning it is so new the agency does not yet have protocols to regulate it. 'Personally, I find that really troubling,' Cahoon said. 'The company (Chemours) is being allowed to conduct a really big experiment on all us 250,000 guinea pigs, without knowing whether it'll hurt us.'"
Gaia
"After running for more than a decade on an expired state permit, the controversial White Mesa Uranium Mill in southeastern Utah is on the cusp getting a new operating license — and possibly a new job contract" [Salt Lake Tribune].
Class Warfare
"Affluent millennials are far more likely than rich seniors to think that money and power go hand in hand in a relationship. Indeed, two in three (66%) rich millennials — people ages 21-36 with more than $1 million in investable assets — who are married or living with a partner agree with the statement "whoever earns the most money has the most influence in the relationship." That's compared to just 37% of Gen Xers and 29% of boomers, according to a U.S. Trust study released Tuesday of more than 800 high-net-worth adults" [Moneyish]. I hate Millenial story hooks, indeed the whole category, but as a Zeitgeist watch item, this works for me (though I also wonder if there's a difference between affluent, and non-affluent, millenials, so-called, in this regard.)
News of the Wired
UPDATE Sorry for the NSFW tweet, but this is a 2016 Jeep Cherokee upgrading its software:
OMG I JUST WANTED TO GRAB A CUP OF COFFEE WHAT IS THIS FUCKERY pic.twitter.com/moTg0tpNtm

— b̈́͐̐̊́͠͝͝ȁ̈́̓̅̂̓̏̄t͒ (@mzbat) June 9, 2017
* * *
Readers, feel free to contact me with (a) links, and even better (b) sources I should curate regularly, and (c) to find out how to send me images of plants. Vegetables are fine! Fungi are deemed to be honorary plants! See the previous Water Cooler (with plant) here.
And here's today's plant: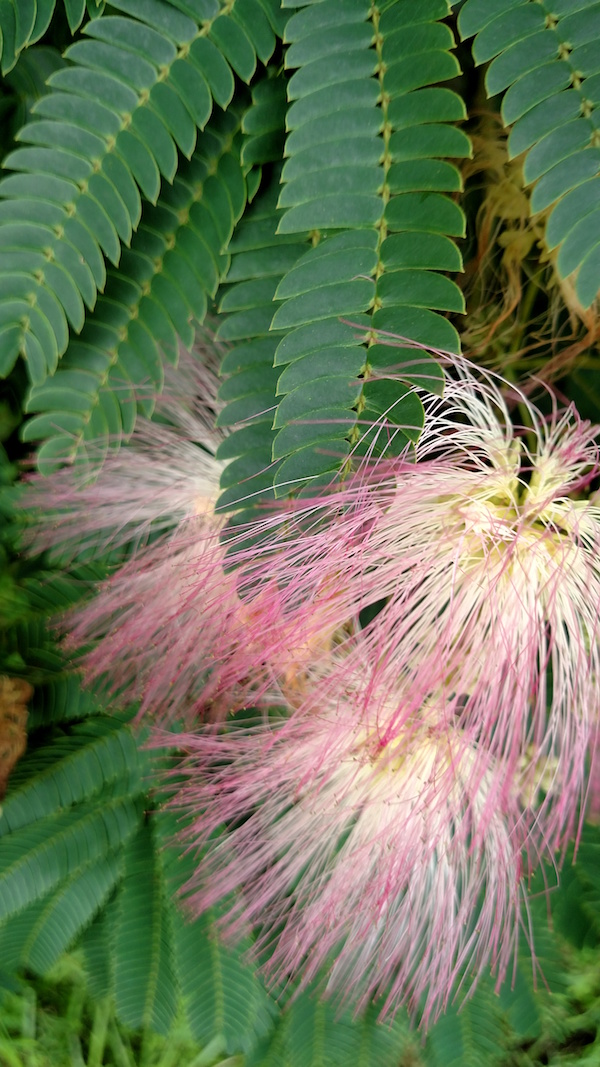 ChiGal writes: "Now I understand why a champagne drink would be called a mimosa: these are some fizzy flowers!"
* * *
Readers, Water Cooler is a standalone entity, not supported by the Naked Capitalism fundraisers. Please use the dropdown to choose your contribution, and then click the hat! Your tip will be welcome today, and indeed any day. Water Cooler will not exist without your continued help.