As we reported earlier this month, CalPERS operated a "Daily News Summary" website that published over 53,000 articles, infringing on the copyright of virtually every major news publication in the US.
Below are the publications from which CalPERS misappropriated the most content: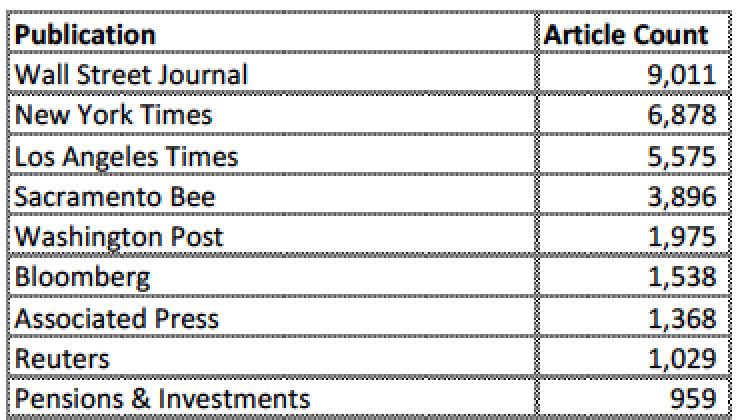 The New York Times promptly sent a cease and desist letter mere days after we first reported on the existence of this site, which was apparently intended to be internal but could be viewed by anyone who had its address. Even though CalPERS took down the site at that point, we had already downloaded all the articles because we were disturbed that CalPERS had not done the right thing and instead continued engaging in copyright infringement even after we had exposed CalPERS' conduct.
Two other publications have referred the matter to their outside attorneys and have also spoken to us about getting access to archive of articles.
While infringement of intellectual property rights in other areas, notably movies and music, are regularly litigated, comparatively few cases involving the infringement of news and other information products wind up in court. However, one of those cases strongly resembles the CalPERS case and does not bode well for the giant pension fund getting off lightly if any of the wronged publications decides to seek restitution.
The case in question is Lowry's Reports, Inc. v. Legg Mason Inc., et al. You can read a detailed summary of the litigation, including a discussion of the major issues adjudicated, here.
Lowry's Reports produced a technical financial newsletter. The cost of an individual subscription was $700 a year. Lowry's did not allow for volume discounts or site licenses. An employee of the research department of a regional broker, Legg Mason, obtained one subscription. Starting in 1994, it was redistributed by fax to branch offices, where it was copied and sent on to brokers. In 1999, the research department then posted the newsletter on its intranet. Over 16,000 copies were downloaded over the next two years. Legg Mason also distributed other proprietary information from the newsletters via other channels, such as in morning conference calls.
Lowry's found out about the abuse and sent Legg Mason a cease and desist letter. Even though the research department removed the newsletter from the intranet, it continued to distribute it to the members of the research department. A jury awarded $19.2 million in damages.
The judge rejected the Legg's argument that it wasn't infringing on copyright by virtue having an implied license. He also scotched the notion that the redistribution of a single article constituted fair use because Legg obtained a commercial benefit and simultaneously lowered the value of Lowry's newsletter by reducing the size of its potential market. The judge also dismissed what amounted to a "rogue employee" defense. The fact that Legg had a formal anti-copyright-infringement policy didn't relieve it of its obligation to supervise its workers. This is consistent with what we pointed out earlier, quoting media and whistleblower attorney Jim Moody:
I can't tell you how shocked I am. As an investor, CalPERS should understand the importance of property rights. I don't see how they have a defense. Copyright law is strict liability for statutory damages. The purpose of such strong protection, including criminal penalties for willful infringement, which seems apparent here, one of the few topics for Congress actually mentioned in the Constitution, is to properly protect and value the property we create. You might go easy on an infringing high school website, but not a large organization.
As the judge wrote:
The fact that Legg Mason's employees infringed Lowry's copyrights in contraven- tion of policy or order bears not on Legg Mason's liability, but rather on the amount of…damages.
Here are the "good housekeeping" practices that Skadden Arps partners Anthony Lauren Aguiar recommended in a 2011 New York Law Journal article. Notice how CalPERS was not even close to complying with any of them:
• Where Possible, Obtain a Company Wide License for Frequently Used Publications.. ..If you have 20 members of a group who regularly read a certain publication, make sure they are all licensed.
• Avoid Publishing Copyrighted Material on the Company Intranet. Companies should prohibit the posting of any materials on a corporate intranet for which the company does not have express authorization. Even materials found on free, pub- licly available websites should not be posted on the company intranet unless the terms of use expressly permit it.
• Instruct Employees to Forward or Post Hyperlinks….
• When in Doubt, Use Routing Slips for Internal Distributions. Companies can always choose to circulate authorized hard copies (i.e., the copies received as part of the subscription) among employees. This may seem primitive in the digital age, but it serves as an effective method of avoiding liability for copyright infringement.

• Implement, and Police, a Copyright Policy. It is important to require all employees to read and agree to a company copyright policy. As the Lowry's Reports case held, a policy prohibiting copyright infringement is not a shield against liability; it nevertheless can re ect on employer intent and therefore bear on the issue of damages.

Of course, because liability attaches regardless, the ultimate goal is compliance, not mere notice. Thus the policy should be clear and easy to understand, describing exactly what type of conduct is prohibited, including speci c examples of prohibited conduct and materials that may not be reproduced and disseminated. An employee education effort, including in-person trainings and webinars, is advisable for larger companies that may have increased risks.
We don't yet know if any of the publications intends to proceed against CalPERS, but since they have up to three years, they have no need to move in haste.
Matt Jacobs, CalPERS' general counsel, may attempt to persuade the board that the fact that it is a government agency meant it had no "commercial interest" and therefore could prevail in arguing for a fair use out. Bear in mind no intellectual property expert that I have consulted agrees with that point of view.
In CalPERS' case, that argument doesn't stand up to scrutiny. CalPERS has performance objectives that are very similar to that of private sector institutional investors, that of maximizing returns and minimizing investment costs. In keeping, at the Investment Committee meeting earlier this month, Eliopoulos deliberately and repeatedly referred to other public pension funds as competitors to CalPERS.
Unlike typical non-commercial players, CalPERS bases investment staff bonuses in signficant part on investment performance. Moreover, at least the senior officers, Chief Investment Officer Ted Eliopoulos and Chief Operating Investment Officer Wylie Tollette, have some of their bonus based on expense investment expense control/reduction. CalPERS also touts its expense performance to the California legislature.
The fact that CalPERS persisted in presenting misleading expense reduction information even after having been called out first by Sam Sutton of PE Hub showed how important presenting a picture of continuing large cost reductions was, even when a significant portion was due to eliminating two significant components from the most recent year's total. But only at CalPERS could staff persuade itself that it could get away with apples and oranges accounting even after the press had outed the ruse.
As one expert put it: "It was clearly in the personal career interest of various CalPERS employees to pursue organization-wide cost reductions via infringement." And a lawyer pointed out that while some cases have allowed universities to carve out a "good faith" exception for past copyright abuses, it would be a stretch for CalPERS to try to argue that: "I think that the scale and context of the CalPERS violations would prevent them from prevailing in court."
General counsel Jacobs may also try to reassure the board that most of the publications allowed a certain number of articles to be viewed for free and many employees were likely not to have exceeded that limit, hence the damages would not apply to the total number of articles. That dog will not hunt.
First, CalPERS put the articles on its own intranet. This bears no resemblance whatsoever to views on a news website. As the New York Times licensing representatives stressed, they charge what would seem to be a draconian price ($5,300 per article) for the right to publish a single article on a company intranet. The Times does not care how many users the network has nor whether they are not-for-profits. Their view is that that form of republication is tantamount to unlimited use.
Second, virtually all of these publishers lost advertising revenues from CalPERS' theft. They also were deprived of the opportunity to encourage readers to read other articles at the same site (most major sites, for instance, present "Most Read" articles in a sidebar, as well as links to related stories in the body of the article), and to present subscription offers. The loss of pageviews and click-throughs on the same site did additional commercial harm by reducing the number of pageviews and potentially average time of visit on the site (both of which are important metrics to advertisers and bear directly on how much they are willing to pay for an ad placement.
It isn't clear what it will take for CalPERS to stop behaving as if it is above the law. The fact that the organization has repeatedly acted as if it can get away with misleading its constituents and ripping off the press, when it is unwise to alienate them, does not bode at all well for CalPERS reforming itself, absent a large housecleaning of the board and top officers.