In about 24 hours, we'll have a much better idea whether the Labour's momentum, created by a combination of a strong manifesto and a remarkable metamorphosis in Jeremy Corbyn's stumping skills, will have lain waste to what was envisaged as a romp for Theresa May that would strengthen her hand as Prime Minister.
As we said two days ago, the majority of polls show a comfortable Tory win. But the majority of polls and bookies also predicted in the Brexit vote that Remain would win, with the final estimates a 4% to 6% majority, versus the 2% loss that resulted.
The reason to give the outlier YouGov poll more weight is that it was one of the few to call that Leave would prevail. Their polls this week have shown Labour continuing to gain ground on the Conservatives. Keep in mind that 323 seats is a currently a majority once you allow for the abstention of Sinn Fein's 5 seats: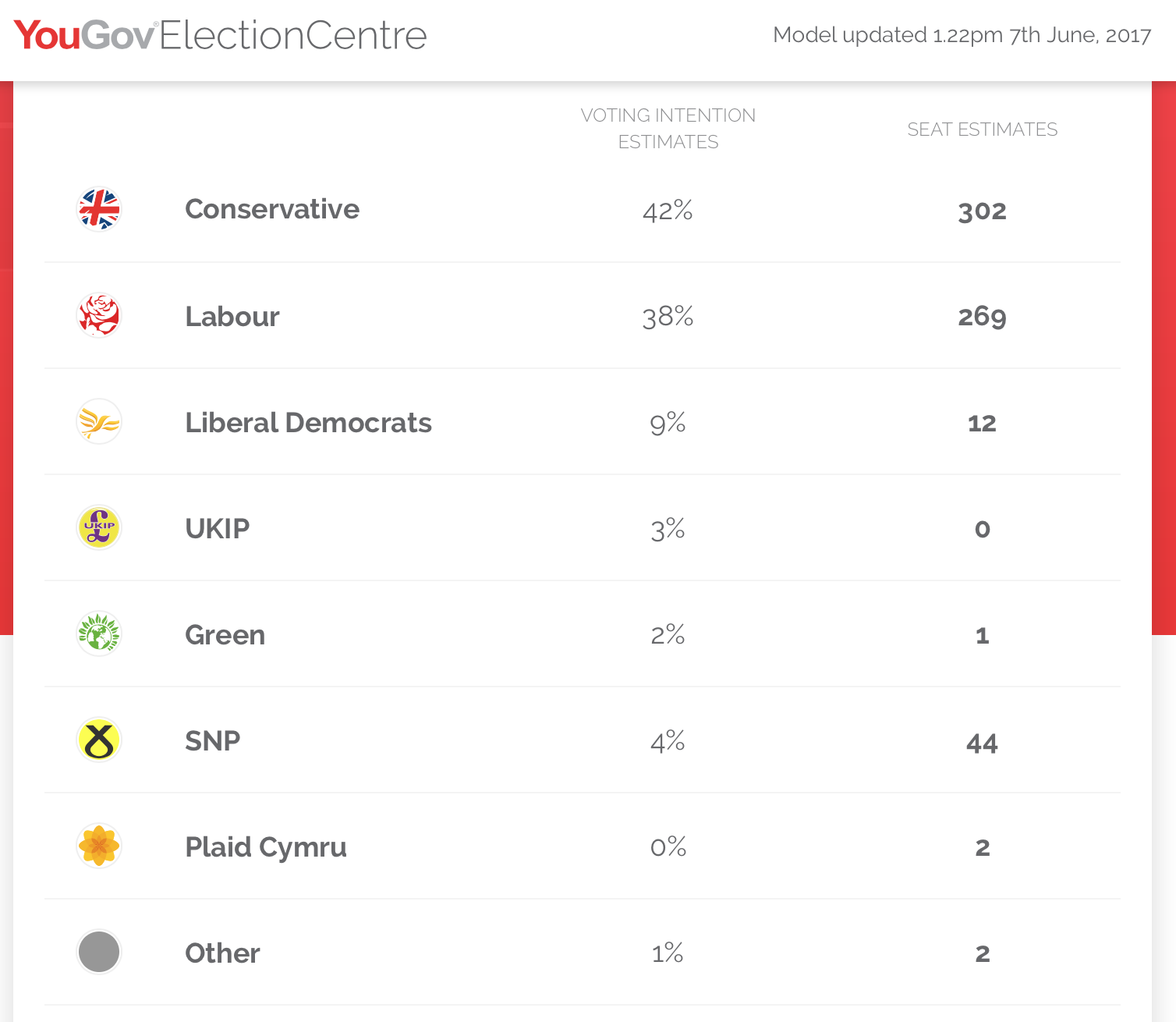 Interestingly, the Torygraph and YouGov are very close in their reading of the popular vote split, pegging the Conservatives at 42.9% versus 37.2% for Labour, but they come up with a different result in terms of seats won. This is a similar view to the one taken by the Financial Times early this week, that of the 100ish seats that are up for grabs, Labour hadn't made headway in the midlands or north:
According to a latest forecast by the University of East Anglia's Chris Hanretty, the Conservatives are on course to gain a majority in Parliament.

Thanks to seat gains in the North of England and Scotland, Mrs May would benefit from a swing of 45 seats – and end up with 375 MPs in Parliament.

45 seat gains would see the Tories end up with a majority of 100 in Parliament, with May's 375 MPs dwarfing the 275 MPs of all the other parties.

These seats would come at the cost of both the SNP and Labour, with Jeremy Corbyn left on 198 seats after losing a total of 34 MPs.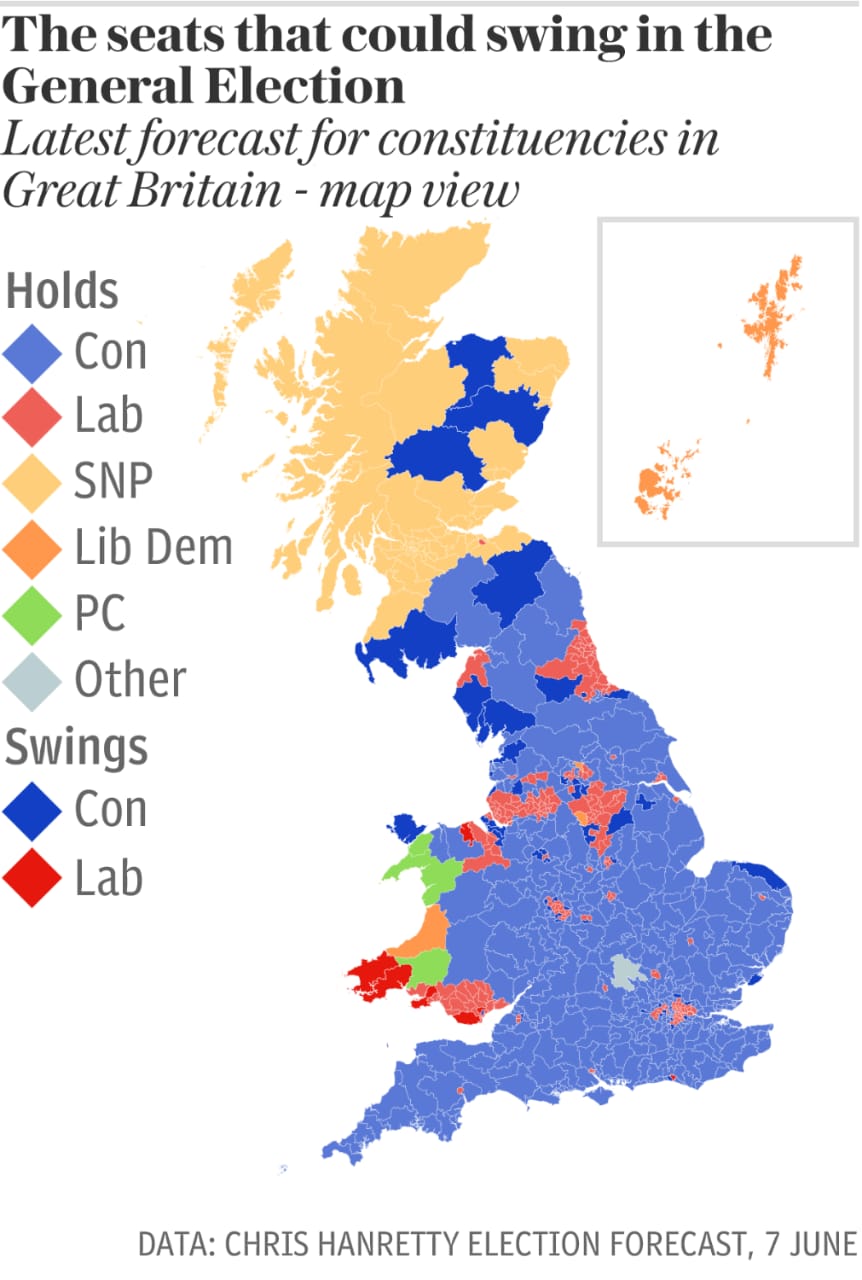 New Statesman also throws cold water on the YouGov prediction:
In recent days, I have been speaking to Labour candidates, including those defending small majorities in marginal seats, as well as to activists. The picture emerging is bleaker than the polls would suggest and the mood is one of foreboding: candidates expect to lose scores of seats on Thursday. There's a sense, too, that two campaigns have been conducted simultaneously: candidates with majorities under 10,000 are trying to hold back the Tory tide, while Corbyn is, as some perceive it, already contesting the next leadership contest – one in which, at present, he is the sole candidate….

The problem is that the party's vote share is heavily concentrated in safe seats and it is overly reliant on young people actually turning out to vote.
Yesterday Bloomberg similarly argued that Labour was vulnerable and May's campaign was targeting its weak spots:
But an analysis of the prime minister's campaign stops shows the path to re-election still runs through the Brexit heartlands with the Conservatives gunning for traditional Labour seats where voters supported to leave the European Union.

Leeds, Halifax, Bolton, Mansfield, and Tyneside North. These are unusual places for a Tory leader to focus on. After the terror attacks, May was back on the stump in northern England three days before Thursday's vote. Specifically Bradford South, a place that last elected a Conservative in 1918. That is the surest sign yet that she remains confident she can still score a historic win despite the polls showing her lead eroded.

As we can see below, in seats where the two main parties finished first and second in 2015 the battle is being fought mainly on Labour's turf.
Put in a slightly more Labour-positive way: the Conservatives believe that they can swing votes based on Brexit, even though May started campaigning on it in a somewhat credible manner this week. The Bloomberg model's mainstream scenario predicts a gain of a mere 7 seats for the Tories. Its upside scenario was an increase of 48 seats, and a downside of a loss of 17 seats, which would put them at 313 seats, less than a majority.
Interestingly, long-standing Brexit champion Ambrose-Evans-Pritchard depicted Labour as the better choice for Brexit than the Conservatives, but recoiled from the idea of pinko Jeremy Corbyn as Prime Minister:
Some might even think it preferable that such a Labour Party should win. The centre-Left would then 'own' Brexit. Labour would have the excruciating task of negotiating withdrawal from the EU…

The distinction between Brexiteer and Remainer would fade away. Battles would rage but chiefly on the terms and methods of restoring British independence. The great rump of the country would be aligned on the same side in defence of the national interest…

Once the honeymoon with Brussels had expired – within days – Labour would discover that overtures of goodwill count for little. Brexit has its own logic. The €100bn bill for reparations would remain. Powerful EU interests are already angling to carve up the putative carcass of the City of London. They do not want a friendly settlement to intrude.

Personally, I favour Labour's pledge to "immediately guarantee existing rights for all EU nationals living in Britain". As the Manifesto states, these people are part of our society and "should not be used as bargaining chips"….

To the extent that Labour would have to rely on Nicola Sturgeon and the Scottish National Party, I say all the better – cognisant that few Telegraph readers will agree…

Labour has pledged to uphold this devolution accord as far as possible, subject to limits required for UK trade talks with the rest of the world. Theresa May is missing a trick – or worse – by trying to snatch these powers for Westminster…

Yes, Labour's stated refusal to walk away from a bad deal amounts to capitulation in advance. It more or less invites torture. Yet is this really different from Theresa May's position? While she vows defiance, we have yet to see evidence that Downing Street is preparing a credible 'Plan B' that would make this plausible.

The danger is that the Tories will bluster and bluff for months before surrendering, like the derided Alexis Tsipras in Greece. This is the worst outcome.
We've pointed out the disturbing parallels to the 2015 Greek negotiations repeatedly, with the UK, like Greece, playing a game of chicken on the bad assumption that the other side would change course.
But Evans-Pritchard can't abide Corbyn. He's a "neo-Marxist" who would "usher in the first radical-Left government in a major democracy since World War Two."
And finally, I'm not sure if the Daily Mail is useful as an indicator of just a source of comic relief. It's hard to tell from the US, I'm not getting a Daily Mail UK edition, but its UK tab downplays the election to a remarkable degree. The lead articles are about the terrorist attacks; two of the less prominent ones make a pitch for Brexit and restricting freedom of movement, but got hardly any comments. After yet more attack stories (it takes remarkable creativity to find so many ways to flog it) we finally get to a small format election piece (Labour REFUSE to back May's bid to rip up human rights laws to tackle terrorism (and here are TEN reasons why they are wrong) which got 1.7K comments. Finally we a large format story which isn't pro-May and manages to again ring the changes on the terrorism theme: PIERS MORGAN: Theresa May's savage police cuts and weakness with Islamist extremism have made Britain a dangerous place – I wouldn't trust her to protect me from an angry wasp, let alone a jihadi terrorist which as of this writing got 2.9K comments. But not to worry, Morgan isn't pumping for Corbyn:
Let me be very clear: I wouldn't trust Corbyn to keep this country remotely safe. His record in voting against all new terror legislation, his nauseating sucking up to terror groups in the past, and his openly stated refusal to ever use our nuclear deterrent if he ever had to, all make him a walking defence liability of epic proportions.
It would be quite the spectacle to see conventional wisdom defeated yet again in the UK with a Labour win. I trust that faithful readers will keep us updated in comments as results come in.
Update 1:30 AM: A cheery note from Bloomberg: even if the Tories win, May's days as Prime Minister could be numbered:
Senior Conservative ministers and candidates are privately furious at the way the party has mismanaged the campaign, after its poll lead over Jeremy Corbyn's Labour Party collapsed from more than 20 percentage points seven weeks ago to as little as one point now.

The upshot is that even if she is returned as prime minister on Thursday, May will face immediate demands from her own team to change the way she runs the government, according to Tory ministers, candidates and party officials, who asked not to named discussing internal affairs….

"Even if she wins a comfortable, if not overwhelming, majority, it's difficult to see May leading the Tories into the next election," said Tim Bale, professor of politics at Queen Mary University of London. "I'm not sure the party would want to risk her against a Labour leader who might look more like an alternative prime minister than Jeremy Corbyn does."