By Lambert Strether of Corrente
Trade
"U.S. Trade Representative Robert Lighthizer could face a somewhat frosty reception today when he attends a meeting of the Organization for Economic Cooperation and Development's Ministerial Council…. Three of the most controversial issues heading into the meeting — trade, investment and climate — will not be covered in the OECD's joint statement released following the meeting, a source confirmed to Morning Trade. They will instead only be covered in the chair's summary because of the inability of OECD members to agree by consensus to any text on those issues, the source said" [Politico].
Politics
2018
"With the midterm elec­tions 17 months away, it's pretty clear that all of this Rus­sia busi­ness is rel­ev­ant. We have a new pres­id­ent with no gov­ern­ment ex­per­i­ence, a mer­cur­i­al tem­pera­ment, and an out­size ego. His hope­lessly short-staffed ad­min­is­tra­tion is strug­gling to get his le­gis­lat­ive agenda through the House and Sen­ate, where the GOP is try­ing to man­age thin ma­jor­it­ies as well as dif­fer­ent pri­or­it­ies in the two cham­bers. The Rus­sia in­vest­ig­a­tions are rel­ev­ant be­cause they con­sume time and en­ergy from the Re­pub­lic­ans' le­gis­lat­ive ef­forts, strain re­la­tion­ships between the pres­id­ent and Cap­it­ol Hill, and hinder Pres­id­ent Trump's abil­ity to re­cruit top people to the ad­min­is­tra­tion. The probes also cast a polit­ic­al shad­ow over every Re­pub­lic­an run­ning in the midterm elec­tions" [Cook Political Report]. "Here are some edu­cated guesses. There will be no res­ol­u­tion of this mess any­time soon, cer­tainly noth­ing this year and prob­ably not un­til after the 2018 elec­tions. In the past, these kinds of spe­cial-coun­sel and in­de­pend­ent-pro­sec­utor in­vest­ig­a­tions have taken on [note lack of agency] lives of their own, go­ing in unanti­cip­ated dir­ec­tions with unanti­cip­ated res­ults. Re­mem­ber that the White­wa­ter in­vest­ig­a­tion star­ted off look­ing at an Arkan­sas real es­tate deal and ended up delving [note lack of agency] in­to the taw­dry de­tails of Pres­id­ent Clin­ton's sex life. Also re­mem­ber that more people get en­snared in cov­er-ups than in the pu­tat­ive fo­cus of an in­vest­ig­a­tion." At one level, this is certainly Democrat payback not only for Benghazi, but for Whitewater; the Beltway is, among other things, a ginormous grudge match. What fun! Anyhow, the non-partisan Cook recapitulates the conventional wisdom, so this is worth a read. On the bright side, this sounds like a recipe for gridlock, and in my view, gridlock is our friend.
2017
GA-06: "6th district candidates debate national issues, avoid Trump" [Atlanta Journal-Constitution]. "Aaron Kall, director of the University of Michigan's debate team, said Ossoff 'came across as quite polished for having less debate experience, but sometimes appeared as robotic and scripted.' Of Handel, he said she 'was more aggressive and remained on offense for a good portion of the debate, which could indicate she thinks she is slightly behind in the race and needs to make up some ground in this debate.'"

GA-06: Reach me that bucket, wouldja hon?

We need ideas, we need fresh thinking, we need puppies, we need avocados, I want an iPad mini pic.twitter.com/GvMGkrcm9D

— Zaid Jilani (@ZaidJilani) June 7, 2017

The vacuity! It b-u-r-r-r-n-n-n-sssssss!

GA-06: No, the big bucket!

Man, I know this has been pointed out before, but Jon Ossoff sounds *so much* like a young Barack Obama. Cadence, style, manner. https://t.co/hjTRdokFlN

— Dan Diamond (@ddiamond) June 7, 2017
2016 Post Mortem
Parts of Black Twitter have rediscovered this passage from Clinton's It Takes a PVillage, and they're not happy about it:

Still can't get over this part of Hillary Clinton's book. h/t @JeanetteJing pic.twitter.com/R7MMXoODEg

— Samuel Sinyangwe (@samswey) June 6, 2017

I especially like the super-creepy part about "we enforced rules strictly." Typical reaction: "Hillary Clinton having [family blogging] house slaves is the best birthday present I could ask for." It does make you wonder what the outcome of the 2016 Democrat primary would have been if the Sanders campaign had done serious oppo. For example, this cropped up in the wake of the controversy above–

"Arkansas Bloodsuckers: the Clintons, Prisoners and the Blood Trade" [Counterpunch]. Blood-sucking, slave-owning… Not a good look.
Health Care
"Time for Democrats to unite around Medicare for all" [Katrina vanden Heuvel, WaPo]. "Looking ahead to 2018, strong progressive candidates are already making universal coverage part of their pitch to voters. In Iowa, nurse and union leader Cathy Glasson has launched a gubernatorial bid with a promise to provide "universal healthcare to cover every Iowan." And in Maryland, former NAACP president Ben Jealous, who endorsed Sanders in 2016, is running for governor, pledging to "ensure that every citizen" in the state is covered. It will take smart organizing and tireless work to make it a reality, but Medicare for all is an idea whose time has come. With organizations such as Our Revolution, National Nurses United and the Working Families Party leading the fight, though, the movement for Medicare for all is gaining momentum every day." Of course, we have to purge the "Never, ever" Clintonites and gut the Democrat leadership (Pelosi, Schumer, et al.) but all that has to be done anyway.
Realignment and Legitimacy
"Chinese President Xi Jinping Tuesday called on California to play a bigger role in promoting exchange and cooperation between China and the United States.

He said he hoped California could continue to promote bilateral exchanges between localities and contribute more to China-U.S. cooperation in areas including technology, innovation and green development" [Xinhua]. I could have filed this under Trade, or in Stats Watch, but I'm filing it here, for obvious reasons.

"The Donald Trump resistance is working and Democrats can't let up" [David Brock, USA Today]. Brock is talking his book. It's as if Tim Cook were an "Opinion Contributor" with thoughts to share on the greatness of Apple's new product line. I expect this sort of egregious corruption in The Times and WaPo, but hitherto USA Today has done better.

"Absent a More Progressive Economics, the Democrats Will Lose" [The American Prospect]. From Neera Tanden's shop, so break out the Waldo before opening the radioactive cannister (also too, one of the authors, Celinda Lake, is a horrible human being who actively worked against single payer).
Stats Watch
MBA Mortgage Applications, week of June 2, 2017: "Purchase applications for home mortgages rose a seasonally adjusted 10 percent to the highest level since May 2010 in the June 2 week, a sharp increase that follows 3 weeks of declines. Results were heavily adjusted to account for the Memorial Day holiday, however" [Econoday]. And: "Even with the increase in mortgage rates late last year, purchase activity is still up 6% year-over-year" [Calculated Risk].
Gallup U.S. Job Creation Index, May 2017: "Gallup's Job Creation Index reading was plus 37 in May, tied with the record high found in March. The index has now been at plus 30 or higher for 15 straight months. he index has generally been moving upward since bottoming out at -5 in April 2009 during the Great Recession. It has been in positive territory since February 2010. The index is at an all-time high, reflecting an improving job market" [Econoday]. "In May, 46 percent of employees said their company was hiring, compared with 45 percent in April. Meanwhile, the percentage who said their company was letting workers go held steady at 9 percent. Forty percent of workers said their employer was not changing the size of its workforce."
JOLTS (yesterday): "Maybe the reasoning openings are so much higher than hires is because openings are for jobs that pay less than current employees are earning, in the hopes the company can replace them?" [Mosler Economics]. Lateral thinking….
Housing: "Coming of age in the time of the Great Recession may have shaped the attitudes of young adults, and home affordability might stand in the way of young adults setting up households and buying their own homes. The new Census report titled "The Changing Economics and Demographics of Young Adulthood: 1975-2016″ discusses how reaching the milestones of young adulthood (those aged 18 to 34) has changed over the past 40 years. The report finds that compared with previous generations, today's young adults delay moving out on their own, getting married, and having children. Delaying these life events may also mean delaying homeownership. … [T]he percentage of young adults living with a spouse or unmarried partner has fallen from 58 percent in 1975 to 39 percent in 2016" [Econintersect]. "It is reasonable to expect that as these young adults age, they will take part in home buying, but we might need to wait until the most populous age cohort gets a little older before they ramp up their home buying." A debt jubilee would help. Remarkably, the article doesn't treat that factor.
Shipping: "Container lines scramble for new trade routes as Gulf strengthens Qatar 'blockade'" [The LoadStar]. "German shipping line Hapag-Lloyd may inadvertently have found itself at the centre of the escalating diplomatic dispute…. The recently completed merger between Hapag-Lloyd and Gulf-based United Arab Shipping Company (UASC) meant UASC's two shareholders – Qatar Holding and Saudi's Public Investment Fund (PIF) – took 14.4% and 10.1% stakes in the combined company. Vringing the two Gulf firms into Hapag-Lloyd's shareholding structure was central to the German line's plans to reduce its debt burden, as liner shipping analyst Alphaliner explained today…."
Commodities:
America is (still) by far the world's biggest producer of oil & natural gas. https://t.co/HrN7rFuXqM via @EIAgov pic.twitter.com/7N7QflgY2U

— Amy Harder (@AmyAHarder) June 7, 2017
Thanks, Obama! Gives a little context to the Administration's withdrawal from the Paris Agreement, too.
Commodities: "Supreme Court votes 4-3 to deny frac sand mining in western Wisconsin" [Journal Sentinel]. "Writing what the court calls a lead opinion, Justice Shirley Abrahamson found that the Trempealeau County Environment & Land Use Committee did not exceed its jurisdiction and relied on substantial evidence in denying a conditional use permit to AllEnergy Corp." Whoever was on that Committee had a lot of courage, and you can bet there was plenty of local organizing; for example. And then there's this letter to the editor. I'm going to quote way too much of it because it's so excellent:
I am writing to the people of Winona County to warn them of what we are enduring here in Trempealeau County in regard to frac sand mining.

The first landowners who sold out to mine companies were under a gag order and could tell no one until the mine owners had bought enough land to have a hold. Then they popped out of their holes like gophers, taking us citizens quite by surprise.

One reason we were not alarmed initially was because of a small mine near Taylor. I spoke with the townspeople there who told me the mine had been there for 25 years and a contract for 25 more years had just been signed. The family that owns that mine is very generous to the school and community. There are no problems with light, noise or dust. A rail spur eliminates trucking.

I've been at many meetings; beware of the mine representatives who come from "wherever" dressed in suits. Every word that comes from their mouths is a lie and the first to fall for the false promises were the mayors because they wanted the money.

One promise was that the sludge ponds would be lined with clay. The Guza mine near Independence was not lined and later was shut down.

Another promise made was that all sand would be covered. I have stood on the sidewalk in downtown Independence, watching all the sand trucks roll through, about a truck per minute. About half of the loads were covered. The huge piles of sand at mines are not covered. Winds whip dust high into the air even in the winter when mines are not operating.

The promise of jobs is just a ploy. The few select positions offered require college degrees in specialized fields. Trained equipment operators are brought in from other job sites.

People from other counties came to our informational meetings to warn us. You may suddenly find your property landlocked when land around it is sold. If you live near a mine you can no longer enjoy outdoor activities with your children or have a backyard barbecue. Forget ever hanging your laundry on the clothesline, and you won't be opening any windows, even air-conditioners cannot compete with the dust. One woman said no insurance company will insure her horse anymore because horses get silicosis from silica dust — so do humans!

The speakers at meetings gave statistics that show making America energy independent with frac sand mines is a pipe dream. In countries that sell petroleum to America, laborers are not paid a decent wage. If we paid workers here for similar jobs, you would be paying $12 per gallon of gas at the pump.

Trempealeau County has lost much valuable farmland that can never be regained as reclamation provides only six inches of soil, and not necessarily top soil. Our county hosts 25 percent of the nation's frac sand mines. Our sand goes to Winona, where it is loaded on barges and sent to the gulf. There it is sold on a global market, with China buying much of it for the manufacturing of glass.
The playbook used by Trempealeau County's colonial overlords is just like that used by the landill operators here; the lies are the same. I'm sure the same is true for other colonial projects: fracking itself, pipelines, hog lagoons, wind farms, etc. You'd think the stupid and/or evil Democrats would address or even seek to capitalize on this sort of grassroots politics, but no, of course not. They won't even address the opioid "crisis," let alone the larger context of "deaths from despair" caused by deindustrialization.
Commodities: "The frac sand sector has re-entered bullish territory in 2017 as demand is expected to exceed peak 2014 levels before the end of the year. Increasing lateral lengths, stage counts, and proppant intensity levels have all contributed to a significant uptick in frac sand consumption" [Society of Petroleum Engineers].
Commodities: "'Spectacular' drop in renewable energy costs leads to record global boost" [Guardian]. ""Trump's withdrawal of the US from the Paris agreement is unfortunate,' said Christine Lins, executive secretary of REN21 [a network of public and private sector groups covering 155 nations and 96% of the world's population]. 'But the renewables train has already left the station and those who ignore renewables' central role in climate mitigation risk being left behind.'"
The Bezzle: "'We are especially concerned about zero-occupant vehicles that can happen with automated vehicles,' [Lew Fulton, a co-director of the STEPS program at UC Davis' Institute of Transportation Studies] said. 'That scenario is especially plausible with private ownership of those vehicles and no limits to what we can do with them'" [Business Insider]. Like sending your robot car out to pick up the dry cleaning…
The Bezzle: "the tech IPO market needs another successful, well-known consumer-tech company to wow Wall Street and inspire confidence that there are more of these hot IPOs heading toward the pipeline" [Pando Daily]. "So what name-brand consumer-tech company has the best shot of winning back confidence for tech IPOs? Right now, it's Blue Apron… Blue Apron is not only unprofitable, it's still spending in hopes of spurring future growth."
Political Risk: "The Curious Puzzle Of Low Inflation Amid Falling Unemployment" [Econintersect]. "So, the main point of this exercise is that past relationships haven't held true in recent years, and the trend began some years ago. The causes of low inflation and, as we've seen in a related discussion, the declining share of income going to labor vis-à-vis corporate profits, are mysteries that have stumped economists." You know nothing, J-Yel.
Five Horseman: "The Five Horsemen are poised just below the threshold of record highs" [Hat Tip, Jim Haygood].
Today's Fear & Greed Index: 55 Neutral (previous close: 55, Neutral) [CNN]. One week ago: 49 (Neutral). (0 is Extreme Fear; 100 is Extreme Greed. Last updated Jun 7 at 11:46am.
Big Brother Is Watching You Watch
"Why printers add secret tracking dots" [BBC]. "Microdots have existed for many years. The Electronic Frontier Foundation (EFF) maintains a list of colour printers known to use them…. Based on their positions when plotted against a grid, they denote specific hours, minutes, dates and numbers. … There is a long-running debate over whether it is ethical for printers to be attaching this information to documents without users knowing. In fact, there has even been a suggestion that it is a violation of human rights and one MIT project has tracked more than 45,000 complaints to printer companies about the technology." Oddly, or not, the article doesn't explain "why." At least I read it twice, and couldn't find the answer.
Guillotine Watch
"Dissecting Marissa Mayer's $900,000-a-Week Yahoo Paycheck" [New York Times]. "By Wall Street's most basic yardstick — Yahoo's stock price — Ms. Mayer earned every penny she got. Yahoo's share price more than tripled during her tenure. After the $4.5 billion sale to Verizon, shareholders will still own an investment company with $57 billion of stock in two Asian internet companies, Alibaba Group and Yahoo Japan. Ms. Mayer's pay was mostly in stock and stock options, and she reaped the rewards alongside the other stockholders."
Class Warfare
"Why America needs both a UBI and a job guarantee" [The Week]. "First, numerous studies on UBI-style experiments are clear: People don't squander the money, but invest in themselves and their families, especially their children. Sometimes they participate in the job market a little more, sometimes a little less. But they're certainly not succumbing to drugs or alcohol. … Whatever the job guarantee offers would become the minimum standard across the country…. But a job guarantee wouldn't help you much if you simply can't participate in paid work, which is a big problem for many of the people who make up the ranks of the poor: the elderly, the disabled, students, children, and caretakers…. A job guarantee also wouldn't empower you to simply leave the job market, even if you could work, to focus on things like raising a family or volunteer work that's been overlooked by policymakers. (A job guarantee is meant to be versatile in how it defines a "job," but it can't cover all possibilities.) But while the UBI can't reform the job market on its own, it can plug those two holes. Thus the two policies' respective strengths and weaknesses complement rather than contradict one another." Important (and flagged by Scott Fulwiler).
"While the US economy has grown by 9% in real terms since Dodd-Frank, real median income has fallen by 0.6%. That's pretty grim. The gains have all gone to the top 10% and particularly the top 1%" [Adam Levitin, Credit Slips]. Thanks, Obama! Levitin is testifying before the Senate Banking Committee on "Fostering Economic Growth: The Role of Financial Institutions in Local Communities"; here's his prepared testimony.
Since the passage of the Dodd-Frank Wall Street Reform and Consumer Protection Act in 2010, the banking sector as a whole, including community banks, has been doing incredibly well. The percentage of profitable community banks at the end of the first quarter of 2017 was the highest it has been in the last twenty years.1 From the second quarter of 2010 (just before the passage of the Dodd-Frank Act) until the second quarter of 2016, the pre-tax return on assets in the banking sector was 25% for community banks, and 36% for other banks. Since Dodd-Frank, the cumulative pre-tax return on equity in the banking sector has been 225% for community banks and 320% for mega-banks. To put this in perspective, a $100 equity investment in the average community bank in the second quarter of 2010 would have returned $325 by the second quarter of 2016, while a $100 investment in a mega-bank would have returned $420 over the same time, far better than the $185 return that a $100 invested in an S&P 500 index fund would have produced. Meanwhile, American families are struggling. Median pre-tax income has declined. Although the US economy has grown by 9% in real terms since 2010, annual median pre-tax income has not kept up with inflation. . Families in some states haven't even fared this well. The typical Nevada family, for example, saw a 3% decline in real income.
Obama to the banksters, 2009: "My administration is the only thing between you and the pitchforks." That worked out well, didn't it? So why don't all the stupids vote Democrat? What's wrong with them? Thanks, Obama!
"'I felt like a caveman': How work requirements for state benefits hurt one Maine man" [Bangor Daily News].
There was a time when Tim Keefe was so hungry he ate a squirrel.

"I felt like a primitive human being. I felt like a caveman, I really did. And that's not the first time in this whole thing I felt like a caveman," he says.

Keefe was homeless at the time. He lost his job, and his apartment, after he got a work injury in 2014.

"I was working in heavy industry and was using a pneumatic wrench, it caught up and twisted my wrist and popped the cartilage right out of there. I was done, my hand malfunctioned. It hasn't worked the same since," he says.

Keefe hasn't been able to work either. He applied for food stamps, now known as SNAP benefits, and got about $180 a month.

"It was great, to be able to afford at least two meals a day," he says.

After three months, Keefe was required to work or volunteer about 20 hours a week to continue to receive SNAP. But he says the Department of Labor determined he couldn't because of his injury.

Keefe says he then went to the Department of Health and Human Services.

"I ask to volunteer, they didn't feel comfortable sending me into a volunteer position," he says.
That's some catch.
"At this stage of the American opioid epidemic, many addicts are collapsing in public—in gas stations, in restaurant bathrooms, in the aisles of big-box stores. Brian Costello, a former Army medic who is the director of the Berkeley County Emergency Medical Services, believes that more overdoses are occurring in this way because users figure that somebody will find them before they die. 'To people who don't have that addiction, that sounds crazy,' he said. 'sBut, from a health-care provider's standpoint, you say to yourself, 'No, this is survival to them.' They're struggling with using but not wanting to die" [The New Yorker]. But they're not collapsing in the aisles of the Acela, are they, so who cares? Anyhow, they're probably racist. Or sexist. Let them die, and the world will be a better place.
News of the Wired
"Specially-designed malware installed on a router or a switch can take control over the device's LEDs and use them to transmit data in a binary format to a nearby attacker, who can capture it using simple video recording equipment" [Bleeping Computer].
"Blockchains are the new Linux, not the new internet" [TechCrunch]. "Decentralized blockchain solutions are vastly more democratic, and more technically compelling, than the hermetically sealed, walled-garden, Stack-ruled internet of today. Similarly, open-source Linux was vastly more democratic, and more technically compelling, than the Microsoft and Apple OSes that ruled computing at the time. But nobody used it except a tiny coterie of hackers. It was too clunky; too complicated; too counterintuitive; required jumping through too many hoops — and Linux's dirty secret was that the mainstream solutions were, in fact, actually fine, for most people. Sound familiar?"
"I'm Irish and I spent a year traveling the US — here are the 17 things that surprised me about day to day life" [Insider]. "3. Smiles mean NOTHING…. When I meet Americans abroad, one of their biggest complaints are along the lines of 'nobody smiles on Prague's trams!' 'That waitress was so rude to me! She didn't even smile!' America – I have the opposite complaint for you. You guys smile way too much." This guy needs to come to Maine (except for the coast in the tourist season…).
* * *
Readers, feel free to contact me with (a) links, and even better (b) sources I should curate regularly, and (c) to find out how to send me images of plants. Vegetables are fine! Fungi are deemed to be honorary plants! See the previous Water Cooler (with plant) here.
And here's today's plant (Kokuanani):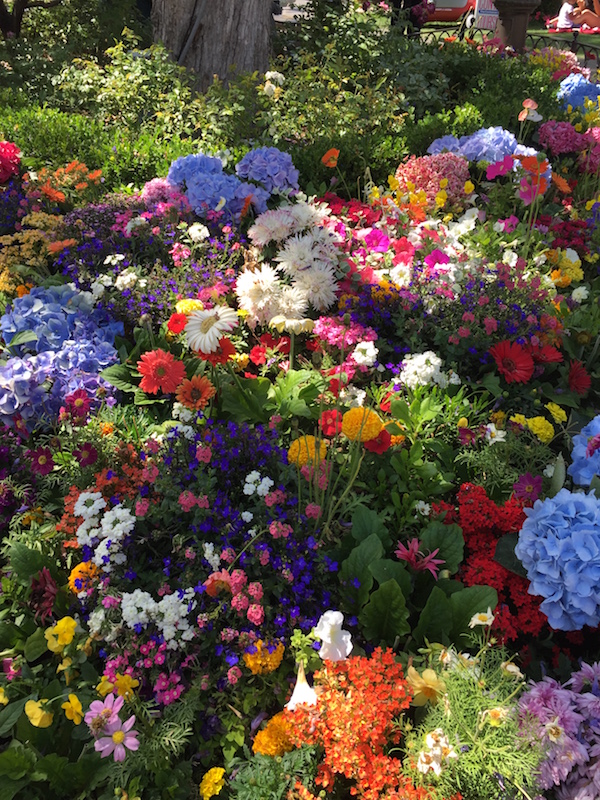 Kokuanani writes: "The Grove shopping center in LA."
* * *
Readers, Water Cooler is a standalone entity, not supported by the Naked Capitalism fundraisers. Please use the dropdown to choose your contribution, and then click the hat! Your tip will be welcome today, and indeed any day. Water Cooler will not exist without your continued help.