When flatworms go to space, they grow two heads ars technica. Chuck L: "What will happen when humans procreate in space?"
Daily aspirin behind more than 3,000 deaths a year, study suggests Telegraph
Grenfell Tower fire: Massive blaze engulfs block of flats near White City as trapped residents scream for help Telegraph. Normally I don't feature local tragedies, but the photos are astonishing, in a bad way.
China?
Pressure builds on China to punish firms trading with North Korea Asia Times
Japan Inc's silence over Toshiba sends chill across Tokyo Financial Times
UK Election Aftermath
A Joke in Very Poor Taste London Review of Books. On May and Northern Ireland.

JEREMY CORBYN HAS WON THE BIGGEST VOTE GAIN FOR LABOUR SINCE THE 1945 ELECTION WITH NO HELP FROM RUSSIA — AND ALMOST NO HELP FROM SCOTLAND John Helmer
Brexit
Guardian and Observer newspapers to become tabloids BBC
New Cold War
The Big Fat Compendium Of Russiagate Debunkery Caitlin Johnston (RR). Epic.
Syraqistan
Congress Fails to Stop Arms to Saudi as it Bombs Yemen Institute for Public Accuracy
Why Afghanistan? Fighting a War for the War System Itself Truthout
Imperial Collapse Watch
One-quarter of F-35 fighter jets grounded over oxygen issues Reuters. EM: "Because keeping pilots supplied with supplemental oxygen at altitude is a brand-new technical problem Lockheed had to solve from scratch! But I am confident gifting them a few more $Bln in governmental largesse will fix this. We can't have The Exceptional Nation naked and undefended, can we?"

Fake news? Nobody beats the western media Vineyard of the Saker
Trade Traitors
Requests for Comments: Negotiating Objectives Regarding Modernization of North American Free Trade Agreement with Canada and Mexico Regulations.gov. From an e-mail blast by Lori Wallach of Public Citizen:
USTR's on-line NAFTA renegotiation comments docket platform crashed yesterday as an unprecedented number of people submitted their views.

The USTR ticker currently shows more than 12,000 individuals comments accepted. That begs the question of what happened to tens of thousands of additional submissions…

We know Public Citizen members filed at least 11,000 individual comments directly to the docket. Groups from the Presbyterian Church to Sierra Club to Witness for Peace to several unions to Friends of the Earth and CTC counted more than 40,000 additional submissions.

Even the 12K that now register on the ticker represent a major break from the typical hundreds of industry comments and dozens of union/environmental/consumer group submissions that a USTR trade pact notice docket receives.
Trump Transition
Obamacare
AP sources: Trump tells senators House health bill 'mean' Washington Post
Supreme Court invalidates gender inequality in citizenship law Reuters (EM). Just made things worse for some children with one American parent…
Bernie Sanders lambasts 'absolute failure' of Democratic party's strategy Guardian
Elizabeth Warren Calls for Targeted Deregulation of Community Banks Wall Street Journal. Wowsers. Warren, who is fabulously data driven, has to know the calls for these breaks aren't economically justified, as was confirmed by a reader whose comment we hoisted in a post yesterday. Key extract:
As a former DC lobbyist for a credit union trade association, I can verify that all the trades are getting behind Dodd-Frank repeal, even if it only marginally benefits their members. At this point, these decisions are far more political than practical. They went to get in good with the Republican majority and punch back at CFPB for keeping them accountable. And the compliance costs at this point are baked in. Just about all of the regulations emanating from DF are fully in effect and the compliance costs have already been imposed. Repealing these regulations wont save any money for institutions, since all their compliance systems are already in place. In fact, repealing regulations that are already in effect can actually cost banks, since they need to go back and make changes again.
So this must be a tactical concession while she tries to hold the ground on the CFPB.
Kill Me Now
The Clinton Global Initiative lives! "Blessed be the fruit!"

Anne-Marie Slaughter's call for a "people-centered foreign policy" has been instrumental in broadening the field's focus beyond the mainly traditional notions of security to one where security is more broadly formulated and operationalized. Specifically, it's important for foreign policy experts and practitioners to not see women as passive agents of development.

It just gets worse. From the heart of the Clinton formulated and operationalized Blob.
Police State Watch
Right-Wing Militia Helps Police Arrest Portland Protesters Real News Network
Northam defeats Sanders-backed candidate in Va. gov primary The Hill
Guillotine Watch
Hong Kong Parking Space Sells for Record $664,300, Ming Pao Says Bloomberg

Just another frat party': Disgusted parents of Penn State pledge watch as students joke while teen's death tape plays at hearing and then laugh and hug outside court as bereaved family looks on Daily Mail. Have to confess I went looking for DM's gossip on Theresa May and found this as their lead story for US readers.
Offshore profits and domestic productivity VoxEU
TPG's Bonderman Resigns After Cracking Sexist Joke at Uber Meet Bloomberg. Wow, I never thought I'd use Bonderman, who really is a classic PE shark in a nice suit, as an example of confused new social standards. So let me get this straight…Uber and Silicon Valley generally have rampant sexism and sexual harassment which only gets dealt with in a serious way…just about never. But those guys are young bucks. An old white guy engaging in merely insensitive behavior (and signaling that getting female board members won't change much, which IMSHO is correct) gets pushed out? Normally a super abject apology would do. Retrograde behavior is more acceptable when perpetrated by the young, it seems. And who knows, Bonderman may have wanted off the board (not just because he's enough of a dinosaur to have trouble with enforcing modern gender norms but perhaps also that he recognizes Uber is a garbage barge) and unconsciously engineered his exit.
Uber Embraces Major Reforms as Travis Kalanick, the C.E.O., Steps Away New York Times. Talk is cheap. I'll believe it when I see it.
Class Warfare
"For the Many, Not the Few:" Labour Party Gains in Britain Highlight Political Viability of Socialism Counterpunch

Court Strikes Obama-Era Rule Capping Cost of Phone Calls From Prison New York Times
Antidote du jour. From Timotheus: "Devin Russel of Oro Valley, Arizona, via The Naturalist's Notebook: 'The bobcat stayed on my concrete block wall for about 15 seconds, just long enough to capture this photo.'"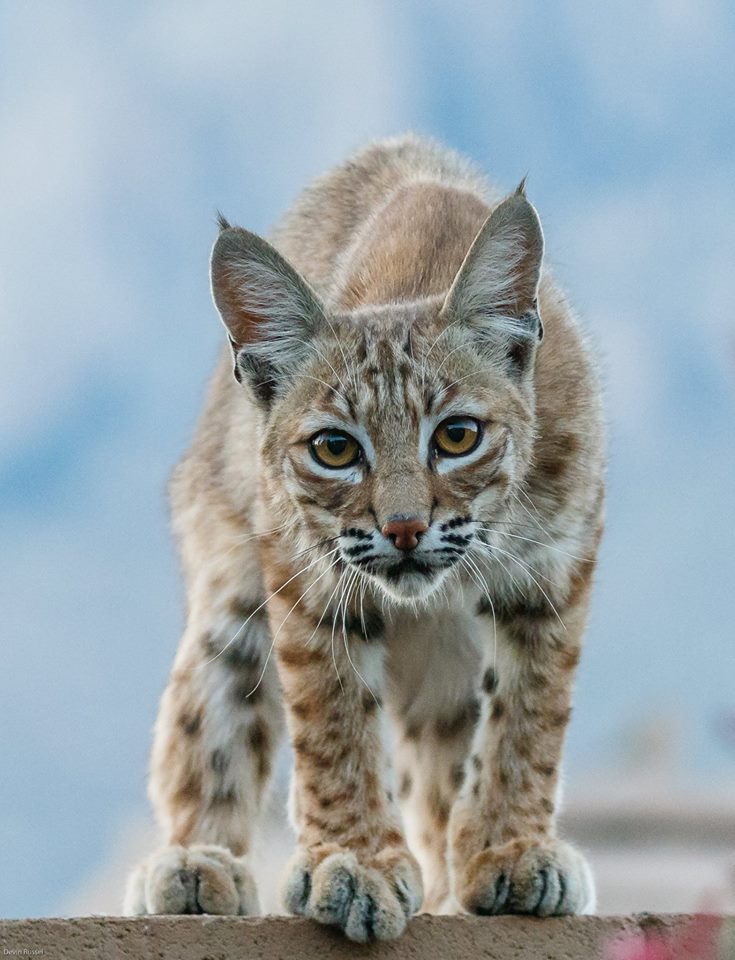 See yesterday's Links and Antidote du Jour here.