Dear patient readers,
In a further proof of America's descent into third world status, my internet service was down multiple times last evening, thanks to a merely normal thunderstorm. I haven't had this sort of thing since I lived in Sydney in 2002 and Telstra had just rolled out its broadband service.
Cat domestication: From farms to sofas Nature
The Epic Shared Journey of Bison and Grizzly Bears Counterpunch (Darius)
Nasa just discovered '10 new planets like Earth' Independent (J-LS)
Thin ice: Vanishing ice only exacerbates a bad, climate change-fueled situation ars technica. Chuck L: "A primer on the impact of diminishing ice."
A third of the world now faces deadly heatwaves as result of climate change Guardian
a href="https://www.theguardian.com/world/2017/jun/19/montreal-mobile-supervised-injection-clinic-north-america" rel="nofollow">Montreal opens first mobile supervised injection clinic in North America Guardian
M&S says labelling avocados with lasers is more sustainable BBC
Cable lobby tries to stop state investigations into slow broadband speeds ars technica (Chuck L)
North Korea
US student sent home from N Korea dies BBC

US tries to use better China relations to press North Korea Asia Times

North Korea accuses U.S. authorities of 'mugging' its diplomats at NY airport Reuters (EM)
One Nation morons power ahead in polls MacroBusiness
Mandatory Aadhaar and Bank Accounts: How Much of This Is Legal? The Wire (J-LS)
Brexit
Britain's €100bn Brexit bill in context Financial Times

Two-thirds of Europeans believe EU should take hard line on Brexit Guardian

Britain and Europe lock horns over 'Brexit bill' on day one of talks Telegraph
Grenfell Tower
VIDEO: EXPERT BREAKS DOWN AS HE TELLS OF WARNING OF 'TOTALLY AVOIDABLE' #GRENFELL FIRE Skwawkbox (martha r)

After the London Inferno, a Question For Laissez-faire Zealots: Is a Human Life Worth No More Than $100? Counterpunch

A picture of the lovely dogs who helped firemen in #GrenfellTower, wearing their heat-proof boots. pic.twitter.com/R9mcivyQuh

— Stig Abell (@StigAbell) June 17, 2017
UK Election Aftermath
Nick Timothy and Fiona Hill: How civil servants lived in fear of the terrible twins at No 10 The Times. Tolstoy was wrong: "…every unhappy family is unhappy in its own way" does not hold true in political families.

New poll puts Labour ahead of Conservatives – but Theresa May still backed to deliver Brexit Telegraph
Barclays
Barclays, Four Former Executives Charged Over Qatar Fundraising Bloomberg. This is a big deal. The former CEO John Varley is one of the four charged. The story up as of now does not go into the details, but as I recall the 50,000 foot version, Barclays gave Qatar a loan and then Qatar made what was presented as an equity investment to regulators. Qatar got a fee for going along with the ruse and Barclays avoided a bailout. All are charged with fraud; Varley and another exec are also charged with "provision of unlawful financial assistance."
Weyts: "De EU brengt onze frietcultuur in gevaar" HLN. Translation: Belgians may lose their frites, at least as currently formulated.
Syraqistan
Imperial Collapse Watch
True Motive Behind Global War on Drugs/Terror Counterpunch

Exclusive: Lockheed nears $37 billion-plus deal to sell F-35 jet to 11 countries Reuters. Resilc: "Buy our priceless Edsel."
Trade Traitors
US in trade talks with Asian nations to replace TPP, commerce secretary says South China Morning Post (J-LS)

Snap AV: A globalisation Rorschach test FT Alphaville
Trump Transition
Why So Many Critics Hate the New Obama Biography Politico
Sanders to GOP on healthcare bill: 'What are you afraid of?' The Hill
Supreme Court Further Curbs Plaintiffs' Venue Shopping With Bristol-Myers Ruling Wall Street Journal
It's My Party: The Democrats struggle to rise from the ashes Andrew Cockburn, Harper's (Jennie)
Here's the Real Lesson of Georgia's $51 Million Special Election Mother Jones (resilc)
Black Injustice Tipping Point
Seattle woman killed by police while children were home after reporting theft Guardian
Guns kill 1,300 US children every year, study finds BBC (resilc)
Illinois at Risk of Being First State Cut to Junk Bloomberg
Amazon CEO Jeff Bezos may be single-handedly killing inflation CNBC
Man Stabs Customer After Getting Wrong Drink At Starbucks CBS Chicago (resilc)
At Alibaba Gateway '17 in Detroit, China's e-commerce giant is building its brand with US small businesses Quartz (resilc)
Wells Fargo Is Accused of Making Improper Changes to Mortgages Gretchen Morgenson, New York Times. From last week. Important.
Parents' Time Spent on Paid Work and Unpaid Housework and Child Care Combined Angry Bear
Class Warfare
Transit Riders Unions vs. Climate Change, White Supremacy and Disaster Capitalism Counterpunch (Darius)
I Spent 14 Months in Jail Because I Couldn't Pay My Way Out Truthout
Conglomerates Didn't Die. They Look Like Amazon. New York Times. Only when they start threatening the upper middle class do people like Andrew Ross Sorkin take notice.
Antidote du jour. Ann M: "Penny and Emmett getting their hair all over the clean laundry":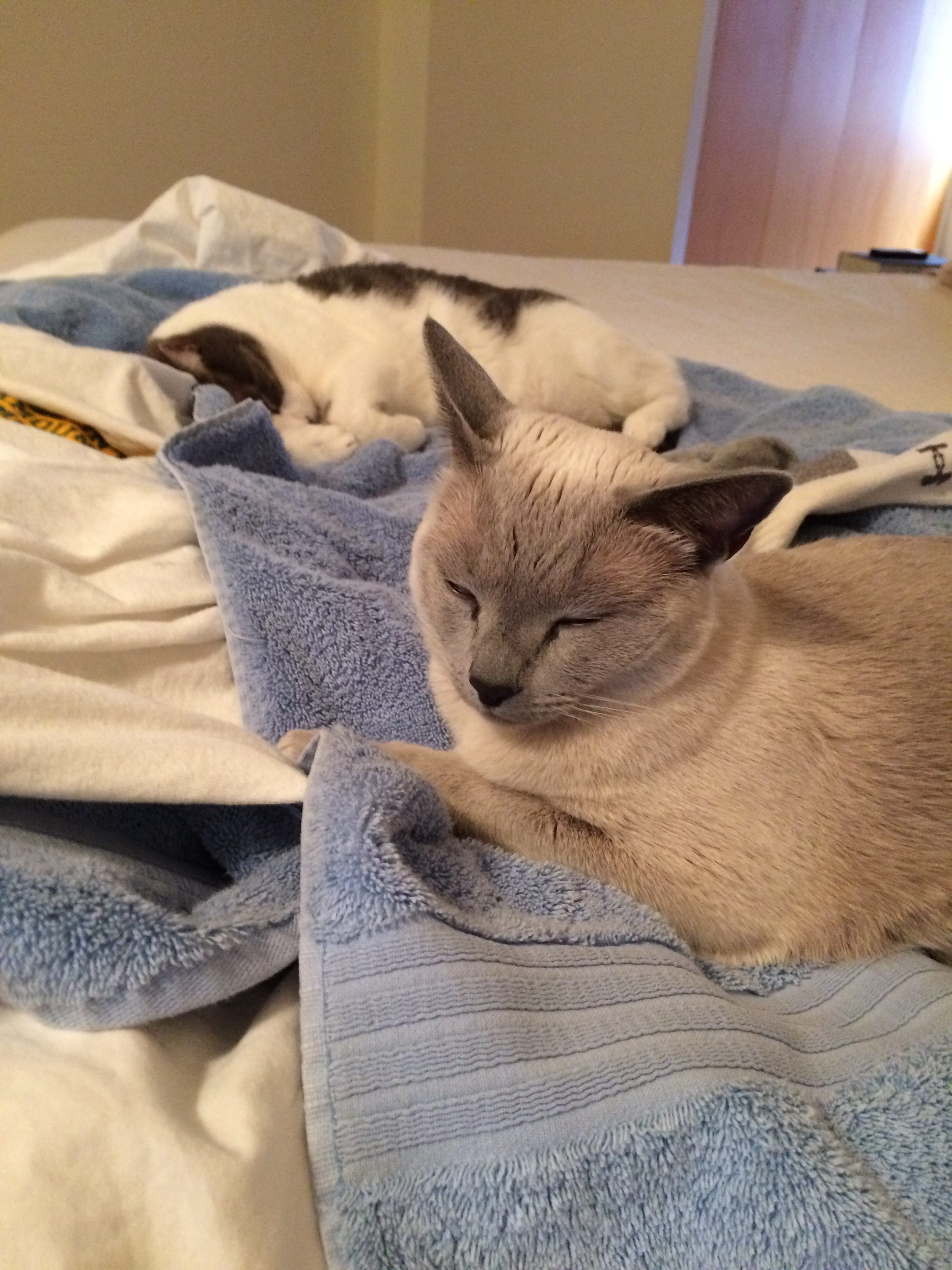 See yesterday's Links and Antidote du Jour here.